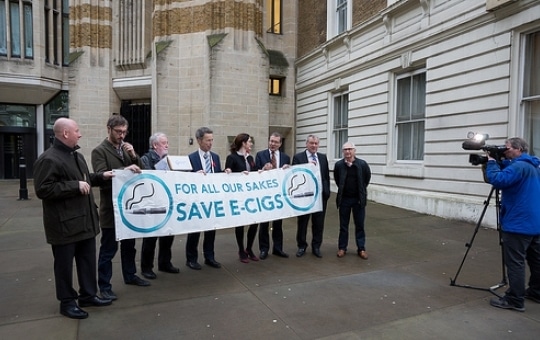 Warrington Wolves lies among the most popular UK rugby teams. Until recently however, they had banned vaping during games played at Halliwell Jones Jones Stadium. The team this week announced that it would reverse the ban on e-cigs and even offer Wolves-themed electronic cigarettes for sale at gift shops within the stadium. As well, the Wolves target welcoming TruVapes as official sponsor for the team.
Alex Wilson, commercial manager of the team, stated their change of policy resulted from learning more about the differences which existed between smoking and vaping. It seemed obvious that e-cigs offered the best alternative and Wolves are not keen on discouraging fans from adopting positive changes in their lifestyle.
Wilson indicated they were firmly committed to assisting their fans in reaching informed decisions, especially as pertains to fitness and health matters. He further intimated that whereas the best decision was obviously never to smoke at all, they were pleased to encourage the percentage of their already-smoking fans to consider making the switch to alternatives. As such, they would therefore allow for vaping within certain stadium-sections, together with offering a branded vapourising which was available for purchase on site.
Wilson indicated that the new-found partnership with TruVape was a great option for their team to select, as TruVape was a trusted brand within the e-cigarette industry. He stated they had confidence that partnering with the industry player, reputed for focusing on matters of safety and adhering to regulations, would help fans to enjoy matches better. According to Wilson, the action would equally offer smokers an alternative which experts believed could reduce harmful effects by significant margins.
Lee Bryan, TruVape's representative, stated that they were excited about working with Warrington Wolves. He indicated the synergy existing in-between TruVape and Wolves was exceptional at the fan-base level as well as in branding terms. Bryan indicated that they were upbeat about working with Warrington Wolves to assist their fans shift to vaping and away from smoking with success.
Electronic cigarettes have wild popularity within the UK, with two million smokers already having already switched to e-cigarettes. Public venues such as Halliwell Jones Stadium have began reviewing their earlier vaping policies, with more emerging research alluding to the health gains that accompany using e-cigs. Do you suppose that the overall perception held by people about the practice of vaping is at last experiencing a shift? Will e-cigarettes get accepted on a wide scale or they always will face a formidable challenge?