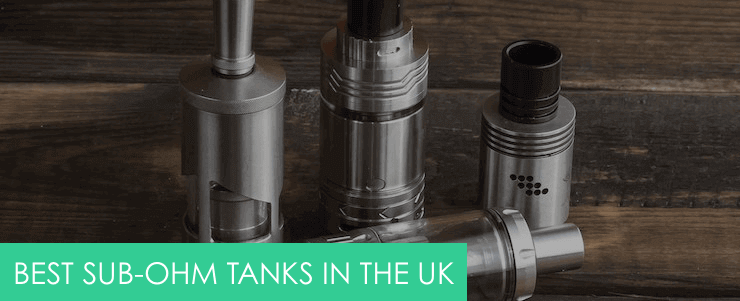 Updated on 2022: To enjoy your vaping experience to the max, you really need to make the right choice of sub ohm tank to match your device and to suit your personal preferences.
A lot of new vapers make the mistake of overlooking this fact and feel like something is missing whenever they start vaping.
When you've invested in a high-end vape pen, you want to achieve the perfect vape, so it can be frustrating to not get the most out of the experience.
Remember that each component of your set up has a part to play in the vapour, flavour and throat hit quality.
If there is a mismatch between your vape mod and your chosen sub ohm tank, the vapour may be too little or indeed, too much for your taste.
Luckily, there are lots of sub ohm tanks to choose from on the market, so you are bound to find one that suits your requirements.
In this helpful guide to sub ohm tanks, you can find out all the information necessary to choose the right one for you. Read our best sub ohm tank reviews below, to find the right one for you.
Article navigation:
Sub-Ohm Vape Tanks
Useful Vape Tank Tips & FAQ
List of Best Sub Ohm Tanks in the UK for 2022 (TPD Compliant)
#1 in the UK for 2022 – Aspire Cleito Pro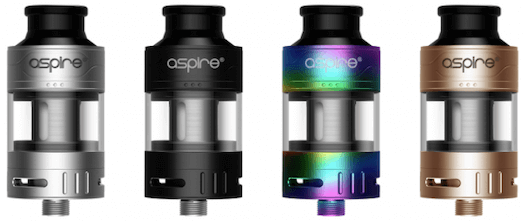 What is the best sub ohm tank in the UK? In our opinion, the best sub ohm tank in the UK for 2022 is Aspire Cleito Pro. So, if you're looking for cutting edge performance from your sub ohm tank, the Cleito Pro from the well-known Aspire brand will fit the bill.
As the new flagship version of the Cleito original line-up, this impressive sub ohm tank holds up to 4.2ml of e-juice when used with the bubble glass expansion that comes complete with the tank, and has triple slot bottom airflow controls for even greater control over your vaping experience.
It also has a slide open top filling method that is extra convenient for minimal mess.
Aspire Cleito Pro is also very versatile. You can use it with original Cleito coils, Cleito EXO coils and also the 0.5-ohm Cleito Pro coils which are ideal for vaping between 60 and 80W.
Its adjustable airflow features an easy to use knurled control ring which allows air in from the bottom, channeling it upward to the center of the coil.
This high-performance tank is a great choice for experienced vapers or beginner vapers alike.

#2 Jacvapour S22 Sub Ohm Tank

Producing amazing results for both mouth-to-lung and sub ohm vaping, meaning that both flavour and cloud chasers alike will love this Jacvapour S22.
It's also incredibly easy to refill on the go with top fill, all you need to do it unscrew the mouth tip to top up your e liquid.
The S22 comes with the wide mouth tip as standard but there are other size mouth tips also available to customise the tank to your preferred set up.
The S22 is a flexible 510 tank that is compatible with a variety of S-Coils that allows you to switch it up between different vaping styles with the simple change of a coil.
The S-Coils are available in the following:
MTL 1.0Ohm (mouth to lung) – ideal for beginners looking replicate the real draw of a cigarette
DL 1.0Ohm/0.5Ohm (direct lung) – perfect for those larger clouds and an airier vape
Turbo S-Coils 0.47Ohm/0.7Ohm – coils for maximum flavour
Temperature Control 0.15Ohm – For use with temperature control devices and chucks out max vapour with high VG e liquids
Want to try out a few of the above vape styles? You can also pick up a S-coil Variety pack here for just £8.99.


Featuring a top filling set up, the Aspire Cleito EXO is one of the best sub ohm tanks available in the United Kingdom in 2022.
Featuring the Cleito EXO coil, this sub ohm tank allows for every draw the release a flavourful and full vapour whether using the 0.4 ohm or the 0.16 ohm coil.
With its dual airflow adjustment, this versatile device enables the vaper to take charge of their own vaping experience.
Its capacity is 2 ml, enough to last a day without the need to refill, and it has been constructed from stainless steel and superior glass for increased durability, combining performance and value.


If only the very best will do, the Uwell Crown 4 is the ideal sub ohm tank for you.
It introduces a brand-new range of Crown coils all of which have been made with cutting edge improvements such as a double helix mesh, a simple yet convenient threaded top-filling system, a large 6ml e-juice capacity and a truly striking aesthetic.
One of the best features of Uwell Crown 4 is its self-cleaning patent technology built into the coils so that excess e-juice is absorbed into the condensation holder before being vapourized at a later stage.
Not only does this reduce wastage of e-liquid, it also reduces the amount of time you have to spend on cleaning the tank itself.
Another excellent feature of the Uwell Crown 4 is the Pro Flavour Core Optimisation System in the atomizers.
This system can recycle the air twice through the atomizer's core so that it becomes more saturated with even more e-juice flavour.
This makes it the ideal sub ohm tank for people who love to maximise the flavour they receive from their vape.
The quarter-turn simple threaded top filling system allows for even faster and less messy refills as well as minimal downtime, and its striking design with its hand-polished finished and knurling to the ends make it not only easy to manipulate the airflow but make it a truly stylish option for anyone for whom their vape tank is a fashion statement.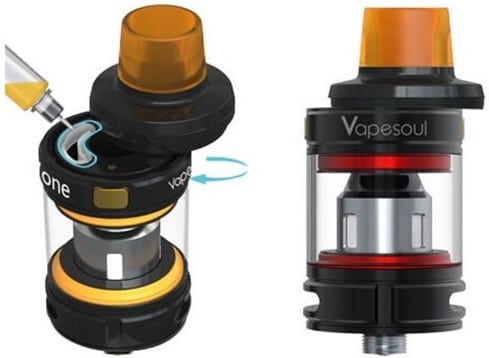 If you're looking for a sub ohm tank which is a breeze to refill, without compromising on smooth cloud production, the VapeSoul Vone is ideal for you.
A Simple Refill Design
It couldn't be easier to fill the VapeSoul Vone. All you have to do is slide aside its top cap and then refill with your preferred e-juice with no spillage and no need to unscrew the tank or its top cap.
It also boasts an impressive locking mechanism which ensures complete security and safety from leakage.
Ideal For Advanced Vapers
If you love smooth vapour clouds, the VapeSoul Vone will tick all your boxes. With its 0.15Ohm coils, the clouds produced by this tank will be everything you hoped for.
Meanwhile, its 2ml e-juice capacity ensures you can vape for a long time without running out of e-liquid on the go.
Thanks to the 510-thread connection, you can use VapeSoul Vone with virtually every TC advanced mod on the market for the ultimate in versatility and convenience.
Pros:
Compatible with virtually all TC advanced mods
Advanced locking mechanism
15ohm coil for smooth vapour clouds
2ml capacity
Slide top filling design
Cons:
Some users report that VapeSoul Vone may leak through its airflow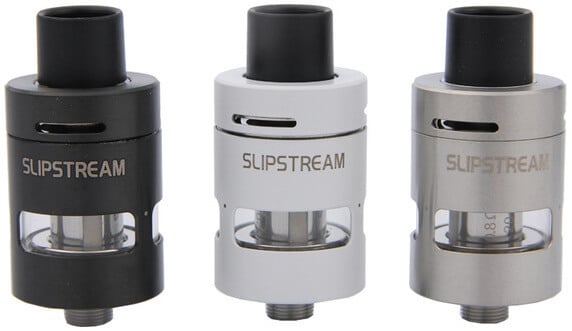 The Innokin Slipstream holds 2 ml of e-juice and can be top filled by simply removing the push and turn top cap for extra convenience.
TPD compliant, this device is extremely safe and has been equipped with safety features to ensure that it is safe for use around children.
The 21mm tank is attractively designed and is compatible with numerous sub ohm capable mods for increased flexibility, and with its stainless steel casing, it offers excellent protection against accidental damage while still allowing the vaper to view their liquid levels.
The top cap features three adjustable airflow holes allowing the vaper to alter the draw to suit their personal preferences, and the atomizer comes complete with a pre-installed 0.8 Ohm kanthal coil as well as a supplied 0.5 Ohm stainless steel coil which can be swapped for better flavour or vapour.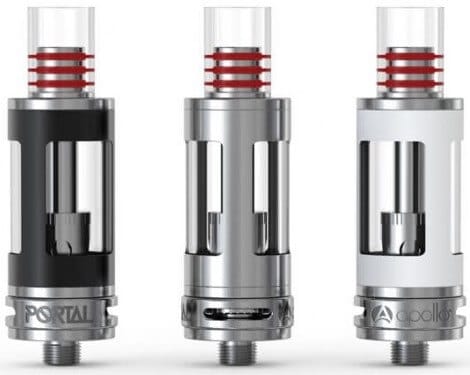 When vaping on the go is your aim, the Apollo Portal is a great choice. Its tank has a two-part design and is easy to fill with virtually no chances of spillage.
Its all-in-one coils are also designed for speedy replacement with no fuss and no mess for minimal downtime.
Supplied With Two Coils As Standard
The Apollo Portal comes complete with two coils. Pre-installed, you'll find the 0.5 Ohm coil is ideal for all high VG e-juices, while the 1.0 Ohm coil which comes supplied as standard is perfect for 50:50 or high PG e-liquids.
Whatever type of e-juice you prefer, you'll love the performance from this device.
An Elegant Finish
There is a choice of three finishes for the Apollo Portal.
Whether you're looking for the rugged appeal of a rubberised ultra-durable, non-slip coating or the timeless elegance of a stainless-steel finish, you'll find that the Portal resists dirt and scratches with ease, making it a brilliant choice for use on the move.
Pros:
Choice of 3 finishes
Non-slip, ultra-durable coating
Comes with 2 coils
High performance with both VG and PG e-liquids
Easy fill two-part design
Cons:
Glass construction means this tank could break
If you're looking for convenience from your tank with plenty of style and the versatility to use with all types of e-juice, the Apollo Portal is ideal for you.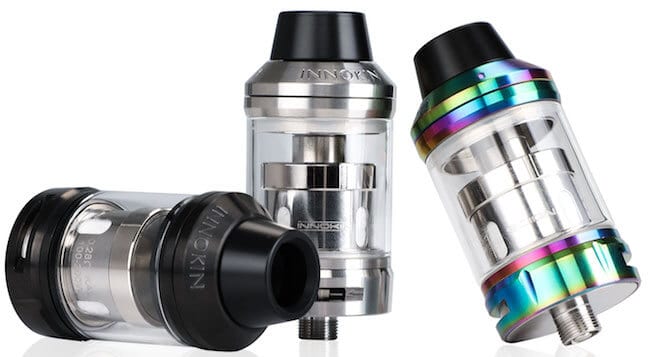 Innokin is a well-known vaping brand, famous for its quality products and their Scion II remains true to the brand's original Scion tank design, while also incorporating improvements in a number of other areas including control, functionality, airflow, aesthetics and parts interchangeability. 
An Upgraded Design
The original Scion sub ohm tank had a great design, but the Scion II takes things one level higher with an inclusive black Delrin drip tip which can now be switched for any other drip tip that suits your preference, allowing you to customise the tank to meet your requirements.
Also, the Scion II is compatible with Plexus mesh coils. These include full KAL panels with aligned vent holes for maximum flavour at high temperatures and wattage as well as a powerful throat hit.
The Plexus coils also apply the current more evenly through the e-juice for a longer-lasting, more even and efficient vape.
A Leak-Free, Easy-Fill Tank
This sub ohm tank has a 2ml e-liquid capacity and boasts a simple to use "slide and fill" fill mechanism.
It couldn't be easier to refill it, and since it has been made with extra precision, there are no worries about leakage.
Pros:
Slide and fill mechanism
Leak free design
Compatible with Plexus mesh coils
Interchangeable drip tip
Cons:
This tank is slightly longer than many others
If you need a reliable, easy-to-fill and leak-free tank, the Innokin Scion II is a great choice for you.

The SMOK TFV Mini V2 has been a long time in the making, but keen vapers who are fans of the brand sure to be delighted at the final result.
This powerful sub ohm tank works perfectly with Mini V2 A2 and A1 coils and is ideal for both flavour enthusiasts and cloud chasers alike.
The manufacturer have made a few improvements in the design of the SMOK TFV Mini V2. The heating area is larger, and the new top-filling cap system boasts a bigger filling spot to guard against spills.
SMOK TFV Mini V2 is heralding the arrival of a new generation of mesh coil tanks with a base diameter of 25.4mm and stylish, angular lines.
The chassis is beautifully crafted for plenty of aesthetic appeal while the 16mm Baby V2 exclusive Delrin wide bore drip tip offers excellent performance.
The top feature of SMOK TFV Mini V2 is the pre-installed 0.17 ohm Baby V2 A1 single coil which has a piece of mesh to cover the cotton allowing for a rating range of 90w up to 140w.
To allow for more versatility, it also comes with a 0.2 ohm Baby A2 dual coil that has two heating cores and allows for wattage settings of between 50w and 80w.
The three big air holes in the base allow for complete adjustability for maximum cooling properties and throttle.
Available in a choice of 8 different attractive colours, this is a perfect sub ohm tank for any vaper who values style as much as performance.
While it may sound like a piece of futuristic Sci-Fi technology, a sub ohm tank is actually very simple to wrap your head around.
In basic terms, a sub ohm tank is one that is specifically designed to be used with replaceable atomisers that have coils inside with a resistance of lower than 1.0-ohm.
These atomisers will be pre-made and ready to buy in any good vape retailer. Sub ohm tanks are generally very accessible and easy to use, especially for those who are new to vaping on the whole.
Additionally, these sub ohm tanks are also generally very simple to clean as each tank component can be easily removed and put back together again.
Sub ohm tanks also usually have large tanks, meaning that the capacity of e liquid inside will be larger than many other tanks on the market. This larger tank also tends to produce clouds that are rich in both flavour and volume.
How Does a Sub Ohm Tank Work?
Generally speaking, a sub ohm tank works in essentially the same way as any other vape tank on the market. But the main difference between a sub ohm tank and a traditional vape tank is that sub ohm tanks are specifically designed to be used with high powered devices.
Sub ohm tanks utilise a replaceable atomiser/coil system, meaning that the coils within the tank need to be swapped out when they lose their effectiveness. When E-liquid is first introduced into the tank it is absorbed by the cotton wick.
Once the coil inside the tank heats up and comes into contact with the wick, a vapour is produced. Drawing from the mouthpiece of the tank causes this contact, which subsequently causes the vapour to travel up the tank and into your mouth.
Modern sub ohm tanks feature a top-fill system which is incredibly easy to use as well as some form of airflow control.
How to Use a Sub Ohm Tank?
Sub ohm tanks are extremely simple to use. All you need to do is prime your coil, insert the coil into the tank, fill the tank with your chosen E-juice, and wait for around ten minutes to let the E-juice saturate into the wick.
After that, you are free to fire your device up and draw.
Reasons to Use a Sub Ohm Tank
There are plenty of upsides to using a sub ohm tank. One of the main benefits is convenience.
Using replaceable atomisers is much more simple than utilising rebuildable ones. Sub ohm tanks also produce rich and flavourful clouds.
Drawbacks to Using a Sub Ohm Tank
There are some slight drawbacks to using a sub ohm tank. Unfortunately, if you are a MTL vaper then a sub ohm tank is not for you as it can only produce a DL vape.
Due to their size and high-power, sub ohm tanks also often drain battery quite quickly.
The true answer to this question is both yes and no. Anyone who wants to try sub ohm vaping really has to educate themselves before starting, gaining a basic understanding of basic electronics and Ohm's law to ensure safe use of the products.
Instructions should always be read carefully and it is very important to be aware of battery safety. If you don't want to do your homework yourself, you should visit a local vape shop to find out more information, read articles about battery safety or chat with somebody who already has knowledge on a forum like Reddit.
One of the safest ways to try sub ohm vaping without any risk is to try a regulated box mod, however you should never use a mech mod that has a hybrid top cap for sub ohm vaping as this is dangerous.
When using a mech mod and a sub ohm tank together, you should never ever use an unvented mod. You also need to use batteries that are appropriate for sub ohm vaping. Usually, 18650 batteries are recommended and these can be purchased from trusted vaping shops.
What Is the Best Vape Juice to Use in a Sub Ohm Tank?
The best E-liquid to use with a sub-ohm tank is usually one that has a higher VG, particularly those above the 60 VG mark. These tend to provide smoother draws.
What Nicotine Strength E Juice Should I Use in my Sub Ohm Tank?
Using high strength nicotine e liquids with a sub ohm tank can lead to harsh draws that can make your throat hurt or feel dry.
It is generally recommended that you use E-liquids with strengths lower than 10mg for sub-ohm tanks.
Is Sub-Ohm Vaping Right For You?
Sub ohm vaping is not to everyone's taste so before you jump into trying it you should remember that the majority of sub ohm vapers are dedicated and fairly experienced.
Sub ohm vapers are taking some risks and therefore you need to be careful, diligent and above all, safe. If this does not appeal or you feel that following the safety rules would be too difficult, you should not sub ohm vape.
If you find you require more flavour or vapour than you are getting at a resistance of over 1 ohm, you should try a high powered VV/VW regulated mod as this is safer for you.
What is the Difference Between Standard Tank & Sub-Ohm Tank?
You can choose either a sub ohm tank or a standard one depending on your preferences.
Standard vape tanks are probably the best starting point if you are a beginner to vaping as they are designed to work with a fixed voltage device or a variable voltage vaporizer which requires low power levels.
If you are an ex-smoker you are probably looking for a strong throat hit and more flavour and a standard tank will bring out those elements rather than vapour clouds.
A sub ohm tank on the other hand is used with a high level sub ohm device which has been designed to create large vapour clouds and less flavour than found with a standard tank.
If you use the wrong tank for your device, you may experience unwanted results. For example, if you pair a standard tank with a sub ohm device you will experience a burned flavour from the burned wick.
A standard tank cannot withstand the high temperature and power level released by these devices, thus producing this unpleasant result.
If you use a sub ohm tank with a standard vape device, the atomizer will become flooded as the device cannot vapourize the e-juice quickly enough. This will cause leakages to the other parts of the device.
Therefore, for hassle free vaping, you should always pick the correct type of sub ohm tank for your device.
There are plenty of sub ohm tanks on the market to pick from, and you will need to choose the one that best suits your preferences. While some less popular brands can produce good quality products, brand reputation is an important factor while selecting a sub ohm tank.
Rebuildable tank atomisers are also becoming more popular at the moment, and if you wish to start out with doing this, you should choose a device that is less complex and designed for novices to rebuilding as knowing how to use and handle these products is essential for your safety.
Vaping can be as easy or as complex as you wish. For example, you could use a cig-a-like and simply press a button to take a drag, or you could choose your own coil to install on your RBA deck.
You can also choose between impressive flavour or huge vapour clouds. Vaping gives you complete freedom to choose a style that suits your taste best, so choosing the best set up for your own preferences is very important, and choosing the right tank is a big part of that.