Updated on April 2019: To enjoy your vaping experience to the max, you really need to make the right choice of vape tank to match your device and to suit your personal preferences.
A lot of new vapers make the mistake of overlooking this fact and feel like something is missing whenever they start vaping.
When you've invested in a high-end vape pen, you want to achieve the perfect vape, so it can be frustrating to not get the most out of the experience. Remember that each component of your set up has a part to play in the vapour quality that is released.
If there is a mismatch between your vape mod and your chosen tank, the vapour may be too little or indeed, too much for your taste.
Luckily, there are lots of vape tanks to choose from on the market, so you are bound to find one that suits your requirements.
In this helpful guide to vape tanks and sub ohm tanks, you can find out all the information necessary to choose the right one for you. Read our best vape tank reviews below, to find a perfect tank for you.
Article navigation:
Click here to see our Favourite Sub-Ohm Vape Tanks
Click here to see our Favourite Standard Vape Tanks (not sub-ohm)
Click here to read useful Vape Tank Tips & FAQ
List of Best Vape tanks in 2019 (TPD Compliant)
#1 in the UK for 2019 – SMOK TFV12 Prince

The Smok brand is well known for its impressive vaping products, and you won't be disappointed with their TFV12 Prince Tank.
Powerful and versatile, this is a brilliant choice of sub-ohm take for use every day. 
A New Design
The Smok TFV12 Prince tank features a crown-style body which has been newly designed for high performance while its Cobra resin drip tip is colourful and aesthetically appealing.
With its top-fill system, it couldn't be simpler to refill your tank, while its unique clasp effectively locks the top to keep it securely in place for no chance of leakage.
Made from durable stainless steel and glass, this is an attractive and robust tank.
The Revolutionary Prince Coils
This tank comes complete with three carefully modulated, new coils – the Prince T10, X6 and Q4 – all three of which offer vapours dense flavour and huge clouds that are certain to satisfy.
These revolutionary coils come with a Kanthal strip coil heating membrane with a larger surface area for a faster heat-up time, even heating profile and speedier e-juice absorption.
As a result, this tank ensures you a vaping experience that is entirely unparalleled.
Pros:
Comes with three Kanthal strip coils
Colourful Cobra resin drip tip
Easy to use top-fill system
Durable glass and stainless-steel construction
Unique clasp for secure leak-free design
Cons:
The airflow holes are a little large


Producing amazing results for both mouth-to-lung and sub-ohm vaping, meaning that both flavour and cloud chasers alike will love this tank.
It's also incredibly easy to refill on the go with top fill, all you need to do it unscrew the mouth tip to top up your e liquid.
The tank comes with the wide mouth tip as standard but there are other size mouth tips also available to customise the tank to your preferred set up.
The S22 is a flexible 510 tank that is compatible with a variety of S-Coils that allows you to switch it up between different vaping styles with the simple change of a coil.
The S-Coils are available in the following:
MTL 1.0Ohm (mouth to lung) – ideal for beginners looking replicate the real draw of a cigarette
DL 1.0Ohm/0.5Ohm (direct lung) – perfect for those larger clouds and an airier vape
Turbo S-Coils 0.47Ohm/0.7Ohm – coils for maximum flavour
Temperature Control 0.15Ohm – For use with temperature control devices and chucks out max vapour with high VG e liquids
Want to try out a few of the above vape styles? You can also pick up a S-coil Variety pack here for just £8.99.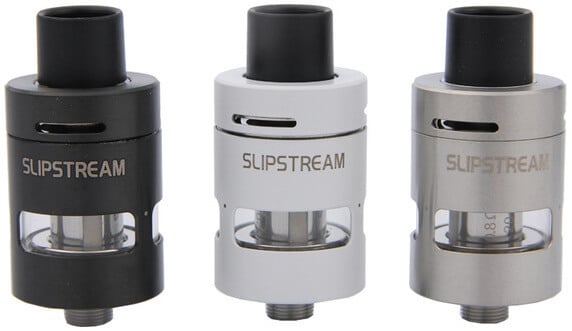 The Innokin Slipstream holds 2 ml of e-juice and can be top filled by simply removing the push and turn top cap for extra convenience.
TPD compliant, this device is extremely safe and has been equipped with safety features to ensure that it is safe for use around children.
The 21mm tank is attractively designed and is compatible with numerous sub-ohm capable mods for increased flexibility, and with its stainless steel casing, it offers excellent protection against accidental damage while still allowing the vaper to view their liquid levels.
The top cap features three adjustable airflow holes allowing the vaper to alter the draw to suit their personal preferences, and the atomizer comes complete with a pre-installed 0.8 Ohm kanthal coil as well as a supplied 0.5 Ohm stainless steel coil which can be swapped for better flavour or vapour.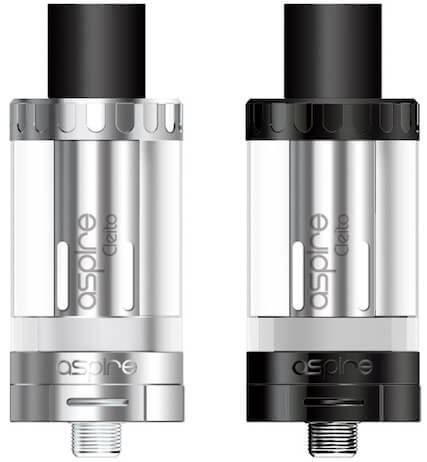 Featuring a top filling set up, the Aspire Cleito is one of the best tanks available for purchase today.
Featuring the Cleito coil, this tank allows for every draw the release a flavourful and full vapour whether using the 0.4 ohm or the 0.2 ohm coil.
With its dual airflow adjustment, this versatile tank enables the vaper to take charge of their own vaping experience.
Its capacity is 2 ml, enough to last a day without the need to refill, and it has been constructed from stainless steel and superior glass for increased durability, combining performance and value.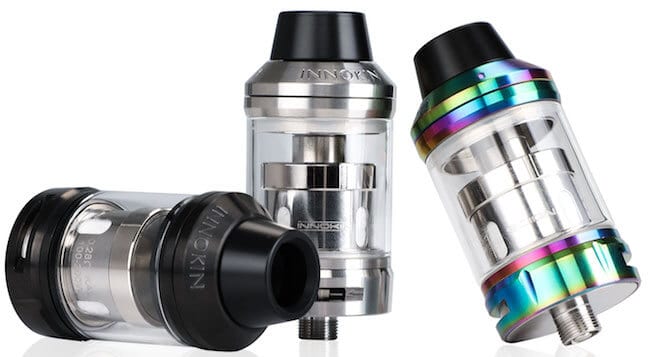 Innokin is a well-known vaping brand, famous for its quality products and their Scion II tank remains true to the brand's original Scion tank design, while also incorporating improvements in a number of other areas including control, functionality, airflow, aesthetics and parts interchangeability. 
An Upgraded Design
The original Scion tank had a great design, but the Scion II takes things one level higher with an inclusive black Delrin drip tip which can now be switched for any other drip tip that suits your preference, allowing you to customise the tank to meet your requirements.
Also, the Scion II is compatible with Plexus mesh coils. These include full KAL panels with aligned vent holes for maximum flavour at high temperatures and wattage as well as a powerful throat hit.
The Plexus coils also apply the current more evenly through the e-juice for a longer-lasting, more even and efficient vape.
A Leak-Free, Easy-Fill Tank
This tank has a 2ml e-liquid capacity and boasts a simple to use "slide and fill" fill mechanism.
It couldn't be easier to refill this tank, and since it has been made with extra precision, there are no worries about leakage.
Pros:
Slide and fill mechanism
Leak free design
Compatible with Plexus mesh coils
Interchangeable drip tip
Cons:
This tank is slightly longer than many others
If you need a reliable, easy-to-fill and leak-free tank, the Innokin Scion II is a great choice for you.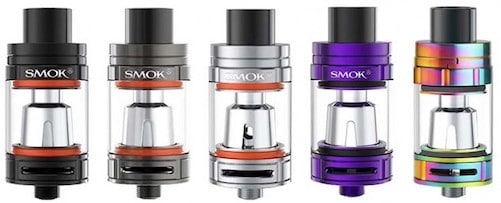 Combining unparalleled performance with a compact form, the SMOKTech TFV8 Baby Beast Tank creates a well-balanced dynamic range with precise airflow control, a 2 ml e-liquid reservoir and a hinged top filling system as well as the brand new Baby Turbo Engines coil structure.
This tank's chassis is only 22mm in diameter, which decreases its overall height by more than 15mm without compromising on e-juice capacity.
The ergonomically orientated refill system has a hinge and lock system for extra functionality while the Baby Turbo Engines family of coils have been redesigned especially to accommodate lower wattage use.
The V8 Baby-Q2 Dual Core has an output range of 30W to 80W and measures 0.2 Ohms, and the V8 Baby-X4 Quadruple Core provides impressive vapour together with premier flavours.
For those who want to build their own coils, the V8 Baby RBA head integrates a 2 post design which allows for intuitive coil configurations.
This tank also has excellent internal airflow thanks to its large dual air slots around its base and the inclusive Delrin wide bore drip tip ensures high heat dissipation levels to complete the high performance platform.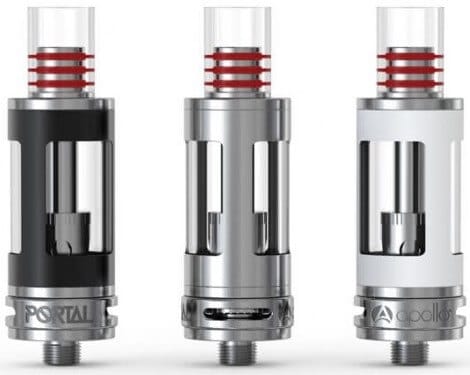 When vaping on the go is your aim, the Apollo Portal tank is a great choice. Its tank has a two-part design and is easy to fill with virtually no chances of spillage.
Its all-in-one coils are also designed for speedy replacement with no fuss and no mess for minimal downtime.
Supplied With Two Coils As Standard
The Apollo Portal comes complete with two coils. Pre-installed, you'll find the 0.5 Ohm coil is ideal for all high VG e-juices, while the 1.0 Ohm coil which comes supplied as standard is perfect for 50:50 or high PG e-liquids.
Whatever type of e-juice you prefer, you'll love the performance from this device.
An Elegant Finish
There is a choice of three finishes for the Apollo Portal tank.
Whether you're looking for the rugged appeal of a rubberised ultra-durable, non-slip coating or the timeless elegance of a stainless-steel finish, you'll find that the Portal resists dirt and scratches with ease, making it a brilliant choice for use on the move.
Pros:
Choice of 3 finishes
Non-slip, ultra-durable coating
Comes with 2 coils
High performance with both VG and PG e-liquids
Easy fill two-part design
Cons:
Glass construction means this tank could break
If you're looking for convenience from your tank with plenty of style and the versatility to use with all types of e-juice, the Apollo Portal is ideal for you.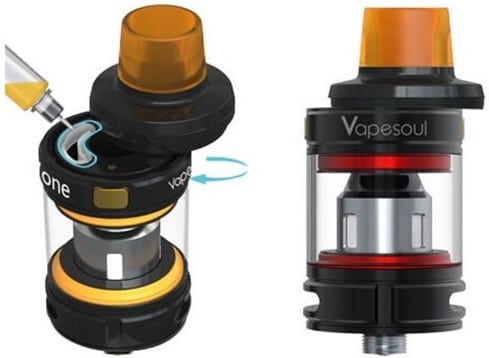 If you're looking for a tank which is a breeze to refill, without compromising on smooth cloud production, the VapeSoul Vone is ideal for you.
A Simple Refill Design
It couldn't be easier to fill the VapeSoul Vone tank. All you have to do is slide aside its top cap and then refill with your preferred e-juice with no spillage and no need to unscrew the tank or its top cap.
It also boasts an impressive locking mechanism which ensures complete security and safety from leakage.
Ideal For Advanced Vapers
If you love smooth vapour clouds, the VapeSoul Vone will tick all your boxes. With its 0.15Ohm coils, the clouds produced by this tank will be everything you hoped for.
Meanwhile, its 2ml e-juice capacity ensures you can vape for a long time without running out of e-liquid on the go.
Thanks to the 510-thread connection, you can use this tank with virtually every TC advanced mod on the market for the ultimate in versatility and convenience.
Pros:
Compatible with virtually all TC advanced mods
Advanced locking mechanism
15ohm coil for smooth vapour clouds
2ml tank capacity
Slide top filling design
Cons:
Some users report that this tank may leak through its airflow


Not many sub ohm tanks can perform well under 70 watts, yet the Freemax Fireluke Mesh Tank does it with ease.
The bold sub ohm performance of this tank comes as a result of its well-designed, long-lasting 0.15-ohm mesh coil, which offers a large surface area, enabling it to produce magnificent vapour rated between 40-90 watts.
Boasting a 24mm diameter with a 3 ml maximum vape juice capacity, a threaded top-fill section, and a highly-durable stainless construction, the Fireluke Mesh Tank handles performance like a pro.
It features dual bottom airflow control through its 16mm X 2.5mm airslots, ensuring a customised approach to ensure the vapour hits just how you want it.
Features such as smooth threads, large fill ports, and an 810-resin drip tip culminate in a tank that offers convenience and precision.
Included with the tank are 2) 0.15-ohm Fireluke Mesh coils, a spare glass tube, O-rings, and additional spare parts.
Intelligent performance, superior construction, incredible style, endless vapour: that about sums up the Freemax Fireluke Mesh Tank.
While many sub ohm tanks offer the same basic performance from a carbon copy design, this one stands above and beyond.
You can experience tremendous vapour production from a tank that offers leak-free vaping, fast and easy filling, and no condensation to get in the way of your experience.
The Freemax Fireluke Mesh Tank is one of the best tanks out there, and every single detail has been included to ensure the performance is exceptional.
It excels in producing both intense vapour along with massive amounts of flavour, ensuring a phenomenal experience.
Freemax Fireluke Mesh is one of the best sub-ohm tanks on the market right now.

Top Standard Vape tanks (not sub-ohm)
JacVapour Series-C Mini V4 Tank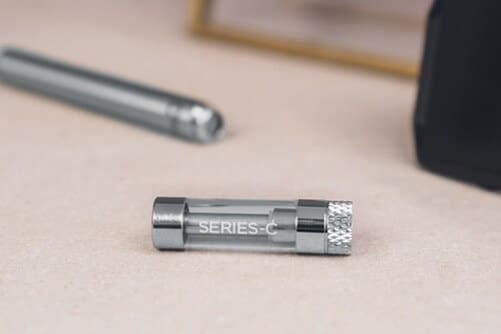 The ideal solution for vapers who want portability and convenience, the Series-C Mini V4 tank lets you simply swap your coil as soon as it needs replacing, and with each coil lasting for up to ten refills, this tank is great value for money. As they coils are also bottom fitting, the chances of the wick dry burning are much lower for a more satisfying and pleasant vaping experience.
Super simple to use, the Mini V4 tank is also incredibly safe for the vaper's peace of mind., and as they measure just 35 mm, these transparent, discreet tanks can be used with any of JacVapour's V3i batteries making them an incredibly versatile choice. As an added bonus, since they're so compact, they can be stored in your V1P PCC while they're attached to a V3i battery.
Sub ohm vaping simply refers to vaping with a device that has atomizer coils with a resistance of under 1 ohm.
More experienced vapers often choose to sub ohm in order to increase the power that is put out by a fixed voltage device such as a mech mod to generate better flavour or vapour. It is quite complex to do, and can be a controversial topic among vapers.
How Does Sub-Ohm Vaping Work?
All e-cigarettes, mech mods and VV/VW regulated mods are all electrical devices which are powered with a battery. When you sub ohm vape, you are using the principles of Joule's laws of electricity and Ohms.
This means that a non variable voltage source such as a battery of a mech mod increases to overall wattage, or power output, of the device when the ohms or resistance of the coils is decreased.
Sub ohm vaping must be done safely, and as resistance is decreased, amperage must be increased in order to supply the necessary current to power the device. This will strain the battery while increasing the heat that is generated by the coils and battery.
This means that the amperage limit of the battery must never be exceeded as the result could be an explosion or a fire.
The true answer to this question is both yes and no. Anyone who wants to try sub ohm vaping really has to educate themselves before starting, gaining a basic understanding of basic electronics and Ohm's law to ensure safe use of the products.
Instructions should always be read carefully and it is very important to be aware of battery safety.
If you don't want to do your homework yourself, you should visit a local vape shop to find out more information, read articles about battery safety or chat with somebody who already has knowledge on a forum like Reddit.
One of the safest ways to try sub ohm vaping without any risk is to try a regulated box mod, however you should never use a mech mod that has a hybrid top cap for sub ohm vaping as this is dangerous.
When using a mech mod and a sub ohm tank together, you should never ever use an unvented mod. You also need to use batteries that are appropriate for sub ohm vaping. Usually, 18650 batteries are recommended and these can be purchased from trusted vaping shops.
Sub-Ohm Safety: Mechanical Mods
To make sure your mech mod is safe to use, it must always be kept clean, including all vent holes, threads, switch and contacts.
You should replace your spring before it fails or upgrade to magnets. You should also always use the locking mechanism whenever you mod is not being used. If you are using your mech mod for sub ohm vaping you must select a well vented mod that allows both gases and heat to escape.
You should never use a mod that is unvented when sub ohm vaping. You should choose a vape mod that has a low voltage drop, which means that the most preferred mods feature fixed position contacts, a magnetic switch and a single piece tube as threaded or spring loaded contacts and multiple piece tubes raise the voltage drop.
Sub-Ohm Safety: Batteries
Your battery is an essential component when sub ohm vaping and it is vital to select the right battery and to use it safely. You should never get water on your battery, or keep it in very cold or hot conditions.
If the wrapper is damaged, you should either stop using it or take it to a vape shop for re-wrapping. Any dented batteries should be discarded.
You need to choose an authentic, branded battery that is either a hybrid lithium or IMR battery for sub ohm vaping as these use safe chemistry to allow for gases to be vented slowly which lowers the risk of explosion or fire.
A battery with a high continuous amp limit is recommended as by staying within the amp limit makes certain of safer sub ohm vaping.To find out the draw of your device, you take the voltage of your battery and divide it by the resistance of your coils.
Use an Ohms reader to ensure that there will be no shorts and never exceed the amp limit of your battery as it will fail.
E-Liquid and Sub Ohm Vaping
When you vape with sub ohm coils there is a lot of vapour produced when compared to using 1 ohm coils or higher on the same vaping device.
A sub ohm vaper will typically inhale straight to their lungs which increases the amount of vapour inhaled with every puff. Sub ohm vapers tend to prefer e-liquids that have a high percentage of VG as this creates bigger clouds and more dense vapour production.
VG has a lesser throat hit than PG and this accommodates for the increased vapour amounts inhaled. Usually, a sub ohm vaper will also use a lower strength of nicotine in the e-juice because of the extra vapour produced and inhaled.
Is Sub-Ohm Vaping Right For You?
Sub ohm vaping is not to everyone's taste so before you jump into trying it you should remember that the majority of sub ohm vapers are dedicated and fairly experienced.
Sub ohm vapers are taking some risks and therefore you need to be careful, diligent and above all, safe. If this does not appeal or you feel that following the safety rules would be too difficult, you should not sub ohm vape.
If you find you require more flavour or vapour than you are getting at a resistance of over 1 ohm, you should try a high powered VV/VW regulated mod as this is safer for you.
Standard vs Sub-Ohm: Two Types of Vape Tanks
You can choose either a standard vape tank or a sub ohm one depending on your preferences. Standard tanks are probably the best starting point if you are a beginner to vaping as they are designed to work with a fixed voltage device or a variable voltage vaporizer which requires low power levels.
If you are an ex-smoker you are probably looking for a strong throat hit and more flavour and a standard tank will bring out those elements rather than vapour clouds.
A sub ohm tank on the other hand is used with a high level sub ohm device which has been designed to create large vapour clouds and less flavour than found with a standard tank. If you use the wrong tank for your device, you may experience unwanted results.
For example, if you pair a standard tank with a sub ohm device you will experience a burned flavour from the burned wick.
A standard tank cannot withstand the high temperature and power level released by these devices, thus producing this unpleasant result. If you use a sub ohm tank with a standard vape device, the atomizer will become flooded as the device cannot vapourize the e-juice quickly enough.
This will cause leakages to the other parts of the device. Therefore, for hassle free vaping, you should always pick the correct type of tank for your device.
There are plenty of vape tanks on the market to pick from, and you will need to choose the one that best suits your preferences. While some less popular brands can produce good quality products, brand reputation is an important factor while selecting a vape tank.
Rebuildable tank atomisers are also becoming more popular at the moment, and if you wish to start out with doing this, you should choose a tank that is less complex and designed for novices to rebuilding as knowing how to use and handle these products is essential for your safety.
Vaping can be as easy or as complex as you wish. For example, you could use a cig-a-like and simply press a button to take a drag, or you could choose your own coil to install on your RBA deck.
You can also choose between impressive flavour or huge vapour clouds. Vaping gives you complete freedom to choose a style that suits your taste best, so choosing the best set up for your own preferences is very important, and choosing the right tank is a big part of that.