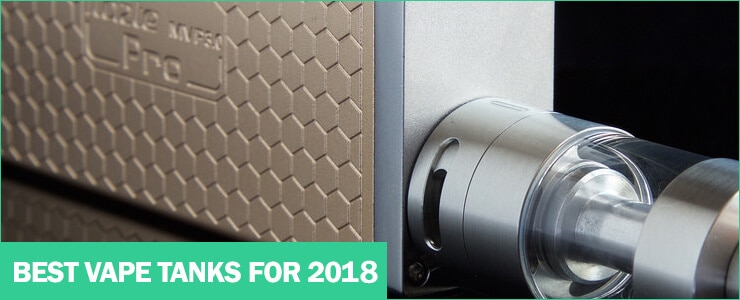 To enjoy your vaping experience to the max, you really need to make the right choice of vape tank to match your device and to suit your personal preferences. A lot of new vapers make the mistake of overlooking this fact and feel like something is missing whenever they start vaping. When you've invested in a high end vapourizer, you want to achieve the perfect vape, so it can be frustrating to not get the most out of the experience. Remember that each component of your set up has a part to play in the vapour quality that is released. If there is a mismatch between your mod and your chosen tank, the vapour may be too little or indeed, too much for your taste. Luckily, there are lots of vape tanks to choose from on the market, so you are bound to find one that suits your requirements. In this helpful guide to vape tanks and sub ohm tanks, you can find out all the information necessary to choose the right one for you. Read our best vape tank reviews below, to find a perfect tank for you.
Best Vape tanks in 2018 (TPD Compliant)
#1 in the UK for 2018 – SMOK TFV8 Baby Beast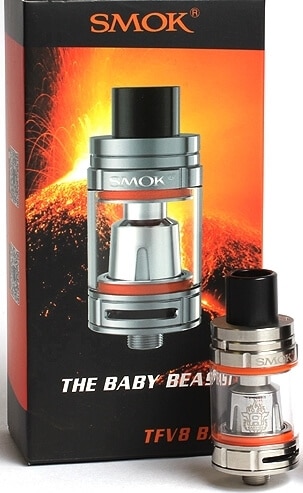 Combining unparalleled performance with a compact form, the SMOKTech TFV8 Baby Beast Tank creates a well-balanced dynamic range with precise airflow control, a 2 ml e-liquid reservoir and a hinged top filling system as well as the brand new Baby Turbo Engines coil structure. This tank's chassis is only 22mm in diameter, which decreases its overall height by more than 15mm without compromising on e-juice capacity.
The ergonomically orientated refill system has a hinge and lock system for extra functionality while the Baby Turbo Engines family of coils have been redesigned especially to accommodate lower wattage use. The V8 Baby-Q2 Dual Core has an output range of 30W to 80W and measures 0.2 Ohms, and the V8 Baby-X4 Quadruple Core provides impressive vapour together with premier flavours.
For those who want to build their own coils, the V8 Baby RBA head integrates a 2 post design which allows for intuitive coil configurations. This tank also has excellent internal airflow thanks to its large dual air slots around its base and the inclusive Delrin wide bore drip tip ensures high heat dissipation levels to complete the high performance platform.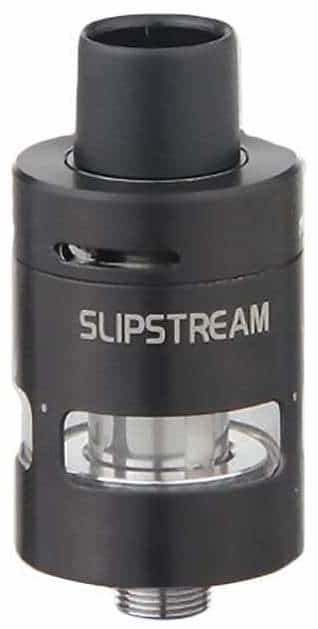 The Innokin Slipstream holds 2 ml of e-juice and can be top filled by simply removing the push and turn top cap for extra convenience. TPD compliant, this device is extremely safe and has been equipped with safety features to ensure that it is safe for use around children. The 21mm tank is attractively designed and is compatible with numerous sub-ohm capable mods for increased flexibility, and with its stainless steel casing, it offers excellent protection against accidental damage while still allowing the vaper to view their liquid levels.
The top cap features three adjustable airflow holes allowing the vaper to alter the draw to suit their personal preferences, and the atomizer comes complete with a pre-installed 0.8 Ohm kanthal coil as well as a supplied 0.5 Ohm stainless steel coil which can be swapped for better flavour or vapour.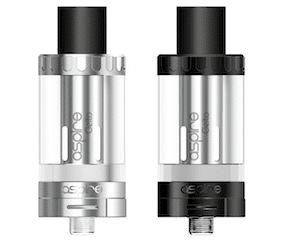 Featuring a top filling set up, the Aspire Cleito is one of the best tanks available for purchase today. Featuring the Cleito coil, this tank allows for every draw the release a flavourful and full vapour whether using the 0.4 ohm or the 0.2 ohm coil.
With its dual airflow adjustment, this versatile tank enables the vaper to take charge of their own vaping experience. Its capacity is 2 ml, enough to last a day without the need to refill, and it has been constructed from stainless steel and superior glass for increased durability, combining performance and value.

#4 Kanger TOPTANK Nano 2.0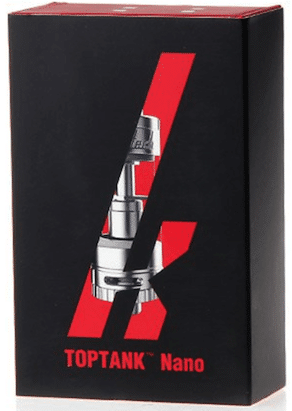 This tank is the next generation of the SubTank Nano, and while it retains the same principle of high performance, its accessibility and ergonomics have been greatly improved. The Toptank Nano 2.0 is an excellent all-round tank for everyday vaping and it's TPD compliant.
The tank holds 2 mls of e-liquid and features a threaded top fill method which makes using and filling simpler than ever. The TOPTANK Nano also utilises Kanger's latest SSOCC structure for a longer lifespan and better performance in a smaller size, allowing for a larger capacity and tank volume. This tank comes complete with a pre-installed Nichrome SOCC 0.5 Ohm coil which has been specifically built for a temperature controlled output. It also comes with a spare 1.2 Ohm coil.
This tank provides excellent usability together with high efficiency and strong performance, ensuring its place among the top sub-ohm tanks on the market today.


This updated version of the popular iSub G and iSub tanks has been expertly designed to offer an enhanced vaping experience for those who are looking for either deep hits and huge clouds or consistently full flavours during mouth to lung vaping.
Its Solid Spin Top Fill System allows for speedy and clean refills while its raised adjustable airflow keeps leakage to a minimum while maximising performance. Quiet and compact, the glass tank has been designed with a high quality sleek stainless steel body and engineered for excellent durability together with outstanding cloud and flavour production.
The iSub APEX tank can be used with all 2.0 Ohm, 0.5 Ohm and 0.2 Ohm iSub coils made with Japanese organic cottom for purer flavour and faster wicking, and comes complete with a stainless steel and a glass drip tip. Its advanced Prism Flavor+ design gives a flavour boost to your favourite e-juices while its patented convection airflow system delivers impressive flavour with less leakage. This tank also has an innovative No Spill Easy Swap Vertical Deep Coil System which allows for easy coil replacements with no mess.

Top Standard Vape tanks (not sub-ohm)
JacVapour Series-C Mini V4 Tank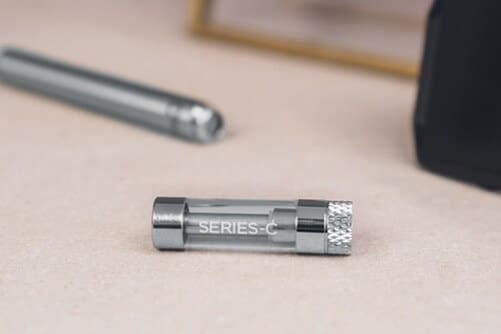 The ideal solution for vapers who want portability and convenience, the Series-C Mini V4 tank lets you simply swap your coil as soon as it needs replacing, and with each coil lasting for up to ten refills, this tank is great value for money. As they coils are also bottom fitting, the chances of the wick dry burning are much lower for a more satisfying and pleasant vaping experience.
Super simple to use, the Mini V4 tank is also incredibly safe for the vaper's peace of mind., and as they measure just 35 mm, these transparent, discreet tanks can be used with any of JacVapour's V3i batteries making them an incredibly versatile choice. As an added bonus, since they're so compact, they can be stored in your V1P PCC while they're attached to a V3i battery.
This is one of the best vape tanks on the market right now.

Best RBAs (Rebuildable Atomizers)
An RBA is a rebuildable atomizer. Unlike an RDA, they require no dripping since they use tanks to hold e-liquids, however they do have building decks where you can fix your choice of coils to suit your preferences. There are four parts to an RBA – the building deck and base, the tank, the chimney and a top cap and drip tip. Some RBAs will have a top building deck which works differently. These are more complicated than those that have bottom building decks. RBAs work by different mechanisms depending on type. Like an RDA, an RBA works best with a mech mod, but they can also work with regulated mods. It requires some knowledge about voltages, resistances and safety nets to be able to use an RBA safely, and it will take some practice to get used to building one. Some RBAs are suitable for beginners to rebuilding, but most RBAs are designed for more serious vapers who want a completely customised approach to vaping. An RBA can create a huge amount of vapour with improved flavour and hit that is ideal for mouth to lung inhaling. Here are some of the best RBAs on the market today.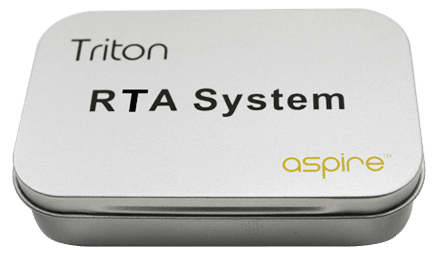 With an impressive RTA atomizer system, the Aspire Triton is one of the most desirable products available for purchase today. Simple to use yet with advanced features, it allows plenty of spacing for lots of different coil options. This four piece system makes it simple to use and build coils without any hassle.
Thanks to its stainless steel construction it is very robust and it couldn't be easier to swap between RBA mode and clearomizer mode for complete flexibility.

Built upon SMOKTech's popular TFV4 tank, this new rebuildable tank is unique thanks to its large deck off base dual post design for more build variety. The compact body and hidden sealing ring prevent any leaks from this tank and thanks to the innovative juice flow control system, the juice flow slots can be closed before replacing the deck or filling to cut back on leakage.
The swivel cap design makes it easy when top filling and the four large air slots in the base allow airflow adjustment. The double layered structure of the dip tip provides a heat shield to guard against overheating. Overall, the SMOKTech TF-RTA has been designed to give vapers thick flavour-filled clouds together with a smooth inhaling experience.

There are plenty of vape tanks on the market to pick from, and you will need to choose the one that best suits your preferences. While some less popular brands can produce good quality products, brand reputation is an important factor while selecting a vape tank. Rebuildable devices are also becoming more popular at the moment, and if you wish to start out with doing this, you should choose a tank that is less complex and designed for novices to rebuilding as knowing how to use and handle these products is essential for your safety. Vaping can be as easy or as complex as you wish. For example, you could use a cig-a-like and simply press a button to take a drag, or you could choose your own coil to install on your RBA deck. You can also choose between impressive flavour or huge vapour clouds. Vaping gives you complete freedom to choose a style that suits your taste best, so choosing the best set up for your own preferences is very important, and choosing the right tank is a big part of that.