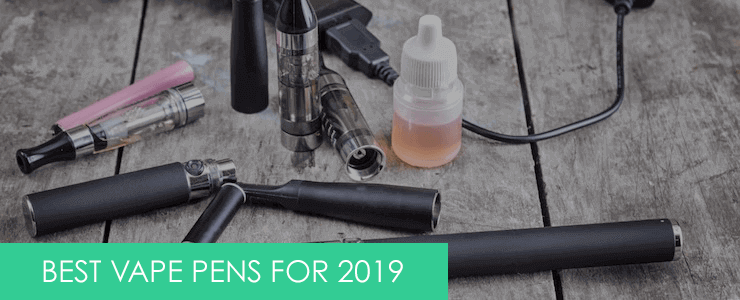 Updated on April 2019: Vaporizer pens (also known as vapour pens or vape pens) have recently become one of the hottest consumer items on the market.
Why is that?
According to our research, just in the last year, there has been increase in vape pen usage by as much as 26.9%. Vape pens have become popular because their superior usage for oils, waxes, dry herbs and e-liquids, in comparison to other formats of e-cigarette.
As demand has increased for vaporizer pens, as can be expected, so has supply. There are currently hundreds of different brands of vape pens out on the market today.
Some are good, and some are downright terrible and even considered to be dangerous.
With over 5 years' experience in evaluating eliquid products, we are here to deliver our unbiased reviews of the best vape pens available in the United Kingdom today.
Article navigation:
Click here to see our Favourite Vape Pens for E Liquid
Click here to see our Favourite Vape Pens for Dry Herbs
Click here to see our Favourite Vape Pens for Waxes & Concentrates
Click here to see our Complete Vape Pen Guide
List of the Best Vape Pens in the UK for 2019
Best Vaporizer Pen for E-Liquid
#1 in the UK for 2019 – 3in1 V2 Cigs Pro Series 7
With all of the PRO series 3's smart features, the Pro Series 7 comes with some brand new features of its very own including variable temperature control and variable voltage, a larger cartridge capacity and a longer battery life.
The vaporizer pen comes in a choice of three attractive colours and the kit comes with a USB magnetic charging cable as well as a wall adapter making recharging quick and easy.
There are two cartridges supplied with the kit, both of which are magnetic for the ultimate in convenience, one for e-liquids and one for loose leaves.
A brush and pick are also included for maintenance purposes. There is also the option to add some additional extras to the kit included platinum e-liquids, wax cartridges, auto chargers, cleaning kits, grinders or lanyards.
This low maintenance, user-friendly device is perfect for both those who are brand new to vaping and more experienced users alike.
Boasting all of the great features that you would expect in a device from this premium brand, this kit has been designed using the most advanced technology for even better performance combined with excellent value. If you have the budget, V2 is the best vape pen for you.


This vape pen is a TPD2 compliant vaporiser which can be used for both standard and sub-ohm vaping, making it perfect for people who like to vary their vaping style from day to day.
Made from high quality raw materials, the VOID vaporiser starter kit has been designed specifically to eliminate the possibility of inhaling any contaminants or carrier chemicals which could cause health problems while remaining very user-friendly and offering a pleasurable vaping experience.
The perfect choice for both experienced and novice vapers alike, this all-in-one e-cigarette combines cutting edge technology with an advanced German design.
Equipped with a powerful 1500 mAh battery, it has an anti-leaking all-in-one body structure paired with a 2ml e-juice capacity and has been optimised for use with both normal and high VG ratio e-liquids.
Available in a choice of 4 stylish colours, the VOID vaporiser is an attractive choice for vapers at all levels of experience and offers a versatile vape at a price that is easily affordable.
In our opinion, this is one of the best vape pens in the UK right now and suits vapers of all kinds, from novices to the experienced.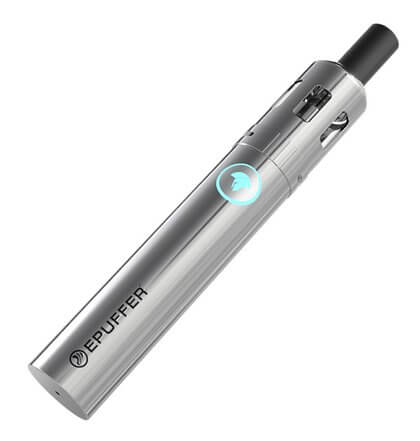 Thanks to its innovative and versatile design, the Titan X Hybrid pairs the best of a box mod with the intuitive design of a standard e-cig.
The result is an impressive, user-friendly vape which offers plenty of performance, great, smooth flavour and enough vapour production to satisfy anyone.
One of the top features of this device is its interchangeable coil, which allows the user to switch with ease between a 1.0 Ohm coil, or a 0.4 Ohm coil.
This allows for both mouth to lung or sub-ohm vaping to suit the user's preference and to allow for maximum flexibility.
Boasting a better battery than earlier incarnations from this brand, the Titan X features a 1500 mAh battery that can last for longer between recharges.
This is another feature which makes this vaping device perfect for those who like to vape on the move, and when paired with its compact size and lightweight design, it is the perfect option for use on the go.
This device has also been designed with ease of use in mind. The top loading design means that it couldn't be simpler to refill, while the strong protective glass tank will not break easily, even when taken out and about.
Perfect for both experienced and novice vapers, the Titan X is a cutting edge device that is sure to impress.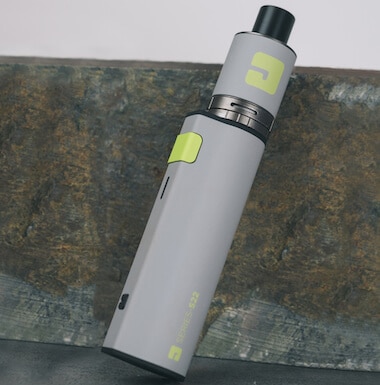 Designed in-house, in the UK by JAC Vapour, the SERIES-S22 vape pen is a powerhouse of an e-cigarette that boasts a massive 2600mAh vape battery.
It was created to last all day of vaping without needing a recharge which is perfect if you commute or are going on holiday.
When you do need to recharge, you can still vape whilst plugged into the USB charger with its handy pass-thru function.
Series-S22 also has a safety lock mode for when it's not in use – simply click the button repeatedly 5 times to lock and do the same thing again to unlock.
There are no complicated settings to worry about either; all you need to do is hold down the button and inhale.
It's the ultimate 'out and about' e-cigarette and compact enough to slip into your pocket.
Designed to take the knocks and bumps of day to day life, the highly durable rubber coating is not only practical but also very stylish and is available in 2 different colourways (black and grey/yellow).
The 'quick fill' top fill S22 vape tank means you're ready to go in seconds, fit the vape coil, drip in e-liquid and vape.
The S22 vape tank is also very flexible with the use of different types of S-Coils so that you can change up your vaping style simply by switching out the vape coil. The compatible S-Coils are available in the following:
MTL 1.0Ohm (mouth to lung) – ideal for beginners looking to simulate the real draw of a cigarette
DL 1.0Ohm/0.5Ohm (direct lung) – perfect for those big clouds and an airier vape
Turbo S-Coils 0.47Ohm/0.7Ohm – coils for the flavour chasers.
A cross between a traditional vape pen and a box mod, the SERIES-S22 making it a very solid vape device for both beginners and more experienced vapers with the flexibility of different vape coils and all-day battery life.
The vape kit comes with a 2600mAh vape battery, S22 vape tank, x1 MTL 1.0Ohm vape S-coil and USB charging cable.


This Vapour pen starter kit comes equipped with the brand's high capacity, top quality battery which is now available in a new style featuring a black fire button and brand new packaging.
The Series-S17 boasts superior reliability and better performance thanks to its solid and durable build from stainless steel so you can rest assured of its long lifespan and ability to withstand the rigours of daily use.
It also has advanced features all in a stunning and compact design that will fit easily into your bag or pocket when out and about for the ultimate in discretion.
This is an ideal kit for vapers who are seeking power, reliability and a quality build all in a portable size.
The kit comes with a 900mAh battery, a Series-S17 Tank that is fitted with a 1.0 ohm mouth-to-lung coil, and USB charger.
There are also optional extras which can be added to the kit including additional batteries, replacement coils, and bottle of e-liquid.
JacVapour produces one of the best Vape Pens in the UK, so you can depend on this device's reliability and high performance.

#6 SMOK Stick Prince with TFV12 Vape Tank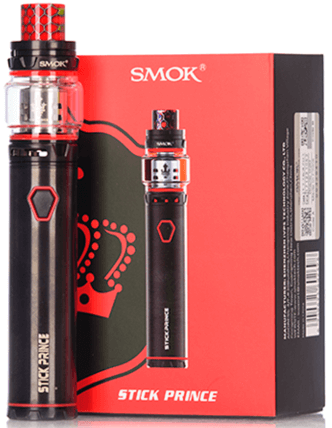 Mod performance from a vape pen: that's exactly what you can expect from the SMOK Stick Prince with TFV12.
This vape pen offers massive amounts of power and performance, all from a slim, portable body that stays on the downlow when you need it to.
The SMOK Stick Prince offers a heap-load of innovation, delivering unheard of performance from a compact, slender pen that works with a single-button activation, along with an ultra-powerful sub ohm tank, equipped with some of the best coils on the market.
Boasting a gleaming stainless steel finish, this device is as gorgeous as it is powerful; and that's saying something!
A 3000mAh battery is the force behind the performance of this setup, and it delivers exceptional amounts of power to keep things running strong through extensive vape sessions.
This pen was designed for producing clouds, and it does not disappoint. A hexagon-shaped, single-button activation allows for ease and convenience in use, and an LED indicator has been set into the button to alert you to your battery level at all times.
The SMOK TFV12 Prince Baby Sub Ohm Tank is included with this kit, offering a crazy huge 8ml juice capacity, which is pretty much a rarity for most vape pen kits.
Additionally, a 510 connection on the pen enables you to use any compatible tank you want, offering another great option.
Additional details include a patented lock system that prevents leakage, expertly-designed coils, and a range of interesting color options.
Overall, in terms of performance, features, and advanced functioning, the SMOK Stick Prince with TFV12 is a force to be reckoned with.
Everything about this starter kit was designed to enable heavy hits, massive clouds, intense flavour, and incredible lasting time between charges. High performance from a vape pen has never been this good.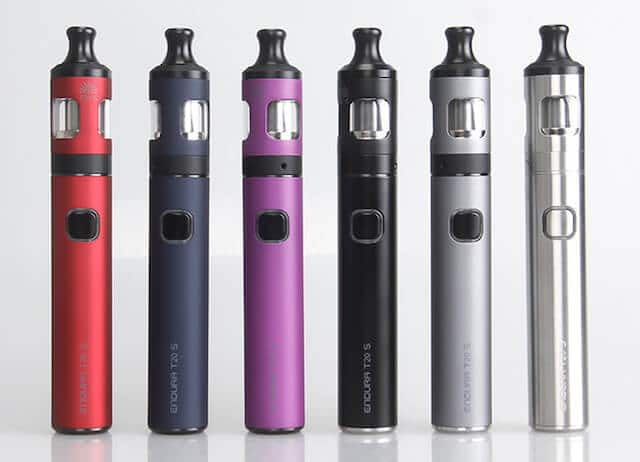 Innokin's latest addition to their Endura mouth-to-lung pen-style vaping devices is the Endura T20-S. The T20-S is the latest, and one of the most popular, devices that Innokin have produced, being a great improvement over the previous Endura T20 model.
Innokin have outdone themselves time after time and this latest advancement in vaping technology just proves that Innokin are definitely one of the best and most reliable vape companies on the planet.
Whether you're looking for an upgrade over the previous models in the Endura range or whether you are looking into vaping for the first time, the Endura T20-S is a perfect solution to all of your vaping needs and wants.
The mini size of this vape pen makes it extremely easy to carry around in a pocket or handbag with it taking up virtually no space at all.
Its tough stainless-steel frame will also protect the pen from any accidental damage whilst being transported from A to B, making it ideal to take out and about wherever you may go.
An improved coil is also available with a new T20-S prism tank which greatly improves the flavour of the e-liquid.
The Endura T20-S is powered by a powerful 1500mAH battery which guarantees a lengthy battery life and reduces the need to charge the pen at frequent intervals.
Two different coils are available with this pen; a 1.5ohm coil which is ideal for mouth-to-lung vaping, imitating the feel of a real cigarette as the vapour is drawn into the mouth and inhaled, and a 0.8ohm coil which suits the direct-to-lung vaping style.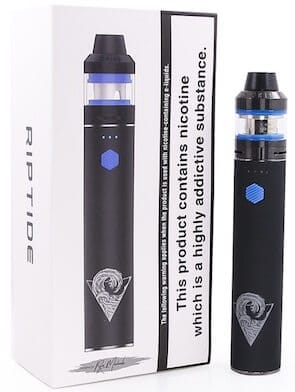 The RipTide Crios 2ml Kit is a remarkably innovative starter kit, centered around a design
offering sub ohm performance from a sleek, stylish vape pen.
This device offers a keen direct-to-lung experience, with a tremendous amount of power, and an overall consistent experience every time.
This makes it an excellent choice for vapers of all levels; beginners to the most advanced will appreciate its performance abilities.
The amazing thing about this device is how simple it is to use, while offering a highly satisfying level of vaping.
The RipTide Crios features a seriously powerful 3000 mAh internal, rechargeable battery,
enabling it to deliver massive amounts of vapour and truly intense hits.
With such immense power, you can expect this device to power easily through your everyday vape sessions without needing to be constantly recharged.
With a fixed wattage output at 68 watts, the vaping is substantial enough for any advanced vaper to feel right at home, despite this device being on the slim, slender side.
Just like the name states, the tank that comes with the Crios 2ml Kit holds a sizeable 2ml of vape juice, offering the perfect capacity for on-the-go vaping.
Within the tank, a 0.25 ohm coil has been installed, offering the ability to produce phenomenal amounts of vapour production.
An additional coil has been included, which will most definitely come in handy when it's time to swap out the old one.
The leak-free design with triple adjustable airflow ensures great vaping without a hassle, so you can enjoy the experience all the way.
The RipTide Crios 2ml Kit is an awesome starter kit offering great performance and excellent features from a very simple setup, which make it the ideal device for portability.
This kit offers the whole package: affordability, simplicity, and quality; the foundation of what every vaper needs.

#9 ePuffer Phantom HD3 Vaporizer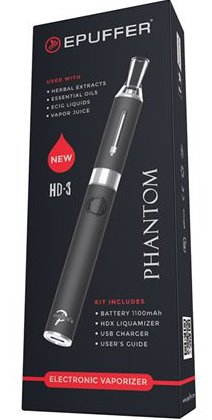 The ePuffer Phantom HD3 is incredibly portable and is an impressive vaporizer pen that comes with a bottom coiled heating element which can easily be replaced ensuring that this device will last a long time.
Thanks to the brand's cutting edge liquamiser technology, vapers can enjoy a smooth draw together with fantastic vapour production which enables them to satisfy their cigarette cravings at virtually any time and in any place.
This vaporizer pen works with e-liquids and vapour juices as well as herbal extracts, accommodating a variety of tastes and preferences, and the kit comes complete with a 1100mAh Lithium Rechargeable Battery which has a Pass-Through Function, a convenient Micro USB Battery Charging Cable and even a bonus bottle of e-liquid with a volume equivalent to 9 or 10 cigarette packs.


The K2 Pen was designed to make the transition from smoking to vaping as simple as possible, and it offers an experience that is both comfortable and highly enjoyable.
Loaded with features but remaining ultimately simple to use, there are very other vape pens that makes it this easy to vape with such innovation.
The Aspire K2 Vape Pen features a blazing, rechargeable 800 mAh battery, offering ample amounts of power for long vape sessions and extended use.
An 1.8ml Pyrex glass tube is also included, offering great liquid capacity, designed for easy refills.
The K2 features the advanced Aspire BVC technology, and it includes a pre-installed 1.6 ohm Kanthal atomizer head, along with an additional coil for future use.
Four sizeable juice holes offer excellent transfer of e-liquid, and four fixed airflow holes positioned at the device's base offer generous vapour production for exceptional performance.
This starter kit is available in either black or pink, and the kit includes a variety of additional items to complete the performance.
A micro USB is used for charging, and the K2 features an LED battery indicator, so you're in the know on battery life at all times.
Overall, the Aspire K2 Vape Pen is a stunning, high-performance vape pen that offers a substantial option for anyone in need of a great device that performs well with ease, with a stealthy design that makes for easy vaping on the go.
While there are many similar devices on the market, this one stands out due to its fine quality and ultimate reliability.
Best Vape Pen for Dry Herbs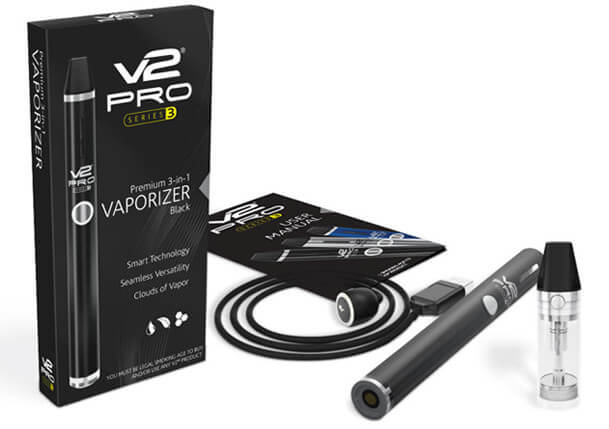 Supplying unrivalled performance and yet giving impressive value for money, the V2 Cigs Pro Series 3 offers three in one capabilities at a much lower price point than any of their rivals.
Having been optimised for use with e-liquids, the Pro Series 3 is able to deliver the battery life and cartridge capacity of a bigger device, all contained in a portable and lightweight design.
The kit comes complete with a vapouriser pen in a choice of three stylish colours (black, blue and stainless steel), a USB magnetic charging cable, a refillable e-liquid cartridge, and a wall adapter.
It is also possible to add on chargeable extras including a magnetic loose leaf cartridge which can be used to vapourise dry herbs ensuring the best possible value for money, especially for those who value flexibility in their vaping experience.

Digibake Portable Herb Smart

If you're looking for a dry herb vape that's subtle and discreet, then Digibake Portable Herb Smart is perfect for you.
Packed with features that make this vaporizer even easier and better to use, this model is high-performing, convenient and, above all, affordable, making it a brilliant choice for anyone who wants a practical all-day vape. 
A Sleek Design
Digibake Portable Herb Smart has been designed with compactness, portability, robustness and discretion in mind.
It's sleek and attractive but won't attract any undue attention thanks to its subtle color and stealthy finish.
The advanced LED screen is a nice additional touch which adds extra style to the device while its compact size makes it easy to take anywhere without compromising on performance.
The control system is very intuitive too, so if you're a newcomer to dry herb vaping you certainly won't feel out of your depth.
You'll be able to start using this vape quickly and easily with no difficulties at all.
Its ceramic heating chamber guarantees pure, clean hits every time, with no metallic or plastic flavour.
A Host Of Features
With the adjustable temperature controls, the versatility of this device is hard to beat.
You'll be able to customise your experience every time thanks to the full digital display.
The rechargeable Lithium-ion battery is powerful and long-lasting, giving you impressive vapour on demand while its speedy heating time means you'll have virtually no waiting time when you're ready to vape.
Pros:
Subtle and discreet design
Intuitive controls
Ceramic heating chamber
Long-lasting, powerful, rechargeable battery
Speedy heating time
Cons:
With all of these features and its affordable price, this is a top choice for new dry herb vapers who are looking for convenience and portability.


If you're looking for the ultimate in technological vaping, you'll find it difficult to resist the Snoop Dogg BUSH G Pro.
A collaboration between famous vaping rapper Snoop Dogg and the ever-popular Grenco Science company, this portable device is pocket-friendly for use on the go.
A Satisfying Experience
This is a well-designed and efficient dry herb vaping device. Every element has been created with the needs of discerning vapers in mind.
It couldn't be easier to use this vape pen – with a single press of the button, you can vape on the move, while its chamber is deep and simple to load, ensuring long-lasting vapour.
There is a choice of three temperature settings, so you can select the perfect vaping experience to suit your preferences, and its internal structure is heavy-duty and robust, with a heating chamber made from strong and durable stainless steel.
A Stylish Design
The BUSH G Pro has a uniquely appealing design, with garden-themed imagery which takes its inspiration from Snoop Dogg's album cover.
Its chamber size is big enough to hold a large load of herbs, and thanks to the efficient convection heating method, you'll find that the material is heated consistently and evenly for impressive flavour and vapour.
As this device is also protected by a 1-year manufacturer's warranty, you'll also enjoy complete peace of mind in your purchase.
Pros:
1-year warranty
Large chamber
Convection heating for consistency
Robust construction
Easy to use
Cons:
The design isn't very discreet
If you're heading to a festival and need a portable vaporizer for vaping dry herbs, this is the perfect model to meet your needs.

Best Vape Pens for Waxes/Oils and Concentrates
The Dr Dabber vapour pen for waxes is available in a choice of three styles and features titanium low heat technology.
Ready to start vaping in just five seconds, the Dr Dabber is equipped with a cutting edge lithium ion battery for improved performance, and it produces an impressive quality of vapour.
The kit comes complete with one wax container. The Dr Dabber has an ultra low atomiser setting and an ergonomically designed, flexible mouthpiece to make every draw simple.
Thanks to the optimised airflow, the resistance which can impede enjoying a satisfying draw is eliminated and the single button design makes this an easy to use device.

Cloud V Classic Vaporizer
The Classic Vaporizer from Cloud V is perfect for anyone who enjoys vaping oils and features a slim design for better portability and discretion. Reliable, stylish and simple, the Classic kit has all the essentials to get started with vaping immediately.
It comes complete with a Cloud Classic battery which is lightweight and easy to charge thanks to the pin charging port on the base.
Thanks to the inbuilt safety mode, the battery can be locked between uses. The kit also includes a Cloud Tornado Atomiser as standard with a fully ceramic heating element interior for instant heating and a funnel structure which makes cleaning and loading as simple as possible.
The kit also includes a mouthpiece, a USB charger and wall adapter, a Cloud standard tool and a Cloud case for convenience.


Shatterizer Concentrate Vaporizer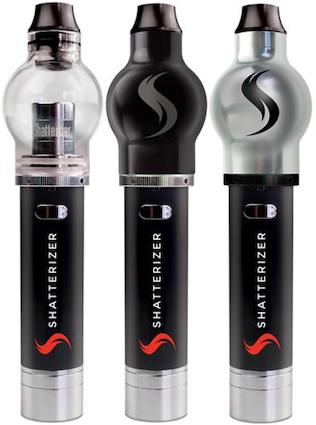 If you're looking for a versatile and powerful way to vape concentrates, the Shatterizer could be ideal for you.
With its attractive finish and excellent portability, this is a brilliant choice for vaping oils on the move.
A Smooth Finish
Made from high-grade aluminium with a smooth internal finish and a matte external appearance, the Shatterizer is versatile and easy to use on the go without compromising on power.
With its impressive performance, it's a great way to enjoy concentrates that have been vaporized to perfection while its huge clouds make this a good choice for vapers who love cloud-chasing.
Full Flavour And Strong Hits
You're sure to notice the smooth exhale and pull that the Shatterizer allows, which releases strong hits and full flavour through the integrated borosilicate glass top-piece.
Whether you prefer vaping shatter or wax, this device can accommodate your preferences, and thanks to the inclusive concentrates' carrier with its magnetic seal and silicone lining in the bottom of the device, you can easily take your device anywhere you need to go without worrying about how to keep your concentrates fresh and safe.
A Powerful Heating System
With its dual quartz coils, the Shatterizer ensures perfectly vaporized, tasty and smooth hits.
Powered with a three-stage long-lasting variable voltage Li-ion battery which offers a choice of temperature settings, this device even offers an extended continuous heat function for extra versatility and customisation.
Pros:
Dual quartz coils
Choice of temperature settings
Extended continuous heat function
Integrated concentrates carrier
Borosilicate glass top-piece
Can be used with shatter or wax
Cons:
Magnetic closure of the concentrates carrier may not be very secure
If you love using shatter and wax on the move, this is the perfect device for you. Its huge vapour clouds will satisfy even the most demanding cloud chaser.

Whether you call them an e-pen, a vapour pen, or a vaporizer pen, a vape pen is slender and long and is similar in appearance to a writing pen.
These cordless vaporizers are handheld and generally are made up of three separate parts – a mouthpiece, an atomiser which heats the material, and a battery which can be recharged to supply power. A vape pen functions by making a vapour which the user then inhales.
The material being vaped, whether an e-liquid, dry herbs, wax or oil is heating by the atomiser to around 175 to 205 degrees – to just the point before it is combusted.
This results in a pure vapour which does not burn the product and therefore which produces no harmful chemicals, residue or toxins to be inhaled into the user's lungs.
Benefits of Vaporizer Pens
There are many reasons why vape pens have become so popular. Some of the top advantages of vapour pens include the fact that they are very easy to use thanks to their straightforward designs which enable even newcomers to vaping to get started quickly and easily, with usually just one push button to begin heating the material.
They also have very discreet designs, looking almost identical to e-cigarettes, making a vape pen the perfect way to use marijuana in places where it the law permits.
One of the top advantages of a vaporizer pen is that it is very portable (unlike larger desktop devices), being small and lightweight, and the best models are able to be used many times before the need for recharging.
How to Choose the Best Vape Pen
If you are looking for the perfect vape pen to suit your requirements, here is some helpful advice:
Start With the Vape Pen Type
What do you prefer to vape?
Do you prefer dry herbs? In that case, you will require a dry herb vaper pen for vaping herbal blends, tobacco and legal marijuana.
What about wax? A wax vape pen will be required to vapourise legal hash oil or oily concentrates.
If you want to vape oils, you will need an e-cig that is able to vaporize e-juice or essential oils.
Some vaper pens are equipped with multi-functioning or interchangeable parts that are able to be used for vaping several material types.
These cleverly designed devices usually feature separate cartridges which can then be screwed onto the battery allowing vapers to quickly and easily switch between materials. For those who wish to experiment, this type of vaper pen would be perfect.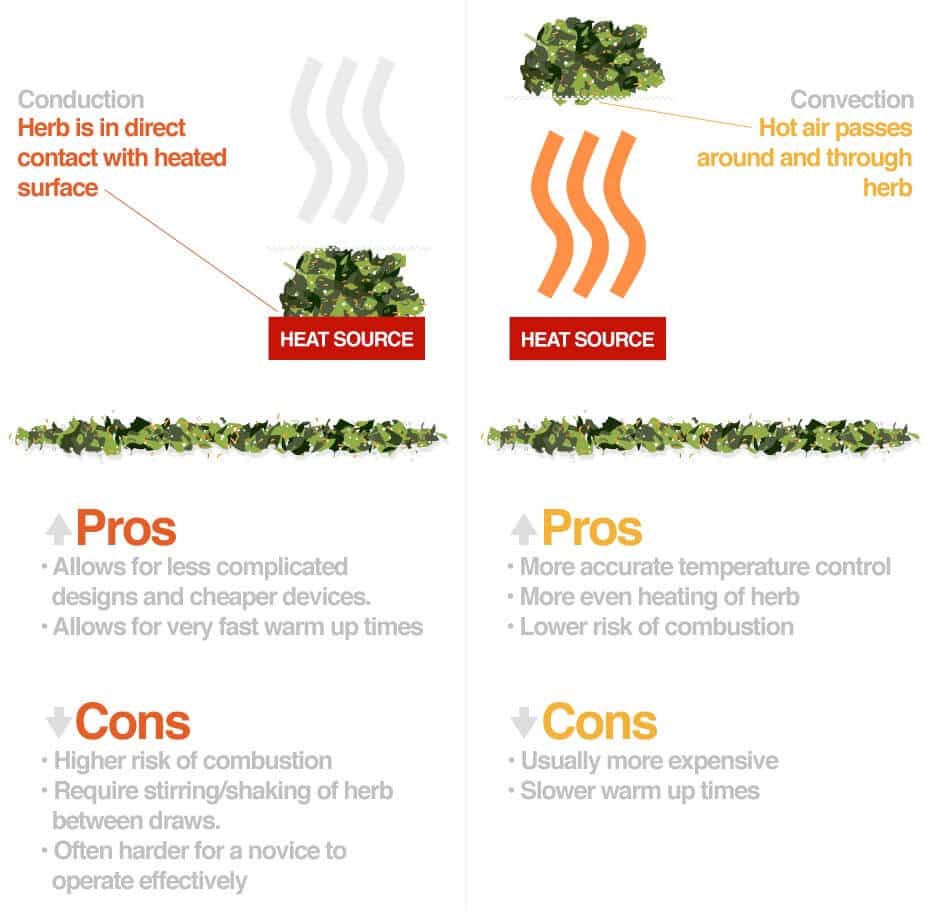 Once you know which type of material you prefer to vape, you can then think about which heating method you prefer. There are two different options:
Conduction – a vape pen which works by conduction heats materials by direct contact with the pen's heating element. These pens produce vapour very quickly and are generally more economical.
Convection – convection vape pens heat materials by warming the air inside the pen and then blowing that air through the oil, herbs or wax.
These pens take longer to heat however they often do a better job of vapourising materials completely.
Compare The Following Vapour Pen Features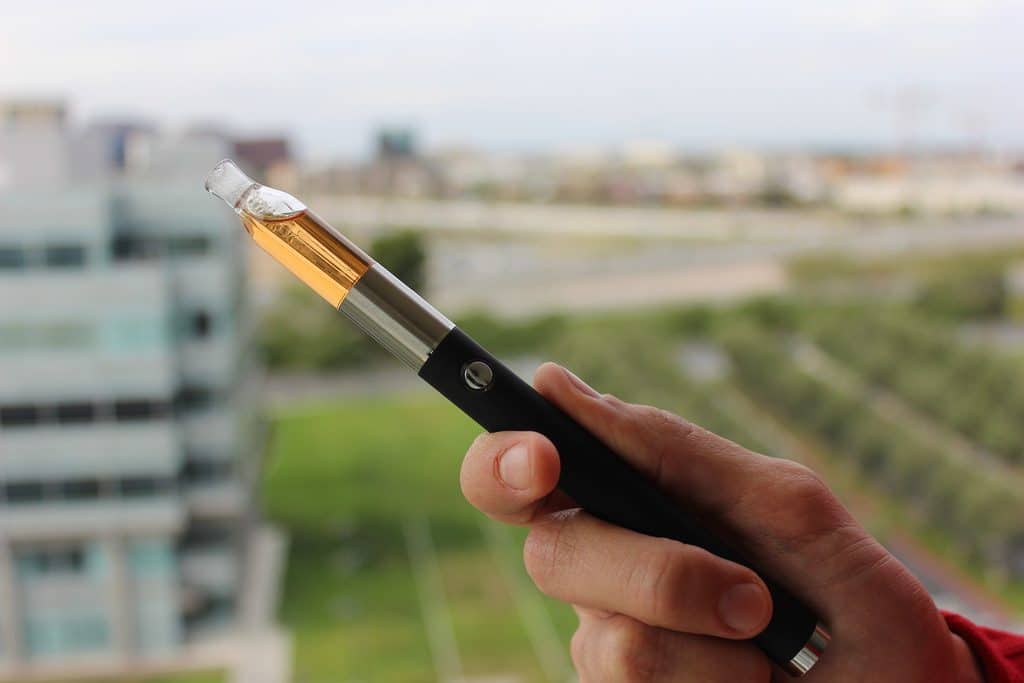 Once you have decided whether you would prefer a convection or conduction vape pen, there are other factors to consider before you make your final decision about which would be the best vape pen to suit your needs.
Battery life – How long your battery is likely to last before requiring a recharge is an important factor to bear in mind for many vapers.
If you are only planning on vaping for short sessions away from home, the lifespan of your battery may not matter as much to you as it would to those who intend to have longer vaping sessions outside the home, however this is something you may wish to consider, especially if your vape pen does not have the facility to allow vaping while charging is being carried out.
Some vape pens have interchangeable batteries, which is a convenient solution to ensuring that you have plenty of power when going out of the house for an extended period when there will be limited opportunities for recharging.
These cleverly designed devices usually come with two batteries so that one can be used in the device and the other taken along with you ready to make the switch when the first battery runs down.
Style – Vape pens can often be considered to be a fashion accessory and it is possible to choose vape pens in many styles and colours so you can pick one that appeals to you visually.
Whether you are looking for something classy in a stainless steel or aluminium finish or something more feminine or patterned, you are sure to find something that suits your taste.
Durability – a vape pen is often a major investment and you want to ensure that it lasts for a long time. You should therefore take care to choose a model which has been robustly constructed for durability so that it will not break easily and will withstand regular use.
Size – Portability is often a factor in choosing a vape pen and although all vape pens are fairly compact in size, some are a little longer than others, and while they may enjoy a longer battery life, or hold more material, they may also be more difficult to carry around.
If you are planning on carrying your vape stick around in your pocket or are looking for a discreet way to vape marijuana in legal public places, you will probably be looking for one of the more compact models.
Warranty – You will want to be certain that your investment in a vape pen will be protected from damage or faults.
Most of the top vape pen models will be protected by a warranty of some kind, with longer warranties generally indicating a higher quality product.
Price – Whether you are on a budget or want to splash out, the price of vape sticks varies considerably, so you are sure to find one to suit your budget.
The type of vape pen that you are most likely to find on the market is basically a form of e-cigarette which comes in a pen design.
This is sometimes called an Ego e-cig and these vape pens are suitable for vaping e-juice (e-liquid).
E-liquids are available in a wide choice of flavours and they consist of around four different ingredients, namely Nicotine, Flavourings, vegetable glycerin and propylene glycol.
The vaper can choose the level of nicotine that best suits their needs, from zero for those who want to enjoy the flavour with not of the hit and up to much higher strengths for chain smokers.
It is also possible to choose a flavour to suit your preferences from traditional tobacco to refreshing menthol or even exotic sweet and dessert flavours.
Vape sticks which use e-juices are becoming every more popular and there are now plenty of excellent high quality products to select from.
These are often the top choice of those who are setting out on their journey to stop smoking, and some evidence has shown that vape pens are a very useful tool in quitting.
Dry Herb Vape Pens and Vaporizers
It is also possible to purchase vape pens which are capable of vapourising dry herbs. These have been used for countless generations for many purposes including for medicinal treatments, relaxation and for meditation.
It is possible to dry certain herbs and flowers, crush them and then insert them into a vape pen which is suited to vaping them. The chamber of the vape stick will then heat the dry herbs, releasing a vapour which is able to be inhaled by the user.
There are different aromatherapy properties offered by specific herbs and flowers. It has also become more popular over recent years to vape marijuana through a vape stick as there is no need to burn the leaves as would be required if smoking a joint.
In a study which was published in 2007 in the Clinical Pharmacology and Therapeutics journal, it was shown that vaping cannabis is a more effective and much safer method of delivering THC than by traditionally smoking a joint or a bong.
The effects may however be more powerful than experienced when vaping in the traditionally manner, so it is important to be aware of this if choosing to vape marijuana.
Oils and waxes are concentrated forms of specific substances and there are therefore called concentrates.
As these oils and waxes are a concentrated mix, users can enjoy the advantage of only requiring a very small amount of the substance to obtain the same effect as would be achieved by using a larger amount of a mix that was less concentrated.
If you would like to vape oils and waxes, you will require a vape pen that has been tailored to your needs and is capable of vaping these substances.