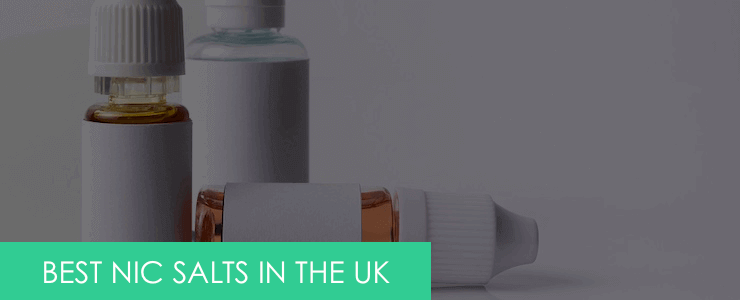 Updated on 2022: Vapers everywhere have been reporting good things about nic salts, so it's no wonder that so many e liquid brands have introduced their own nic salt juice ranges.
Nic salt is different from a standard vape juice due to its smoothness and excellent flavour.
It also allows users to inhale considerably more nicotine making nic salts a more cost-effective form of e-juice. So, which are the best nic salt brands on the market today?
Here, we tell you everything you need to know to make the right choice for you. So let's take a look at some of the best nic salts in the UK.
List of Best Nic Salts in the United Kingdom for 2022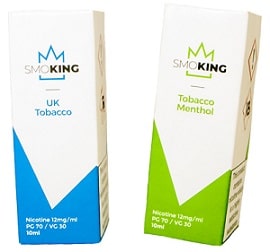 What is the best nic salt juice in the UK? In our opinion, the best nic salt juice in the UK for 2022 is Jacvapour SMOKING.
JacVapour is a respected vaping brand and has created highly authentic tobacco flavoured e-juices.
Their SMOKING range replicates the feel of smoking a regular cigarette thanks to its powerful and smooth hit of nicotine.
It's perfect for those who have just made the switch to vaping.
Manufactured to the best possible standards in the UK, this nic salts range comprises two realistic and carefully crafted flavours – UK Menthol Tobacco and UK Tobacco.
It delivers nicotine immediately and helps to give new vapers the immediate satisfaction they would have derived from a cigarette.


The Apollo Salts range includes ten different flavours, all of which come in 30ml bottles.
With their 50:50 PG:VG ratio, they're very versatile and can be used with all refillable pod systems and low output vaporizers without worrying about burned flavours and dry hits.
The Apollo Salts range comes in a choice of three concentrations: 20mg, 35mg and 50mg so vapers can reduce their intake of nicotine gradually over the months.
Some of the best flavours of this range include vanilla cream, berry blends, Apollo Refresh and Apollo mango.
All have a delicious taste and aroma. There are also menthol and tobacco flavours in this line to choose from which are great for beginners. Personally I think that Apollo has the best tobacco nic salt in the UK.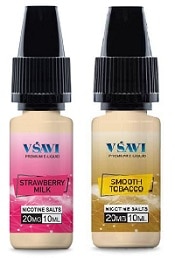 VSAVI has developed a premium range of e-juice nicotine salts which offer an outstanding and powerful vaping experience that is perfect for anyone who needs a stronger hit.
Delivering more nicotine with every puff, VSAVI's nic salts reduce your cravings rapidly, making them ideal for a beginner vaper.
The blend is a 50:50 VG:PG mix which can be used in all kinds of vaping pods and devices.
With its 20mg strength, this range is an ideal alternative to regular nicotine containing vape juices.


The Momo nic salt range is very interesting thanks to its well-blended flavours that most the ideal ratio of tobacco and flavoursome ingredients.
The unique taste this brand provides is among the best in the UK. There are several flavours to choose from, all of which come in a strength of 20mg.
Some of the best include Mangonut, Elderpomme, Pinkberry and Caramel Tobacco, all of which are very enjoyable to vape.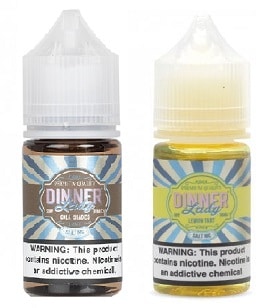 Dinner Lady's products have been designed to be interesting and unique.
As some of the most unusual products on the UK vape market, Dinner Lady's salt nic range is full of flavour and is ideal for use in pod vaping devices.
The range comprises the Blackberry Crumble, Lemon Tart and Cola Shades flavours, all of which are tantalizing on the tongue.
Made to the highest standards, these powerful salts are great for anyone making the change to vaping from traditional smoking.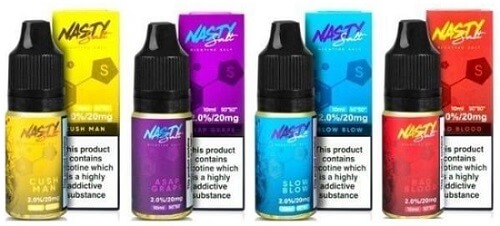 Nasty Salt is manufactured by the Nasty Juice brand and is designed to ease curb the most intense cravings so smokers can quit the habit.
There are four different flavours, all of which allow nicotine to enter your system more efficiently and rapidly.
The Bad Blood flavour is deliciously sweet blackcurrant. The A$AP Grape flavour is a berry and grape blend.
Slow Blow mixes lemonade and pineapple for an exotic taste while the Cush Man is a ripe mango flavour which is perfect for all-day vaping.
Designed for use with low wattage vape devices, these come in 10ml bottles and have a strength of 20mg.
When viewed chemically, nic salts are relatively complicated.
However, in basic terms, they're simply a purer nicotine format which is more similar to that derived from tobacco leaves.
For lots of vapers, nic salt juices give them more satisfaction than e-liquids which have a freebase nicotine base. They are especially good for vapers who use pod mods or other low output devices.
This is because such devices vaporize less e-juice and therefore the nicotine content must be higher to achieve the same kind of hit.
E liquids with a high nicotine freebase content are harsh when they're vaped, and this often deters new vapers from making the switch.
Nicotine salt juices, however, offer a very different vaping experience overall. The nicotine in these vape juices can be absorbed more rapidly into your system.
This allows for a more instant hit just like that from a regular tobacco cigarette. Nicotine salt juices are smoother too, so the throat hit is more satisfying.
Nic salt vape juices are often used in lower output pod mods. However, they can also be used in pen-style e-cigs.
They cannot be used in dripping atomizers or sub ohm devices; however, since their nicotine content is too high.
What are the differences between nic salt and regular ejuice?
Differences between nic salt liquids and regular e liquids:
Nic salt juices deliver nicotine more effectively and rapidly.

They produce fewer clouds and this makes them a good choice when stealth vaping.

They can have a very high or low nicotine content.

They have completely different chemical makeups.

Nic salts are best for use in low powered, smaller vape devices.
Nicotine salts generally have a concentration of around:
In contrast, regular e-liquids have somewhere from 3mg up to 24mg of nicotine. This ensures that vapers have plenty of choice of strength to suit their needs.
However, when vaping regular e-juices, those nicotine strengths might not be very effective in giving vapers the throat hit they require.
The nicotine used to make standard e-juices contains no additives. It utilizes the purest form of nicotine.
Of course, this pure nicotine form is then blended with VG, PG and flavourings. However, these additives won't affect the nicotine's chemical composition or its potency.
It is worth noting that VG e-liquids have a lower content of nicotine. VG e-juices produce bigger clouds since they're used in high-power vape devices.
High wattage devices and box mods use power to produce a large amount of vapour. If there were a large amount of nicotine in a VG e-juice, it would be too overwhelming for most vapers.
People who don't have a box mod can still get a lot of pleasure from vaping, however, when they use nic salt juices.
In fact, nic salt e-liquids are perfect for use in pod devices. While the nicotine still vaporizes, it does so at a lower temperature than in a box mod.
The vaper can, therefore, have a very satisfying vape but with a more user-friendly and discreet device.
Is nic salt juice more addictive than normal eliquid?
Since nicotine salts usually have a much higher strength, it is only natural that vapers wonder whether they are more addictive than regular e-juices.
One reason why cigarettes are addictive is that they deliver nicotine very rapidly to the brain.
At the moment, there is little information about whether nic salts can actually deliver nicotine more speedily to the brain than freebase nicotine.
However, vapers are able to consume a lot more nicotine with every puff when vaping nic salts since they are smoother and less harsh on the throat.
Since more nicotine can be consumed, it is possible that nicotine salts could have a higher potential for dependency, although this is because of the amount consumed and not specifically because it is nicotine salt.
There is only a single difference between regular e-juices and nic salt juices – the addition of benzoic acid.
Therefore, it's likely that nic salt is equally safe as freebase nicotine juices.
The WHO has advised that vapers consume no more than 5mg per kilo of their body weight of benzoic acid daily.
However, when we consider that this equals around 345mg for someone weighing 150lbs, it would be almost impossible to vape that much nicotine salt e-liquid since 1ml of nic salt juice only contains a few milligrams of benzoic acid.
What are the origins of nic salts?
The term "salts" is actually somewhat misleading in the name Nic Salts. There isn't any actual salt contained in this type of e-juice.
The term "salt" refers to any compound which combines a base with an acid.
In the case of nic salts, the nicotine is combined with benzoic acid to create something new – salt nicotine.
In a regular e juice, the manufacturer will use freebase nicotine, and this produces the throat hit which many vapers prefer.
In a regular nicotine solution, the chemical isn't bonded chemically to anything. Since it's isolated, it is considered to be free from its base.
It isn't combined with any acid or additives to reduce the acidity of the chemical.
While the nicotine solution, which is found in standard ejuices, is pure, it isn't natural. In the tobacco plant, the nicotine interacts with several compounds.
It's only via chemical manipulation and extraction that "pure" nicotine can be created by manufacturers.
By adding benzoic acid, the chemical can be returned to its natural form where it can combine with the other molecules to produce salt juice.
What strength should you buy?
The majority of nic salt juices are sold in strengths of 25-50mg.
Someone new to vaping nicotine salts should start out with a 20-35mg strength unless they're transitioning from smoking.
Vapers who enjoy a lower strength of nicotine and a higher amount of vapour production may prefer a level of just 3-5mg/ml.
Although these are harder to find, they can be used in sub ohm vape tanks because of their lower nicotine concentration.
Nicotine salts offer a cleaner taste which is less noticeable than the taste of freebase nicotine e-juices.
This, therefore, makes it an ideal choice for anyone who loves to get as much flavour as possible from their vape.
Nic salt e-liquids with a 20-35mg concentration are considered to be "middle of the road". Perfect for most vapers, they offer a powerful hit.
It's important to note that within Europe, the highest concentration available is 20mg.
However, outside of Europe, there are nic salts with a strength of 50mg or even higher.
These are perfect for a transitioning smoker who needs a maximum nicotine dosage. These high strength nic salts can only be used in a low powered MTL device.
What Is The Best Vape For Nicotine Salts?
Ensuring that you have the right kind of vape device for use with your nic salts ejuice is important.
Since nic salt e liquids have a high concentration of nicotine, they shouldn't be used in a sub-ohm vape tank.
They are most effective when used with MTL low powered devices. They work well with pod mods and pen-style vapes and deliver more satisfying nicotine hit even with these less powerful devices.
The only nic salts which can be used in more powerful box mods and sub-ohm vape tanks are those with a very low nicotine content of around 3-5mg.
A higher level than this and the nicotine high experienced by the vaper would be very unpleasant since the amount of vapour produced by high wattage units deliver an excessive amount of nicotine which acts as a stimulant, creating unwanted effects on the body.
It is therefore essential to ensure that most nicotine salt juices aren't used in these types of devices.