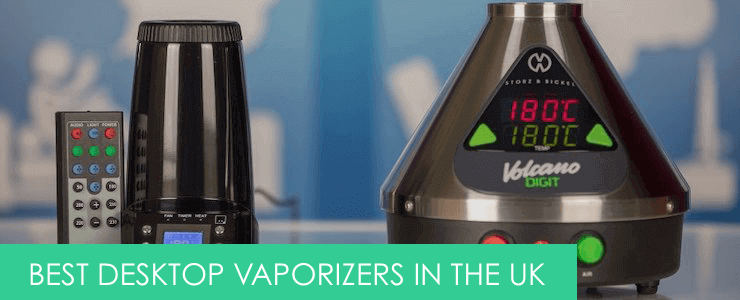 Updated on 2022: Do you prefer to vape at home rather than when you're out and about? If so, you might be looking for something a little different from the portable dry herb vaporizers.
A desktop vaporizer could be just what you're looking for. Offering an outstanding vaping experience, these tabletop models might be large and need to be plugged into a power outlet, but they can provide a seriously impressive vape.
The first vaporizers to ever be developed were desktop models. The perfect alternative to smoking dry herbs, they are, essentially, a special kind of oven which bakes the herbs at the selected temperature in order to produce a vapour which can be inhaled via a tube or a bag.
Since desktop vaporizers produce excellent flavour and plenty of vapour, they're a popular choice among serious vapers.
Here, we're going to take a look at some of the best desktop vaporizers on the market today. Please be aware, however, that some kinds of vaping material are illegal in the UK, so take care when you're choosing what to vape.
List of Best Desktop Vaporizers 2022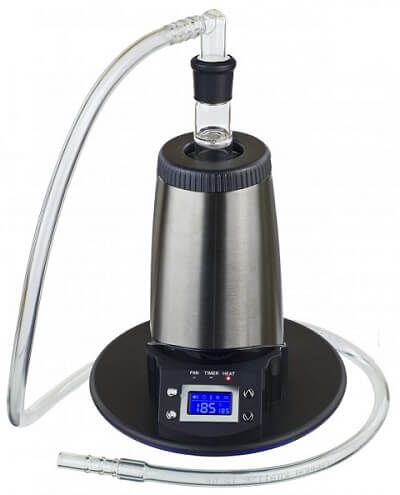 If you're looking for a more affordable desktop vaporizer, the Arizer V could be ideal for you.
Using convection heating, this model has a large herb chamber and is supplied with both a short and an extended whip for use at different vaping temperatures.
The temperature can be adjusted between 50 and 260 degrees Celsius to suit a wide range of vaping experiences, and thanks to its strong stainless steel construction it isn't just stylish, it's also very durable.
Its glass vapour path ensures a clean and pure taste, and you'll find this device fairly easy to clean for minimal maintenance.
Its cyclone bowl design provides a more even distribution of heat while the auto shut-off timer ensures you won't waste any energy while keeping you safe.
Pros:
Affordable price tag
Fully adjustable heating
Glass vapour path for a clean taste
Low maintenance
Cyclone bowl for more even distribution of heat
Cons:
Can only be used with dry herbs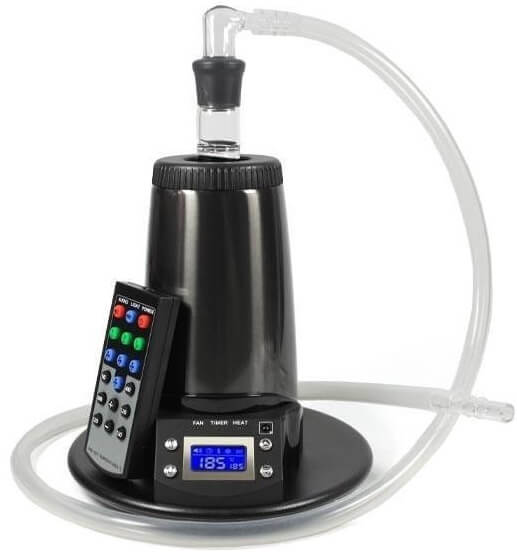 The Arizer Extreme Q desktop vape is the latest incarnation of the Arizer Extreme – an already successful device.
The Extreme Q is a dual-action vaporizer which boasts a number of excellent features including a 3-speed fan, a precise set of temperature controls and a medical grade borosilicate glass and silicone whip tube.
The Extreme Q features a stylish design. If you want a discreet tabletop model for your home, this device could tick all your boxes – thanks to its cylindrical shape, sleek and shiny finish, and flat baseplate, it has a similar appearance to a household appliance.
This device is supplied with its own remote control for operating it from a distance and is also supplied with a balloon that can deliver vapour from dry herbs in a different way.
This is also an extremely quiet device, and it is provided with a host of accessories. The glass tube and ceramic heating element ensure excellent vapour quality while its affordable price tag brings this model within easy reach of any user.
Pros:
Both balloon and whip-style delivery is supported
Precise temperature controls
Remote control supplied
Ceramic heating material for a clean taste
Discreet appearance
Affordable price
Cons:
Cannot be used with waxes or oils
High maintenance device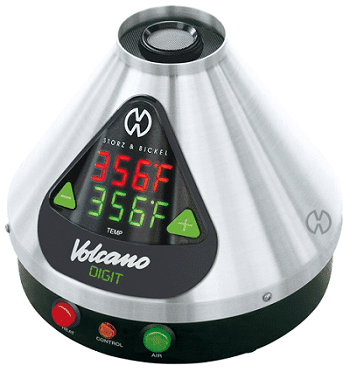 You won't be popping the Volcano Digit into a bag or pocket! It's definitely a tabletop device, vaporizing both dry herbs and oils which can be inhaled via a balloon for a super-clean vape.
The Digit comes with a customisable digital temperature LED display, and you can adjust the temperature between 108 degrees Celsius and 236 degrees Celsius.
Made by the famous Storz & Bickel brand, this impressive device is ideal for any serious user.
It features an aluminium food safe heating block and an advanced air temperature control system as well as a high-performance heating cartridge for an outstanding experience.
Thanks to the cutting edge German technology employed in the design of this device, the Volcano has a lot to offer anyone who prefers to vape in the comfort of their own home.
Pros:
Clean and convenient balloon delivery system
Impressive cutting-edge German engineering
Customisable temperatures
Capable of vaporizing dry herbs and oils
Cons:
High price tag
Large and non-portable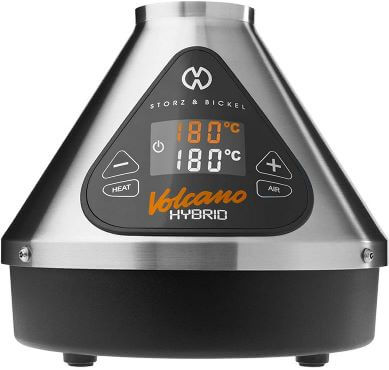 As you might guess from the term "hybrid" in the name, this vaporiser from the popular and high-quality Storz & Bickel brand offers the convenience of two systems in one handy device.
Offering the variety of either a hose or a balloon style of delivery, the Volcano Hybrid has impressive features and a top-class design that ensures you enjoy the vaping experience that you love best.
As a desktop device, this is the perfect vaporiser for use inside the home, yet unlike many of its rivals, it's user-friendly and simple to get to grips with.
Its sophisticated display boasts integrated touch buttons that allow you to activate the air pump and set the right temperature for your preferred experience, allowing you to customise your own personal favourite vape every time without any difficult settings to learn or complex instructions to follow.
The Volcano reaches the set temperature incredibly quickly thanks to the improved heat exchanged that allows for use within as little as 40 seconds after being activated.
Meanwhile, its stylish design makes it a feature in any home without attracting unwanted attention for all the wrong reasons.
All in all, this is the ideal device for either novice or experienced vapers who want to enjoy a shared or solo vaping experience at home.
Pros:
Can be used with dry herbs or concentrates
Advanced German design
Fully adjustable temperatures
Quick heat up time (90 seconds)
Rare, easy maintenance
Cons: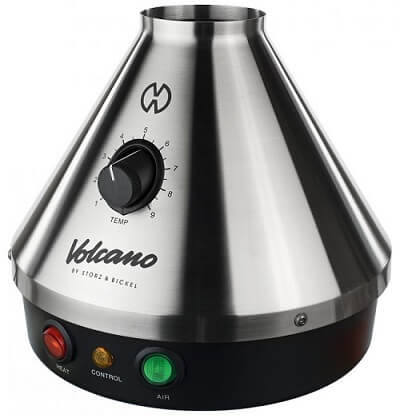 The Volcano Classic is, indeed a true classic of design.
Made by the legendary Storz & Bickel brand, this device is capable of removing the potentially harmful byproducts and toxins from the vaping material for a healthier experience.
The Classic also utilises an advanced vaporizing method that can intensify the strength of the active ingredients in the vapour by as much as 75%.
Its balloon delivery method allows vapour to be stored for as long as 8 hours, while its Easy Valve ensures low maintenance for this sturdy and stylish tabletop device.
As the temperature is fully adjustable, you'll also be able to customise your vaping experience to perfectly suit your preferences.
Pros:
Advanced German design
Fully adjustable temperatures
Unique vaporizing method to intensity the active ingredients' strength
Balloon delivery method
Removes harmful toxins from the vapour
Cons:
High price tag
No LED screen