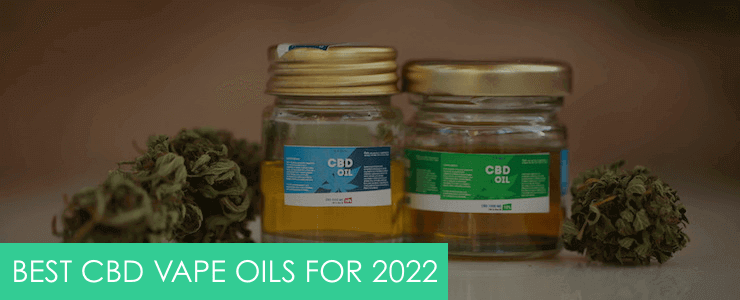 Updated on 2022: In recent times, CBD vape oil has become increasingly popular. Many people now believe that CBD offers a host of health benefits, helping them to feel better and even potentially find relief from medical problems.
Since vaping allows users to experience the relief instantly, it isn't surprising that one of the most popular ways of using CBD e liquid is to vape it.
Even if you don't have a health problem, CBD vape juice can still be a great addition to your vaping regime. It won't make you feel high, but it could help your body and mind.
If you're ready to learn more about the different types of CBD vape oil on the market and how they could help you, read on and find out everything you need to know.
Disclaimer: CBD e liquid (vape oil) is designed specifically for vaping and is not the same as oil-based CBD oral drops which are NOT suitable for vaping.
What is the Best CBD vape juice in the UK?
Vsavi Full Spectrum CBD Vape Oil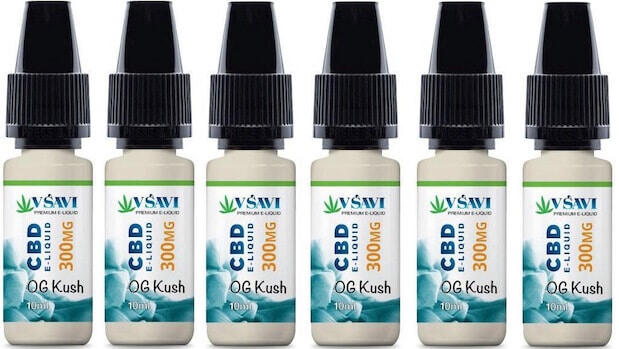 What is the best CBD vape juice in the UK? In our opinion, the best CBD vape juice in the UK for 2022 is Vsavi.
Vsavi CBD vape oil is made by a reliable brand, and since it contains no artificial flavourings or colourings, you can rest assured that you're getting organic cannabidiol that's pure and clean.
Vasvi's products are extracted only from high-grade hemp, and since their products are made and tested in cutting-edge labs, you can depend on them to be very safe to consume.
Although Vsavi sell a number of excellent products, our favourite from their range is their full spectrum cbd vape oil. This is actually the foundation product of the Vsavi range, made from natural entirely organic Cannabidiol.
It's completely free of any contaminates, and you won't have to worry about getting high since it contains less than 0.1% THC.
It's made only from European ingredients produced in an eco-friendly way and which are GMO-free, and if you're a vegetarian or vegan, you won't need to worry as no testing on animals has taken place.
This is a 100% vegetarian product, and it's also gluten free for anyone on a restricted diet.
You can expect super-fast effects with this vape oil – you should feel relief in just a minute or two, and the effect can last for up to 6 hours – perfect if you have chronic pain.
This vape oil has absolutely no flavour, so you can add your own favourite flavoured e-juice if you like. The blend is 80:20 PG:VG, so you can use it easily with your regular vape pen.

Harmony is one of the best cbd vape oils and they are leading the way in the UK's CBD e-liquid market thanks to its expertise and high-quality products.
All of their CBD vape oils are fully certified every month by independent labs, so you can buy in complete confidence.
All their products are only made from certified hemp which is grown on European family-run farms so you can be certain you're getting a really high-quality product which is completely safe for you to use.
Our favourite product from Harmony's range is their OG Kush CBD e liquid. Designed with the needs of vapers in mind, when you vape this product you'll enjoy the aroma of the ever-popular OG Kush strain – something which really makes this vape juice stand out from the crowd.
Its unique aroma comes from terpenes which have their own additional benefits to bring to your well-being. The two terpenes responsible for OG Kush's unique aroma are pinene and linalool – producing a flavour with hints of lavender and pine for an amazing taste experience.
This vape juice is made using the CO2 extraction technique – one of the best and safest ways of getting pure CBD from hemp.
It's 80:20 PG:VG blend makes it ideal for use in standard vape pens, and it's guaranteed to be completely free from any nicotine or THC as well as alcohol and animal extracts.
All the ingredients are food grade and the 10ml bottle it comes it in completely child-proof for added safety.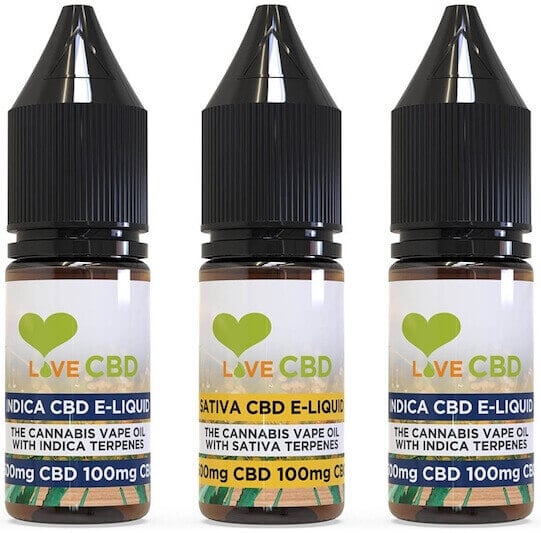 The new Love CBD e-liquid comes in a 10ml bottle with 500mg of CBD and 100mg of CBG. You have a choice between a sativa or an indica terpene blend for day or nighttime use.
Both cannabinoids (CBD and CBG) interact with your endocannabinoid system in synergy with the terpenes added. With no artificial flavours, this is a clean, rich isolate e-liquid – great value for money.
For anyone who is worried about their safety, the good news is that this CBD and CBG isolate is entirely free from the psychoactive compound THC, and as it has also been 3rd-party lab tested, you can use it with complete peace of mind.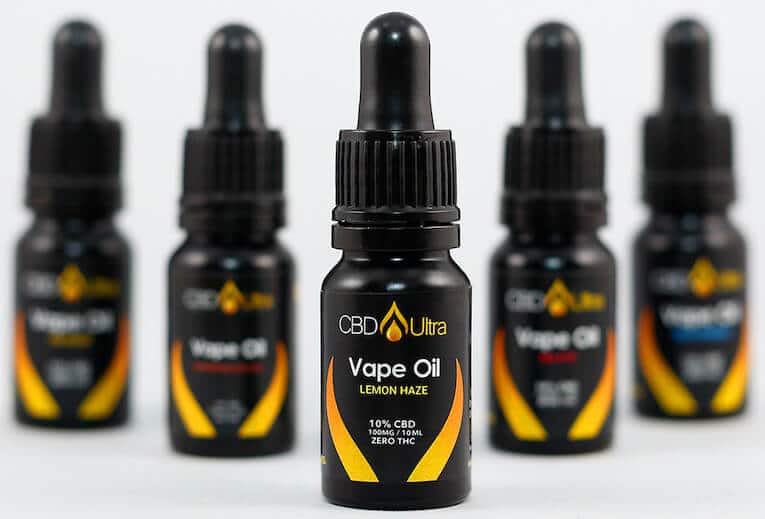 Compared with other CBD vape oil products, CBD Ultra stands out from the crowd, not only in terms of its quality, but also its flavour and the vaping experience it offers.
Currently you can choose between 2 different vape oils:
1000mg vape oils – This vape oil contains no VG/PG and is 100% natural CBD oil + MCT oil (from coconuts). These are not only one of the most potent vape oils we've found, but also one of the most fragrant ones.
There are 6 terpene blends to choose from. If you look at its certificate of analysis you'll see it is full spectrum and it carries a considerable amount of CBG.
Surprising fact: These drops can also be taken under the tongue. So that's a 2-in-1.
At its £50 sale price, this is also the most affordable 10% CBD oil we feature.
50% CBD oil – CBD Ultra – this probably is the strongest CBD vape oil available in the UK. It's full spectrum and has quite a bit of CBG content. 50% CBD oil natural (with an MCT carrier for faster absorption rates) or with natural peppermint essence (optional).
Comes with a free product gift and priority delivery.
Ultra CBD products are made from organic hemp plants that have been carefully chosen, organically grown and harvest by hand with care. Handled and produced in cutting-edge, GMP-certificated manufacturing facilities, Ultra CBD's products are pure and rich in CBD.
Each batch has been fully lab tested to prove the cannabinoid levels it contains, and to show that it conforms to the best safety standards. As a result, you can be confident that your vape oil will be free from any moulds, heavy metals or pesticides.
You can use it with complete peace of mind that you're choosing a trustworthy, reliable and effective product.

Smokestop e-liquid terpenes Cannatonic 500mg Full spectrum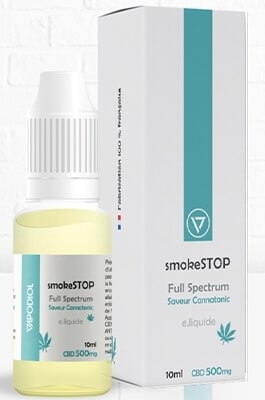 If you're ready to quit smoking for good, you should definitely consider using Smokestop Full Spectrum Cannatonic, the signature product from Vapodiol Laboratory.
Made from full spectrum CBD, this e-juice gives you a highly unique vaping experience thanks to its cannabidiol content that hasn't been isolated from hemp's other beneficial substances.
The flavour of this high-quality e-juice is wonderfully authenthic, with an unrivalled herbal hemp taste that's hard to beat due to the natural terpenes that it contains.
It is this fusion of terpenes and full spectrum CBD that can help you to gradually reduce your dependence on nicotine – this e-liquid relaxes your nervous system, reduces your anxiety, and helps you to overcome your cigarette cravings.
With a PG:VG balance of 80:20 and an impressive 500mg of full spectrum CBD extracted from all-organic hemp, Smokestop's e-juice offers you a natural vaping experience that is effective, flavorsome and enjoyable.
As this product has been tested in a laboratory, you can enjoy peace of mind in the safety of your purchase, and since every flavour and ingredient used in Vapodiol's products have been rigorously and diligently chosen to offer optimal quality you can be confident of an outstanding vape with no carcinogenic, toxic or mutagenic ingredients or allergens included.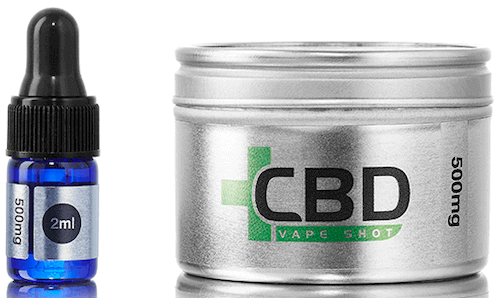 If you're ready to add CBD to your vape, this CBD vape shot is just what you've been looking for.
As a 2ml concentration of PG and Cannabidiol, it has an impressively highly strength of 500mg and is ideal for mixing with all types of e-juice flavours. CBD Vape Shot is also available in 250mg and 1000mg strength.
This vape shot will give you a wonderfully relaxing vape effect, and it won't negatively affect the flavour of your favourite vape juice since this is a flavour-free additive.
Whether you prefer fruity, sweet or tobacco flavours, you can have all the pleasure with all of the CBD benefits included!
You can have complete peace of mind when you choose this vape shot as it's been fully tested and proven to be free of any unwanted pollutants or contaminants that could either affect the taste or your health and well-being.
You can check out the third-party lab test results for confirmation that this product contains exactly the amount of cannabidiol that it purports to have, and none of the heavy metals or pesticides that should be avoided.
Super simple to use, this vape shot couldn't be simpler to add to your e-juice so you can enjoy a top-class vaping experience.
Love Hemp Vape Additive – 500mg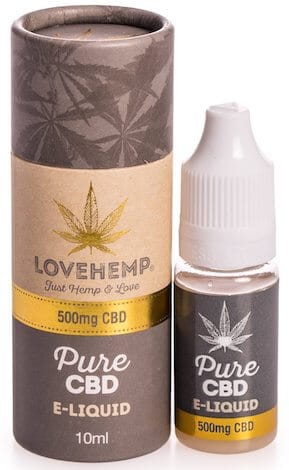 If you're looking for a quick and easy way to give your favourite e-juices an extra beneficial boost, Love Hemp's CBD Vape Additive is the ideal solution.
In every 10 ml bottle, you'll get an impressive 500 mg of broad-spectrum CBD mixed in a base of Vegetable Glycerine. It couldn't be easier to use – just add a couple of drops to your favourite e-liquid and it'll instantly contain 5 mg of CBD.
This vape additive is proven to be vegan-friendly, contain no GMO ingredients and to be made using whole-plant hemp extracts.
As a result, it's packed with beneficial phytonutrients, terpenoids and cannabinoids. While most CBD-containing e-juices are made using CBD isolate crystals, this unique product contains a wide range of cannabinoids as well as CBD including CBDV, CBDa, CBG, CBN and CBC.
If you're brand-new to using CBD, this vape additive is a brilliant way of including it into your everyday life.
It's also a good way to increase your CBD intake gently. Specially formulated to be user-friendly and non-intoxicating, this vape additive is made from CBD that has been CO2 extracted from high-quality organic hemp.
This product is manufactured to the GMP (Good Manufacturing Practice) government guidelines and has been rigorously 3rd-party lab tested to give users the complete confidence that every batch contains exactly the stated amount of cannabinoids with no moulds, pesticides or heavy metals.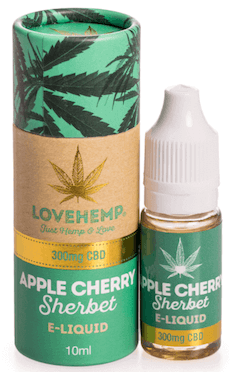 The vape juices that Love Hemp produce have changed the way we look at CBD e-liquids forever. With five delicious flavours, these e-juices are among the tastiest and freshest ever made.
While most fruit flavoured e-liquids are quite difficult to identify and often bring to mind the neon-coloured, artificial sweets of your childhood, Love Hemp's premium e-juices all deliver a unique and clear taste that can easily be distinguished.
Whether you love the fruity goodness of cherry, strawberry or grape tastes, or whether you're looking for something a little more refreshing in the form of apple cherry sherbet or blueberry menthol flavours, there's something for everyone in this product line.
All of Love Hemp's CBD e-juices are made with non-GMO, organically farmed and cannabinoid-rich hemp. All of the flavours come in a choice of two concentrations – 300mg or 100mg in each 10 ml bottle.
For anyone who is worried about their safety, the good news is that this broad-spectrum CBD extract is entirely free from the psychoactive compound THC, and as it has also been 3rd-party lab tested, you can use it with complete peace of mind.
As this is a broad-spectrum product, it doesn't just contain CBD, it also contains other potentially beneficial cannabinoids including CBG, CBDA, CBGA, CBN, and CBC, so you can enjoy maximum benefit from every vape.
You would be hard pressed to find someone in this modern age who has not heard of CBD in one way or another. And while you do not fully understand what it is or what it is used for, you will definitely have heard of the substance.
CBD is actually an abbreviation of the word cannabidiol. Cannabidiol is a chemical compound that is extracted from various Cannabis plants. Cannabis has many colloquial titles but is primarily known as marijuana in the Western World. 
This cannabidiol is then extracted from the plant naturally, usually via a process involving CO2. This CBD substance can then be infused into a range of products.
Oils, edibles, and waxes are all common forms of CBD. CBD substances are usually marketed to those who need some help with their general anxiety as it has calming properties.
CBD is also not psychoactive, unlike the other primary product extracted from cannabis plants THC.
CBD vape oil is a term which is used to describe a vape juice which only contains CBD and no nicotine.
Some are pure additives (cbd shots) which can be mixed with your favourite eliquids. Others come as a pre-mixed blend.
While CBD vape juice has been made for vaping, many products are also suitable for use sublingually (under the tongue) for extra versatility. Please be aware that you can only vape CBD eliquid and not all CBD products are suitable for vaping!
CBD is a natural cannabinoid which occurs in cannabis and hemp plants. It has been shown to have the potential to relieve lots of different medical symptoms.
Although CBD vape liquid is called an oil, it isn't really a true oil. Its name comes from "hemp oil", something which has been in use for years, long before being formulated for use in vaping devices.
A more accurate term would be CBD e liquid or CBD vape juice. It is made using VG and PG like regular e-juices and is used in the same way with a vaporizer or vape pen.
What are the Benefits of using CBD Vape Liquid?
There is a myriad of reasons why it is so popular but here are some that you may not have heard about.
A recent study found that it was effective in reducing the desire to smoke cigarettes
Cannabidiol was found to be effective as a sebostatic and anti-inflammatory agent in the treatment of acne. It inhibits lipid synthesis.
It has shown promise in halting prions which is the protein that causes neurodegenerative diseases like Creutzfeldt-Jakob and mad cow.
Cannabidiol is known to produce anti-anxiety and anti-inflammatory effects when ingested. It slows everything down and calms the user. It is therefore helpful in the treatment and management of PTSD and both chronic and acute anxiety.
There is some early documented evidence that it is an effective treatment for Crohn's disease.
There is evidence to suggest that Cannabidiol has the potential to reduce various aspects of Multiple Sclerosis.
One of the very few side effects of CBD is tiredness so it has proved effective in dealing with insomnia.
CDB has known antiemetic properties and has therefore proved to be effective in alleviating vomiting and nausea caused by chemotherapy and some other therapies.
There is therapeutic potential for the treatment of seizures as it has anticonvulsant properties.
How much CBD should I vape?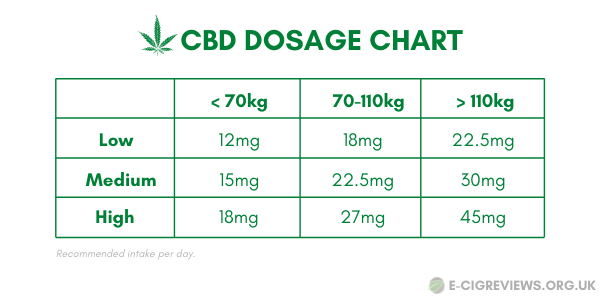 There is no single answer to how much CBD you should vape since it depends on a number of personal factors.
Your tolerance, weight, age and symptoms all need to be taken into account. Different problems will require a different dose.
For example, if you're using it for seizures, a higher amount will be required than if you were using it to combat nausea. Also, if you only vape infrequently, you should use a higher strength.
As a rough guide:
50-200mg is a low strength
200-500mg is a medium strength
500-1500mg is a high strength
And 1500-4000mg is a very high strength.
Remember, however, that those strengths are reflecting the contents of the whole bottle.
So you'll need to divide the strength by the size of the bottle to work out what the concentration is per ml.
How do You use CBD Vape Liquid?
If you are a seasoned vape user then you should have absolutely no problem at all with vaping CBD oil.
Even new vape users should still be able to vape CBD oil with practically no issues at all. To acquire CBD vape oils that are compatible with your particular vape device you will need to head to a supplier of your choice.
From here, just purchase a cartridge or pod that best suits your needs and wants. When your order arrives, fill your vape device with it and just use it as you would any other E-liquid.
Press the fire button and inhale, that's really all there is to it.
What's the Difference Between CBD Vape Juice and Edible CBD Oils/CBD Tinctures?
Edible CBD oils (often referred to as CBD tinctures) tend to have more natural cannabidiol plant extract in them than CBD vape juices. Edible CBD oils come in a variety of types and strengths.
Full-spectrum CBD oil encompasses a wide range of different CBD extract types. These full-spectrum oils tend to have additional compounds mixed in that are also beneficial to the individual such as additional cannabinoids and terpenes.
Edible CBD oil can be taken in a few different ways. The primary method is by squeezing a few drops of the oil underneath your tongue. The oil will then dissolve in your mouth.
CBD oils cannot be vaped however, as these products commonly have an olive oil base (or something similar) that is highly dangerous to vape.
Edible CBD can also come in the form of a jelly or sweet. Many CBD takers prefer this to a standard oil as it simply tastes much better and seems more natural than the sensation associated with placing oil under the tongue.
What Kind of Vape to use for CBD Vape Juice?
Vaping CBD vape juice is incredibly accessible and easy to do as practically every vape device on the market will be compatible in some form or another with a certain type of CBD E-liquid.
That being said, if you are completely new to the vaping scene then you will most likely want to start with the easiest CBD-compatible vape devices. The easiest place to start is with disposable CBD vape pens.
These pens are usually fairly inexpensive and while they may not last that long, they act as the perfect introduction to vaping CBD E-liquids.
Refillable CBD vape pens are the next step up, offering a generally more efficient and effective vaping experience. Pod vapes can also be used for CBD E-juice vaping, being able to handle E-liquids with a high VG.
If I vape it, will I be breaking the Law?
To ease my worries about the legal status of the product, I read up on the status of the CBD Vape Oil in the UK. My research led me to an article at Sky News which indicates that products containing Cannabidiol are to be classed as medicines from 2017.
But you should always buy your CBD vape juice from reputable vendors to ensure it's legal and high-quality!
What are the possible Side Effects?
While vaping CBD is generally an extremely positive experience with plenty of benefits, there are a few possible side effects associated with vaping CBD e liquids or oils.
As CBD products are still relatively new to the vaping market, their possible side effects have potentially not been fully realised just yet, but according to a study conducted in 2017 in Germany there are some common side effects that can occur after consistent CBD vaping in a short amount of time.
The most common side effects discovered within this study include drowsiness, diarrhoea, a dry mouth, and exhaustion.
It should be noted that these side effects do not occur all the time and that they are largely dependent on how much CBD you are vaping and how often you are vaping it.
If you are worried about having any of these side effects, then you should limit your usage or lower the strength of the product you are vaping.
Will it get me high like Marijuana?
Simply put, using CBD vape liquid will not get you high in any regard. In basic terms, this is because the majority of CBD E-liquids are created using a purified form of CBD that contains no traceable amounts of THC. THC is also an extract of a cannabis plant.
This chemical substance is what creates a psychoactive response in an individual, but as this is not included in any CBD vape juice mix, vaping the CBD product will not have any psychoactive effect on you.
CBD oil has been acknowledged as having a stress-relieving and relaxing effect. Therefore, it may help promote sleep.
However, each individual is very different therefore it may or may not have that effect on you.
How is CBD Vape Liquid made?
Typically, CBD vape oil is produced by combining the CBD extract with a carrier fluid (PG/VG). Cannabidiol may either be extracted with chemical solvents or by using CO2.
Both methods make a CBD oil which can then be mixed with fluids such as PG/VG (for vaping) or coconut oil, olive oil or MCT oil which allow it to be delivered effectively to your body.
What's the Difference Between Regular Vape Juice and CBD Vape Juice?
The only real difference between regular vape juice and CBD vape juice is that the CBD vape juice has been infused with purified cannabidiol extract.
This cannabidiol has been extracted naturally from a cannabis plant and has been naturally blended into the regular E-liquid flavour to produce a product that delivers both a great taste and your daily cannabidiol dosage. 
Regular vape juice commonly only contains two primary ingredients; a base ingredient that gives the juice the ability to be vaped such as glycerine or propylene glycol, and whatever ingredients create the flavour of the juice.
A CBD vape juice is made by adding CBD into the mix.
Where to find the best CBD Vape oil
These days, there are lots of options when it comes to places to buy CBD vape oil. You can find it in high street shops and online.
There are so many new products and brands appearing that it can be difficult to determine which ones are safe and reliable.
That's why it's always important to do your research properly to make sure the product you've chosen is safe and trustworthy.
All the brands that we have recommended here are guaranteed to be safe. They have all been independently lab tested for contaminants and to ensure that the level of CBD which has been stated is genuine.
You should never choose a brand without published results since they could have used poor manufacturing conditions or harmful substances.
Buy our #1 recommended CBD Vape Oil here: 

Please note this information should not be construed in any way to mean that anyone is making a claim that CDB cures any of these conditions. Neither does this CBD Vape Liquid review article intend to infer or suggest that the ingestion of or inhalation of CBD is guaranteed to alleviate or eradicate any of the conditions or symptoms associated with any of the named conditions. This information is included here merely to inform the would-be user of the scope of medical trials and research being conducted on this subject.
Best CBD Vape Oil 2022: Top Liquids in the UK
CBD Asylum
Harmony
Vsavi
Love Hemp
Love Hemp Vape Additive
Smokestop CBD
CBD Ultra