Since the Voopoo brand was established, the Drag has been the company's most popular product. It isn't surprising, then, that this vape mod is now in its 3rd generation, each one building on the success of the last.
While the Drag 3 has some features that seem to be a step down from its predecessor, it's still a decent device that is a good example of what the Voopoo brand does well.
The Voopoo Drag 3 indicates that the brand has returned to the tried and tested format of the 510 dual battery mod.
So, is it a good choice? Or should you try a different model from Voopoo's range? Read on our Voopoo Drag 3 review to find out more.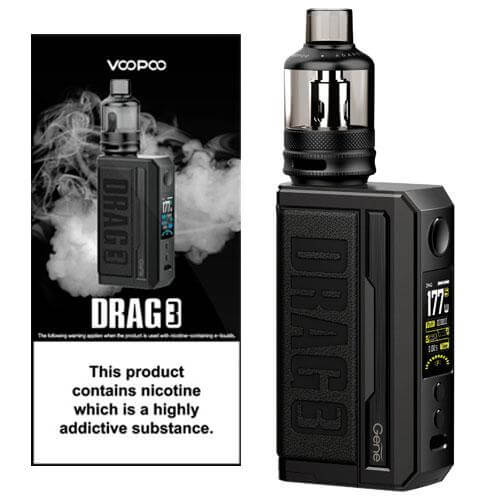 When you open the kit you'll find not only the mod itself but also the TPP Pod Tank that comes included.
You'll also receive a bunch of accessories – 2 TTP coil heads as well as a user manual and a Type C USB charging cable. You'll also receive two coils – a 0.15 ohm coil and a 0.20 ohm coil.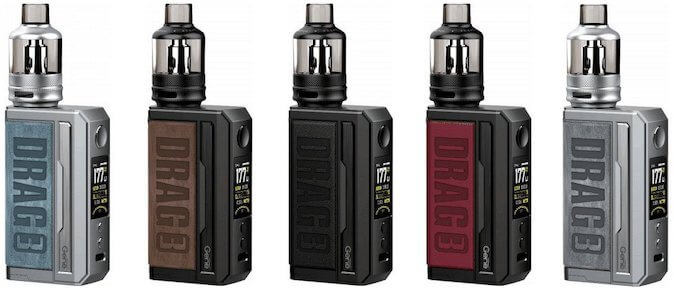 When compared with the earlier Drag models from the Voopoo brand, the Drag 3 has undergone a total makeover. While the Drag and Drag 2 models had a similar appearance to each other, the Drag 3 has a very different appearance.
Wrapped with high-quality leather, the Drag 3 has a straight and more box-shaped design – similar to the Voopoo Drag Max. 
The frame is made from strong and robust zinc alloy, while there are brushed metal inlays which surround and wrap the leather giving the device a premium high-end feel and look. There are also two choices of frame colour – black or silver.
When it comes to portability, the Drag 3 is quite lightweight, especially when taking into account that it's a dual battery device. It's not so heavy or large that it won't fit into a pocket and this makes a decent portable choice.
The device can be used with any 510 connected atomiser, but it's important to note that a 25mm tank will overhang a little. The tanks won't sit entirely flush either since the connector plate is slightly raised up. This could be an issue if you're keen for a seamless look. 
As you would expect, there is an adjustable airflow, which allows users to alter their vape to suit their preferences. Whether you prefer a tight or airier draw, you'll be satisfied with this function.
There is a full-colour, large display screen which is crisp, bright and high-resolution. On the screen you can see all the key stats such as wattage, mode, battery life, puff count, coil resistance, puff time and voltage.
The buttons for adjustment and power are silver and round, with a pleasant hand-feel and excellent functionality. Essentially, the device is convenient, user-friendly and stylish.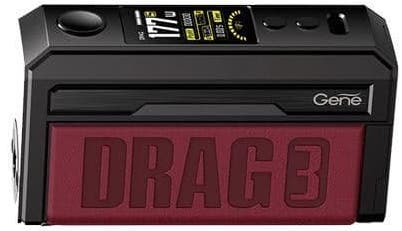 The Gene Fan 2.0 chipset which is incorporated into the Drag 3 allows firing between 5 and 177 watts, and also allows for three different modes to be used – RBA, TC and smart mode.
The smart mode, the mod is automatically set to the right wattage for the selected coil which is great for new vapers as it eliminates any complexities around setting the correct wattage. 
The RBA mode is a regular wattage mode which can be used with RBAs and sub-ohm non-Voopoo tans. This allows the wattage to be set to any level.
There is a TC mode too, but this must be downloaded to the device along with the firmware update since it isn't available right out of the box.
This mode allows for NI, SS and TI vaping and allows users to change the wattage, coil resistance and TCR value.
The device comes with two coils – a 0.15 ohm coil that operates between 60 and 80 watts and the 0.20 ohm coil that operates between 40 and 60 watts. Both offer strong performance.
The 0.15 ohm coil operates most effectively at around 70W, producing plenty of flavour and vapour. Meanwhile, the 0.20 ohm coil is best when used at around 55W since it produces optimal flavour and vapour at this level. 
There are some issues with leakage of e-liquid with these coils, although leaking is kept to a minimum. Nevertheless, this is something that you may want to bear in mind if you're going to be taking this device out and about with you for use on the go.
As you would expect, if you invest in the Voopoo Drag 3 you're sure to find that there are some advantages and disadvantages to consider. Here, we take a look at the pros and cons of buying this device:
Pros: 
The handy smart mode works well for novice vapers

Thanks to the 510 connector this device is compatible with other atomisers

The design is attractive and premium-looking

The device works especially well in wattage mode

The TC mode can be downloaded to the device

The device fires instantly 
Cons:
The tanks won't sit flush with the device due to the raised connector

There is some leakage from the coils 

The TC device isn't automatically on the device out of the box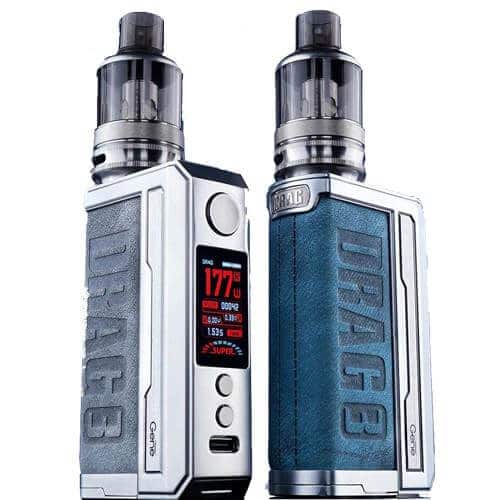 If you're looking for a portable vape that offers a good experience to vapers old and new, the Voopoo Drag 3 kit is a solid and reliable choice.
If you value style, this is certainly a visually appealing model and its premium-looking appearance is sure to tick all your boxes. This is also a good choice if you're keen to try different styles of vaping.
With its downloadable TC mode, you can really experiment with your vaping style, while the smart mode makes this a suitable device for those who are brand new to vaping.
Although there are some issues with leakage and cosmetic issues surrounding the atomiser's inability to sit flush with the device itself, overall the Drag 3 is a good choice for anyone who wants a good value device from a well-known and reputable brand.