The Dynavap brand has been around for some time, and it has proved to be a very popular choice among vapers from all walks of life.
The latest model – the Dynavap M 2020 – is rapidly becoming a firm favourite with dry herb enthusiasts thanks to the many improvements that have been made over the previous device incarnations.
With a brand-new cap, tip, packaging, body and airport, this all-new model is attractive, high-performing and easy to use – essentially, everything that you could possibly need in a vape. But is it the right device to suit your needs?
Since the Dynavap M 2020 is a little different to your standard dry herb vaporiser you should definitely read on to learn everything you need to know about this great little vaping device.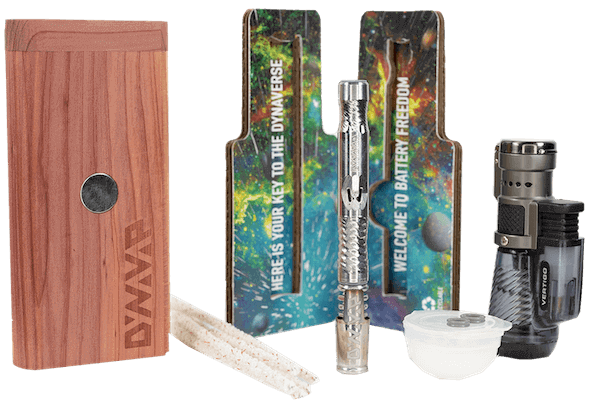 Most vaping devices feature a host of electronic components, but this is where the Dynavap stands out from the crowd. Unlike its many competitors, this vaporiser has absolutely no electronic components and that's a game changer!
Although this model isn't anywhere near as intuitive as some of its rivals, it's still pretty easy to use and to produce excellent vapour.
The Dynavap works by loading up its tip with ground-up herb before gently packing it down and replacing the cap. Once you're done with that, aim the torch about halfway down its cap, allowing the flame's blue part to touch the cap itself.
While you do this, rotate the whole unit as this will allow the herbs to cook more evenly throughout the heating chamber.
Depending on which method you use and the kind of torch you have, you can expect the tip to click after around 5 to 30 seconds. After you hear the tip click, just turn off the flame and inhale. If you want a more powerful, strong hit, just cover up the carb cap.


It's important to note that there's no actual integrated temperature system in the Dynavap, but that doesn't mean you have no temperature flexibility. In fact, you have complete control, but you'll need to follow a learning curve when it comes to getting your desired hits from this device.
Essentially, the success of your vaping experience comes down to the torch technique that you've developed, and this means that although it's more challenging to learn how to use the Dynavap than a similar electronic device that features temperature controls, you'll eventually be able to hone your skill to ensure a perfect vape each and every time.
After around five vaping sessions, you're sure to have perfected it to a fine art. 
Be aware, though, that you shouldn't keep on heating the chamber after you've heard the click – if you do, the material will combust, and nobody wants that! Also, you'll get the best results if you use a dual flame torch – this heats up the device far more rapidly than a single flame torch.
When you first look at the Dynavap you may think that the bowl is too small to allow for potent hits. That isn't the case at all, so don't be misled! In fact, the Dynavap is surprisingly powerful even though its bowl is on the smaller side.
In fact, it offers one of the best dry herb vaping experience in its price bracket when it comes to the quality of the vapour it produces.
Around two hits will extract the complete bowl, which may not sound like a lot, but bear in mind that those two hits will really hit the spot, and you won't need to use lots of herb – the heating chamber can pack in around 0.25 to 4 grams.
The vapour path is quite short in this model, so you might find that the vapour is somewhat harsher than you might be used to, but if flavour is your top priority, you won't be disappointed with the Dynavap's performance, while it isn't quite up to the standard of a top of the line convection vape, it certainly offers an impressive experience.
The 2020 Dynavap model has introduced a number of changes when compared to earlier versions, and these will all have an impact on your vaping experience.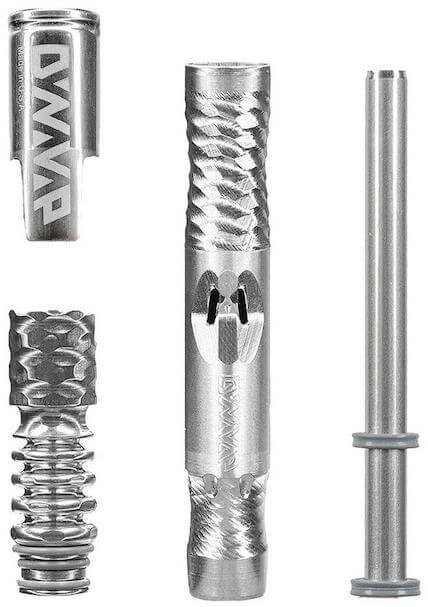 The 2018 model had a triple helix tip while the 2019 incarnation featured serpentine airflow channels. This model for 2020 comes with horizontal airflow serrations and this allows for a much better vaping experience when compared to the earlier models.
Another new feature is the adjustable bowl size – the screen can now be placed in different locations to make the bowl larger or smaller.
Another feature that has improved is the stronger clicks of the tip when heating has been achieved – this makes it less likely that you'll accidentally combust your herbs.
Now known as the captive cap rather than the Vac Cap, the new cap features grooves on each side so the cap can be secured in place.
It's still easy to remove though – just stick it on the DynaStash's magnetic part. This ensures it won't slip off easily by accident. 
Rather than only having a single airport, the latest model has upgraded to two which allows for calibrated high turbulence air injection.
As a result, heat is distributed more evenly and a more even cook is enabled.
The body of the latest model looks sleeker than previous incarnations and has a better hand-feel. When you're heating up the device you'll find it rolls better.
Also, the mouthpiece now features a more set-in O ring and it's a little more snug as well as tapered to fit the 10mm downstem, so if you like to use a water piece with your unit, this will improve its performance. 
You'll find that the whole range of Dynavap models come in small sizes. You'll find that they're all about the same size as a standard on-hitter.
Even the DynaStash will neatly fit into your pocket – although remember you'll need to take your torch along too! Whatever size your hands may be, you'll find the Dynavap fits easily into them, and its compact size makes it a perfect portable choice when you're heading out for the day.
Remember, though, if you'll be taking a hit while on the move, the tip becomes extremely hot so take care when you palm it again!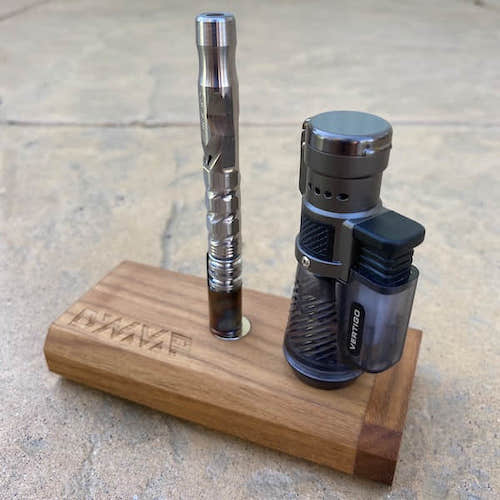 At first glance, the Dynavap can look quite intimidating since it's a complete divergence from standard dry herb vaporisers you'll find on the market.
Get over that initial shock, though, and you'll find that it's actually very easy to use. If you're going to be sharing it with friends, you might need to offer them some coaching – it takes a little getting used to.
You might want to do the work the first time for them and let them cover up the carb cap. It's super simple to clean this device too. The entire unit will come apart easily, so just take out the O rings then put all the stainless steel components into a bowl of isopropyl alcohol before shaking it and waiting for ten minutes.
A quick cleaning session later and the majority of gunk will be gone, so you'll only need to clean it quickly with a cotton swab and get back to your next hit.
The Dynavap has a lot of benefits in its favour, but discretion isn't one of them. It's pretty hard to hide a torch when you're heating this vape up in public!
On the other hand, a session will only take around a minute, so from that point of view, it's pretty discreet. It also fits easily into your hand, even if it's on the small side, so you can conceal it quickly – but again, bear in mind the cap will be super hot!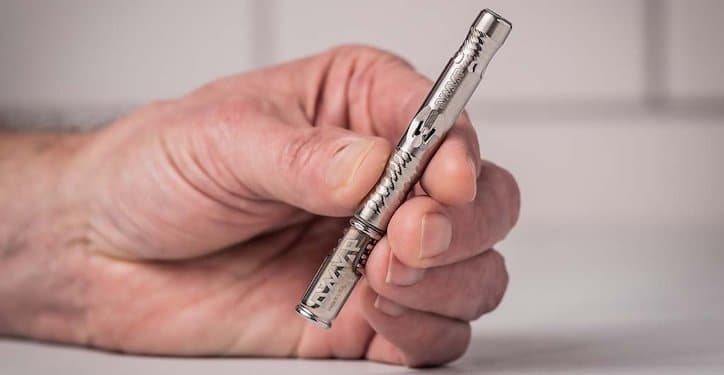 The Dynavap offers a number of advantages that make it a great choice for vapers, but it also has some downsides to bear in mind: 
Pros: 
It packs a powerful punch

It is attractive and high-performing

It's small enough to take anywhere

It's quick and easy to maintain and clean
Cons:
There's a fairly steep learning curve to get to grips with this vape

It isn't the most discreet device for use in public 
If you're not afraid of trying something new and want a powerful hard-hitting dry herb vaping experience on the move, you're sure to love the Dynavap M2020.
As long as you're prepared to put in the time to learn how to get the most out of this device, you're sure to be impressed by what this model has to offer in terms of performance and vapour quality.
Thanks to the advances that have been made to many elements of this boutique vaporiser you'll have a high-performing experience every time you take a hit, while thanks to its compact size and lightweight design you can pop this in your pocket and take it anywhere.