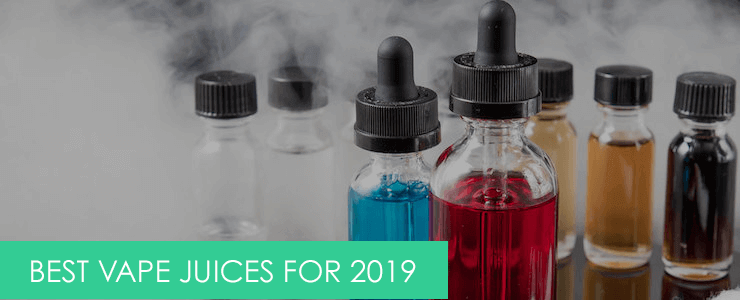 Updated on December 2019: Making the right choice of e-liquid is key to maximising the pleasure of your vaping experience. Every company offers a wealth of choices with various varieties and flavours to pick from, so it can be tricky to choose which company is the best one for you.
Your choice of e-juice very much comes down to personal opinion. For example, you may prefer the authentic taste of tobacco flavours or like fruity or exotic flavours better. You may have a preference for a particular brand even if others don't like it so much.
If you want to choose an e-liquid to be your favourite, you might want to experiment and try out different types before making a decision.
Here we look at some of the top e-liquid companies on the UK market today. If you want try produce vapour that is high quality with a smooth taste, you are bound to find something suitable here!
Article navigation:
Click here to see our Favourite Tobacco Flavours
Click here to see our Favourite Fruity Flavours
Click here to see our Favourite Menthol Flavours
Click here to see our Favourite MAX VG Liquids (for Sub-Ohm Vaping)
Click here to read more about E Liquid Steeping
Click here to read useful Tips & FAQ
List of the Best E-Liquids in the UK for 2019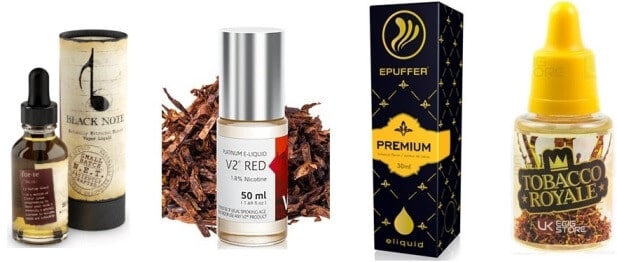 V2 Red Tobacco
If you've only just made the switch from regular cigarettes to vaping, you're probably looking for an e-juice that tastes familiar and which captures the traditional tobacco experience, and V2 Red Tobacco is just such an e-liquid.
With its hearty classic tobacco flavour, it has a pleasant and distinct throat hit that will appeal to heavy smokers with just a hint of sweetness in the undertones.
Although it doesn't quite capture the essence of any of the big brand cigarettes, it does have a pretty authentic taste that will make you feel like you have just finished a full-bodied cigarette. This is one of the best cig liquid flavours from V2.

Apollo Classic Tobacco Vape Juice
If you normally prefer dessert-inspired e-liquids, you should definitely give Apollo Classic Tobacco e-juice a try. While it is described by the manufacturer as a full-bodied American tobacco blend, in fact this vape juice definitely lacks a traditional tobacco flavour, instead having distinct coffee and chocolate overtones with an aniseed aftertaste.
Highly scented and very sweet, this hearty offering from Apollo produces impressive vapour – ideal for cloud chasers. While this may be a little too sickly to vape all day, it gives a nice kick after a meal.

EPuffer Premium Tobacco
EPuffer's Premium Tobacco e-juice blends golden Virginia with prime Turkish tobacco leaves making this one of their top flavours. With an e-liquid base that is 70% PG to 30% VG, this product is guaranteed to be non-allergic, alcohol free, kosher, vegan and gluten free.
It is crafted by the most skilled flavourists and chemists in the industry and is backed up by 8 years of company experience in producing quality e-liquids. As mentioned previously, Epuffer is one of the best e liquid brands in the UK.


V2 Platinum Grape
Lovers of exotic and fruity flavours are going to get a great hit from V2's Platinum Grape e-juice. With every puff you can enjoy the taste of summer, yet it isn't so sweet that you're going to feel overpowered.
I found this to be one of the more robust fruit vape juices, and as it comes in a choice of 5 nicotine strengths, you can choose the right one to suit your needs so that you can enjoy the perfect throat hit.

Apollo Berry Blend Eliquid
If, like me, you're a big fan of fruity flavours, this berry blend from Apollo won't disappoint. A tasty mix of blueberry, raspberry and blackberry, this e-juice doesn't just have a delicious taste but it also has a pleasant throat hit thanks to its 60/40 PG/VG blend.
With its smooth and natural taste, this is a pretty refreshing e-liquid with plenty of aroma that will keep you satisfied all day.

Epuffer Cherry
Cherry might be one of the classic e-liquid flavours, but this version from ePuffer stands out from the rest. Capturing the essence of ripe Italian cherries, it is deliciously fruity and refreshing while not being so sweet that it tastes sickly.
If, like me, you love lots of rich vapour, you'll be pleased with this product too as the 60/40 PG/VG mix produces pretty impressive clouds.

JacVapour Banana Milkshake
Sweet, yet creamy, this banana milkshake e-juice tastes exactly like the real thing. A top choice for any banana lover, this vape juice has been described as being similar to Banana Nesquik and is a strong flavour for when you want to sample something a little different. One of the brand's top retailing flavours, it is the ideal treat.

Best E-Liquids for Sub Ohm Vaping (Max VG)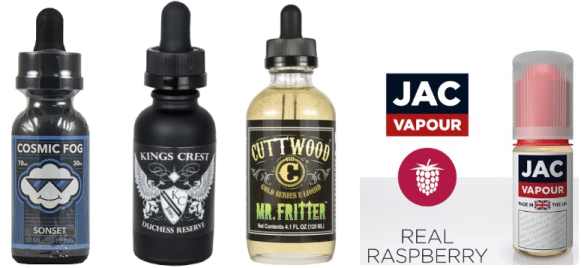 VSAVI 100% VG
If you are looking for 100% VG, whether you just love clouds or have a PG sensitivity then VSAVi 100% VG is the e liquid of choice. Made in ISO labs and fully tested, this organic juice has a good variety of flavours in their Gourmet Range.
Try the rich tasting Apricot or Coconut for a perfect balanced flavour with maximum vapour. Or get their sampler pack and find your favourite!
VSAVi is specially formulated to be a lot less viscous than other VG e liquids so it won't clog up your tank, pure taste, maximum vapour.

FAQ Guava Blast Max VG
When it comes to fruity flavours, sometimes it feels like a lot of e-juices just aren't trying hard enough. While a simple cherry or grape vape juice is fine from time to time, don't we all just long for something completely unique that really tantalises the tastebuds?
If this sounds all too familiar, FAQ Guava Blast could be the e-juice you've been waiting for – an exotic and tastebud tingling mix of guava and lemongrass that will really set your tongue on edge!
Perfectly tart and uniquely refreshing, this is definitely going to be the most interesting vape you've tried for a while, and although it might be a little overpowering for some, if you have a sweet tooth, this vape juice is sure to hit the spot!

Smoozie Maui Waui Max VG
Those of us who prefer sub-ohm vaping are always on the lookout for new and exciting flavours to keep us going all day, and Smoozie Maui Waui has to be one of the best offerings on the market today.
Designed to replicate the delicious creaminess of your favourite smoothie, this gorgeous blend mixes the mouthwatering freshness of wild strawberries with smooth banana and pineapple for a vape that tastes great at any time.
If you love sweet flavours, you can't miss this fantastic e-juice – it's incredibly smooth and flavoursome without being too overpowering making it a must-have vape juice for your collection.

Best Menthol Flavoured Vape Juices

V2 Platinum Menthol
If you have a fondness for the minty freshness of menthol, V2 Platinum Menthol is sure to hit the spot. The cool crispness of this e-juice packs a pretty powerful punch and its refreshing flavour lingers on for some time even after you've finished vaping.
Some people may find it a little too strong for their taste, but for those of you who loved your menthol cigarettes, this e-liquid will give you the experience you've been craving. V2 offers one of the best menthol e liquid in the UK.

Apollo Menthol Breeze Vape Juice
Recreate the experience of eating a Fox's Glacier Mint with this fantastically cool and minty vape juice from Apollo.
Perfect for people like me who always preferred menthol cigarettes, the hit from this e-juice is refreshing and zingy without blowing your head off. Ideal for all day vaping, this 50/50 PG/VG e-juice has the perfect blend of vapour and flavour for an all-round vape.

EPuffer Menthol
Fans of menthol cigs are always looking for a clean and minty freshness from their vape, and they get just that with Epuffer's menthol flavour.
Not as strong as some of its rival brands, it still produces a pleasant aftertaste that will make you feel refreshed, and it has a wonderfully smooth taste that makes it ideal for vaping at any time, but especially for your first vape of the day!
Whether you only need a tiny amount of nicotine to keep you ticking over or a much stronger hit, Epuffer Menthol is ideal for you as it comes in a choice of strengths, and if you're a cloud chaser, this e-juice is also a great choice with its above-average vapour production thanks to its 70/30 PG/VG blend.

JacVapour Pure Menthol
One of their top selling products, JacVapour's Pure Menthol e-juice allows for a clean minty vape that has a refreshing kick and aftertaste.
This Pure Menthol flavour blends menthol with tobacco for a delicious and impressive flavour, but for an extra hit of tobacco, it can be mixed with any of the other tobacco flavour e-juices in the range.
It is worth to mention that Jacvapour is one of the few brands which offer UK made E Liquid.

TOP E Liquid brands in the UK for 2019
#1 In the UK – V2 Platinum E Liquids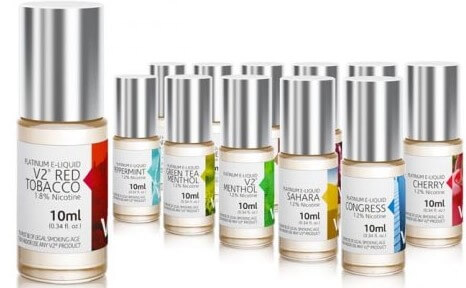 Well known for their high quality products, V2's Platinum E liquids are rigorously tested in a laboratory to guarantee that they are consistently of the best possible taste, purity and strength.
The company always publish the ingredients in their products so that purchasers are fully aware of exactly what they are vaping, and every bottle is child-safe and comes with a simple to use dropper.
V2's e-juices are compatible with every V2 vaporizer that has a refillable tank, like the EX Blank, PRO Series and Classic Blank Cartridge. Bottles comes in two sizes, 25ml and 50 ml and it is also possible to purchase a sample pack of 6 flavours.
With five nicotine strengths to pick from, from 0% right up to 2.4%, and 1 exciting flavours from standard tobacco to peppermint and cola, V2 have an impressive selection for any vaper. If you are looking for the best vape juice, then V2 Cigs will be the right choice.


One of the best known contenders in the e liquid market, Apollo offer an extremely impressive range of e-juices that will suit any taste.
Available in both 10ml and 30ml sizes, this company also offer the option of purchasing multi-packs of 5 or 10 so that vapers can enjoy all of their favourite flavours.
From traditional tobacco flavours right up to unusual and exotic choices such as Smoozie Maui Waui, there is something to suit everyone in their fantastic selection.


One of the top UK e-liquid brands, JacVapour manufacturer premium high-quality e-juices in a great choice of flavours that are popular with all kinds of vapers.
Every vape juice is rigorously and independently tested within British laboratories to ensure that the highest standards of safety are met. There are e-juices to suit every taste and in a choice of strengths.
From classic tobacco to sweet vanilla and from fruity flavours like apple and watermelon to refreshing Pure Menthol, their vapourless Clear Steam E liquids and easy mix picNIC E liquid range are all made in the UK.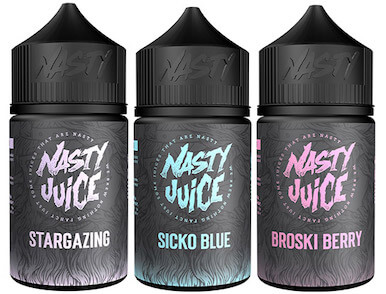 Made in Malaysia, Nasty Juice has become very popular thanks to its excellent flavours.
Each variety comes in a 50ml bottle and boasts eye-catching colourful boxes to attract your attention.
Each flavour in the range is a 70:30 VG:PG blend and produce amazing clouds, making them ideal for cloud chasers.
The range is also available in two different strengths of nicotine – either 3mg or 6mg to suit your preferences. The range currently encompasses several different flavours to match all tastes.
If you prefer fruity tastes, you won't be disappointed by the strawberry, melon and berry varieties, while there are also tobacco flavours to suit those vapers who prefer to keep things classic.

This Canadian-made e-liquid is a premium line which is surprisingly affordable and which offers a host of exciting flavours that never fail to impress.
Made using an artisanal process, these e-juices are made in a Canadian lab with an exceptionally clean environment and the range is pre-steeped for two weeks before bottling for sale.
Each e-juice has at least a 70VG ratio, however there are other ratios available depending on the flavour you choose.
Flavours come in two sizes – 100ml and 30ml – and there are three nicotine strengths to choose from – 6mg, 3mg or 0mg to suit your needs.
Twelve Monkeys focus their line on exotic, fruity flavours, with tropical fruits, citrus fruits and berries featuring heavily.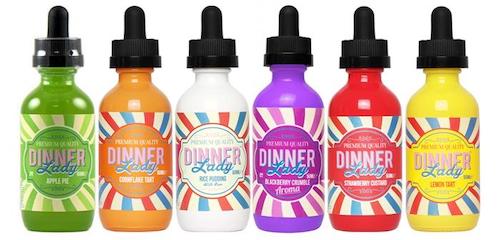 The Dinner Lady range of e-liquids is a professionally made, premium line of vape juices which offer an outstanding experience thanks to their delicious tastes.
Made in the UK, this range is designed to take vapers back in time to their school days with a host of classic, dessert flavours.
This product line offers such mouthwatering flavours as lemon tart, strawberry custard and rice pudding as well as a Salts range which is designed to suit low wattage vape systems.
Whether you love fruits or dessert inspired tastes, you're sure to appreciate this selection.


As one of the top e-juice brands out there today, Charlie's Chalk Dust offers a truly impressive line of flavours.
All are made with outstanding attention to detail and using refined recipes which are sure to appeal to all palates.
The range of flavours encompass everything from classic tobacco to tongue-tingling candy, and from sweet to savoury.
Each blend offers high cloud production and wonderful flavour profiles which stand testament to their high-quality production method and craftsmanship.
The original White & Black Label line offers complex and unusual flavour profiles which are designed to appeal to both seasoned vapers and novices alike.

Best Bargain/Cheap Eliquids
Epuffer E-Juices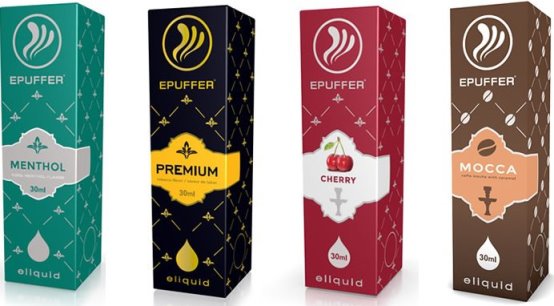 Increasing numbers of people are choosing to switch to vaping because of the benefits that it provides. With no smoke produced, vaping is a healthier alternative to traditional cigarettes.
The vapour inhaled by vapers is produced by evaporating e-juices and these can come in a range of exciting flavours from exotic to the traditional such as menthol and tobacco.
EPuffer's great value range are top quality, undergoing rigorous testing by experienced chemists and flavourists from within the industry. All products are made from premium materials and using cutting edge technology and over the last 8 years, the consistency of their products has been impressive.
All of EPuffer's premium e liquid UK flavours are certified to be non-alcoholic, non-allergenic, gluten free, kosher and vegan.

Ingredients Found In Electronic Cigarette Liquid
If you are new to vaping, you may have some concerns about the ingredients that e-liquids contain. Lots of people have a lack of knowledge about e-liquids and find the idea of vaporizing a nicotine containing liquid rather strange, however they can be assured that it is certainly a safer and better alternative to smoking regular tobacco.
PG and VG: The Base of vape juice
While smoking standard cigarettes exposes you to toxins and carcinogens, vaping e-cigs have far fewer ingredients that can cause damage to your health.
Usually, you only find four ingredients in e-juice, unlike regular tobacco which contains thousands of ingredients. E-liquids contain just Propylene Glycol (PG), Vegetable Glycerin (VG), flavouring, distilled water and sometimes nicotine.
While some people have concern about the safety of vaporizing Propylene Glycol and Vegetable Glycerin, they can be satisfied that these are ingredients that are commonly contained in all kinds of popular substances such as food preservatives, pharmaceuticals and makeup and so are bound to be safer than traditional tobacco products.
Although Propylene Glycol has a bit of a poor reputation with a few critics declaring that vaping e-cigs is akin to inhaling antifreeze, this is certainly not the case. Only industrial grade propylene glycol is used to produce antifreeze and not the product in its pure form.
USP Propylene Glycol is used to manufacture e-liquids and it is 99.9% pure, being pharmaceutical grade. The Food and Drug Administration have classified it as a safe food additive and it is used regularly in food products, cosmetics and medicines to maintain moisture.
While PG may cause a dry mouth occasionally and does not produce large vapour clouds, it does have a useful function for improving the carrying of flavour, which is why it is used to make e-liquids.
Just as safe as PG, Vegetable Glycerin is non-toxic and non-carcinogenic. It can be either inhaled or ingested and will cause no harmful effect to any body part.
It also produces large vapour clouds, but does not carry flavour effectively, hence the reason why it is mixed with Propylene Glycol to produce the ideal combination of flavour and vapour. While PG may cause allergic reactions in some people, VG is known to be hypoallergenic.
Nicotine is the ingredient that keeps everyone addicted to regular cigarettes and it is therefore one of the key ingredients found in most e-juices. There are however a number of differences between them. In standard cigarettes, there is no measure to the nicotine content, however in e-juice, the nicotine level is strictly measured and is able to be customised to suit the vaper's preference and taste.
Nicotine levels vary between manufacturers, but is usually marked with a percentage, or alternatively as mg/ml. Usually the following strengths are found:
0.0% (0mg/ml) – Perfect for anyone who has stopped smoking, but wants to feel the experience of smoking.
0.6% (6mg/ml) – Slightly less than a standard light cigarette.
1.2% (12 mg/ml) – Great for those used to smoking light cigarettes.
1.8% (18 mg/ml) – An average level of nicotine, this is the perfect level for those who enjoy a nicotine hit as well as for regular smokers.
2.4% (24 mg/ml) – This higher level is perfect for heavy smokers.
By using these levels, you can choose the best nicotine strength for you. For those who are struggling to quit smoking, even when using e-cigarettes, you should try to increase the nicotine strength of your vape juice. If, however, you experience symptoms such as dizziness, you should decrease the strength and speak to your physician.

The steeping process allows the vape juice to rest for some time in order to improve the juice's flavour in a similar way to allowing a good wine to age. There are several methods of steeping and everyone does it differently.
There are two essentials required for proper steeping – experimentation and patience. E-liquids combine some or all of 5 different components: VG, PG, alcohol flavour, water and nicotine.
After it has been made and stored for some time, denser components can separate, sinking down to the bottom of the bottle. When you shake the bottle during the steeping process, the mixture becomes homogenized.
The idea of steeping is to improve your juice's flavour. If you enjoy your e-liquid as it is, you do not need to steep it, but just begin vaping immediately.
However, if you steep your e-liquid, the flavour will often be improved. Therefore, if you think your flavour is not quite to your liking, or are just curious, you can experiment a little to see if it tastes better.
You have to have patience to steep your e-liquid properly. The easiest steeping method is just to allow it to sit, checking it occasionally, and then allowing it to sit for longer.
Step 1: Shake the bottle vigorously as vape juices are extremely viscous.
Step 2: Light may degrade the flavour of your juice, so you should store it in a dark and cool place, such as a closet.
Step 3: After one week, give your e-juice another shake and repeat for another couple of weeks, then you can try a taste test. If you're still not happy, you can continue steeping for months, right up to the expiry date.
What happens after steeping?
Once you have steeped your e-juice, its flavour will change to a smoother and deeper one. Its colour may also change because of the oxidation of the nicotine.

An e-cig works through atomising e-liquid rather than burning tobacco. E-liquid contains a base such as vegetable glycerin and/or propylene glycol as well as flavours and frequently nicotine too. It comes in either a bottle or in a pre-loaded cartridge.
E-Liquids Strengths explained
It is essential to select the correct nicotine level when vaping as its strength determines the throat hit of your e-liquid. If you choose too high a level, the kick will be too big, but if the level is too low, your cravings won't be satisfied.
E-liquids are measured in mg/ml, therefore in an e liquid bottle of 11mg, there will be 11mg of nicotine in every ml of fluid.
Extra Low 6ml – This is a good strength for the casual smoker. For those who smoke about 5 standard cigarettes daily, this strength is fine, with a minimal throat hit.
Low 11mg – A good strength for those just starting with vaping. For those who smoke about 10 cigarettes daily, this level is good with a noticeable throat hit.
Medium 18mg – Ideal for anyone who smokes about one pack of cigarettes a day, this has a stronger throat hit.
High 24mg – For those who smoke around 20 or more strong cigarettes daily, this is a good strength with a powerful throat hit.
What are PG or VG liquids?
VG is vegetable glycerin and PG is propylene glycol and these are the two most common e-juice bases. The majority of e-liquids are formed of a blend of these two ingredients although the ratio will vary, e.g. 80/20 PG/VG which is a mix of 80% PG and 20% VG.
Both VG and PG produce vapour and carry flavour in e-juice and are used in a wide range of products that are safe for human consumption. While PG produces better flavour, it makes less vapour, while VG produces impressive clouds.
There are some people who have a bad reaction in their throat to PG and therefore prefer VG liquids instead.
What is a 100% VG liquid?
An e liquid which is 100% VG only contains vegetable glycerin and no PG.
Commonly used in sub-ohm vaping, a 100% VG e-juice will be thicker with a smoother throat hit and taste and it will produce plenty of vapour.
How should I store my e liquid?
The way in which you store your e-juice affects its flavour. Similarly to pre-packed food, e-liquids can be damaged by heat and light and therefore they should be stored in a dark and cool location.
Keep them locked and hidden away from children in a larder or kitchen cupboard for safety and keep it away from any microorganisms until its expiry date.
E-juices become oxidised with age and change colour, however this will not make it taste bad, and some people prefer their e liquids like this.
If you store your e-juice in a glass bottle, its quality and flavour will be better preserved, while putting the glass bottles into containers will help prevent air transgression.
What e liquids should I get?
This is down to preference, so the best thing to do is to try several e-juices to see which you prefer.
While it is always a good idea to read user reviews to get some idea about which flavours are the most popular, it's important to remember that not everyone has the same tastes.
There are so many different brands, types and tastes on the market today that you have a world of choice to select from.
As well as traditional tobacco or menthol flavoured e liquids that replicate the experience of smoking a cigarette, there are more unusual and exotic flavours too like fruity blends, cocktail inspired flavours and dessert varieties.
Depending on your personal preferences, you may not want a traditional tobacco flavouring but may prefer to try something sweeter or more unusual. You should also try a variety of PG/VG blends to see which you like best as some people prefer a blend that is higher in VG and others prefer a more PG heavy mix.
If you are planning on sub-ohm vaping you will need to choose an e-liquid with a higher ratio of VG, however remember that vape juices with a larger proportion of vegetable glycerine are thicker and can therefore cause your electronic cigarette to require more frequent cleaning since sticky residue will build up more quickly. It will also make your device harder to clean.
What strength e-liquid should I buy?
If you are a very heavy smoker you will need a stronger e-liquid, however the strength of the nicotine is not necessarily the be all and end all.
For those who vape frequently, a lower strength of nicotine might be more suitable as a stronger liquid causes an intense throat hit. Also, the strength you choose may need to be varied depending on your vaporizer pen, as some more powerful devices (like mods) , dry herb vaporizers or desktop vaporizers produce a lot more vapour per puff.
If you prefer to vape less frequently, a stronger vape juice may be best for you, but if you find that there is too much nicotine in your product for the amount you prefer to vape, switch to a lower strength.
Can you make your own E-Liquid?
Although producing your own vape juice does not require a laboratory of your own, you will need some essential supplies. You will need bases to make your own e-juice as well as a nicotine solution at a pharmaceutical grade and your chosen flavourings.
By using an e-liquid calculator with these pre-packed components, you can produce your own e-juices. One of the advantages of making your own e-juice is that you can experiment and produce tastes that are perfectly customised to your individual preferences.
Why do I keep getting vape juice in my mouth?
If this has happened to you, you are definitely doing something wrong. When you refill your e-cig, take care to allow no liquid to drip into the middle pin as it must be kept clear for the air flow.
You should also avoid putting your e-cigarette into your pocket upside down as the liquid will all run into the mouthpiece, and then you may get it in your mouth when you start vaping.
Ensure your tank is never overfilled, and if you do manage to overfill it by accident, place the atomizer's open end into a paper tissue and blow as hard as possible through the battery connector end to force any excess out.
Am I vaping too much, how much nicotine is too much?
If you are experiencing headaches, dizziness and nausea you are probably taking too much nicotine. If this is becoming a problem, try lowering your e-juice nicotine content to 18mg, or if this is too high, 11mg or 6mg.
Chain vaping is probably not a very good idea, and you should listen to your body as it will warn you if you are overdoing it.
What is the maximum legal eJuice nicotine strength in the UK?
New European TPD laws will fix the maximum nicotine content of e-liquid at 20mg per ml.
That is a little bit lower than the current maximum level which is commonly offered by most e-cigarette brands, but it is still quite a reasonable amount and many people vape e-liquids with lower strengths than this.