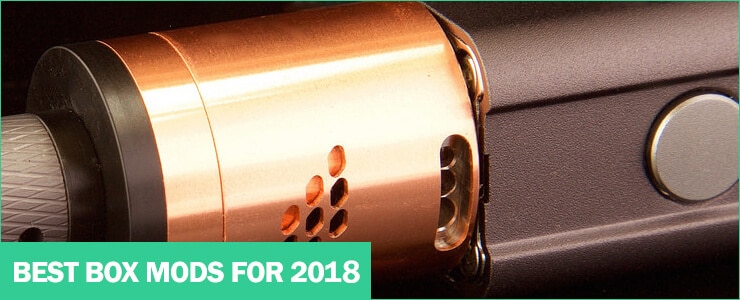 This ultimate best box mods guide is the last resource you will need to finally enjoy a worry-free vaping. Here we have listed the
BEST
vape mods available in the United Kingdom. Our recommended products are TPD 2017 compliant, so you do not need to worry about out-date information.
Sit back, relax and enjoy this article. I am sure that after few minutes you will be able to choose a perfect box mod which will suite all your needs.
Best All-round Vape Mods in 2018
Innokin Cool Fire IV Plus Apex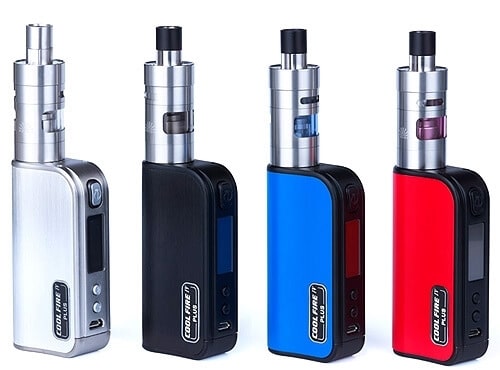 Price: See current price
Wattage: 6W-70W
Battery type: 3300mAh
Resistance: 0.1 ohm minimum
If you're a fan of sub-ohm vaping, this Innokin Cool Fire IV plus Apex kit could be the best box mod for you. You can expect impressive clouds and tons of flavour with this e-cig kit and thanks to the well located fire button you can easily control your vape to suit your preferences. Firing down to 0.1 ohm, this kit outputs up to 70 watts and comes complete with a long-lasting 3300mAh battery that will take you through the day without needing a recharge.
Thanks to its ergonomically designed curves, it is comfortable to hold and since it boasts vape-through capacity, you won't need to wait for charging before you can continue vaping. Well protected against over-discharge and over-heating, this device easily adjusts between 2.0 and 7.5 V in increments of 0.1V and its robust stainless steel body is durable enough to withstand everyday use. This is sure to become your new go-to vaping device for this year.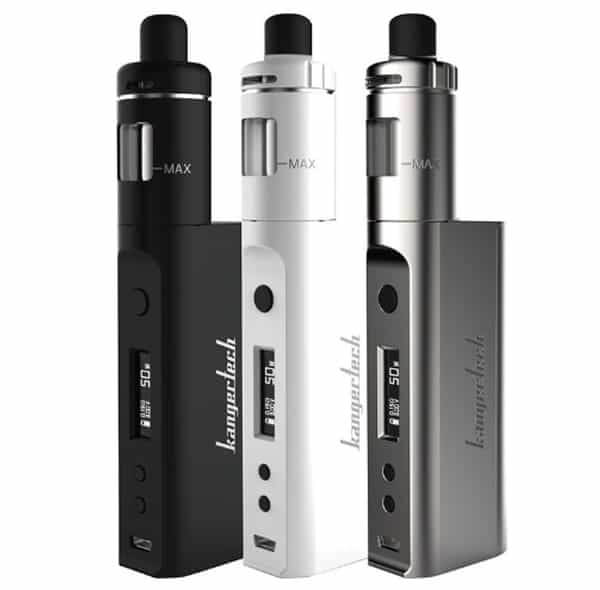 Price: See current price
Wattage: 15W-50W
Battery Type: 18650 mAh
Resistance: 0.3 ohm minimum
This awesome vaping device is the ideal choice for beginners and advanced vapers who are looking to upgrade their sub-ohm vaping experience. Producing outstanding amounts of clouds, the TangerTech Subox Mini is lightweight and portable, yet can fire clearomizers down to 0.3 ohms. Thanks to its single 18650 mAh battery it's easy to carry around in your pocket or bag, while its attractive ceramic finish adds plenty of visual appeal.
Completely child-safe thanks to the CL tank, this device boasts an easy to see OLED screen that displays all the key stats as well as an impressive vertical coil set up which allows you to either use pre-built coils or build your own. With variable temperature and wattage control modes, this device is compatible with NiChrome, Titanium and Nickel wire and the pass through option ensures zero downtime for an all-day vape. Quick to charge and packed with safety features, this is an excellent device for any experienced vaper.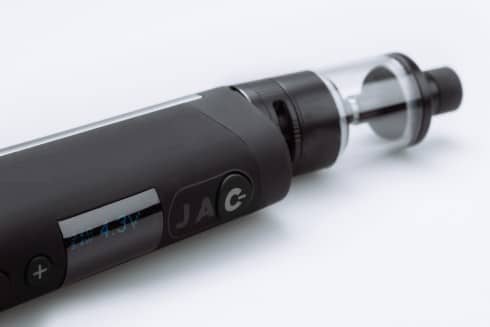 Price: See current price
Wattage: Max 40W
Battery type: None included – requires separate 18650 flat top battery
Resistance: Down to 0.2 ohms
A compact and premium box mod, the JacVapour Series B Tilt is perfect for mouth to lung users and comes equipped with a 22mm Geni Aero Mega tank. A 18650 flat top battery is required to be used with this mod and does not come supplied. This uniquely designed mod offers a variable wattage and variable voltage mode and has a spring loaded positive connector and quick release battery cover that is magnetic for convenient use.
Sub-ohm compatible, this mod also offers the most advanced safety features including protection against short circuiting and overcharging. Some of the people claim that this is the best box mod. Do we agree? Well, all I can say is that this truly is a great vaping device worth checking out.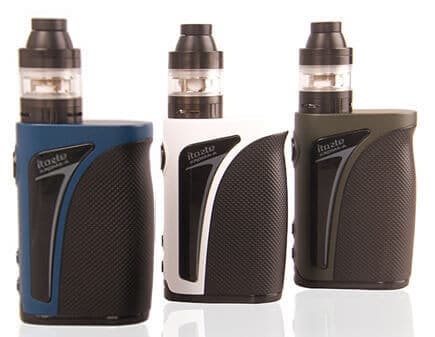 Price: See current price
Wattage: 6W-75W
Battery Type: 2000 mAh
Resistance: 0.1 ohm minimum
This new and updated device from Innokin is ideal for sub-ohm vaping, offering all the versatility and compactness that today's vapers need. This TC model offers a powerful 2000 mAh internal battery which charges rapidly thanks to the inclusive 2A micro-usb. Newly designed, this version is compatible with virtually every popular tank and is equipped with a number of excellent features including 75W of temperature control power and a neat 72mm design that is both ergonomic and portable.
Producing outstanding flavour and plenty of vapour to satisfy the needs of both new and experienced vapers alike, this vape system has a bright and easy to read OLED screen and user-friendly controls and is extremely safe thanks to the numerous safety features. The integrated Pre-Boost feature pre-heats the coil to the right temperature, while the puff counter and memory settings make this a really convenient device to use. Compact, neat and fashionable, this is the ideal device for vapers of all kinds.

Smok Mag 225W With TFV12 Prince Tank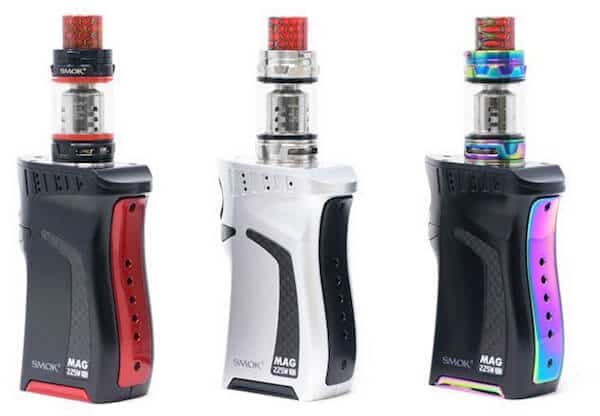 Price: See current price
Wattage: 6W-225W
Battery Type: 18650 dual mAh
Resistance: 0.05 ohm – 3 ohm
If you need the best sub ohm mod to upgrade your vape experience, look no further than the Smok Mag 225W with FTV12 Prince tank included. This latest mod from the Smok brand comes complete with a stylish trigger-style fire button and a super-convenient lock and load battery bay as well as an HD OLED screen so you can view your vaping data easily and quickly.
You're sure to appreciate the ergonomically smooth feel of the contoured shell which fits perfectly into the hand for comfortable use, while the TFV12 Prince tank has powerful new vaping cores for the ultimate experience. With a patented locking mechanism, you can be sure that your device is well sealed for zero leaks and is completely child-safe. The powerful dual 18650mAh batteries supply enough power for all day vaping while the intelligent atomizer recognition system ensures that you can customise your experience without any difficulties.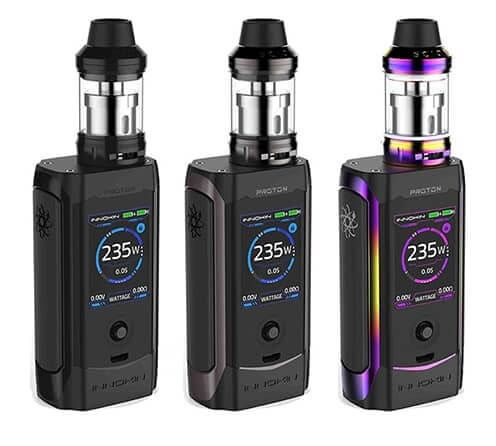 Price: See current price
Wattage: 6W-235W
Battery Type: 18650 dual mAh
Resistance: 0.05 ohm – 3.5 ohm
If you're looking for one of the best vape mods in the UK, the Innokin Proton 235W mod is the one for you. Set to be a modern classic, this device from the popular Innokin brand has a new chipset which is high performance with slim and compact dimensions that makes it ideal for vapers on the go.
It's unique innovative design has mouse-like navigation and a TFT screen for incredibly convenient user-control. Its Scion II inclusive tank comes with Plexus mesh coils for a more stable current and constant resistance and the result is better flavour and vapour to satisfy even the most demanding user.
With simple top-filling and an oversized yet strategically placed fire button that has been perfectly integrated into the stylish design, this device features a contoured and smooth shell that is a joy to hold. Its dual 18650 mAh batteries are incredibly powerful and with all the essential safety features, this is a device that is set to lead the market.

Price: See current price
Wattage: 6W-220W
Battery Type: 18650 dual mAh
Resistance: 0.06 ohm – 3 ohm
When you need a portable box mod that has enough power for all day vaping, the Smok Alien 220W Mod is the one for you. Its compact dimensions means you can pop it in your pocket, while its compatibility with a wide range of tanks means that you can customise it easily to suit your preferences.
Made from zinc alloy with a carbon fibre inlay, this device has a unique and stylish design with a large OLED screen, easy-read menu and oversized fire button which has been seamlessly integrated into the body of the device. The smooth contoured shell is comfortable and ergonomic to hold, and with easy operation, it is the ideal device for both new and experienced vapers alike.
Its powerful dual 18650 batteries can either be charged internally or externally and with a number of TC modes to support stainless steel, titanium and nickel coil heads you can have all the versatility that modern vapers demand.

Best Box Mods for 2018 – Our Top 10 Vape Mod picks in the UK: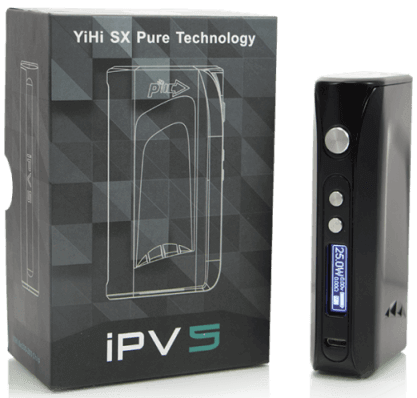 Eleaf iStick Basic (Beginners)
Smok X Cube II 160W (Cloud Chasing)
Smok R200 (Cloud Chasing)
Joyetech Cuboid 150W (sub-ohm)
Eleaf iStick Pico 75W (sub-ohm)
Pioneer4You IPV5 200W (Temperature Control)
Snow Wolf 200W (Temperature Control)
Eleaf iStick 50W (Affordable)
Wismec Reuleaux DNA 200 (High End)
Vaporshark DNA200 (High End)