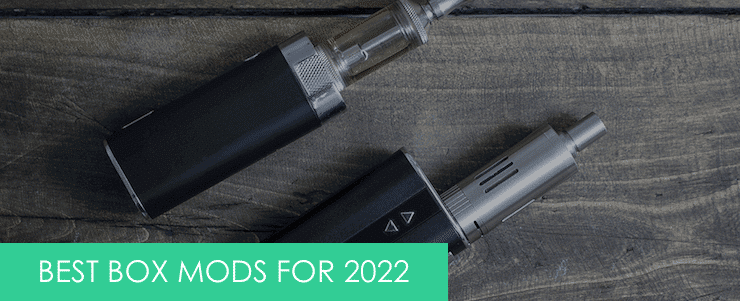 Updated on 2022: Vape mods are wildly popular right now, and it seems that every month dozens of new models are released.
On the one hand, it is great, since it gives you a huge variety to choose from. But on the other hand, with so many vape mods available, choosing the one for you can be a daunting task.
This ultimate best box mods guide is the last resource you will need to find the perfect vape for you.
We have tried and listed here some of the BEST vape mods available in the United Kingdom.
We regularly update this list with new products, so you do not need to worry about outdated information.
Sit back, relax and let's dig into this list of best vapes 2022.
What is the Best Vape Mod? Our Top 10 Vapes in the UK for 2022
Innokin Kroma-R Zlide (Editor's choice)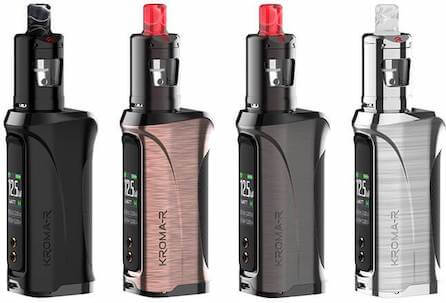 Wattage: Max 80W
Battery type: None included – requires separate 18650 flat top battery
Resistance: Down to 0.05 ohms
Are you looking for the best vape mod on the market? Look no further. In our opinion, the best vape mod in the UK for 2022 is Innokin Kroma R Zlide.
If you're new to vaping, the Innokin Kroma R Zlide kit could be the ideal introductory vaping mod for you. However, even if you're an advanced cloud chaser, you still shouldn't overlook this device.
With 80W of power, this mod features a single replaceable 18650 battery that is suitable for either DTL or MTL vaping for a versatile experience every time.
Offering the potential to evolve with your changing vaping needs, the Kroma-R Zlide has a stylish finish, ergonomic design, hidden fire button and screen.
It's compact dimensions make it suitable to take anywhere, while its resistance range of 0.05 to 3.5 Ohm and its adjustable airflow control makes this a perfect device for all vaping styles.
Innokin haven't overlooked style when designing this device. While it's certainly a functional and powerful vape, it's an aesthetically pleasing one too.
Available in a choice of four colours, its appealing shape and small size make it the perfect vape for use on the go.
Whether you're just beginning your vaping journey or whether you're a seasoned vaper looking for a neat device to travel with, the Kroma-R Zlide ticks all your boxes.
This kit comes complete with everything you need to start vaping apart from your favourite e-juice.
As well as the mod itself and Zlide 2ml tank, you'll receive a Kanthal 1.6 ohm coil and Z-PLEX3D 0.48 ohm mesh coil, a spare glass and a USB charging cable together with a user manual and warranty card – all you need to get you off to the best possible start with vaping.

JacVapour SERIES-B DNA 75W 23mm (Best "Made in the UK" Vape)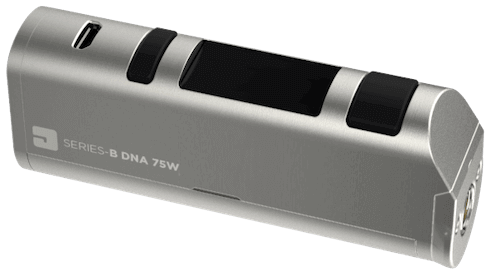 Wattage: Max 75W
Battery type: None included – requires separate 18650 flat top battery
Resistance: Down to 0.2 ohms
The SERIES-B DNA is one of the most compact DNA chip mods currently on the market, as well boasting the stunning PVD matte black finish that makes it a real stand out in terms of design.
The price is also something to shout about; for the quality and finish it's a bit of steal. The device is retailed at £64.99 and is once again available in the popular 23mm version.
The device has a fully customisable interface and updatable firmware using Evolv's Escribe software.
The Evolv DNA chipset integrated into this device ensures an outstanding level of performance for both newcomers to vaping and the most experienced vapers.
However, if you're not looking to play around with Escribe (read the instructions if you do!) the mod offers both wattage and temperature control modes, allowing you to vape different e liquids at your own preferred temperatures.
For example, a dessert flavour is rather tasty at a warmer temperature compared to menthols which are usually enjoyed cooler.
You need a compatible temperature control coil to use the temperature control mode, but not to worry if you don't have these or don't want to use the TC mode as you can easily switch between this and wattage mode.
The DNA has a 510 connection thread making it compatible with most popular tanks and if you need one, you can pick up the top fill S22 tank from JAC by selecting it from the dropdown options on the DNA page.
The S22 tank has been described as the "Nautilus killer", producing amazing results for both mouth to lung and direct lung vaping.
The S-Coils that are compatible with the S22 are available in the following resistances:
MTL 1.0Ohm (mouth to lung) – ideal for beginners looking to simulate the real draw of a cigarette
DL 1.0Ohm/0.5Ohm (direct lung) – perfect for those big clouds and an airier vape
Turbo S-Coils 0.47Ohm/0.7Ohm – coils for the flavour chasers
Temperature Control 0.15Ohm – For use with temperature control devices and heavy vapour
Want to try out a few of the above vape styles? You can also pick up a S-coil Variety pack here for just £8.99.

Jacvapour Series-S22 (Best Budget Vape)

Battery type: 2600 mAh (internal)
Resistance: Down to 0.5 ohms
When you need a simple but high-performance vape, the Jacvapour Series-S22 box mod could be precisely what you're looking for.
Combining distraction-free simplicity with a refined design, this suprisingly multifunctional device will evolve with you from your first vaping experience to meet your more advanced needs.
The Series-S22 device leads its class in terms of power and stamina, with a powerful all day battery that won't leave you wanting more.
It also comes with a top-filling vape tank that has been designed for speedy refills. It takes less than ten seconds to top up your tank, and with a host of available accessories including S-Coils and spare batteries, it's possible to easily upgrade your vaping experience with this device.
Compact yet high-performing, this MTL device uses a 1.0 ohm coil and comes equipped with a host of safety features from high amp draw protection and short circuiting protection to overcharging protection and battery vents to give beginner vapers complete peace of mind.
With excellent features including a high build quality, pass through charging so you won't have to wait to start vaping, and a compact cylindrical shape that's easy to take anywhere, this is the ideal device for anyone starting out on their vaping journey.

Vaporesso Target PM80 Sub-Ohm Pod Kit (Best Vaporesso Mod)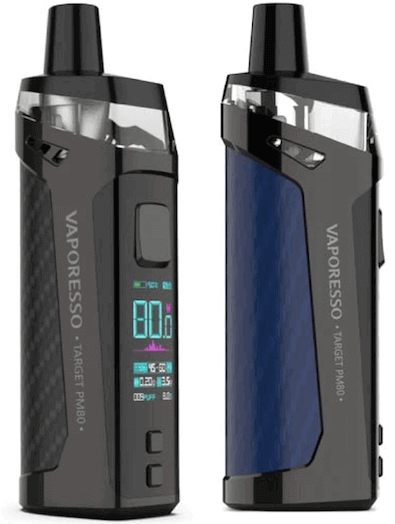 Wattage: 5W-80W
Battery Type: 2000 mAh (internal)
Resistance: 0.2 ohm minimum
Combining performance with power, all in one conveniently compact package, the Vaporesso Target PM80 sub ohm pod kit is affordable and reliable enough to help smooth the transition from smoking to vaping.
Designed with quality in mind, this may be a small e-cig kit, but it certainly doesn't compromise on performance. Capable of reaching outputs of 80W thanks to its 2000mAh battery, this device even allows you to cloud chase easily.
The Insta-Fire AXON chipset integrated into the Target PM80's design ensures a super-intelligent vaping experience, as well as an unrivalled amount of customisation. You can adapt your vape to suit your preferences, with a choice of modes that suit any vaping style.
From the "pulse mode" that gives continuous flavour hits to the "eco mode" to help you save power, the Target PM80 even fires up at an astonishingly fast rate of just 0.001 seconds so you can get your nicotine hit instantly.
The pod design of this vape makes vaping convenient, with refillable, reliable pods that are quick and intuitive to use. Meanwhile, the GTX high-performance coils ensure you enjoy delicious and long-lasting flavour from every puff.
Finally, with its compact dimensions, this system can fit easily into your pocket to give you the freedom to vape on the go, whenever and wherever you need a nicotine hit.

Geekvape Aegis X 200W (Best Geekvape Mod)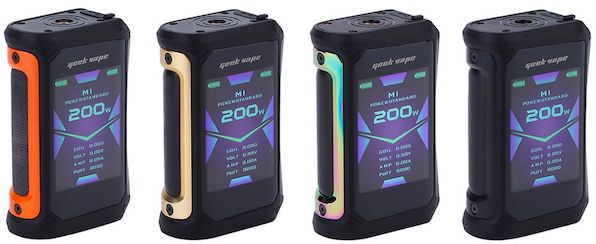 Wattage: up to 200W
Battery Type: Dual 18650 battery (not included)
Resistance: 0.05 ohm minimum
Geekvape Aegis X200W is a beautifully designed box mod that offers you everything you need for a fantastic vape.
Its AS 2.0 chipset ensures optimal performance, and since it can easily be paired with a wide choice of popular atomizers, it can give you the customized experience you've been dreaming of.
The dual 18650 batteries are in an accessible storage slot, so you can switch out the batteries whenever you want.
This means that you won't need to worry about recharging on the go – simply take spare fully charged batteries with you and you'll always be ready to fire up.
This box mod also has an IP67 rating, so you can rest assured that water and dust won't be able to have any negative effects on your Aegis X's hardware or electronics.
Even better, there's a full temperature control suite so that you can find the ideal temperature to vape at.
There's even an intelligent atomizer detection system so you can save yourself the time and effort of finding the perfect setting for your atomizer.
Since this mod is also compatible with titanium, stainless steel and nickel wire, you'll be able to enjoy a broad spectrum of vaping experiences.
Finally, you'll also enjoy the peace of mind that comes with knowing that you're well protected whenever you vape.
This device has countless inbuilt protections including high/low resistance protection, overheating and short-circuiting protection, and over-discharge and over-charge protection for your complete safety.
You can even pick from eight beautiful colours to suit your sense of style – what more could you possibly want?

TRINITY Vaporiser Kit (Best V2 Vape)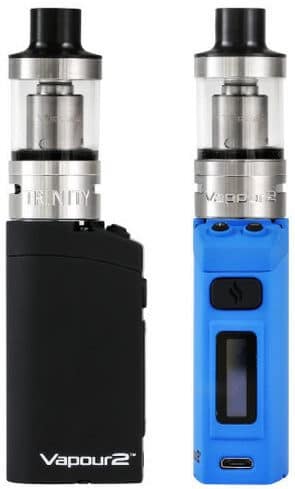 Wattage: up to 40W
Battery Type: 1200 mAh internal battery
Resistance: 0.1-3 ohm
Thanks to the interchangeable atomizers, this device allows for tailoring of the resistance for either a VG or PG e-juice blend so you can opt for either sub-ohm or standard technology.
You can choose either the 1.2 ohm for use with PG e-juices or 0.5 ohm or 0.8 ohm for use with your favourite VG blend.
The temperature and the voltage of the device can also be customised, so you can enjoy the perfect vaping environment to suit your preferences.
The Trinity features variable outputs of 5 to 40 watts, and there are even four different protection features so you can enjoy the safest possible vape.
With protections against low voltage, short-circuiting, overheating, and over-current, you can have complete peace of mind.
Meanwhile, Trinity's tank is capable of holding up to 2 ml of e-liquid, and its top filling design ensures that you can quickly and easily refill it without mess or inconvenience.
There are also two colours to choose from – black or blue – both of which are stylish and attractive.
With a minimum atomizer resistance down to 0.1 ohm, you'll also be able to enjoy sub-ohm vaping any time you like.

Vaptio Cosmo Vape Kit (Best Vape for Flavour)

Wattage: up to 30W
Battery Type: 1500 mAh internal battery
Resistance: 0.7 ohm minimum
Offering three different power levels, the Vaptio Cosmo vape mod offers an impressively powerful vaping experience with just a single press of a button.
This start kit comes with a Cosmo Tank and Cosmo mod, and it gets its power from a 1500mAh inbuilt battery that supports a max output of 30 watts.
You can quickly and simply shift between MTL and DL vaping thanks to the innovative airflow adjustment system, while thanks to the SMOOTH-TECH technology, this kit is very compatible, being interchangeable with the other types of Vaptio Cosmo coils for a fully customisable experience.
Several different protection capabilities guard against overcharging, overheating and short-circuiting for your peace of mind, while the mod is capable of delivering intense flavour and producing huge vapour clouds.
Suited for both experienced vapers and complete beginners, it's a wonderful choice for anyone who wants a great value vaping experience.

SMOK Alien 220w (Best under £50)
Wattage: 6W-220W
Battery Type: 18650 dual mAh
Resistance: 0.06 ohm – 3 ohm
When you need a portable box mod that has enough power for all day vaping, the Smok Alien 220W Mod is the one for you.
Its compact dimensions means you can pop it in your pocket, while its compatibility with a wide range of tanks means that you can customise it easily to suit your preferences.
Made from zinc alloy with a carbon fibre inlay, this device has a unique and stylish design with a large OLED screen, easy-read menu and oversized fire button which has been seamlessly integrated into the body of the device.
The smooth contoured shell is comfortable and ergonomic to hold, and with easy operation, it is the ideal device for both new and experienced vapers alike.
Its powerful dual 18650 batteries can either be charged internally or externally and with a number of TC modes to support stainless steel, titanium and nickel coil heads you can have all the versatility that modern vapers demand.

VOOPOO DRAG 2 177W (Best Design)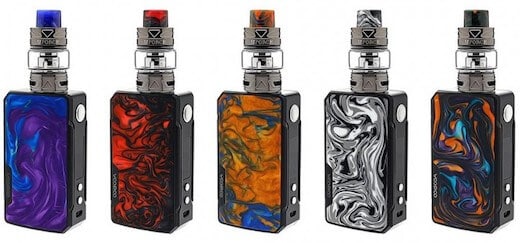 Wattage: up to 177W
Battery Type: Dual 18650 battery (not included)
Resistance: 0.05 ohm minimum
This starter kit is the next incarnation from the VooPoo brand, continuing the legacy of the original DRAG device with a brand new and highly intelligent GENE FIT chipset.
This allows for numerous power output modes so you can customise your experience easily.
There's also a newly updated chassis which pairs with a UFORCE T2 mesh-coil sub-ohm tank for impressive vapour production.
If you liked the original DRAG box mod, you're sure to adore the DRAG 2 thanks to its modern updates.
The new version boasts rounded edges to allow for more ergonomic handling as well as a greater range of resin-dyed colour option for an even more beautiful display!
The chipset, as you might imagine, is efficient and dynamic, allowing for better battery efficiency, and more output power adjustments including Cloud Set, Battery Set and Flavour Set, so you can really tailor your experience to suit your precise requirements.
The tank that comes with this kit comes with an e-juice reservoir capable of holding up to 5ml of e-liquid together with a sliding ergonomic top filling design for no mess or fuss.
There's a triple-slot airflow control too, so you can adjust your vapour production easily.
The platinum shell isn't just stylish, it's also scratch-resistant and non-fading too, with high-quality, exquisite craftsmanship, so you won't just enjoy vaping with a high-performance device, but you'll also look good too!

SMOK G-PRIV Baby LUXE 85W (Best Vape for Beginners)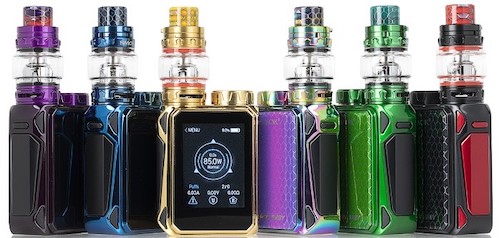 Wattage: 1W-85W
Battery Type: 18650 mAh (not included)
Resistance: 0.05 ohm minimum
If you're looking for a box mod that is a marvel of modern engineering, the Smok G-Priv Baby Luxe 85W is ideal for you.
With its stunning touchscreen, powerful 85W chipset and complete temperature control functionality, this compact vaping device is a great choice for vapers old and new.
Versatility In The Palm Of Your Hand
With a wattage range between 1 and 85W, a voltage range between 0.5 and 9V, a temperature range between 93 and 315 degrees Celsius and a minimum atomiser resistance of 0.05 ohms, this is an incredibly powerful and versatile device that will really let you get the most out of your vape.
Capable of supporting titanium, stainless steel and Ni200 Nickel heating elements, this device lets you choose between four different drawing effects: Max, Hard, Normal and Soft, for a truly customised experience.
An Outstanding Design
Made with a premium-quality zinc alloy construction, this box mod comes complete with a large 2 inch, shatter resistant touchscreen that lets you easily control your vape.
Meanwhile, the screen-lock button makes operating this device even simpler. You can choose from six different colours, so there's sure to be a mod that suits your sense of style.
A Super-Safe Mod
You want to be assured that you're safe when using a box mod, and this device will certainly put your mind at rest.
With its ten second auto shut-off function, overheating and short-circuiting protection and its low battery warning light, this is a well-designed device in every respect.
Pros:
Excellent safety protections built in
Choice of 6 stylish colours
Full customisation ability
Four draw options
Easy to operate touchscreen
Cons:
Lacks an ergonomic design

Innokin Proton Mini Ajax (Best New Vape)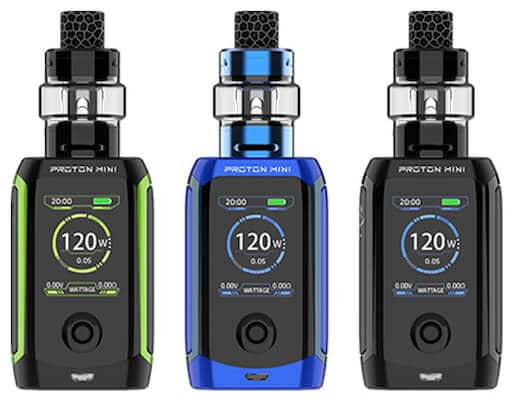 Wattage: up to 120W
Battery Type: 3400 mAh (internal)
Resistance: 0.16 ohm minimum
Innokin is one of the best-known vaping brands, and the Proton Mini Ajax kit is an excellent example of their range.
The most recent addition to their Proton line of box mods, this Mini Ajax comes complete with an inbuilt 3400mAh rechargeable battery as well as an extensive suite of temperature control options, and it comes equipped with Innokin's Ajax sub-ohm tank.
Made from robust zinc-alloy, the Proton Mini's chassis has been designed to offer optimal protection to the battery while also ensuring an excellent firing system and reliable output.
Capable of reaching 120 watts, this device may come with the Ajax sub-ohm tank, but it is pairable with a wide variety of rebuildable atomisers and tanks for a customised experience.
The Ajax tank itself has a large capacity, and has mesh coil and bubble glass options that produce impressively tasty and dense vapour clouds that are sure to delight both experienced and novice vapers alike.
The TC suite allows for an even more tailored vaping experience with nickel, stainless steel or titanium coils (although this isn't compatible with the included Ajax tank), and this allows this device to be ideally suited to the needs of both old and new vapers, allowing easy upgrades for advanced users.

In basic terms, a vape mod is a vaping device that is usually larger than an average e-cigarette. A vape mod is generally known to produce a higher amount of vapour and at a more flavourful consistency.
While a vape mod essentially functions in the same way as any other vape pen, it has certain modifications to it (hence the name).
These modifications tend to come in the form of some extra modes and advanced features. Advanced features of a vape mod usually include a larger battery, which allows for more powerful vaping. Larger tanks are also common in the vape mod market, thus allowing for a higher E-liquid capacity.
The components inside a vape mod are often more powerful than your average vape pen, being able to heat up E-liquid in a shorter amount of time.
Vape mods are often used by seasoned vape users who desire more out of their everyday vaping experience. If someone wants a high capacity, high power device then a vape mod is their best bet.
A vape mod also tends to allow for a great deal of flexibility and experimentation as parts can be swapped out and additional modes and functions can be played around with.
If you are a vaping beginner, then it is not recommended that you use a vape mod right away as the abundance of features can be a little intimidating to first-time users.
Instead, a vape mod is best used when you are ready to experiment with your vaping experience and take things to the next level.
You probably have seen many of these advanced vape mods with 200W+ power output and are wondering if you should aim for the biggest Wattage possible. But should you?
While to some extent it makes sense to have as much battery power as possible, the main thing that you should consider is what type of tank are you planning to use with your box mod.
Do you want to use a regular mouth-to-lung vape tank? Or are you looking to pair your new vape mod with a more demanding sub-ohm tank?
If you are using an MTL (mouth-to-lung) tank with 1.0ohm+ coils, then most likely you will be satisfied with a 15-30w device.
If you are using a sub-ohm tank, you will need a box mod that can handle coil resistance between 0.13-0.4 ohms (since most sub-ohm tanks are within this range). In this case, a mod with the power of 40-100w+ would be a good choice.
Important: Please make sure that you double-check your tank's coil resistance before buying a vape mod to make sure they are compatible!
Even though you will be more than just fine by following the guidelines mentioned above, there are a few benefits in choosing a higher wattage vape mod:
The first thing worth to mention is that if you decide to go for a higher wattage vape while using a low wattage tank, the battery life will be noticeably longer.
You will get a more significant amount of clouds as most sub-ohm tanks for clouds come with low resistance coils. A high wattage vape (100w+) will be needed to get the most out of them.
If you decide to go for a 100w+ mod, you will have a much wider choice of products as there are literally thousands of 100W+ box mods out there as they tend to be quite popular among the vapers.
All box mods have different aesthetics, configurations and designs, with sizes that range from large to small.
All, however, are handheld devices and usually, they are rectangular in shape. Some, though, will have regular straight, sharp angles, while others have a more aesthetically pleasing and ergonomically curved design.
Box mods are also made from a variety of materials including metal, wood and plastic, with colours that range from silver or black to more colourful and artistic designs.
Some box mods are made with internal fixed LiPo batteries which are recharged via a USB cable.
Others are made with Li-Ion removable batteries which are rechargeable via USB or with a dedicated external charger.
Box mods that have removable batteries might have between one and four rechargeable Li-Ion batteries, but most devices will only have one or two batteries.
Box mods that have an internal battery are sold in several capacities from less than 1000 mAh right up to more than 5000 mAh. 
The box mod's battery capacity and output determine its power capabilities, and therefore, the bigger the e-cig mod is, the more powerful it will probably be.
So, how do you decide whether you want to buy a box mod with an internal battery or a removable one? 
The main thing to consider is that any unit that has an integrated battery will be, essentially, a disposable product. Once the battery has died, the entire unit will need to be replaced.
While this sounds problematic, in fact, under standard use, an Li-Ion battery will usually last quite a long time, although its performance may slightly degrade over time.
Meanwhile, devices that have removable batteries won't need to be replaced, even when the battery stops working. You can simply replace the battery with a new one.
Also, the majority of vape mods which take replaceable batteries require those batteries to be purchased separately as well as an appropriate charger.
 Replaceable batteries come in several sizes, but the most popular is the 18650 battery.
Some newer designs though use 21700 or 20700 batteries which offer a longer run time and are suitable for use at a higher wattage. 
What are the advantages of an inbuilt battery? 
Convenience
No need to purchase a charger or battery separately
Solid and robust construction as there is no removable battery door
What are the disadvantages of an inbuilt battery?
Once the battery has worn out (which usually takes a year) the device is useless
Once the battery has died, you will need to stop vaping to recharge
What are the advantages of separate batteries?
The device lasts longer
The batteries can be swapped out when their power level is low
There is a wide variety of batteries to choose from
What are the disadvantages of separate vape batteries?
They are an added expense on top of the cost of the device
A separate battery charger needs to be purchased too
All box mods offer a host of different features. One common one is a chip which enables you to change values like the voltage or wattage that is delivered to your atomizer.
Devices with this chip are called "regulated box mods". They generally feature a display screen which shows all key information about the functions and settings in use. 
The latest regulated box mods usually have variable voltage and wattage as well as temperature control.
The most advanced chipsets will also allow functions like boost mode, power curves and preheat, and maybe voice-command recognition.
Although these features are nice to have, they aren't essential, but they do give you the chance to really customise your vaping experience.
The other type of box mod is the "unregulated box mod". This uses soldered wiring or chips to offer protective features, however they don't allow any voltage or wattage adjustments, or indeed, any of a regulated mod's more advanced functionality.
There is one more type of box mod – the mechanical mod. This has no wiring or chips and is only for advanced vapers since a strong knowledge of battery safety and Ohm's law is necessary to use this type of device safely.
Are Vape Mods Complicated To Use?
It varies depending on the vape mod. Some are quite advanced, with temperature control mods requiring a specialised atomiser in order to use the TC mode, and some other mods requiring the user to set their own levels of voltage or wattage.
This does make a box mod a little more complicated to use however they do offer better flexibility.
If you are a beginner looking for something without a learning curve but at the same time affordable, you should definitely checkout out our top rated pod mod vape systems article.
How Do I Know If I'm Ready To Buy A Box Mod?
Perhaps you want to maximise your experience by altering settings or prefer the ideal of having larger vapour clouds and a more powerful battery.
If that is the case, and you are happy to spend a little more money on a device that will last for longer and give you a better experience than a smaller vaping device, you are probably ready to invest in a traditional box mod or maybe even in a squonker mod.
No, box mods are not dangerous. Although they use a lithium ion battery, as long as they are charged and used correctly they are no more dangerous than a cell phone.
Also we have compared only best box mods available in the UK, so you shouldn't worry when buying from a reputable merchant.
Why Do Box Mods Tend To Produce More Vapour?
Usually a box mod can produce more vapour because it cranks more voltage and wattage from its battery and many of them also have bigger batteries too.
As more power is being supplied to the atomiser, the e-liquid can be vapourised at a more rapid rate, creating more vapour.
Do These Vapes Always Come With Batteries, Or Do You Need To Buy Them Separately?
Not every box mod comes with a battery, however some do. You should research this before purchasing a device.
If you read its description, you will see whether or not the unit comes with a battery, and if it does not, this information will help you to find out the right type of battery to order.
Do Box Mods Require Special E-Liquid?
Although this is not necessarily the case, it is recommended that you choose either a max VG e-juice or a 100% VG e-liquid for sub-ohm vaping.
These blends are more likely to work better with a sub-ohm atomizers, rebuildable tank atomizers and rebuildable atomizers, however usually any e-liquid will be compatible.
Best Vape Mods in 2022 – Our Top Vapes in the UK

 
Innokin Kroma-R Zlide (Editor's choice – best vape mod 2022)
JacVapour SERIES-B DNA 75W (Best "Made in the UK" Vape)
Jacvapour Series-S22 (Best Budget Vape)
Vaporesso Target PM80 (Best Vaporesso Mod)
Innokin Proton Mini Ajax (Best New Vape Mod)
Geekvape Aegis X 200W (Best Geekvape Mod)
TRINITY Vaporiser Kit (Best V2 Vape)
Vaptio Cosmo Vape Kit (Best Vape for Flavour)
SMOK Alien 220w (Best under £50)
VOOPOO DRAG 2 177W (Best Design)
SMOK G-PRIV Baby LUXE 85W (Best Vape for Beginners)