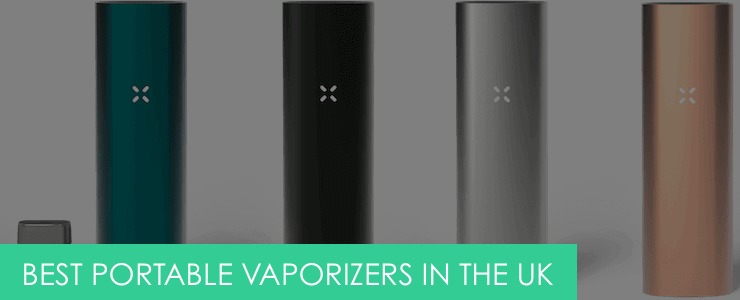 Updated on 2022: If you're keen on vaping dry herbs on the move, a portable dry herb vaporizer is definitely your best choice.
With their internal oven chamber which heats to a precise temperature, these compact personal devices produce vapour from your herbs for you to inhale quickly and conveniently no matter where you are.
Not so long ago, desktop vaporizers were the only real way to vape dry herbs, however now, with so many pocket-sized dry herb vape pens on the market, you've got a lot more freedom and choice.
There's a lot of variety in the styles, designs and types of units available for sale, so if you need some advice to point you in the right direction, you've come to the right place.
Before we go any further, please be aware that some kinds of filling material can't be used by law in the UK – keep that in mind when vaping herbs in one of these fantastic devices.
List of Best Dry Herb Vaporizers 2022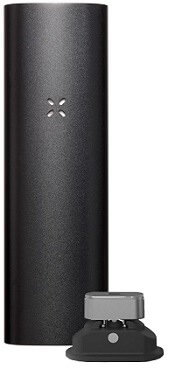 The PAX 3 is the most recent and advanced dry herb vaping device from this brand.
A truly versatile option, it offers no less than 5 different vaping modes to suit every vaper's preferences – efficiency, stealth, flavour, boost and standard.
That means that whatever type of experience you're looking for, you can enjoy it in spades with this portable vaporizer.
One excellent feature of this device is the option for a half-pack rather than a full-pack, so if you're vaping alone, you can get maximum benefit from your herbs.
The temperature settings range from 182 to 215 degrees Celsius, and you can vape either dry herbs or concentrates to suit your mood.
As you'd expect from a top-quality device, the PAX 3 is built from steel and aluminium and is highly robust, while its stainless steel vapour path is also very durable.
A clever feature of this device is its Bluetooth compatibility – you can use your tablet or smartphone to choose your customised temperature settings.
Whether you're brand new to vaping or whether you're experienced, you'll find this device a breeze to use, and since it's small and has a discreet appearance, you won't attract any undue attention.
Pros:
Bluetooth connectivity
Full temperature controls
Compact and discreet
Can vape half-pack or full-pack
Can vape herbs or concentrates
Cons:
More expensive than many of its rivals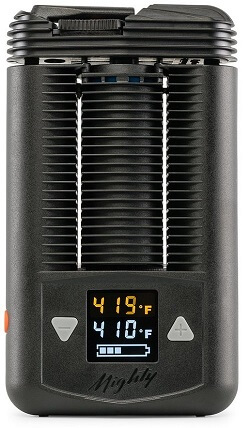 The Mighty Vaporizer comes from the well-known and popular Storz & Bickel brand, best known for its impressive Volcano desktop vape.
As you'd expect from such a premium brand, the Mighty is pretty outstanding too. Its handheld design makes it easy to take wherever you want to go, while the excellent flavour and robust vapour won't disappoint you.
The Mighty Vaporizer is a very versatile device. It doesn't just work with dry herbs, it also works with wax and oil concentrates, thanks to the inclusive liquid pad, so you can adjust your vaping style to suit your mood.
With a 60-second heat-up time, you'll be vaping before you know it, and with its 90-minute battery life, you won't run out of power too quickly.
The quality construction from plastic and steel makes this a durable device for any vaper, and since it's fairly easy to clean, it won't be too inconvenient to refill and reuse.
This device uses a hybrid heating method for even better performance, and thanks to the LED easy-read screen, you'll be able to adjust the temperature right up to 210 degrees Celsius to suit your preferences.
Pros:
Fully adjustable temperatures
Durable design and robust construction
All-in-one device for use with dry herbs and concentrates
Excellent vapour and flavour production
Cons:
Slightly larger than some of its rivals
The 60 second heat-up time is slightly longer than some competitor devices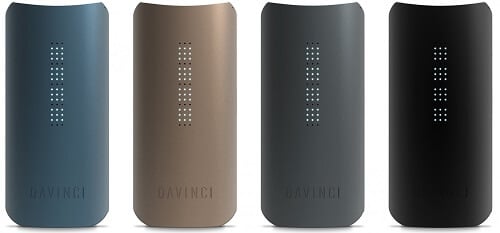 The Da Vinci name is well-known in the vaping industry, and the IQ 2 is a precise and compact dry herb vaporizer which has an air path made from ceramic zirconia for the best possible flavour.
Its Smart Path Technology also adds even more convenience to your experience by automatically setting the most appropriate temperature for every vaping session.
Another top feature of this device is its super-speedy heat-up time – it gets up to the right temperature in just 16 seconds.
The temperature is fully adjustable between 120 and 220 degrees Celsius, and the 18650 battery can be replaced so you'll never have to worry about downtime.
The brushed aluminium finish isn't just stylish, it's also very durable, while the Bluetooth integration allows you to monitor your usage details.
The user interface is user-friendly and, with no less than 36 LEDs it is surprisingly attractive.
Pros:
Replaceable battery for zero downtime
Stylish and durable brushed aluminium finish
Bluetooth integration
Smart Path Technology for greater convenience
Super-fast heat-up time of just 16 seconds
Cons:
Only suitable for use with dry herbs, not concentrates


If you love to vape dry herbs alone, the Arizer Solo 2 could be the one for you thanks to its smaller than average oven chamber which only holds a maximum of 0.2g of dry herbs.
With its ceramic heating element and two included borosilicate mouthpieces, this device offers something truly unique in its ability to vaporize both ground herbs and those in more solid formats.
With a heat-up time of 28 seconds and the ability to adjust the temperature between 50 and 200 degrees Celsius, this device is beautifully designed and has an impressive build quality for extra durability.
Very easy to clean thanks to its low maintenance design, this device also has a powerful battery for longer than average vaping times.
Since it comes supplied with its own carry case, you'll also be able to take it anywhere you need to go.
Pros:
Ideal for solo vapers
High-quality build construction and materials
Comes with its own carry case
Fully adjustable temperatures
Low maintenance design
Long lasting battery
Cons:
Small heating chamber
Cannot be used for vaping concentrates

Black Mamba Dry Herb Vaporizer

If you're a complete beginner and are looking for a great value first dry herb vaporizer or if you're on a tight budget, the Black Mamba could be perfect for you.
Boasting a big herb chamber and impressive performance, the Black Mamba has an elegant and unique design that makes it stand out from the crowd.
The single button operation makes this device a breeze for even complete novices to use, and loading the chamber couldn't be simpler.
Thanks to the larger size of the oven, it's also possible to vape on the go without having to reload too frequently.
Although this is a budget device, it still boasts a powerful 1600mAh battery. There are also five different temperature settings so you can find the best one to suit your preferences.
Pros:
5 temperature settings
Easy to use and reload
Ideal for beginners
Large ceramic chamber
Stylish design
Affordable price
Cons:
3 hour charging time
Battery lasts for just 45-60 minutes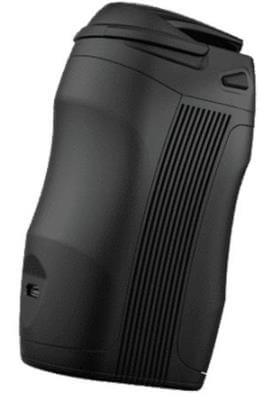 The latest word in portable convection vaporisers, the Tera has been designed by a company which excels still further with every release.
Boundless is one of the top vaping companies today, and its devices are second to none in terms of fantastic quality. The Tera is no exception to this rule.
Featuring swappable, dual batteries and a full suite of digital temperature controls, the Tera also boasts an aluminium high-quality heat sink vaping chamber for use with either concentrates or dry herbs.
Using all of aluminium's known conductive properties, it ensures more efficient and even heating, which makes this vaporiser the ideal choice for anyone who prefers convection vaping.
Capable of lasting for up to two hours on a single charge, this device comes complete with a water adapter and two magnetic modular mouthpieces.
Heating to the desired temperature in just 30 seconds, it also allows for speedy and convenient vaping no matter where you may be.
Pros:
Dual-use for both dry herbs and concentrates
30 Second heat up time
2-hour battery life
Digital control with OLED Screen
2 Magnetic Modular Mouthpieces
Cons: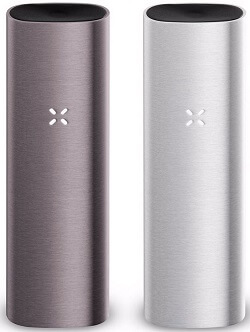 Designed by the well-respected PAX Labs, the Pax 2 is a great choice for an everyday vape.
Its stylish matte finish comes in a number of colours to suit individual tastes, and if you're on a budget, it could be the right choice for you.
It has a subtle, sleek design and boasts an impressive two-hour battery life while its deep stainless steel heating chamber ensures excellent performance and plenty of vaping time.
Portable, compact and easy to pop into a bag or pocket, it is lightweight and easy to use without compromising on reliability.
Even complete beginners will be able to load up the heating chamber quickly and easily thanks to the magnetic lid.
Its brushed metal finish is stylish and feels good in the hand, while its mouthpiece ensures a clearer airflow for a lowered draw resistance. Even better, the mouthpiece boasts lip-sensing, auto-cooling and motion-sensing technology for more advanced vaping experience.
Pros:
Stylish finish and pleasant hand-feel
Advanced technology for a better experience
Simple to use and fill
Long battery life
Compact and discreet design
Cons:
Not as advanced as its younger sibling, the PAX 3

Engineered by Shenzhen Green Fire Tech, the Origin vaporiser is a well-designed device that's comfortable to hold and simple to carry.
This dry herb device houses a powerful 2200mAh battery and features a compact design with a body made entirely from metal that is capable of withstanding plenty of rigorous use.
Durable enough to cope with scrapes and bumps, this devices comes in a choice of three attractive colours. It also boasts five different temperature settings between 356 Fahrenheit up to 428 Fahrenheit.
This means you can choose the precise style of vaping that you prefer, whether you like to enjoy powerful and thick clouds or flavourful, thin ones.
Even better, the device vibrates to tell you when it has heated to the chosen temperature.
The ceramic heating chamber is large enough to hold as much as 0.6 grams of dry herbs, and it couldn't be easier to load the device.
Cleaning it is also a breeze, while the Plexiglass mouthpiece and glass air path means that the flavour produced is outstanding.
Pros:
5 unique temperatures
Powerful and rechargeable battery
2-hour battery life
Large ceramic heating chamber
Incredibly fast heat-up time
Durable metal construction
Cons:
Cannot be used for vaping concentrates
Grizzly Eclipse Vaporizer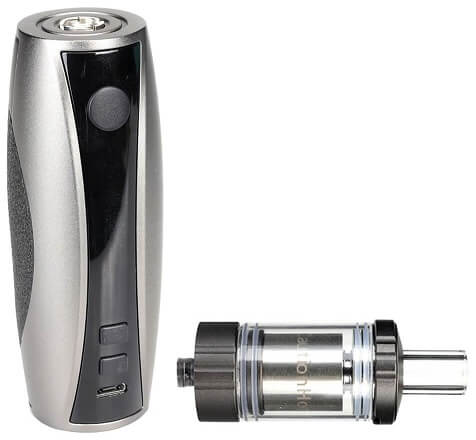 The Eclipse is one of the most innovative and daring vaporisers to be designed by the popular Grizzly Originals brand.
Created to change the vaping game, this device is incredibly versatile since it is capable of vaping e-liquids, concentrates and dry herbs.
This makes it not only extremely convenient but also incredibly efficient. It's your go-to device for anywhere, anytime vaping.
For anyone who favours variety when it comes to vaping, the Eclipse is the perfect choice.
User-friendly and safe, it allows you to select any vaping experience and any material to suit your preferences – there's not even any need to change the temperature settings since the device knows automatically which tank is attached and adjusts itself accordingly.
Ergonomically designed to make this device easy and comfortable to hold, the Eclipse is heavy enough to feel good in the hand, but not so heavy as to be uncomfortable to use.
With its speckled, dark magnetic grip, it fits safely and easily in your hand.
The tank is also swift to attach thanks to the 510 thread, and the mouthpiece is made from non-reactive borosilicate glass for a flavourful, fresh taste with every draw.
The dry herb tank is constructed from ceramic materials and boasts a 20-second heat up time.
Meanwhile, the concentrates tank utilises a ceramic chamber with a dual quartz coil for even better flavour, and the e-liquid tank allows for switching the 0.5-ohm coils between volts and watts, with a cotton wick in the atomizer that can absorb 1 ml of your favourite e-juice promptly.
Pros:
Suitable for dry herbs, concentrates and e-liquids
User friendly and convenient device
Advanced technology
Magnetic Texturised Grip
Cons: