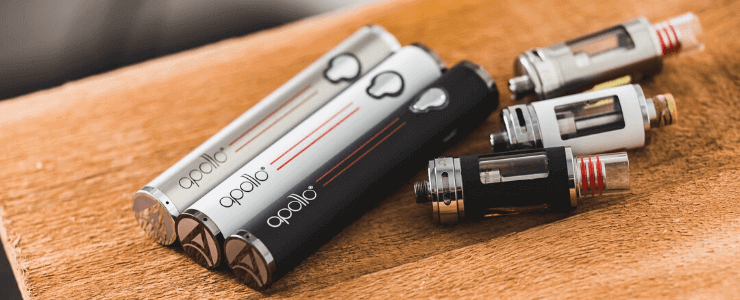 Updated on 2022: You've probably heard all about the potential benefits of CBD in the media recently, and if you've found this page, you're probably interested in finding out more about how to start vaping it. 
While most people think vaping is just for people who are quitting smoking cigarettes, this isn't the case at all.
So, here, we're taking a closer look at how you can use vaping not just for getting a nicotine fix, but also to get a daily CBD dose.
Vaping is a top way of consuming CBD, and there are plenty of excellent CBD vape pens out there on the market today to ensure your experience is an excellent one.
Read on to discover how to choose the best one for you. 
Article navigation:
Disposable CBD Vape Pens
Refillable CBD Vape Pens
Why Vape CBD
What to Look for When Buying a CBD Pen
What is a Refillable CBD Vape Pen
What is a Disposable CBD Vape Pen
List of Best CBD Vape Pens in the UK for 2022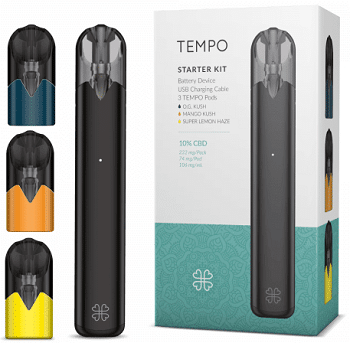 If you're looking for a fantastic CBD vaping experience in a disposable format, the Harmony Tempo kit delivers on both fronts.
Providing a smooth flavour in a leak-proof, pocket-friendly and elegant design, this kit comes with seven delicious flavours for the tastiest vaping experience possible.
Each kit comes completely with three pre-filled pods that deliver a total of 222 mg CBD, with each one containing 74 mg of CBD – enough to last for 200 puffs.
Since they are already filled, there's no learning curve, just plug in the pod and vape away. However, to offer even more value for money, each pod can be refilled as many as four times.
This device is even puff activated, so there are no complex controls to worry about.
The lightweight system features a 310mAh battery that can last a full day of vaping and that can be recharged easily with a micro USB charger.
Since it has an extremely compact design, it's discreet enough to carry and use in public, but it doesn't compromise on sturdiness or robustness, so there's no need to have concerns about leaks or damage. 
Whether you're a beginner looking for a simple way to get vaping or an advanced vaper needing a convenient and discreet device, you'll find the Tempo can deliver great flavour and vapour at an affordable price.

CBDfx Terpenes Disposable CBD Vape Pen

If you're ready to try CBD vaping for the first time with all the benefits that come with added terpenes, the CBDfx disposable vape pen is a great choice, especially if you want to vape on the move.
Coming in at an affordable price, this vape helps you to get as much benefit as possible from organically grown hemp that has been CO2 extracted for the highest quality end product.
There are 6 different strains to choose from, all of which offer 50mg of CBD, and each is designed to allow the user to puff on demand.
It couldn't be simpler to get to grips with this device – all you need to do is inhale from its mouthpiece!
There aren't any buttons to deal with and no need to recharge, making this the ultimate convenient CBD vape for beginners.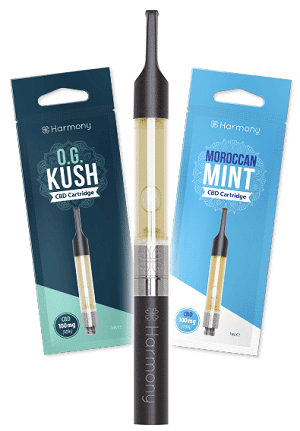 Harmony's CBD pen is a great way to get started with CBD vaping in an affordable and user-friendly way.
Each 1ml disposable cartridge contains a 10% concentration (100mg) of CBD and delivers as many as 400 puffs.
When the battery is fully charged, it can last for up to 500 puffs before requiring a recharge, so you can enjoy all-day vaping without any need to look for a power outlet.
There are two different terpene infused flavours to choose from – Harmony OG Kush and Harmony Mint, each one designed to suit a different type of vaper.
Whether you're a cigarette-smoker looking for a way of getting into CBD or whether you're a cannabis smoker looking for a healthier alternative, this third-party laboratory tested product is an affordable and potent choice. 


If you're looking for a refillable CBD vape pen that comes with everything you need to get started apart from e-juice, the JacVapour Series-S22 could tick all your boxes.
This kit comes with a battery, top-filling tank, charging cable and user manual, and there are plenty of add-ons that you can buy separately to upgrade your vape to suit your changing needs over time.
With its compact dimensions, this vape can pop easily into your pocket when you're out and about, and with its 2600mAh battery, it has enough power to last a moderate vaper all day.
The five click lock protects you from accidental firing, while its 303 steel alloy and rubber oil finish are sturdy yet stylish.
Whether you're a beginner vaper looking for a mouth to lung vape that's safe and affordable, or whether you're ready to upgrade to a refillable device that allows for DTL and TC vaping, the Series S22 is for you.

Enjoy simple and safe CBD vaping with the Vsavi CBD vape kit. This vape pen has been designed to deliver outstanding flavour effectively in a light, a small and discreet package for vaping on the go.
This kit comes complete with a 10ml bottle of CBD vape oil in your choice of strength and flavour as well as a refillable and replaceable Vsavi Ex-Blank vape pen CBD tank and 4.2V battery.
Each cartridge lasts for up to 12 refills, so this offers you outstanding value for money.
Vsavi's vape oil is made from only the highest quality, safe European-sourced organic ingredients that have been prepared in a cleanroom lab in an eco-friendly process.
Vegetarian-friendly, GMO-free and gluten-free, this product won't fail to impress. 
Made by a reliable and trustworthy manufacturer, this user-friendly vape pen is perfect for anyone who wants to enjoy a trouble-free vaping experience with no steep learning curve.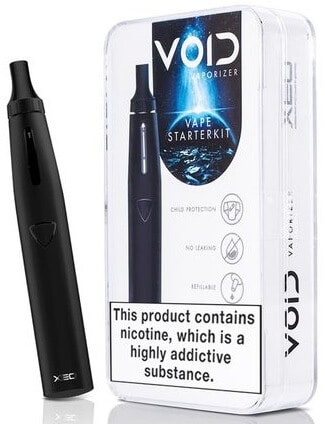 Whether you're an experienced CBD vaper or a complete beginner, this all-in-one e-cig and CBD device combines cutting-edge technology with premium-quality German design.
Equipped with a high performing 1500mAh battery, this device promises a no-leak design as well as a 2ml e-juice capacity.
Suitable for both standard and sub-ohm CBD vaping, this vaporizer can be used with high VG or normal e-liquids as well as CBD vape oils.
There are 9 attractive colours to choose from, and thanks to the compact dimensions of this device, it's a stylish yet convenient choice for use anywhere.
The kit comes complete with a 2ml CBD tank, a 1500mAh battery, 0.6-ohm atomiser head for sub-ohm vaping, 1.0-ohm atomiser head for regular vaping, a charging cable and instruction manual, so you can get off to the best possible start.


The JacVapour brand is known for its high quality, and the Series S-17 TF device is no exception to the rule.
Designed to be simple yet powerful, this vape offers an incredibly fast top-filling system so you can be ready to vape in seconds.
Designed to be perfect for beginners, this e-cig is elegant and user-friendly for a more convenient and easy way to get started with vaping.
Designed to replicate the mouth to lung experience of smoking, the S17 TF creates resistance when you inhale, so it feels like a cigarette. 
Equipped with a host of safety features from overcharge and short-circuit protection to high amp draw protection and battery vents, this device even offers pass-through charging, so you never need to wait to take a puff.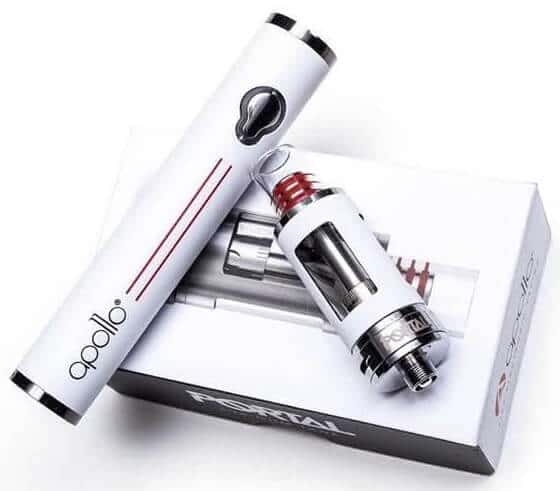 The Apollo Ohm-Go kit comes complete with a 2ml top-filling tank and a self-adjusting up to 50-watt OHM battery for a plug and play vaping experience that is compatible with all e-liquid types.
Ideal for smokers who want to quit, this vape device is elegant and simple to use so you can get started with vaping in no time.
The 1900mAh battery supplies the optimal amount of power to the coils, while the 2-part tank has been created to refill quickly and easily with virtually no chance of spillages.
The coils are also created to be quickly replaced without any fuss or mess, so you won't have to endure too much downtime. 
The 0.5-ohm coil is ideal for high VG e-liquids, and it comes ready installed for extra convenience.
Meanwhile, the 1.0-ohm coil is perfect for 50:50 or high PG e-juices.
Whatever your preferences, this device gives you guaranteed performance.

Harmony OG Kush Starter Kit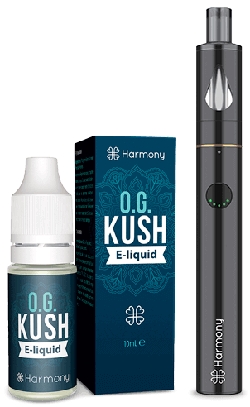 If you're a new vaper, you're sure to appreciate the Harmony OG Kush starter kit.
Coming complete with a bottle of e-juice and a top-selling e-cig apparatus, this vape offers a choice of 5 different CBD strengths of 0mg up to an impressive 600mg per 10ml bottle so you can easily select the one that best suits your needs. 
Guaranteed to be free of all nicotine and THC, this alcohol-free vape juice has no animal extracts and so is vegan-friendly.
Affordable, user-friendly and simple to vape, it has been designed to deliver intense and full flavour with every mouth to lung puff you take. 
The 2ml tank has been designed to be easy to refill with its top-filling design, and you can see the level of e-liquid remaining at a glance through the convenient window.
It also has a host of safety protections so your security will be ensured for a better and more reassuring vaping experience.
Designed with a modern and slim appearance, this portable vape is powered by a strong 100mAh battery, and its stainless steel body is robust and durable enough for use on the go.
You'll also benefit from a 3-month warranty to give you even more peace of mind when you make your purchase.

Are you wondering why you should start vaping CBD? There are, after all, several ways to get your dose.
However, the best thing about vaping CBD is that your body will be able to use it more quickly. 
If you consume CBD in edible format, for example, your body will take time to digest it and use it, so the effect may not be felt for around an hour.
Topicals also take time to be absorbed through the skin so the CBD can be attached to the correct receptors.
These applications are also only suited to helping with joint pains or other aches, they cannot help with restlessness or anxiety. 
Although taking CBD in tincture form has a more rapid effect, some potency is lost when it goes through your digestive system.
However, vaping CBD allows it to work virtually instantly so you can experience the potential benefits of CBD immediately.
What to Look for When Buying a CBD Pen?
Although there are plenty of options to pick from when it comes to purchasing a CBD vape pen, not all are created equal.
You need to look at several key factors when making your choice, including:
The quality of its build

The value it offers

Its cost

Its features and capabilities

Its appearance and size

The background of the manufacturer

Customer reviews 
When all of these elements are borne in mind, you can make a well-informed decision.
Disposable & Refillable CBD Pens
What is a Refillable CBD Vape Pen?
Refillable vape pens are any kind of vape pen that is fillable with CBD e-liquid. Usually, it has a tank which is attached to a 510 thread rechargeable battery.
It provides a convenient and simple pen-style form that is generally lighter and smaller than a standard tank and mod combo.
Some can be used for mouth to lung vaping while others are ideal for DTL vaping. Pod style refillable vapes are another type of refillable CBD vape pen.
Designed to vape nicotine, these devices aren't pen-shaped, but they are small and compact, making them easy to use and discreet when vaping CBD out and about.
Pros and Cons of Refillable Vape Pens
There are advantages and disadvantages associated with buying a refillable vape pen. You will need to buy a device together with the CBD e-liquid that you're going to vape.
However, despite this initial outlay, they're usually more cost-effective in the long-term.
The downside, though, is that a refillable vape pen is less discreet, not as convenient and less user-friendly for beginners than a disposable vape.
One major advantage to a refillable vape pen is that there are more options available to customise your experience.
Most have adjustable airflow and power for a fine-tuned experience, so you can obtain a tight draw or direct lung vape along with bigger clouds.
Direct to lung sub-ohm vape pens are perfect for use with lower CBD strengths as they deliver more vapour with every puff.
Conversely, mouth to lung is ideal if you're using a high strength CBD e-liquid.
Pros:
Better value for money

Adjustable airflow

Efficient method of delivery

Ideal for different styles of vaping

Bigger and better cloud production

Pen-style, compact vape device 
Cons:
Minimal learning curve

A larger initial investment is required

Requires ongoing maintenance

Not as discreet
What is a Disposable CBD Vape Pen?
A disposable CBD vape pen is a vape that contains an atomizer and a battery and which comes ready loaded with CBD-containing e-liquid.
Generally, they are similar in appearance to cig-a-likes (small vape pens that look and function like cigarettes). Usually, disposable vape pens are designed to give the user a couple of hundred puffs before being depleted.
A disposable CBD vape is another practical alternative to CBD pods and cartridges since there's no need to invest in a compatible pod system or battery.
Typically, they're draw-activated. This means that vapour is only produced while puffing, and there aren't any complicated buttons to work out.
Pros and Cons of Disposable CBD Vape Pens
Disposable CBD vapes are perhaps the easiest and quickest way to begin vaping CBD if you're a complete novice.
There's less variety when it comes to CBD strength or flavour, but they're more affordable and are very simple to use.
As they're pre-filled, a disposable CBD pen can be used right out of the box with no need for any additional purchases like e-liquid.
Disposable CBD vape pens, on the other hand, are less cost-effective when compared to refillable devices. They're also usually only suitable for MTL vaping.
This delivery style, paired with a low output means you'll probably have to vape more frequently to get the required amount of CBD.
Pros:
More affordable

Zero maintenance

Discreet and slim

Lightweight
Cons:
Not as cost-effective as a refillable

Less choice of flavour or CBD strength

No options for Direct To Lung vapers

There are no adjustments for airflow or power available to customise your experience

The cloud production isn't very big