If you're looking for a simple and convenient way to start vaping, or if you're on the hunt for a mod that is great for use on the move, the Voopoo Vinci X could be the perfect choice for you.
Following hot on the heels of Voopoo's two previous Vinci models, this device is designed to make vaping a breeze even for complete novices with its user-friendly design and handy pod system.
Could it be just what you've been looking for? Read on to learn more.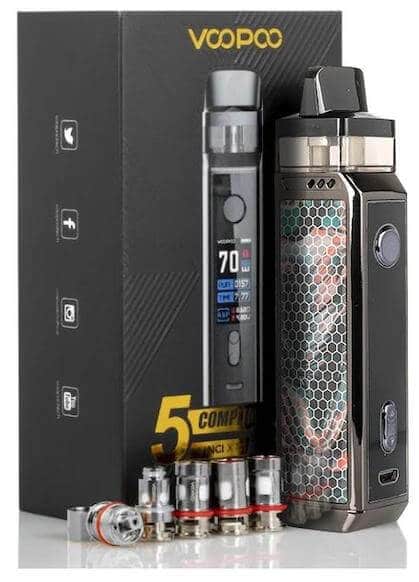 The latest pod-style vape in Voopoo's Vinci series is a much better fit for the term "pod mod" thanks to its powerful 18650 battery.
Thicker and taller than the Vinci's first incarnation, the X can fire as high as 70W, while boasting an impressive full-colour screen and a GENE AI chip that allows for easy adjustment of the wattage.
In many respects, though, the Vinci X closely resembles the earlier Vinci R and original Vinci in terms of features and style, although unlike its older siblings, the Vinci X doesn't feature an automatic draw function.
In the box, you'll find the Vinci X device itself along with a 5.5ml pod and two coils. One is a 0.3 Ohm coil while the other is a 0.6 Ohm coil. Purchasers also receive a USB charging cable, a Gene Chip card and a user manual along with their product warranty.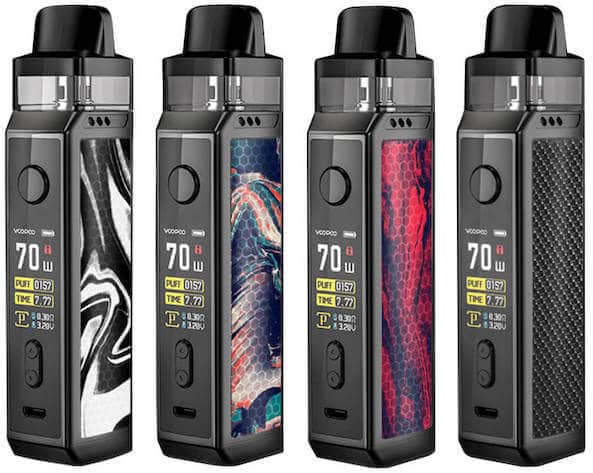 The Voopoo Vinci X is a robust and solidly built device that has been thoughtfully created to meet the needs of most vapers.
A lot of thought has been put into the placement of the fire button, and while the wattage adjustment buttons are quite small, they're large enough to avoid accidentally pressing both together.
The clear display is large enough to be easily seen in most lighting conditions, although in very bright lights it can be a little too dim.
There is a choice of attractive colours to pick from, and all are stylish and visually appealing. 
In terms of size, the Vinci X is fairly small, although larger than its siblings, and compact enough to take wherever you need to go.
Its smooth surface can make it more difficult to grip, so you'll need to take care not to drop it while you're out and about.
The pods are convenient and simple to fill and fit into the device, so there'll be minimal fuss and mess to deal with.
Unlike the older versions of the Vinci, the X doesn't present any issues with pod leakage, so you can easily take your device wherever you want to go without worrying about making an unwanted mess.

The Voopoo Vinci X offers a great level of performance, especially when compared with many other pod-style vapes.
There is an automatic coil detection feature which is convenient and makes this device suitable for use by completely vaping beginners. 
When used with the 0.3Ohm coil, the device puts out some pretty good clouds and the flavour is surprisingly good, especially when the airflow is wide open. When used with the 0.6 Ohm coil, the clouds are less dense but the flavour remains excellent. 
If you're a mouth to lung vaper, you may find that the Vinci X lacks the tightness of draw that you prefer, but there are lots of different airflow options to suit the coil you've chosen and these do help with controlling the restriction and achieving a draw that's comfortable for you.
As an added advantage, the airflow is quiet and won't whistle loudly. You should note, though, that unlike the previous Vinci models, the X doesn't have draw activation.
While this may be a good thing for some vapers, it could be a downside for those who prefer the convenience of not having to press a fire button every time they want to take a puff. 
It's also important to be aware that the Vinci X doesn't offer pass through vaping which could be a downside, although it does eliminate the various misfiring problems that were often reported with both the Vinci and Vinci R.
As the battery is replaceable, it means that you can vape with no downtime anyway as long as you buy a second battery and an external charger. 
Like any vaping device, there are some great features and some not so great ones, and there are a number of positives and negatives to bear in mind when considering whether or not the Vinci X is the right vape for you.
The pros of the Vinci X include:
Quiet airflow 

Strong and robust construction

Adjustable settings

Compact size for good portability 

Bright, easy to read screen
Meanwhile, its downsides include: 
Not tight enough draw for MTL vapers

Screen can be dim in certain lights

Smooth surface can make it difficult to grip
If you're looking for a convenient pod-style vape that's small enough to fit in a pocket but that doesn't compromise on vapour and flavour, the Voopoo Vinci X could be a good choice for you, as long as you're not a mouth to lung vaper who prefers a very tight draw.
Offering great versatility due to its two pods that operate at different Ohms, the Vinci X is good value for money and is a perfect first device or vape for use on the go thanks to its compact size and ease of use.