When you're looking for a reliable vape from a well-known brand, you could do worse than consider the Voopoo Argus Pro kit.
Once best known for its Drag devices, the Voopoo range has recently expanded to include devices that are equally user-friendly, but a little more impressive. Enter the Voopoo Argus Pro 80W.
Modelled after the original Drag S, the Argus Pro 80W has some great features that add to its appeal to vapers old and new.
So, could it be the right vaping mod to suit your needs? Read on to learn more about this new addition to the Voopoo product line.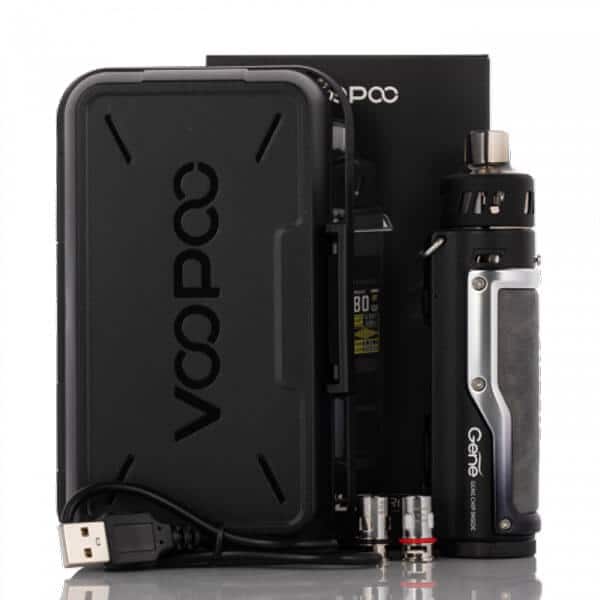 When you open the Argus Pro 80W box you'll find that as well as the device itself, you'll also receive an attractive plastic case – ideal for holding all the coils, accessories and other odds and ends that you collect when you're a vaper.
This is a handy addition to what is usually provided as standard with a regular vape kit. You'll also get a PnP pod, a VM1 coil, a VM6 coil, a user manual and a charging cable – everything you need to get started with your first vape (except, of course, your favourite e-juice!)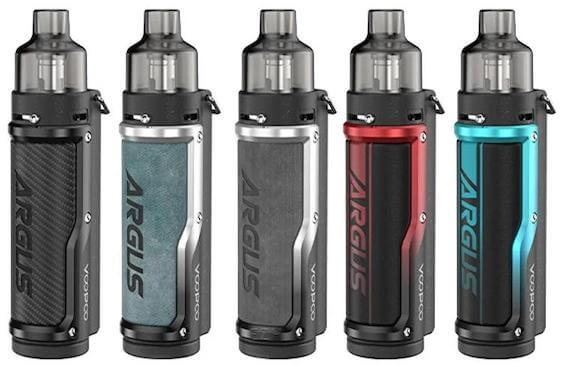 The Argus Pro 80W is attractive to look at and feels good in the hand. Pleasantly weighty and yet still highly portable, this kit comes with a leather-feel back and a strong metal sub-frame to protect it from accidental damage. It also comes in a choice of 5 stylish colours to suit all tastes.
Like the earlier Voopoo incarnations of the Drag S and X, the Argus Pro has been designed for use with the PnP pod tank. That means there's no 510 connector, which is something you should be aware of if you're switching from your existing device and want to use a tank you already own.
The top of the device features a slider to adjust the airflow, while the front of the device features a latch to attach the device onto a belt buckle to make it more portable. There is also a generous display as well as a fire button and up/down buttons.
The pod that comes with the Argus Pro features extra protection in the form of a removable rubber/silicone protector. As an added advantage, these pods are easy to use and can be used with many other Voopoo products too for extra versatility.
Although these pods have a tinted colour, they are still transparent enough to see how much e-juice you've got left. The magnets on the base of the pod ensure the pod clicks neatly into the vape's body for a nice tight fit.
As for the mouthpiece, it is integrated into the pod and can't be removed, but it is very comfortable to use. Should you prefer MTL vaping you can purchase a more curved mouthpiece separately to add onto your device.

The Argus Pro is powered by an impressive 3000mAh internal battery and is capable of delivering 80W of power when fully charged with the Type-C USB charger.
The firing speed of this device (just 0.001 seconds) is extremely fast thanks to the integrated GENE-TT chipset, and this is also responsible for the excellent safety features including protection from low battery, over-heating, over-charging and short-circuiting. 
On the downside, while the mod is very simple to use, it's limited to only VW, with no TC mode available. This is something that vapers may need to be aware of if they're keen to have this flexibility in their experience. 
There are four different modes to pick from – Smart mode which automatically chooses the correct wattage to suit the fitted coil, RBA mode which allows the wattage to be adjusted between 5W and 80W, Manual mode which activates the fire button and deactivates auto-draw, and the Double Ignition mode which allows vapers to choose either draw activation or the fire button option.
The manual mode allows for a more responsive and strong vape but draw activation isn't especially responsive unless the airflow is restricted.  
Both of the supplied coils produce impressive results with excellent vapour and flavour even at the lowest wattages. Whether you prefer a restricted or airy vape, you'll find the airflow adjustment simple and effective to use, and the coils don't leak. 
Charging times are impressive too, with around 80 minutes to wait for a full charge from empty.
Even heavy vapers will get around a full day of vaping from this device when the battery is at full capacity, regardless of which coil you pick as long as you opt for a lower wattage.
On the downside, though, there is no pass through functionality which could be a pain for those who like the convenience of being able to vape even when the battery is charging. You can expect over an hour of downtime with this model. 
As with all vaping devices, there are pros and cons to choosing the Argus Pro 80W. Here, we take a look at some of the advantages and disadvantages that this vape brings its users:
Pros:
Effective airflow controls

Strong build quality and attractive design

Large and clearly visible display panel

Excellent flavour and vapour

Extremely rapid firing

Long lasting battery and rapid charging 
Cons:
No TC mode is available

Lack of sensitivity when the device is draw activated

There is no pass-through functionality
If you're looking for the convenience of a pod-style vape with a compact size that makes it ideal for taking wherever you need to go, the Argus Pro 80W is a great choice for you.
Although it has a few downsides such as the lack of pass-through vaping, a less than super-sensitive draw and no TC mode, it is a user-friendly and high-performing device that won't disappoint vapers old or new.
Essentially, there are more positives than negatives to this affordable device, making it a great choice for novices and experienced users alike who want a convenient and attractive vape.