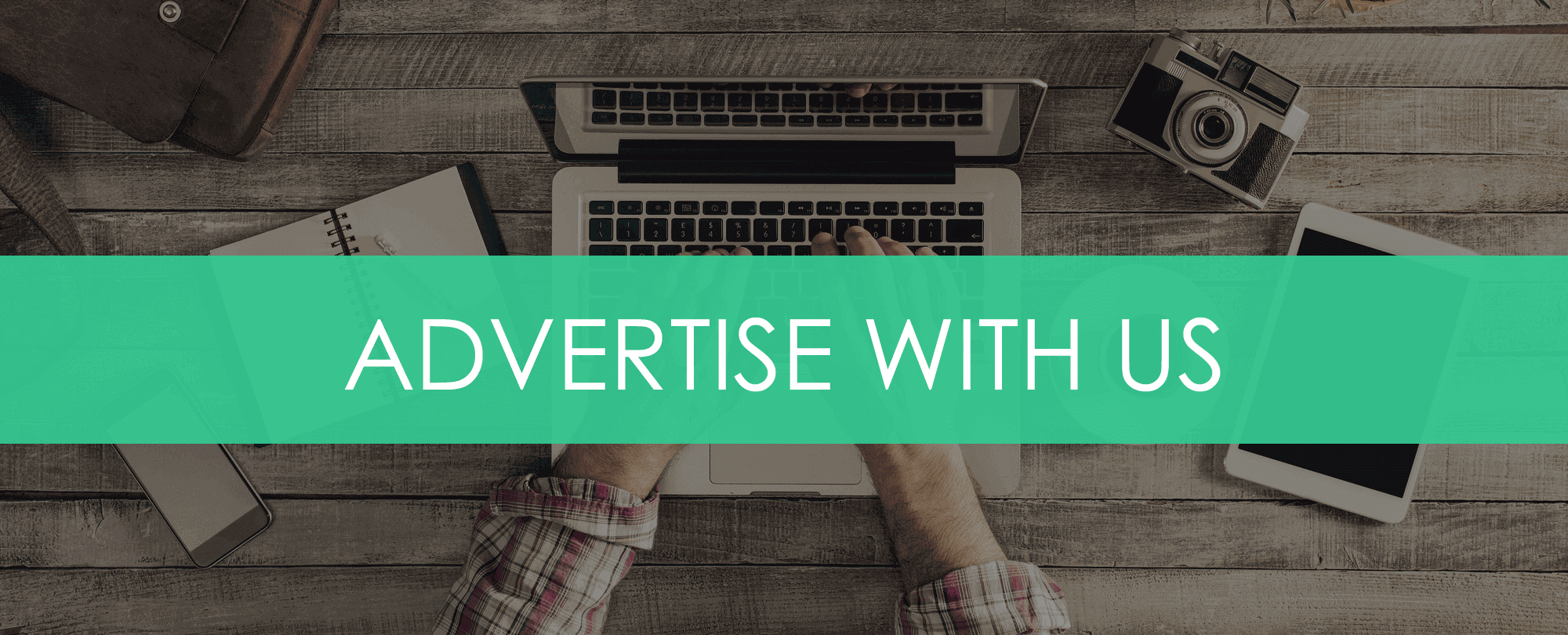 We know how hard it can be to grow your vape brand when many of the world's leading advertising platforms have placed restrictions on the vaping industry.
While many people are getting into vaping, advertising obstacles make it hard to reach potential customers in this competitive market.
This is where e-cigreviews.org.uk comes in. Since 2013, we've been one of the oldest and most visited vaping websites in the UK. Each day our website is visited by hundreds (sometimes thousands) of highly targeted and "organic" visitors, mainly consisting of beginner vapers.
Our website on average has ~100k monthly page views, 88% of which comes from the UK.
Advertising on e-cigreviews.org.uk will help your brand to get that extra exposure you are looking for.
On average 100k page views per month
One of the UK's oldest and largest vaping blogs – up and running since 2013
Site is regularly updated with a highly relevant content written by experts
Highly targeted audience, consisting of smokers and vapers
Monthly Traffic Breakdown:

Ad Placement Availability & Pricing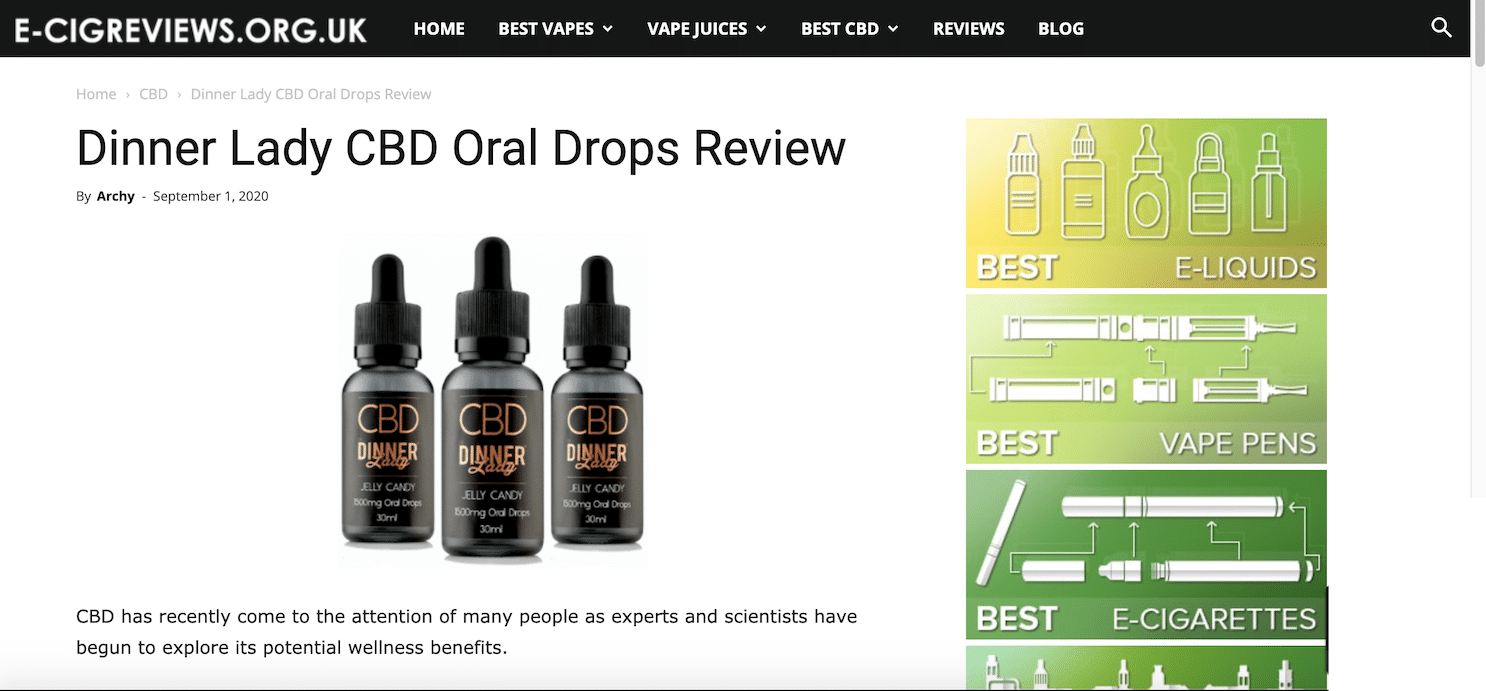 Do you have a great product and you want us to review it? No problem, we can do that.
Product reviews are a great way to introduce your e-cig/mod/tank/vape pen/e-liquid or any of your CBD products to your potential customers.
One-time fee: Price available upon request (simply fill out our Advertising Form).
We also offer sidebar banner ads. Please keep in mind that the sidebar has limited ad space, so if you are serious about advertising your brand, place your order today.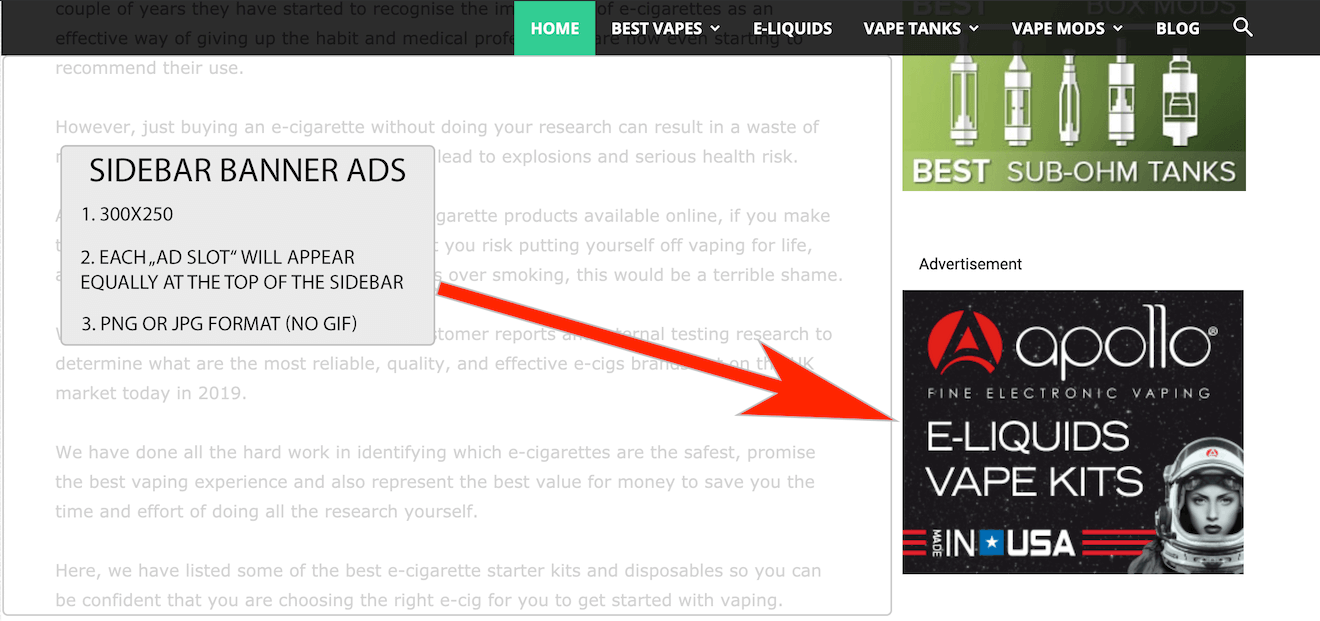 Banner Size: 300X250 (px)
Rotation: Each "ad slot" will appear equally at the top of the sidebar
Image format: JPG or PNG (no GIFs!)
Fixed Monthly Pricing: Price available upon request (simply fill out our Advertising Form).
How Can I Place the Order?
If you are interested in advertising on e-cigreviews.org.uk, simply fill out our Advertising form below and we will get back to you ASAP (usually within 24h):
What I am allowed to advertise?
You can advertise pretty much anything related to vaping and/or e-cigarettes.
Please keep in mind that all ads are checked before going live and we do reserve the right to reject and refund your purchase if we think that your ads are not suitable for our visitors.
Which file formats do you accept?
We only accept PNG and JPG creatives. We DO NOT accept GIFs.
What advertisement options do you offer?
At the moment we accept Product reviews for a one-time fee and Sidebar Banner Ads for a fixed monthly fee. We rotate all Sidebar Ads, so each "ad slot" will appear equally at the top of the sidebar.
How are orders prioritised?
All orders are treated equally. As mentioned above, we rotate all Sidebar Banner Ads, so each "ad slot" will receive equal amount of impressions.
How can I purchase an advertisement space?
Please fill out our online form, which can be found at the top and at the bottom of this page. Once you submit the form, we will contact with you to discuss further details. It usually takes between 24-48h for us to get back to you.
if you are interested in advertising with us, simply fill out this form: