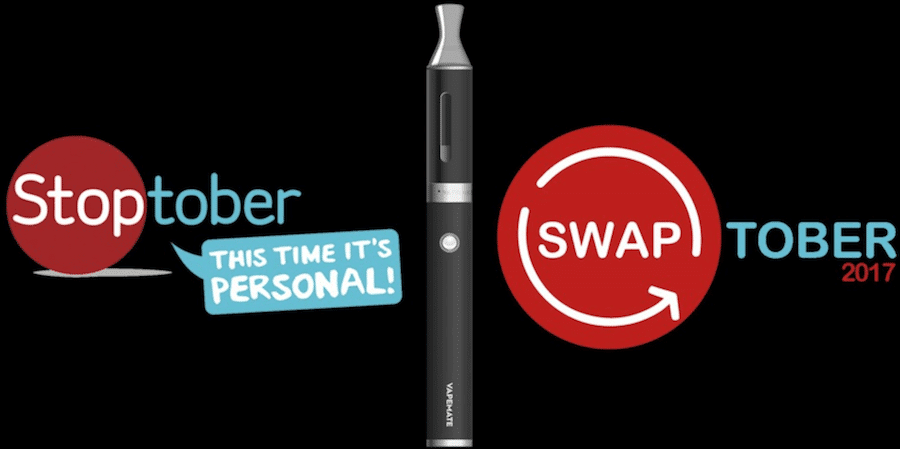 Anyone who is familiar with the UK's annual Stoptober quit smoking campaign may have noticed something slightly different about the TV advertising for the event this year.
The campaign, which aims to encourage smokers to kick the habit during the month of October, has been running since 2012, but for the first time this year it finally advocated the use of e-cigarettes as a tool to aid quitting.
The unprecedented appearance of vaping in a TV advert to publicise the campaign has led to speculation that the government are finally on the way to recognising vaping as a viable alternative to traditional tobacco cigarettes.
You can learn more about e-cigarettes here.
While health experts are still shying away from promoting the use of e-cigs explicitly, as the Stoptober campaign is backed by the UK government, it appears that official moves are in the pipeline to acknowledge their usefulness in smoking cessation.
E-Cigs – The Most Popular Quitting Tool
The appearance of vaping in the TV ad comes hot on the heels of the news that last year, vaping was found to be the most popular method used by those who quit the habit as a result of last year's campaign.
More than half of those who responded to the survey had used them, pushing the number of people who have taken part in the Stoptober campaign to more than 1.5 million since its launch.
While e-cigs are not officially prescribed by NHS doctors yet, health professionals and doctors are being encourage to advise any smoker who is keen to use them that they might represent a better and safer alternative to tobacco smoking.
Although NICE (The National institute for Health and Care Excellence)'s new draft guidance does not actually list e-cigs as one of their recommendations for helping smokers to quit, it does state that patients should be informed that some former smokers have found their use helpful when giving up tobacco.
NICE's current advice is also that patients should be made aware that at present this is very little evidence as to any long term harm which could be caused by the use of these products.
Can Vaping Aid Quitting For Good?
The government experts who are leading the Stoptober quitting campaign have found that research which has recently been released suggests that record numbers of quitting attempts are proving to be successful.
Researchers from University College London have discovered that a fifth of all attempts have been shown to be successful during the first half of 2017, compared with averages of 16% over the last decade.
The largest increase in successful quitting attempts has been among those from a poorer background – in other words, those who have been traditionally least likely to successfully quit.
Professor Gina Radford, the Deputy Chief Medical Officer for the government cited the importance of the use of e-cigs in this success and backed their promotion during the Stoptober campaign since they contain 95% fewer harmful products than regular cigarettes.
The latest figures from Public Health England suggest that in 2016, just over 15% of the UK's population were smoking, down from 2007's figure of 21% and 2000's figure of more than 26%.
As the use of tobacco cigarettes has decreased, the number of vapers has gone up, with around 1 in 20 people aged over 16 regularly using e-cigs and a quarter of that number being former smokers.
Yet there is a still a long way to go in the battle against tobacco, with smoking still being the biggest killer in the country, causing almost 80,000 deaths each year, and 20 smokers suffering from a smoking related condition for every death caused by the habit.
It is for this reason that NHS Health Scotland has now declared publicly that e-cigs are definitely a less harmful alternative to tobacco smoking.
Since other recent studies have also shown that those who vape are more likely to continue trying to kick the habit than those who try different methods, and therefore the evidence seems to point towards the idea that e-cigarettes seem to ensure smokers have a better chance of being successful in their effort to quit, whether they try just once, or several times.
Most vapers will be delighted to finally see support for e-cig usage as part of the Stoptober campaign.
As some sources still demonise vaping and try to make it more difficult to vape anywhere in public, it is somewhat reassuring to see that there is some support for e-cigarettes from government quarters.