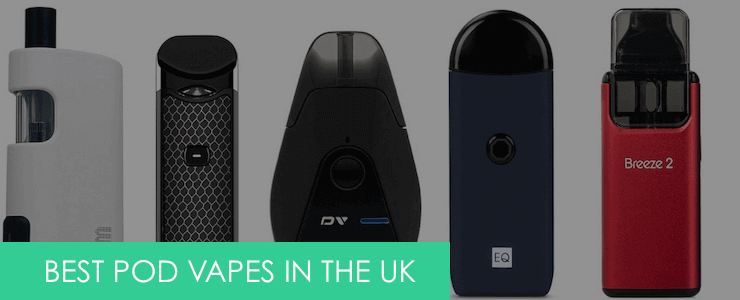 Updated on 2022: Do you like the idea of trying vaping but don't want the hassle of having to refill your vape pen's tank, with all the mess and fuss that it involves?
There's an alternative that's just perfect for you – a pod vape.
Pod vapes are basically a hand-held compact battery which is paired with either an empty or pre-filled pod which simply fits into the pod bay located in the battery.
Usually, pod mods are incredibly user-friendly, and since they don't often have any buttons but are instead draw-activated, they're just perfect for anyone who is new to vaping and who is looking for a vape product with virtually no learning curve.
Vape pods have a low amp battery and charge via a USB cable, making them a simple to use, a compact and portable choice which suits the needs of beginner vapers thanks to their lack of complex settings and the elimination of the need to mess about with tricky refills.
So let's take a look at some of the best pods mods available in the UK so far.
List of Best Pod Vapes in the UK for 2022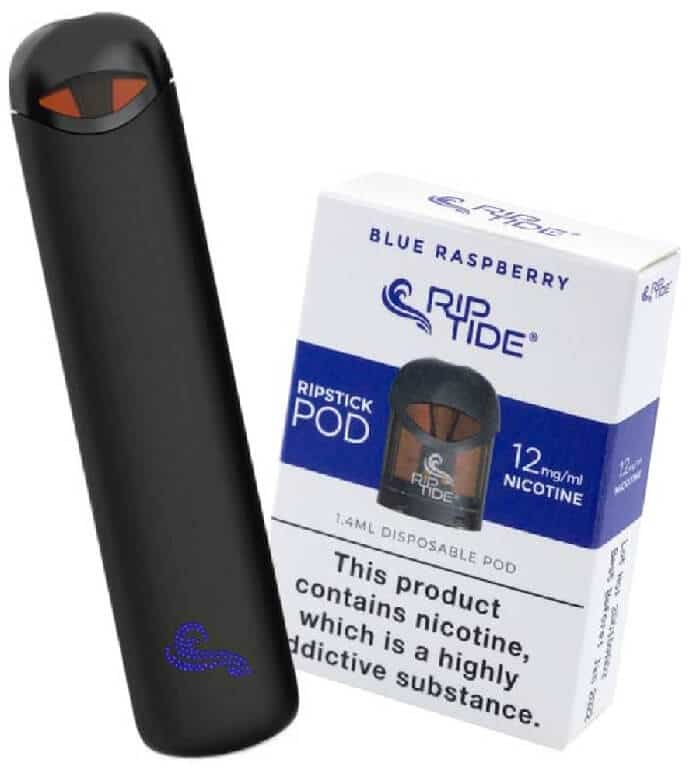 Are you looking for the best pod vape in the UK? Look no further. In our opinion, the best pod vape in the UK for 2022 is Riptide RipStick.
The Ripstick offers vapers old and new something completely different – an entirely tobacco-free vape experience thanks to its enhanced NicTech technology.
Able to satisfy all your nicotine cravings, the RipStick is a pod-style device that will change the way you vape.
It has a 500mAh battery and a draw-activated design that's perfect for beginner vapers since there's absolutely no learning curve.
With no complex controls or settings to adjust, you can simply inhale and get your nicotine fix without any hassles.
The stand-out feature of this device is its 1.4ml replaceable, disposable pods which come in a choice of six delicious flavours.
The e-liquids used in these pods are entirely free of benzoic acid for a purer experience and use nicotine that isn't derived from tobacco. They also come in a choice of two different nicotine strengths to suit your needs.
Whether you prefer traditional tobacco flavours, want to experiment with fruity tastes or want a blast of minty freshness, the RipStick's pods can meet your needs.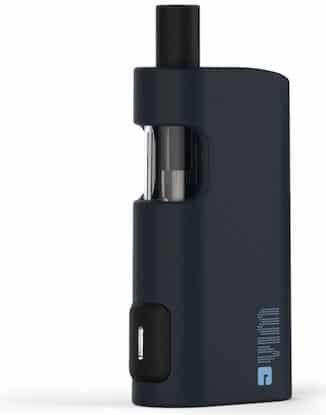 If you're looking for great performance in a compact device that also happens to come in at an affordable price, the JAC Vapour VIM could be the ideal pod mod for you.
If you're brand new to vaping, the user-friendly design of this device makes it the perfect choice, yet if you're a more experienced vaper, you'll still find the VIM perfect for taking out and about thanks to its portability.
This device can be used with VIM pre-filled pods which comes in packs of two for only £6.99. This makes them really simple to use – they're just a plug & play mode.
There are three different flavours to choose from including traditional tobacco, menthol tobacco and blackcurrant squash.
Alternatively, if you're keen to use your favourite e-juice, go for the VIM refillable tank which is simple to refill and gives you the chance to try a wider range of tastes.
It's really easy to use this device. Put in the pod, press the fire button then inhale.
It comes with a 2600mAh battery which is sufficiently powerful to keep you vaping all day long, but it couldn't be easier to recharge either, and you can vape as it's charging for even greater convenience and zero downtime.
Since this device is one of the most affordable on the market, it suits vapers of all budgets, and especially those who are only just making the switch from smoking.
JAC Vapour VIM will be a great choice for those who are looking for the best refillable pod vape in the UK.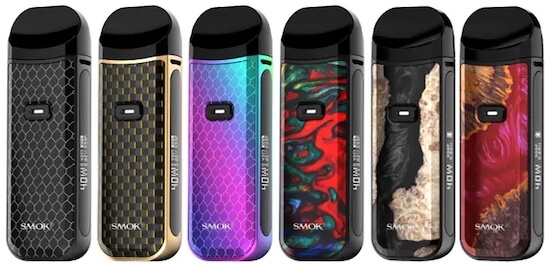 SMOK is a well-known and popular vaping brand, and for good reason. The quality and convenience of its products never fail to impress, and the Nord 2 pod kit certainly won't disappoint. This definitely is SMOK's best vape pod system available in the UK so far in 2022.
This device is the next generation of the already popular SMOK Nord kit, and incorporates a number of excellent additions to ensure an even better vaping experience.
This versatile device comes complete with a powerful 1500mAh battery and offers an adjustable wattage output between 1 and 40W.
The starter kit supplies buyers with a refillable RPM and a NORD pod to support SMOK's different coil options, both of which are capable of holding as much as 4.5ml of e-liquid for a long-lasting vape.
The pods are quick and simple to remove, fill and replace, so even complete novices can enjoy the best possible experience.
The NORD 2 features an easy-to-read OLED 0.69" display screen which shows your key vaping statistics while also showing you how much battery life remains, but the controls are extremely simple.
This device has a single button layout, allowing the wattage to be adjusted via the firing button for complete convenience.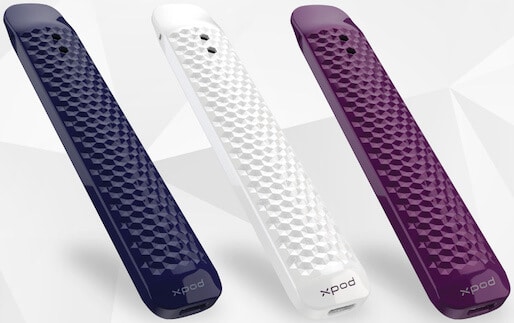 Anyone looking for a convenient vaping experience which won't disappoint on the taste or style front should look to the Epuffer XPOD.
Its attractive design is combined with the ability to produce a truly satisfying taste in one handy, portable device. With a lightweight structure and all-in-one operation, it's perfect for carrying around in a purse or pocket to enjoy anywhere, whenever you like.
This device utilizes ePuffer's SNAPS magnetic atomization technology which has won 5 awards for its innovation.
As a result, the XPOD is a modern and sleek device featuring a 375mAh rechargeable battery and a cartridge capacity of 1.5ml.
Available in a choice of attractive colours, the ePuffer XPOD is compatible with an array of pods which come pre-filled with numerous exciting flavours.
Even better, you can buy blank PODS that can then be filled up with your own favourite flavour of e-liquid.
This great value starter kit comes with everything you need to get started quickly and easily.
You'll get a charging cable and rechargeable battery which can be charged to full capacity within just 45 minutes so you can quickly get vaping.
You will have a completely leak-free operation for zero fuss or mess and the draw is smooth for a smoking-like experience.
This makes it a good choice for newcomers to vaping who are trying to quit their cigarette habit.
The best thing about this device is that it needs no ongoing maintenance or cleaning, and there are no worries about clogging, nicotine build-up or leaking.
Once your cartridge is used up, it can be discarded and replaced with a new one or simply refilled with your choice of e-liquid so you can carry on vaping.
If you need a quick and easy way to get started with vaping without any onerous maintenance requirements, the ePuffer XPOD is the vaping device for you.


Small, stylish and user-friendly, Vaporesso's Osmall Mini Pod system is convenient, intuitive and simple to get to grips with.
Ideal for beginners who are making the switch from smoking to vaping, The Osmall Mini is ultra-compact, allowing vapers to take their vape anywhere they go.
Yet there's no need to worry about accidental damage – the textured surface makes it easy to grip this handy little device.
The kit has an inbuilt 350mAh battery and can produce a max output of 11W. While this may sound less than impressive, you won't be disappointed by the experience you can enjoy.
It's perfect for novice vapers thanks to its draw-activated design with no physical buttons or controls to get to grips with, and the OMNI board mini chipset ensures excellent performance paired with no less than five different safety protections for the vaper's peace of mind.
The pods are refillable and are capable of holding up to 2ml of e-liquid, and refilling has been designed to be as simple as possible without any leaking issues so even complete newbies won't struggle.
Meanwhile, the Vaporesso pod has a 1.2ohm coil, made with non-woven fabrics and flax cotton for the purest, freshest flavour that works perfectly with nicotine salt e-juices or high strength nicotine e-liquids.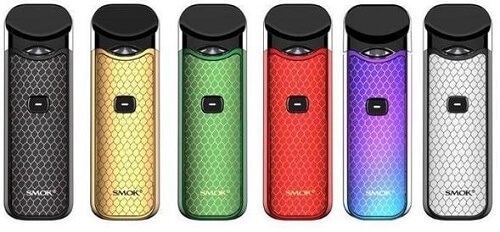 If you're looking for a reliable pod mod vape which has received excellent reviews from its previous users, the SMOK Nord pod vape could be the one for you.
With all of the excellent attributes that you'd expect from a SMOK, this vape system has good build quality, long battery life and feels good in your hand.
Also, unlike many other devices, the Nord allows the user to change their coils instead of forcing them to purchase a brand new pod every time which represents good value for money.
Despite the small size of this device, it produces good clouds and plenty of flavours thanks to the 1100mAh battery which maxes out at 15W.
Simply to use and fill, even a complete beginner to vaping can get started straight away with this user-friendly design.
Also, thanks to the affordable price tag, it's the ideal option for vapers on a budget.


This innovative device is the latest release from the IQ brand.
Featuring the most up to date technology for temperature control paired with a simple yet effective design, it offers vapers an outstanding experience.
This vapers kit offers a total battery power of 400mAh, and it can charge anywhere so you can vape all day stress-free with no need to wait.
With a magnetic charge connection, it can stay powered even on the move. It's also thin and light, so it can easily be popped into a pocket and taken anywhere.
This kit comes complete with sufficient pods to vape for an entire week, and with its Mouth-To-Lung draw style, it's the perfect choice when you're switching from smoking cigarettes.
There's absolutely no learning curve either since the pods are disposable and the wattage output is fixed. You simply plug in a pod and begin vaping.


When you're looking for a pocket-friendly vaping device that still has an impressively large battery, the Aspire Breeze 2 could be the ideal option.
With its 1000mAh battery, it also boasts a body made from strong aluminium alloys and a beautiful satin finish for a luxury feel and appearance.
It couldn't be easier to fill the reservoir for all-day use, and since all that's required to operate this vape is to press the fire button thanks to the voltage based direct output, it couldn't be easier to get to grips with this device, even if you're a complete beginner.
This device is compatible both with freebased nicotine e-juices and nicotine salts, and thanks to its replaceable and removable pod, it's an all-in-one option that is compact enough to take anywhere.
It won't leak in your pocket and even comes with adjustable airflow and several coil options so you can suit your preferred vaping style.
It comes in a choice of attractive colours to suit every taste.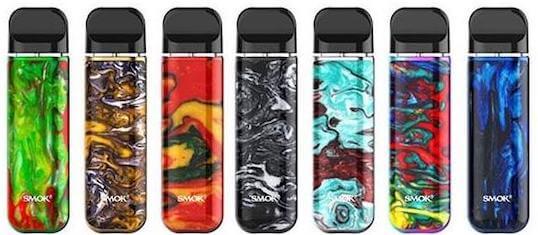 The SMOK brand is well known for its quality products, and the SMOK Novo 2 kit won't disappoint.
This refillable AIO vape pod system has an e-juice capacity of 2ml and is compatible for use with either nicotine salt e-juice or regular e-liquids for greater versatility.
Even though this device is lightweight and compact, it comes with an integrated rechargeable 800mAh battery which is capable of supplying as many as 200 puffs, which equates to around three days for average users before needing a recharge.
The port is on the side of the pod, and this makes refilling extra simple. Even better, the device is draw activated, so you don't even need to push any buttons to get started with vaping.
There's also a u-shaped brand new airflow design which allows every puff to flow smoothly without any gunk build-up or spit back.
The mouthpiece is ergonomically designed while the connection is a simple push-fit system so you can quickly and easily replace the pods for extra ease of use.
Pods are also available with a range of coils in a choice of resistances so you can enjoy your preferred vaping experience.
If you're a fan of flavour as well as dense vapour, you'll appreciate the 1.0 ohm Novo 2 mesh coil which comes supplied with the kit. There's also an inclusive 1.4 ohm Novo 2 MTL coil which is perfect for use with a nicotine salt e-liquid or for MTL vaping.
When you're looking for a reliable all-round vaping experience with extra convenience built-in for new vapers, the SMOK Novo 2 could be the perfect choice.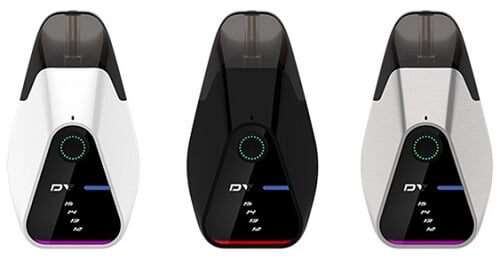 Another quality device from the Innokin brand, the DV Ultra portable pod system is geared towards users who prefer to vape nicotine salts.
It features dual action firing mechanisms together with refillable pods. It can either be activated by depressing the fire button or by drawing in on the mouthpiece – whichever suits your preferences.
This pod system also accepts freebase nicotine, so it allows you to vape more discreetly than if you were using a traditional sub-ohm device, and the PLEX3D mesh coil technology which is incorporated into this device ensures fast wicking.
The rechargeable 500mAh battery has an impressive lifespan while the wattage output range is adjustable between 12 and 15W, with four options to pick from.
The LED indicator shows you when it's time to recharge while the zinc alloy construction of the chassis is strong and durable enough to last.
It comes in a choice of three stylish colours too, so you can select the one that best suits your preferences.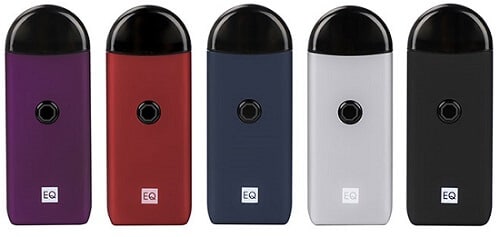 Innokin vaping products are known for their high quality, and the Innokin EQ pod system offers impressive all-around performance.
Boasting plenty of features including an 800mAh battery and a 0,5-ohm Plexus mesh coil, this device products plenty of great flavours and yet is small enough to fit easily into your hand.
Although it doesn't produce the huge clouds associated with more powerful devices, this pod vape is user-friendly and is the perfect stealth vape for use at all times and in all places.
It charges via a micro-USB and the coils last a long time, so you're getting good value for money.
In very basic terms, a pod vape is a device that is usually very small in size and consists of a two-part system. The two primary parts in a pod vape are the pod and the battery.
A pod essentially replaces the tank component found in many vape kits. It is pre-filled with E-liquid and is replaced in its entirety when it runs out.
Some pod vapes have a refillable pod design, meaning that they can be filled with a range of different compatible E-liquids. 
The battery section of the device will be incredibly simple, only consisting of a fire button and the battery compartment.
All users need to do is put a pod inside and click the fire button to start vaping.
Pod vapes are most often used by those who are making the switch from smoking as the sensation given by a pod vape is very similar to smoking a cigarette.
Using this device is exceptionally easy. Many people consider pod vapes to be one of the easiest vaping devices to use as it essentially only has one function.
Once you've unpacked your kit and are ready to get going you will probably need to charge your device up first. Use the USB cable provided with the kit and wait for a bit.
The charge times vary between various devices but in general, a pod vape should only take about an hour to reach full charge.
Many devices will have some form of LED light on the base of the kit that changes colour to indicate when the device is fully charged.
Once charged, you will need to either attach the pod to the battery or refill the pod with an E-juice of your preference if you have a refillable pod kit.
You should then wait for around ten minutes to ensure that the wick has been fully saturated with the E-liquid.
Turn the vape device on and hold down the fire button when you are ready to start. Make sure to inhale while you hold the fire button down. That's really all there is to it!
What are the different types of pod mods?
Modern vape pod devices look quite a bit different to their original founding models back in 2015.
Rather than just offering the most bare bones vaping experience, many modern devices offer more in terms of features and additional modes that go a long way in enhancing the vaping experience for both new and seasoned vape users.
In general terms, there are three main pod vape categories that a device can belong to.
There is a standard pod system that offers the most basic vaping experience.
These usually have just one fire button on them and tend to use replaceable pods.
An AIO (All-in-one) pod vape device is one that is very compact and tends to also use replaceable coils.
A pod mod is a vape device that is often larger in size, offering a wide range of additional features and modes for the most part. It still uses pods, but they usually have replaceable coils (just like AIO pods).
A pod vape can then be further categorised as either a refillable or pre-filled device.
A pre-filled pod is one that is easily replaceable but can be quite limiting in terms of available flavours.
A refillable pod system allows users to put whatever E-liquid flavour they want into the device and while they require a little more effort than pre-filled ones, they offer much more freedom.
Who should use pod vapes?
Pod vapes are suitable for a wide range of people. While being a great starter device, many kits are best enjoyed when in the hands of an experienced vaper.
Seasoned vape users can benefit from using a pod vape as a side piece to their regular device.
Those who are transitioning from smoking to vaping can benefit greatly from using a pod vape as the simplistic design and accessibility is the perfect place to start.
The sensation given by using a pod vape is also similar to those had when smoking a cigarette, making the transition seem more natural.
What are the benefits of pod mod system?
Pod systems have several benefits to offer. The prime advantages are their simplicity and convenience.
They are so simple to use that they are ideal for ex-smokers who want effective nicotine delivery with no confusing technical features to get to grips with, while their mouth to lung vaping style is also attractive to the recently quit smoker.
It's also very simple to switch flavours when you use one of these devices. You just fit a pod with a different flavour of e-juice into the battery, and then you're good to go.
One further advantage is the economy of use. They use much less e-juice in a single day than other types of vape, which makes them better value for money, allowing you to save on e-juice.
Also, they are incredibly low maintenance, and with no need to build coils, they can save you a lot of time and hassle.
Pros:
• Very simple to use
• Small size for easy portability
• Ideal for people who want to quit smoking
• Uses less e-juice
• Quick and simple to change flavours
• Low maintenance
• MTL draw similar to tobacco cigarette smoking
• Discreet to use
• Low vapour production
Cons:
• Lower battery capacity than many other vaping devices
• Low vapour production may not suit everyone
• Limited range of flavours in pre-filled cartridges
• Maybe more expensive than some other vaping device types, especially when buying the pre-filled pods
How long do vape pods last?
Each pod has its own particular lifespan. Its lifespan can vary based on what type of E-liquid is in the pod and how often you are vaping and at what power.
Most pods last around 2-5 days for those that vape a lot.
Why does my pod produce burnt taste?
If there isn't much E-liquid left in a pod, then it can cause a burning taste due to the dryness of the coil.
Similarly, if you haven't let the wick saturate enough then this can also taste burnt.
You can buy a vape pod device that allows for refillable pods. Make sure to buy a device that offers an "open pod system".
What e liquid should you use?
Usually, nic salt (or nicotine salt) e-liquids are the most common choice used in pod vapes.
However, it is possible to use other freebase nicotine e-juices too.
Any e-juice with a minimum of 50% PG in it will work in a pod vape, and often a 50:50 PG:VG ratio is the best option, although some pod vaping devices function well with a higher level of VG in the e-liquid.
Can I use standard e liquid in a pod?
Generally speaking, yes you can use regular vape juice in a pod system, just try to keep below the 60% VG mark.
Can I use a pod mod to vape CBD liquid?
A pod system can be used to vape CBD liquid. It is recommended that you use a 1.0-ohm coil or higher for this.
What is the Best Pod Mod Vape 2022?
Riptide RipStick
JAC Vapour VIM
Smok Nord 2
Epuffer XPOD
Vaporesso Osmall
SMOK Nord
Innokin EQ
Innokin DV
IQ AIR VAPERS KIT
Aspire Breeze 2
SMOK Novo 2