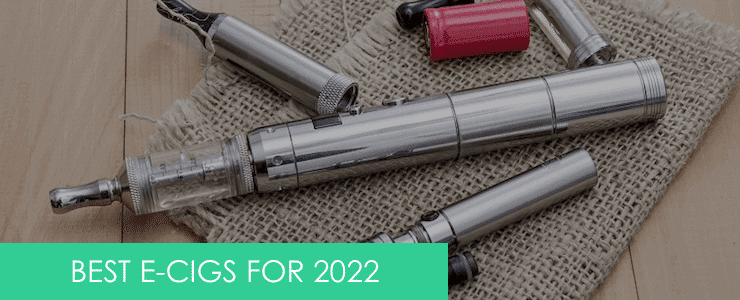 Updated on 2022: Electronic cigarettes are one of the best ways of quitting smoking and improving your life.
As of today, e-cigarettes are one of the most popular smoking cessation aid in the UK. And there's a reason for that – they do work. 
Although until quite recently medical experts were against the idea of vaping, in the last couple of years they have started to recognise the importance of e cigs as an effective way of giving up the habit and medical professionals are now even starting to recommend their use. 
However, just buying an e cig without doing your research can result in a waste of money. Or even worse, product defects can lead to explosions and serious health risk. 
Although there is an enormous range of e cig products available online, if you make the mistake of buying a poor quality product you risk putting yourself off vaping for life, and since it has many proven health benefits over smoking, this would be a terrible shame.
We've taken the time to gather together customer reports and internal testing research to determine what are the most reliable, quality, and effective e cig brands out on the UK market today in 2022. 
We have done all the hard work in identifying which e-cigarettes are the safest, promise the best vaping experience and also represent the best value for money to save you the time and effort of doing all the research yourself.
Here, we have listed some of the best e cigarette starter kits and disposables so you can be confident that you are choosing the right e cig for you to get started with vaping.
Article navigation:
Our Favourite Kit for Beginners
Our Favourite Kit for Heavy Smokers
Our Favourite eGo Style Kit
Our Favourite Pod Mod
Our Favourite Vape Pen Kit
Our Favourite Kit for Ladies
Our Favourite cig-a-like Kit
Our Favourite Portable Vapourizer
List of the Best e cig Kits in the UK for 2022
SMOKO Standard (Best E Cig Starter Kit For Beginners)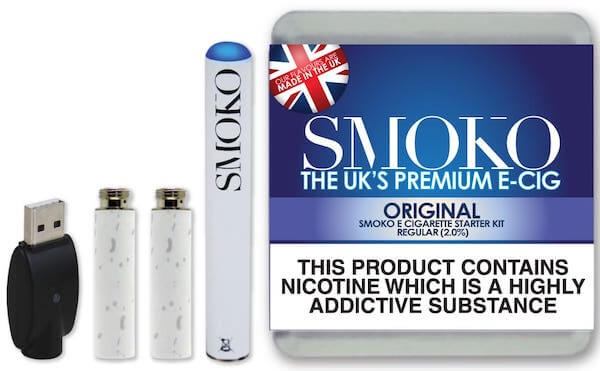 Are you looking for the best electronic cigarette on the market? Look no further. In our opinion, the best e cig in the UK for 2022 is SMOKO Standard Starter Kit, because if you're new to vaping, one of the most important thing you should look for is something that is easy to use.
Many of the ecigs on the market can be overly complicated to get to grips with that it puts you off making the switch altogether.
However, this is not the case with the SMOKO E cig starter kit. Designed with the needs of new vapers in mind, this convenient kit comes with everything you need to get started in one simple package.
When you open the box you'll find a rechargeable battery, a USB charger, simply instruction manual and 2 flavour refills in your chosen flavour so you can start using it straight away.
For many long-term smokers, using something that is hard to set up, can be off-putting. Especially for older people or many of us who don't want any fuss! If that is the case, then the SMOKO E Cigarette is a perfect choose for you.
Simply remove the seal from a flavour cartridge, screw it onto a charged battery and you're good to go – what could be simpler?
With the battery, there are no buttons to press and no voltage controls to mess around making it perfect for the beginner. 
When you're trying to quit smoking you won't want to be without your e cig, so you'll be pleased to learn that the battery included with this kit has a pretty long lifespan, delivering several hours of performance for a moderate vaper.
One of the biggest things that sets SMOKO apart from the other cigalike e-cigarette we have tried is that all of the ingredients and flavours they use in their e-liquids are all Made in the UK.
Considering many other closed systems or pod devices rely on Chinese-made ingredients, this is a huge bonus for the SMOKO E Cigarette. And the flavours are really authentic and satisfying.
I was impressed when I first tried this e cig by its simplicity and yet impressive performance. With a decent price point for their refills, great selection of flavours and nicotine strengths, it is truly a great e-cigarette.
Convenient and easy to use, the SMOKO Standard Starter Kit has deservedly taken its place among my top vaping devices.

JacVapour SERIES-B DNA 75W (Best Vape Kit For Heavy Smokers)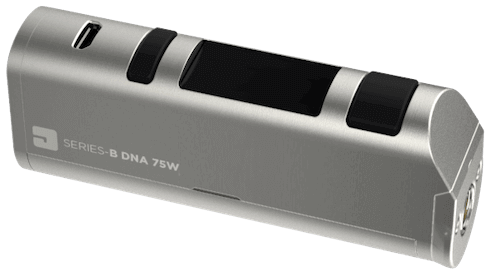 If you are a heavy smoker who is moving into vaping, you're probably looking for the best e cig that can accommodate your more demanding requirements.
JacVapour have really thought about the needs of this market and have designed a stylish mod with bags of quality that can offer a truly impressive vaping experience.
Although the Series-B is quite small in size, it has a wonderfully ergonomic design that fits perfectly into your hand.
It also doesn't compromise on style thanks to its stainless steel and black rubber exterior. It's even small enough to pop into a pocket while you're on the move.
When you're a heavy smoker, you need to choose a mod that's a high performer, and this device won't disappoint.
It has an Evolv DNA chipset with customisable wattage and temperature control modes as well as a powerful and removable 18650 battery which can fire up to 75 watts.
If you're new to vaping, you're not going to struggle to get to grips with this vape. Its large easy-read screen, well-placed fire button and simple controls make this mod a breeze to use.
It also supports both DTL and MTL vaping, so you have plenty of flexibility for adaptation as your vaping style changes over time.

JacVapour Series S17 (Best eGo Style Kit)

If you need a user-friendly vape pen that doesn't compromise on style, the JacVapour Series S17 is sure to tick all your boxes.
Ideal for beginners, this e cig offers plenty of power in a simple to use chassis. Just screw the coil into place, fill up with your favourite e-liquid, attach to the battery and start vaping – it'll take under 10 seconds!
Designed to meet every vaper's need for performance and flexibility, the Series S17 was designed and made in the UK by JacVapour's R&D team, so you can be confident of an outstanding product.
This kit comes complete with all you need to begin vaping except your e-juice! Not only will you receive the 900 mAh battery but you'll also get the topfill tank, a 1.0 Ohm MTL S-coil, a user manual and a USB charging lead.
There are also a range of other accessories such as DTL coils that can be purchased separately to customise and upgrade your vape as you progress through your vaping journey.
This means that, whether you're new to vaping or whether you're already a seasoned vaper, this e cig is sure to meet your expectations

Jacvapour VIM (Best Vape Pod)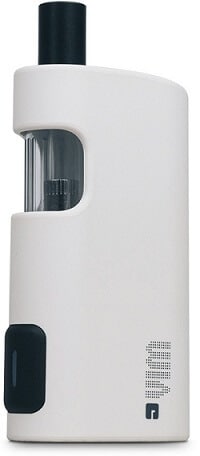 When you're new to the world of vaping, you need an e cig that's user-friendly.
And one of the easiest ways to start vaping is by choosing a reliable pod mod. This is where the Jacvapour VIM comes into play.
The Jacvapour VIM AIO is the ideal choice, being simple enough for beginners to get to grips with while still offering the ability for growth and change as your vaping style adapts thanks to the choice of coils.
This is one of the most flexible devices on the market today, suitable for both newbie and experienced vapers alike.
For beginners, the ease of use is hard to beat, whereas for advanced vapers, the ability to switch out the coils gives you the opportunity to customise your experience.
The pre-filled pods offer a "plug & play" vaping experience which is absolutely ideal for newcomers to the vaping world.
Meanwhile, being able to replace the coils gives you the choice for an MTL vape for the closest thing to smoking or a DTL experience for a looser, cloudier vape.
You can also refill the pods yourself conveniently and without mess thanks to the handy top-filling design so you can experiment with different e-juices and flavours.
This convenient and well-designed e cig doesn't just offer great performance, it also looks good too.
Its build quality is second-to-none and with its rubber body, it'll be well protected from accidental knocks and falls.
Plus, it's compact size and lightweight design means that you can easily carry it anywhere you need to go without any problems.

SMOKO Vape Pod (Best New Vape Pod)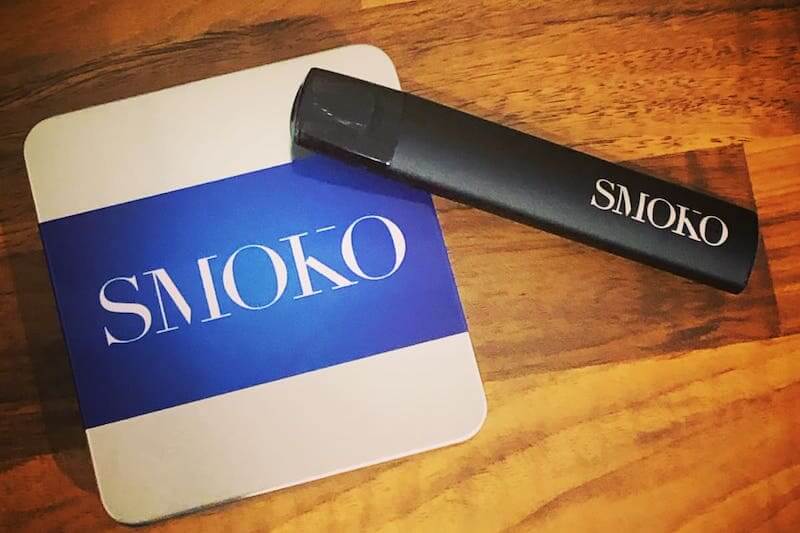 With so many e-cigarettes and vapes on the market, consumers may be overwhelmed with the choice. After reviewing so many beginner vape kits, in our opinion, the best new e cig in the UK is SMOKO VAPE POD Starter Kit.
If you're new to vaping, one of the most important thing you should look for is something that is easy to use.
Many of the newest designs on the market can be complicated and frankly over-engineered. This can make them hard to use and harder to maintain. When you are making the switch to vaping, simplicity is key to your success!
And simplicity and ease of use is what SMOKO does best. With 3 vape styles to choose from, they all use high quality e-liquids that are Made in the UK. This is a HUGE benefit – you want to know that what you are vaping is the best quality.
And with SMOKO's range, that is definitely the case! Great flavours in a convenient device.
Their newest design – the SMOKO VAPE POD – takes the simplicity and performance to new levels.
When you open the cool metal tin, you'll find a rechargeable battery, a USB C charging cable and instruction manual. The refills are sold separately. The Pod refills come 3 to a pack and each refill contains 2ml of their UK-made e-liquids.
When you compare this to other pod systems like Juul – the SMOKO VAPE Pod refills have almost 2 ½ times more e-liquid then the standard Juul pod.
The Pods connect to the battery using magnets – so they click in and are ready to use straight away! This is great if you want to swap out different flavours throughout the day! No refilling, no leaking, no mess, no hassle!
With the battery, there are no buttons to press and no voltage controls to mess around making it perfect for the beginner. It is a quick charging battery as well – fully recharging in about 45 minutes. On a full charge, the VAPE POD Battery should last for the full day!
One of the biggest things that sets SMOKO apart from the other beginner vapes we have tried is that all of the ingredients and flavours they use in their e-liquids are all made in the UK.
Considering many other closed systems or pod devices rely on Chinese-made ingredients, this is a huge bonus with the SMOKO VAPE Pod E-Cigarette. And the flavours are really authentic and satisfying.
I was impressed when I first tried this vape – great flavours, satisfying vapour production for a realistic smoking sensation and super easy to use. When we checked out the range of flavours, there are 10 to choose including Original Tobacco, Virginia Rolling and Mint Breeze.
But if you like non-tobacco flavours, they have Crisp Apple, Black Currant, Raspberry, Strawberry, Vanilla and Menthol as well. And there is a good selection of nicotine strengths to choose from as well.
For many long-term smokers, using something that is hard to set up can be off-putting. Especially for older people or many of us who no longer want the fuss of a larger mod. If that is the case, then any of the 3 SMOKO E-Cigarettes and Vapes are a perfect choose for you.
To conclude, we think the SMOKO VAPE Pod is a great all-rounder for first time vapers looking for an effective and simple alternative to cigarettes! Highly recommended.
Check out their introductory offer – get a free pack of VAPE Pod refills when you buy the VAPE Pod starter kit!

JacVapour Series S22 (Best Vape Pen Kit)

There are a whole lot of e cig kits available today, so it isn't easy to find the best one on the market.
Of course, everyone has different preferences, but it's hard to beat the JacVapour Series S22 kit. Easy to use, it's an ideal starter kit for anyone who is transitioning from smoking to vaping, and with its elegant design it's a pretty appealing device.
Surprisingly multifunctional, this e cig is suitable for beginners thanks to its refined, stripped-back design, yet it can evolve with you as you become more experienced, allowing you to maximise your vape for many years to come.
The Series S22 is leading the way in its class in terms of power and stamina. Its long-lasting battery keeps you vaping all day, so you'll never need to worry about having to search for a charger.
The topfilling vape tank that comes with this kit has been designed to be refilled in just ten seconds, so you'll be ready to take a puff in no time.
There are also plenty of accessories available to purchase separately, so you can easily add upgrades to your ecig when your needs and preferences change.
This is also a very safe device with inbuilt protections against high amp draw, short circuiting and overcharging. There are also battery vents for added user safety.
In terms of aesthetics, this is also a very attractive e cig. Its steel alloy body has a rubberised oil finish in a vhoice of two colours – grey/yellow and black.
The base and top caps as well as the power button are made from polycarbonate with an ABS rubber oil finish for an appealing texture and excellent functionality.
The kit comes complete with all you need to start vaping. As well as the e-cigarette itself, you'll receive the top fill vape tank, a 1.0 ohm MTL coil, a USB charging cable and a user manual. This device is also fully protected by a 6 month UK warranty.
There are many positive Jacvapour electronic cigarette reviews, so it's safe to say that Jac is one of the best e cigs in the UK.
All you'll need to do is supply your own favourite e-juice and you're good to go!

V2 EX Series Standard (Best E Cig Kit For Ladies)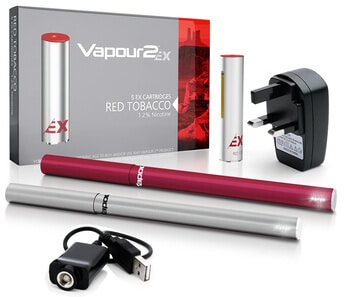 Ladies, we've all had this problem – you're heading out for a night on the town when you suddenly realise that your favourite vaping device won't fit into your handbag!
And how many times have you tried to look sophisticated and stylish, but a big and bulky e cig has let you down?
Well, the V2 EX Series Standard Kit is the ideal solution and is just perfect for ladies who are looking for a compact and lightweight cig-a-like that is easy to use and that fits neatly into even their smallest handbag.
Often with a compact vape pen you have to compromise on battery life, but you won't have to worry about that with the V2 EX Series battery which lasts a pretty long time and can then be recharged in under an hour so you don't have to go long without vaping!
Another simple feature included on this device that is surprisingly useful is the handy battery indicator on its side which lets you see exactly how much vaping time you have left before you need to plug it in.
If you're looking for a convenient, easy to use device, the V2 EX Series is perfect as the battery is automatic and there's no fire button to complicate matters.
However, while this is great for newbies to vaping who are looking for a user-friendly experience to get them started, it may not be so great for more advanced users who are looking for more control over their vape.
Are you looking for a slim and stylish micro e cig that is really convenient for everyday use, but don't want to compromise on performance?
The EX Series fits the bill again, with cartridges that don't compromise on throat hit or taste and, perhaps most importantly, have a larger capacity of up to 400 puffs so you can enjoy vaping for longer.

V2 EX Series Standard Vape Pen (Best Cig-A-Like Kit)
Convenience is key when you're starting out on your vaping journey, and the V2 EX kit couldn't be easier to use.
Ready to use at a moment's notice, it couldn't be easier to change the batteries and cartridges as they simply slot in and out.
As the battery is also automatic, you won't need to worry about working out complicated controls or features, you can simply concentrate on enjoying your vape.
If portability is important to you, you'll be pleased to know that the V2 EX is also lightweight and compact, meaning that you can simply tuck it into your pocket when heading out for the day, and as each cartridge lasts for around 400 puffs, unless you're a really heavy vaper you shouldn't need to change it all day.
Battery life is also pretty good, with its 280mAh capacity being double that of many other similar devices.
There are some other handy features which are worth mentioning on this device.
Firstly, the lights at the tip of the battery show the remaining battery life to give you an idea of when you need to think about recharging your device, and the EX cartridges that come with this kit have a viewing window so you can see how much e-juice is left in your tank.
While these may seem like small things, it is touches like that that puts the V2 EX Series ahead of its competitors.
So if you are looking for the best e cigarette in the UK, this will be a good kit to start with.

PAX3 (Best Portable Vapourizer)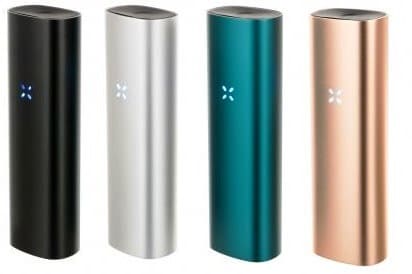 When you're vaping on the go, you need something special from your vaping device. You need a vape pen that's going to be small and compact enough to pop into a pocket, but you don't want to compromise on quality of experience.
The Pax3 won't disappoint in either respect. Suitable for both dry herbs and concentrates, it lets you switch between vaping styles in just seconds for true flexibility, and as it's from a well-respected vaping brand you can be confident that you'll enjoy the best of all worlds.
The Pax3 excels in many areas, with one of those being the rapid heat up time which sees it reach its temperature in just 15 seconds.
It also has a powerful long-lasting battery which ensures outstanding performance.
One cool feature of this device is its downloadable Pax app which allows you to control your device from your smartphone or tablet for even greater convenience.
Not only is the Pax3 really versatile, adapting to your preferred vaping style, but it's also a beautifully designed piece of kit.
Its attractive exterior and well-thought-out design makes it an asset to any vapers' collection.
It also produces an amazing amount of vapour and flavour that won't fail to impress even the most demanding vaper.

So that wraps up our TOP 10. These are our recommended best e cig kits in the UK for 2022.
When trying to determine what E-cigarette you should buy, there are a few things that you should take into consideration before making that final purchasing decision.
The first thing to consider is what type of products you wish to vape. Before purchasing your e cig you need to know whether you want to vape standard e liquids, CBD oils, waxes, or herbs.
You will need to know this before buying an e cig as each vape device is usually only suited to one or two different vape products.
You should also purchase an e-cig that is fairly easy to clean and maintain, ensuring that it works effectively for a long duration.
Most Popular Vaping Device Types in 2022
The most popular e-cigarette types are:
A standard Mini E-cig is exactly what it sounds like, a standard vaping option that simulates the smoking sensation and experience. This is the perfect place for beginners to start, especially those who are transitioning from traditional smoking.
However, there are several downsides if you are planning to use them quite often. For example, battery wont hold as long as it will with box mods, squonkers or other mods.
Pros:
Exceptionally simple to use, making it extremely accessible to just about anyone

Transitioning from traditional smoking is made easy as the sensation and appearance is replicated here

Very portable and discreet
Cons:
Usually have a very limited battery life

Practically no customisation available
Vape mods (also called box mods) offer a great deal of customisation and personalisation. Vape mods tend to come in two variations: those with an integrated battery and those with replaceable batteries.
Pros:
Allows for plenty of customisation with plenty of different modes and features to play around with

Battery life is usually much longer than other vape devices
Cons:
These devices tend to be marketed towards seasoned vape users

Vape mods are usually the most expensive vaping option
Pod mods act as the in-between vaping device, being almost as powerful as a box mod but still maintaining the portability and small size of a vape pen. These vape devices use "Pods" of pre-filled e-liquid rather than making you manually fill a tank.
Pros:
The pre-filled pod system is incredibly easy to use

Pod mods are surprisingly powerful

Pod mods are very portable and lightweight
Cons:
Small tank capacity

Limited selection of flavours
Vape pens are long and tall vape devices that range in power, battery life and features depending on which model you purchase. There are two primary types of vape pen; those that offer direct-lung vaping, and those that offer mouth-to-lung vaping.
Pros:
Easy to use and very accessible to newcomers

Fill it with your choice of E-liquid

 

Usually fairly affordable

 

Generally decent battery life across devices
Cons:
Can't usually make any adjustments like wattage or temperature

Vape pens don't often utilise a screen or have additional vaping features like a power mode
We hope that this best E cigarette reviews in the UK article helped you to find the best e cig kit for you.