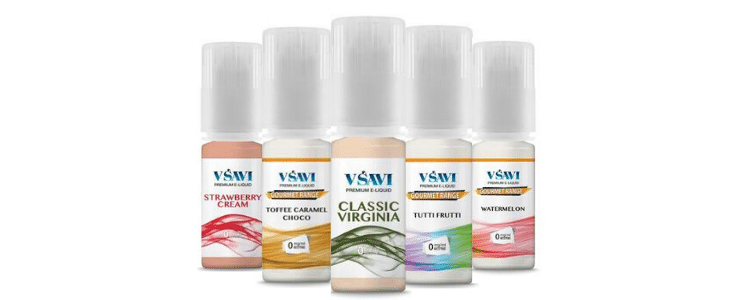 Vapers these days can choose from a host of e-juices, so how do you choose the right brand for you?
You may have heard of the VSAVI brand.
It's relatively new on the market but has become known as a high-quality option thanks to their 100% VG e-juices that are entirely organic and which have a natural VG base for the best flavour and truly impressive cloud production as well as a smooth and delicate inhale.
Want to know more about this brand? Read on and learn everything you need to know. 

VSAVI's 100% VG e-juices collection is made using the most up-to-date UK and EU standards to guarantee the highest possible customer confidence and consumer safety.
This range of delicious tasting e-juices is designed with the pleasure of vapers in mind, delivering a lot more vapour than many of their rivals.
There are ten different flavours to choose from, so whatever your preferences, from dessert tastes to traditional tobacco, you're sure to find something that's perfect for you.
Here are the options you can pick from:
Pure Virginia – this e-juice is perfect for new vapers since it has the same clean tobacco flavour that you're used to from cigarettes. It's no wonder that this e-liquid is so popular.
Classic Virginia – with its medium tobacco taste, this e-liquid has a bright and light aroma. It's the perfect choice for vaping at any time of the day or night.
M Tobacco – if you're looking for a light, gentle and mild tobacco flavour from your vape, you'll love the M Tobacco e-liquid. 
Arctic Menthol – for a cool and refreshing throat hit, the Arctic Menthol e-juice is a great choice. As a blend of spearmint and peppermint, it's just the thing to wake you up in the morning. 
Apple – if you like fruity, juicy and tart flavours, this is the ideal e-liquid for you. It has a clean and crisp flavour that authentically represents green, fresh apples.
Cherry – with its rich flavour, this e-juice conjures up images of sweet, sun-ripened cherries. It's refreshing and sweet, perfect for all-day vaping.
Elder – fruity and flowering, this e-juice has citrus undertones that add up to a delicious summertime flavour.
Strawberry cream – the perfect mix of dessert and fruit, this e-liquid is sweet, fresh and summery.
Coffee cream – with its rich and creamy taste, this e-juice has a delicious and authentic coffee aroma that will pick you up in the morning. 
Vanilla – aromatic and smooth, this e-liquid has a distinctive and complex, sweet taste that is ideal for dessert enthusiasts
This VG range of e-liquids is perfect for those who have a PG sensitivity but how still want the very highest quality e-juices to choose from.
Although VG is known for producing thick vapour in detriment to flavour, this rich VG range has been formulated specially so vapers can enjoy not only amazing vapour production but excellent flavour too.
There are plenty of different flavour options to pick from, and all of the brand's VG e-liquids are 99.9% natural and pure, made using pharmaceutical grade nicotine and medically tested VG bases.
The aromas used are all-naturally and entirely GMO-free as well as animal-friendly, having been prepared in "clean room" European laboratories using an eco-friendly production method that is supervised by trained chemical engineers for safety and consistency.
In short, these e-juices are the perfect choice for VG vaping enthusiasts, with tons of flavour and enough vapour to satisfy any cloud chaser. 
Vsavi 100% VG Gourmet E-liquid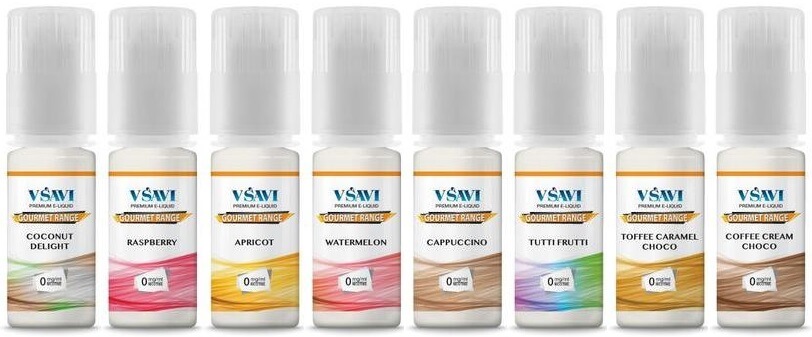 If you can just never get enough flavour from your vape, VSAVI's Gourmet e-liquid is even richer than its rivals.
While some 100% VG e-juices lack something in the taste department, VSAVI has gone the extra mile to produce an impressive selection of alternative e-juice flavours that are made to the highest and most up-to-date UK and EU standards for complete customer confidence and safety. 
These gourmet quality, rich-tasting e-liquids have been created with vaping pleasure in mind, producing a lot more vapour in a lot more exciting flavours.
These are the flavours you can choose from:
Coconut delight – this is a tropical and warm flavour that isn't too sweet but which will give you the tropical taste that you're yearning for.
Raspberry – this e-liquid has all of the flavour of delicious summer raspberries but without being too tart or sweet. It is reminiscent of raspberry candy.
Apricot – if you love the taste of fresh and fruity sun-ripened apricots, you'll love this delightfully summer e-liquid. 
Watermelon – this all-natural flavour is clean and crisp, making it a top choice among vapers who prefer fruity e-liquids. 
Cappuccino – need a morning pick-me-up? This Italian coffee flavoured e-liquid is the perfect choice with its creamy and strong flavour and aroma. 
Tutti Frutti – light, subtle and refreshing, this fruity blend will tantalise your tastebuds at any time of the day. 
Toffee Caramel Choco – deliciously combining chocolate and caramel, this tasty e-liquid is ideal for those who need a sweet fix. 
Coffee Cream Choco – with its chocolate-infused coffee taste, this creamy and sweet e-liquid is an ideal morning vape. 
There is no shortage out there of important and low-cost e-liquids available for sale all over the country.
However, not all of those products are safe, and those that are often delivered underwhelming performances.
VSAVI has gone above and beyond to ensure that their e-liquids are made from top-quality ingredients using only European-produced ingredients that have been organically and ethically sourced to ensure the best quality products and a truly fantastic vaping experience. 
VSAVI's e-juices are made in safe and clean European laboratories to industry-leading standards.
Every e-liquid goes through rigorous testing procedures and since the flavours are all-natural, free of GMO ingredients and animal-friendly, not to mention sealed in high-quality bottles, they tick all the boxes for vapers who want to purchase vaping products that have only been made in a reliable, safe and high-quality environment.
If you don't want to compromise on your vaping experience just because you need or want 100% VG e-liquids, you should definitely consider the VSAVI brand.
All of their products are made to the highest and safest standards and, with an amazing array of flavours to pick from, you'll be sure to find something that suits your preferences.