Updated on 2022: It can be a lot of fun to find out more about the latest RDAs, but knowing which ones you can really rely on for an amazing performance is probably more important.
Whether you're a complete beginner to RDAs, or whether you're looking for an upgrade, you can find out everything you need to know here about how to choose the best RDA for you.
In case you weren't sure, the term "RDA" means "rebuildable dripping atomizer". So, what is dripping?
Dripping involves dripping e-liquid onto exposed coils. An RDA is very different from any other type of vape since there's no tank section.
Instead, there's a build deck paired with build posts so you can wrap your coils and mount them yourself.
Although RDAs sound complex to use, they can be used by beginners as long as they choose the right model.
And whether you want to get more flavour from your dripping or whether you're keen to get some amazing clouds, you're sure to find the perfect RDA for you.
Since building your own RDA is cost-effective and allows you to customise your experience, it's no wonder that they're becoming so popular.
Find out more here about the best RDAs available in the United Kingdom today so you can make a more informed purchasing decision.
List of Best RDA Vape Tanks in the UK for 2022
Best RDAs for Flavour

This single coil RDA is the result of a collaboration between Mike Vapes, the well-known YouTube reviewer and Wotofo.
Designed to give you the best possible flavour, one of the most interesting features of this 24mm RD is its postless, bow-shaped build deck. It's got four terminal openings so either reverse or forward wrapped coils can be used.
Even better, the concave shape of the build deck maximises the airflow, working to deliver even better flavour.
Adjustability of the airflow is impressive on this RDA – there are 6 holes on each side, and if you get the position of the coil right, the holes funnel the air around and under the coil to produce intense flavour as well as massive clouds.
One downside is the shallow juice well – as it's only 4mm in depth, you need to take care when you're dripping not to get carried away.
However, if you love squonking, you'll be pleased to discover the Recurve comes ready for squonking thanks to its bottom-feed squonk pin.
There are several finishes and colours to choose from, so if you're looking for a cool single coil RDA, you'll love this model.


This game-changing mesh RDA uses mesh coil with a spring-loaded innovative wick system.
The wick lies on a base plate made from ceramic, and the spring puts pressure onto the wick so its stays pushed firmly up against the coil continuously.
It couldn't be easier to build coins with this RDA. Just put a piece of rectangular mesh coil between the side clamps and that's you done!
It also comes complete with squonk and regular pins as well as a completely adjustable airflow to customise your experience.
You'll enjoy a smooth vape as well as plenty of flavour. You may never have tried mesh coils, but if you're ready to give it a try, this model is the ideal first mesh RDA for you.
With its spring-loaded plate, you'll never have any wicking problems, but if you'd rather use standard coils, that'll work too giving you plenty of versatility.


This RDA is Vandy Vape's latest masterpiece, made in collaboration with Vape Happy.
It features a stylish capstone build deck that boasts a spring-loaded action. This works together with a waterfall squonk action and a Ramp Airflow system.
Measuring just 24 mm and weighing just 105 grams, this RDA has a specially grooved and textured top cap that creates a stunning impression.
It also boasts an optional frosted PC Comp Cap to allow for more subtle use. The intuitive design of the build deck features a pyramid-shaped expanding capstone that is useful for sandwiching the coil leads.
Once the cotton and coils have been set, the Ramp Airflow System enables a concentrating air path to be created via the trapezoidal slots in the base. As a result, the vapour production is impressive, yet the flavours are also unrivalled.
This device is also perfect for squonking thanks to the build deck's design, which creates a waterfall action where the e-liquid cascades down the internal capstone's sides onto the wick.
Available in a choice of four stylish colours – rainbow, gold, black and stainless steel, this is an attractive and high-performance device for experienced vapers.

Best RDAs for Cloud Chasing

Looking for a fantastic squonkable RDA? The Hellvape Dead Rabbit is made out of 304 stainless steel which features a hatched knurling on its top cap for a better grip.
This adds an extra layer of cool to complement the rabbit logo and the coloured drip tip.
This four post top terminal build deck is designed to simulate postless decks.
Its opposing negative and positive posts have been coloured differently – the negative posts being stainless and the positive terminals being gold plated. This makes it much easier for builders.
The build deck features additional space under the post so you can cut excess coil lengths easily from beneath.
This makes it much easier to avoid ruining your coils by cutting the lead too short. As the terminals are also larger than average, this allows you to build bigger dual coils or even one larger coil if you prefer.
There's no clear wicking channel, so you can cut them sufficiently, so they tuck in the well to reach the bottom.
While the juice well isn't the deepest at just 5mm, the RDA's side air flow has been placed quite high on its barrel so over-filling won't be such a big problem.
If you prefer a restricted lung hit, this is the RDA for you.
The coil position, the shape of the top and the air flow all combine to produce fantastic flavour with air which isn't excessively airy but wonderfully smooth.
This RDA also comes complete with an Allen key, a squonking pin and a PEEK pre-installed insulator to distribute juice more evenly.

HELLVAPE DROP DEAD RDA – TVC X HEATHEN

The Hellvape Drop Dead RDA combines the very best traits from both the Dead Rabbit and Drop RDAs.
The result is a fantastic model which offers a locking air flow position so your top cap will always be correctly placed on its deck.
The centre post has been removed on the build deck, so there's even more wicking space under the coils – this lets you experiment with a range of build configurations.
There are two separate drip tips supplied with this RDA. One is an 8mm resin wide-bore drip tip while the other is an 8mm 810 wide-bore frosted drip tip to give you more flexibility.
There are no less than 28 airflow holes which are positioned high on its barrel so you can squonk with no worries about any leaks.
The bottom-feed 510 pin allows for super-easy squonking. Designed to maximise flavour, you can also adjust the air flow to perfectly suit your own preferences.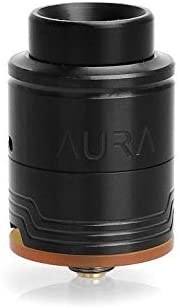 The Digiflavor Aura has been designed by DJLsb Vapes to deliver the optimal vaping experience, thanks not only to its deep reservoir and build deck system but also to the extras that come included with the kit.
Designed with extreme attention to detail, the Aura features a Step clamp build deck for easier and faster insertion of coils that are secured with two large, user-friendly screws for simpler operation.
There are also two airflow channels that prevent leakage while delivering outstanding flavour thanks to their position and height.

The RDA stands for "Rebuildable Dripping Atomizer". It is a form of a tank which is usually used with vape mods.
Rather than having an actual tank, however, an RDA features a juice well where the juice can collect.
RDAs allow vapers to drip juice right out of the bottle onto the wick and coil and offers a host of benefits when compared to the standard tank and atomizer setup.
There are a whole lot of reasons to choose RDAs instead of traditional atomizers and tanks.
Better flavour – the RDA's coils are closer to the drip tip that you inhale through. This means the flavour is more intense and powerful.
Also, as the coils are open instead of closed-in like in a traditional tank, the flavour receives an additional boost, particularly in a top airflow RDA.
Bigger clouds – RDAs can produce some enormous vapour clouds since the coil is open to the air flow. If you're a cloud chaser, this is ideal for you.
Cost-Effectiveness – building your own coils isn't just fun, it's also a lot more affordable too.
Customisation – since you're able to build coils of your own, you've got plenty of options with an RDA.
You can try multiple or single coil builds, twisted coils, straight coils or Clapton coils – whatever suits your preferences.
Many types of coils are known for the better cloud production and flavour, and since you're able to choose the wire gauge and number of wraps you prefer, you can get the perfect coil resistance for a completely personalised experience.
Variety – when you use an RDA, you can try lots of e-juices rapidly.
If you're a fan of trying new e juices, you can simply drip a couple of drops of each one and experiment with different flavours with ease.
Easy wicking – since RDAs don't have wick channels, they're much easier to wick.
There's no need to balance wick tails between dry hits and flooding like an RDTA or RTA, and as there are no tiny parts, they're easier to work with than other types of rebuildable.
All you need to do is rinse them off, and they're ready to re-wick. As long as the wick fits snugly into the coil with a little freedom of movement, you'll be ready to go.
There are lots of styles and sizes of RDA on the market today. The smallest ones are around 14mm in diameter while the largest ones are 40mm or even more.
The most commonly seen diameters are 22mm or 24mm.
The RDAs build decks can accommodate up to eight coils, although the majority are designed for either dual or single coils.
Most types of RDA work equally well on vertical or horizontal coil builds.
The air flow may suit either MTL (mouth to lung) or DTL (Direct to lung) vaping styles.
They also come in several metal types like brass, copper and stainless steel with several different colours also available to choose from.
These days, you can find build decks in several configurations. At one time, RDAs usually had 3 posts, with 2 on each side of the deck and a central post.
There have been many innovations since that time, and now postless, and down-down decks are popular, with more unusual designs making an appearance regularly.
The majority of modern RDAs also come with optional hollow positive pins so they can be used with squonkers.
Squonk mods have plastic bottles which contain e-juice that the vaper can squeeze to channel the juice onto the BF (bottom fed) atomizer.
RDAs for Cloud Chasing vs RDAs for Max Flavour
RDAs are categorised primarily as being ideal for producing either massive clouds or impressive flavour.
A cloud chasing RDA has space for at least two coils of large diameter and heavier mass.
They allow for more creative and fancy wire designs and also have a bigger airflow so thick, huge vapour clouds can be produced. This makes a cloud chasing RDA perfect for a DTL vaper.
If you're a fan of flavour, on the other hand, you'll want an RDA with less airflow and which is better for an MTL or restricted direct lung vaping style.
A flavour RDA can only hold a dual or single coil design, and usually, they'll have a diameter of 22mm or less.
Some do manage to produce pretty amazing clouds, although they've been designed primarily for better flavour.
If you're keen to start building your own coils, or if you're already a fan and you're also keen to produce amazing clouds and an impressive flavour, an RDA could be the perfect choice for you.
If built correctly, an RDA will give you optimal performance from your vape.
For anyone who's concerned about the capacity for their e-liquid, a squonk RDA could be the ideal solution.
A squonk mod bottles provide an additional 5 to 10ml of e-juice to a bottom-feed RDA, so there's no need to drip constantly while you're away from home.
If you're not ready for a rebuildable, there are many MTL tanks and sub-ohm tanks which are excellent performances, some of which can produce a comparable result to an RDA.
However, it's highly recommended to try an RDA. Once you've built your own coils, you'll never go back!