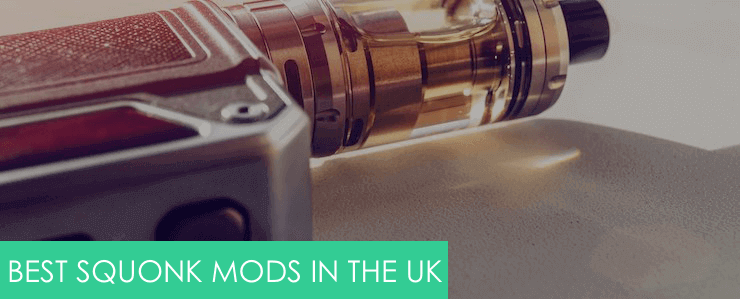 Updated on 2022: You've probably heard about squonking, but you might not know what it is. Squonking is the latest trend in vaping.
While squonk mods have been out there for a while, in recent years they've really hit the headlines in the vaping world.
So, what is a squonk mod?
It's a specific form of vape mod which features a built-in bottle which contains vape juice. The clever part is that you can pump the e-liquid into your coils and wicks on demand.
Sometimes, they're called bottom-fed devices since the vape juice is fed up through the atomizer's bottom.
So, what's so good about a squonk mod? Well, they can store more e-liquid than even the large capacity tanks, yet the flavour intensity is just as good as that from a dripper.
Are you ready to try a squonk mod for yourself? Then read on and discover some of the best squonk mods on the market today.
List of Best Squonk Mods in the UK for 2022
Are you ready to find the best squonk mods available for sale? Here are some of the best of 2022.
Dovpo Topside LITE Squonk Mod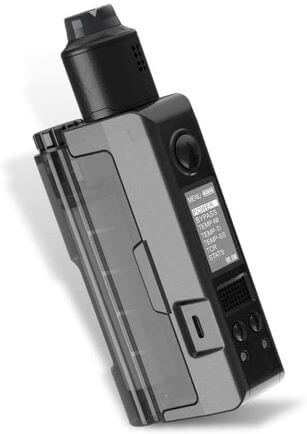 One of the best squonk mods on the market is this Dovpo Topside LITE model.
This mod was created by Brian from the very well-known YouTube channel "The Vapour Chronicles" so you know that the consumer experience comes first with this product.
Whilst this squonk mod kit may be on the more expensive side, the pack has great value.
This particular mod kit includes a 0.96" OLED display that allows the user to choose from a wide selection of options, allowing the vaping experience to be tailored directly by the individual, for the individual.
Some features of this mod include the top fill design juice delivery system that makes refilling the mod extremely easy to do. Similarly, this mod also features a spring-loaded system as well as having gold-plated contact pins.
To top it off, this mod is also highly leak-resistant, so you don't need to worry about your favourite e-liquid spilling all over you.
Geekvape Athena Squonk Kit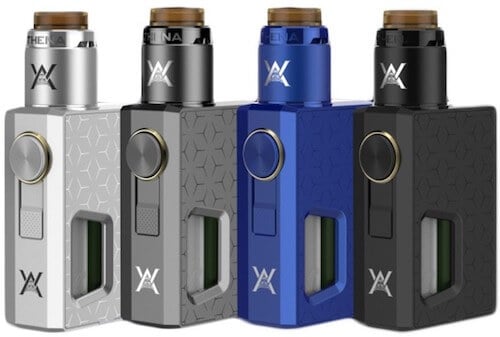 The Geekvape Athena is an unregulated mod which is powered with an 18650 mAh battery for plenty of power and performance.
The anodised aluminium construction of this compact device makes it durable yet stylish, but you won't need to worry about your safety.
There is a safety lock switch which will guard against any accidental firing in your pocket or purse for complete peace of mind.
Not only that, but the 510 pin is auto-adjusting, so the chances of leakage, no matter what RDA you use, are very low indeed.
The kit comes complete with the Athena RDA. This is a great match thanks to its top-angled air flow system which reduces the possibility of leakage while giving the flavour of your favourite e-juice a much-welcome boost. The capacity of the squonk bottle is 6.5ml – not bad at all.
DOVPO Topside 90W Top Fill MOD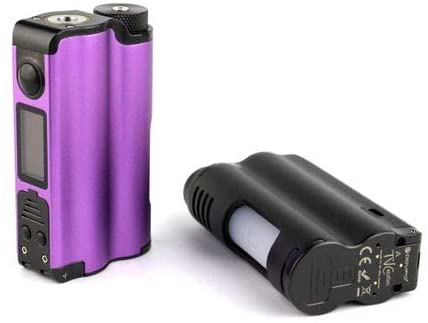 This mod boasts an innovative top filling design and an adjustable wattage mode for more customised and convenient vaping.
Designed in conjunction with The Vapor Chronicles, this device was created to offer the ultimate vape experience.
With its leak-resistant 510 base and spring-loaded gold-plated 510 contact pin, it's a well-designed and revolutionary vape.
With an optional TC mode and a bypass mode, the Topside is constructed from strong stainless steel, aluminium alloy and zinc alloy for the ultimate in durability and resilience.
Powered by either a 18650, 20700 or 21700 battery, this device also comes complete with a 18650 battery adapter sleeve as well as a replacement kit for even better value.
With a resistance range of between 0.08 and 3.5 ohm, this device is suitable for both sub-ohm and standard vaping, so it's ideal for vapers with all preferences, and since it also offers protection from short-circuiting, you can enjoy better peace of mind.
Eleaf Pico Squeeze 2 100W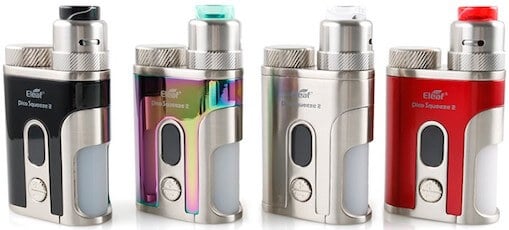 The follow up to the ever-popular Pico Squeeze is the Pico Squeeze 2 from the famous Eleaf brand.
With its rugged and compact setup, this device comes complete with the Avatar Control Chipset which is TC capable as well as an easy-to-view OLED display which only adds to its style.
The squonk bottle which comes with this model has an impressive 8ml capacity – enough to satisfy anyone – and since it's compatible with either a 21700 or 18650 battery, it's a versatile device which supersedes its older sibling.
If you're looking for flexibility, power and performance from a well-known and reliable brand, the Squeeze 2 is the one for you.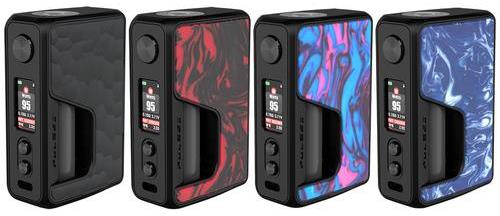 Another particularly effective squonk mod on the market is the Vandy Vape Pulse V2 Mod.
This particular mod is compatible with a wide range of batteries and can sustain power of up to 95W. This mod uses a bottom-fill design and offers multiple optional modes.
These modes include a power mode, a voltage mode, a bypass mode, a TC-SS mode, a TC-NI mode, and an optional TC-TI mode, giving you plenty of choice on how you wish to use the mod.
The mod itself is made using a highly durable nylon material that includes a PCBA waterproof design.
Additionally, this mod also utilises a leakproof system that ensures that no e-liquid will spill from the device.
What is a squonk mod and what is squonking?
Are you still confused about what squonking actually is? Let's make it a little clearer.
Squonk mods are basically vape mods that feature an inbuilt squeeze bottle which is used to feed the e-juice to the atomizer. Usually, the atomizer will be an RDA (rebuildable dripping atomizer).
Squonk mods eliminate the requirement to drip through the device's mouthpiece, transforming the bottle into an effective tank for the atomizer.
All you need to do is squeeze the bottle, wait until the wicks have saturated and then start to vape. That's squonking!
Essentially, then, squonking is just another form of dripping. However, squonking is an easier and more convenient way to do it. With an RDA, you need to drip e-juice manually onto your coil.
That can be inconvenient and messy, especially if you're out and about. Carrying e-liquid around with you is a pain. It can end up spilling everywhere, and it certainly isn't a discreet vaping solution.
Any kind of vaper can enjoy squonking, however, if you prefer an "all-in-one" approach to vaping, squonking is great for you.
The large capacity of squonk bottles saves you the hassle of carrying around lots of e-juice bottles wherever you go, while the RDA atomizers give you great vapour and flavour all in a portable solution.
Although squonking has only recently become popular, in fact, it isn't anything new. Squonking has been around since 2009 when the Juice Box was created.
REO brought the first ever squonk device onto the market in the form of the REO Grande Squonk Mod.
For years, however, squonking stayed on the back burner, being only used by high-end enthusiasts.
All that changed in 2015, when Yiloong produced the Geyscano squonker. This was rapidly followed up by the Steam Crave 60W mod.
Soon, the prices came down, and KangerTech got in on the act with their Dripbox mod.
Finally, squonking became widespread. The masses started to realise the pleasure of squonking, and today it's more popular than ever.
What are the types of squonker mods?
There are two main categories of squonk mod: regulated and unregulated.
An unregulated squonk mod provides the atomizer with the battery's raw power. That means that the person who is doing the building needs to know all about safety, Ohm's law and battery safety limits.
Although they may sound dangerous, today there are many unregulated squonk mods on the market that come ready-equipped with inbuilt protections to prevent user errors and shorts.
Be careful though, since mech mods have no such protections built in and are only for very experienced and knowledgeable users.
Regulated mods, on the other hand, have a fully-featured VW/VV chipset which allows vapers to choose their preferred voltage or wattage.
Most have tons of great safety features to eliminate any worries about battery safety.
Regulated mods definitely are the safest option if you're new to squonking, and are really the only option for you if you're a TC vaper.
What Do You Need to Squonk?
You only need a few things to get started with squonking:
A squonk bottle
A squonk mod
An RDA that is bottom-feed compatible
A bottom feed pin
Your favourite e-liquid
What are Bottom Feed RDAs (Squonk Atomizers)?
Bottom feed atomizers are just RDAs which have a few modifications to allow squonking and draining of e-juice.
The atomizer needs to have a hollow 510 positive pin which enables the e-juice to pass through it.
Nowadays, since squonking has become so popular, almost all RDAs feature a bottom-feeding pin.
While it might sound complicated, squonking is actually pretty easy to learn. There's not much of a learning curve, so here's how to get started.
Get yourself a good squonker mod and an RDA that has a fitted bottom-feed pin.
Fill the squonk bottle with your favourite e-liquid.
Squeeze the squonk bottle. This will feed the e-juice from the squonk bottle into the bottom of the RDA to coat the wicks with vape juice.
Hit your mod's power button.
Take a puff.
Every few puffs, give the e-juice bottle a few quick squeezes. This will ensure the wicks stay coated, so the vaping experience is free from any dry hits.
Why People are Squonking?
One great think about squonking is that you can enjoy all of the convenience of having a vape tank with the vapour and flavour benefits of dripping.
The majority of squonk mods feature a squonk bottle that has a capacity of between 7 and 10ml.
That means you can take a full day's worth of e-liquid wherever you go without any need to carry spare e-juice bottles.
This will save you the hassle and stress of an e-juice leak in your pocket or purse and also saves you the pain of refilling your device during the day.
Even better for vapers on the go, squonk bottles will only feed the e-juice to the atomizer when you squeeze them.
That means that leaking won't be a problem when you're carrying your device around.
Perhaps the top advantage of squonking, however, is that it comes with a fully-featured RDA. You can enjoy all the benefits of dripping without any of the fuss and hassle.
You can basically drip and never remove your atomizer's top cap for the ultimate in convenience.
Squonk mods also give you great value for money. The "all-in-one" kits give you both the atomizer and mod in one convenient and affordable package to get you started with your squonking experience.
Should You Try Squonking?
Do you already enjoy using an RDA but are fed up of carrying e-liquid bottles about? Then squonking is ideal for you.
Squonk mods are around the same price as traditional vape mods but offer a whole lot more flavour, vapour and convenience.
You can drip wherever you go without any mess or fuss, and you can easily carry around your favourite vape juice in your device ready to go without refills or leaky bottles.
Whether you're a complete beginner or an advanced vaper, squonking will work for you.
The convenience of the large squonk bottle, the excellent safety features on most of the best mods, and the excellent performance can make them a truly enjoyable experience for anyone and everyone.
There are so many different models on the market too that there is sure to be one that suits your budget and suits your preferences.
If you're an experienced vaper, you might also like to try something new. Squonking is a great foray into something a little different, and squonk mods are perfect if you're a fan of collecting vape equipment.
You can even get high-end handmade mods which are only available in limited amounts, making them very sought after.
In short, if you've never tried squonking before, what are you waiting for? Try a squonk mod today and find out whether it's for you. You're sure to be impressed.
If you feel like squonking is not really for you and simply want to try something super easy and affordable, we suggest you to check out pod vapes. They are super easy to use and quite affordable as well.