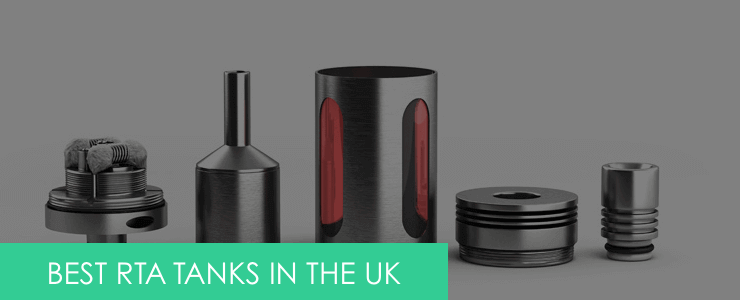 Updated on 2022: When getting a high-quality vape is your top priority, you'll need to choose the very best RTA tank on the market – but what does that mean?
Depending on what you prefer, it can mean a few different things. That's why we've brought together some of the best and most popular RTAs (Rebuildable Tank Atomizers) available today with some really excellent features.
RTAs let you design and build customised coils. You've got the opportunity to select the number and type of coils that suit you.
In fact, you've got a world of possibility at your fingertips when you have an RTA tank, and it'll remove the hassle of having to drip onto your atomizer every couple of hits.
Simply fill up, and you're good to go – no mess, no fuss.
List of Best RTA Vape Tanks in the UK for 2022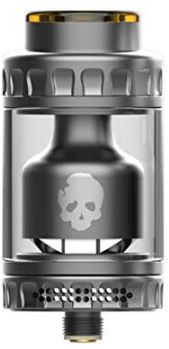 With an e-liquid capacity of 2 ml, the DOVPO Blotto RTA boasts a unique top refilling design that makes filling the tank a breeze.
Compatible with either single or dual coils, this rebuildable tank atomizer offers a full 242 degrees of airflow straight to the coils for an even smoother and more delicious flavour from your favourite e-juices.
Thanks to the integrated adjustable airflow system, vapers using this tank can also enjoy richer clouds for a safer and more comfortable vaping experience.
The kit is protected by a three-month manufacturer's warranty for even greater peace of mind.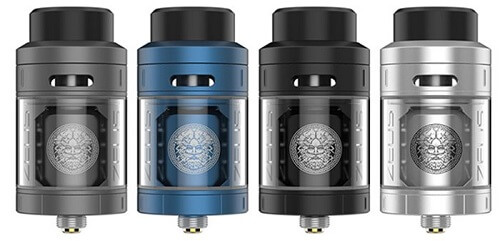 When only the absolute top performer will do, it has to be the GeekVape Zeus RTA. This classic model has it all – flavour, looks and huge clouds. What's not to like?
Its deck is surprisingly easy to wick and build on thanks to its 26mm size, postless deck and leak-proof design, and you're certain to be impressed by the flavour it produces.
Meanwhile, since appearances count too, you're sure to love the beautiful outer chassis design.
When this is paired with the super-smooth airflow, you won't be shocked to find that this model is thought to be one of the top RTA tanks on the market today.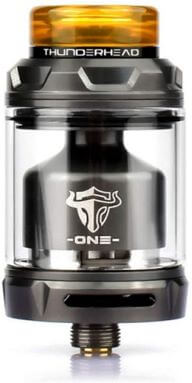 A rebuildable tank atomizer that gets the job done; the THC Tauren One RTA offers almost unlimited customisation with unrivalled quality.
This RTA product is perfect for those just starting to customise their own tanks as this product utilises a simple to use and understand single coil build deck.
This eases newcomers into the customisation process, giving them only a single coil to think about, design and eventually create.
This RTA has a very convenient top filling system that can be used frequently with ease to refill the tank when necessary.
This particular RTA has a very unique 3D honeycomb airflow system that includes 26 micro-sized air holes. This intricate system keeps the flavour of the e-liquid fresh and delicious even after repeat uses.

Dead Rabbit RTA (Hellvape)

The Dead Rabbit RDA has been popular for the last couple of years, and now, the Dead Rabbit RTA has followed up on its massive success.
Capable of supporting either a single or dual coil build, this attractive RTA isn't just about good looks – it produces massive clouds and great flavour too.
While this isn't the simplest RTA deck to build on, it's user-friendly enough for you to get to grips with it in no time.
Also, as it has a top-mounted airflow and a leak-proof design, it's a great choice if this is your first ever RTA.

The initial "RTA" is often used as a short form of Rebuildable Tank Atomizer.
RTAs are a form of tanks which are used for vaping. They are a blend of a refillable and a rebuildable tank.
In a similar way to an RDA, you can build coils yourself as well as make wicks of your own. But, unlike an RDA, you won't have to drip.
Instead, you can just fill the tank with your favourite e-juice and start vaping immediately.
RTAs have an appearance very similar to that of a regular sub-ohm tank, with the same e-liquid capacity and fully adjustable airflow.
RTAs work in a very simple way. The vaper will first have to build their own coil (or dual coils depending on which build deck design you've chosen).
They then install the coil or coils onto the atomizer's build deck. Once the coil is in place, it needs wicking, often with cotton, with the tails being placed into the build deck's wicking holes.
Next, the tank is filled up with e-juice, allowing the wicks to become saturated with e-juice which has entered the wicking channels.
On the inhalation, air will enter the tank via the air flow holes. It gets channelled towards the build deck's inside where the air hits the coils as it moves towards the chimney and, finally, the drip tip.
Why use a Rebuildable Tank Atomizer?
When you compare an RTA with an MTL tank or a sub-ohm tank, you'll find that RTAs usually offer a much higher level of performance as long as it has been built properly.
Even better, RTAs offer a customised experience, saving you money on buying ready-build coils.
When you wrap your own coils, you'll save a lot of money since one wire roll is capable of making a huge amount of coils for around the same cost as just a couple of ready-made coil heads.
A single organic cotton package could last over a year. Also, RTA users aren't reliant on manufacturers to carry on making coil heads – they can simply make their own.
Also, building coils yourself gives you more customisation opportunities, allowing you to choose the resistance you prefer.
You can also get the surface area you prefer for better flavour and vapour production.
When compared to RDAs, RTAs also offer an advantage. RDA users have to drip their e-juice continually onto their atomizer.
RTAs, meanwhile, have a bigger capacity and therefore you can use them to vape all day with no need to refill.
Even better, RTAs don't leak so long as they're kept upright. This is another great advantage over RDAs.
The way in which the juice flow occurs on an RTA paired with the chimney makes leakage a much less likely possibility, even if they are kept upside down.
Also, RTAs have a compact size, which makes them much more convenient than RDTAs. They are easier to wick than an RDTAs too.
What Type of RTA is Best for You?
There are several kinds of rebuildable tank atomizers, all of which offer unique experiences. When you're choosing which one is right for you, here are some top features to look out for.
• Top or bottom airflow – the majority of RTAs have a bottom air flow system. However, top air flow systems are now starting to be designed to alleviate leakage problems.
These channel air towards the bottom or side of the coils via many mechanisms.
Top airflow designs are better able to resist leakage although bottom air flow systems often produce a better flavour.
• DTL or MTL – an atomizer's draw is pretty important when it comes to categorising RTAs.
An atomizer with only a few narrow air flow holes offers an MTL style draw while lots of bigger air flow slots offer better vapour production suited to a DTL style of vaping.
• Dual or Single Coil – most RTAs offer either a dual coil or single coil build deck. Usually, the number of coils will be proportionate to how much vapour is produced.
A single coil RTA will often offer a restricted DTL or MTL draw, and a dual coil will allow larger air flow and more vapour production.
• GTA-style Or RTA – in a standard RTA, the build deck will be on the atomizer's base. A GTA (Genesis) style atomizer will have a raised deck with a higher position inside the tank section.
The placement of the deck dictates how you wick the RTA. GTA-style RTAs will usually require a longer wick.
How do you decide whether or not buying an RTA is right for you? Let's take a look at the pros and cons to help you decide.
Some people worry that an RTA isn't for them because they don't know how to build coils of their own.
While it may seem scary, it's easy to learn. There are lots of YouTube videos out there which can teach you how to get started and very quickly you'll be quite proficient.
You'll find that soon you can build a coil in just 5 minutes and they'll last longer than coil heads do. Often, a single coil build will last for a week or more before you need to maintain it.
If you're looking for better vapour production and increased flavour, RTAs are definitely for you. They offer a much higher performance standard than regular sub ohm tanks.
They're also cheaper than a tank set up since you can save a lot of money on making your own coils and wicks. If customisability is essential to you, an RTA is also an ideal choice.
You can create the coils that perfectly match your preferences with the right resistance and surface area to suit your needs. You'll also find it very rewarding to design your own coil builds.
On the downside, if you don't pay attention to safety, RTAs aren't as safe as a regular tanks, and changing coils is also a little more time-consuming when compared to changing the coil in a tank.
If you're brand new to vaping and are trying to quit smoking, an RTA probably isn't the right way to start, since speed and convenience is of the essence at that time.
However, for anyone who is a more experienced vaper and who wants to get more from their vaping experience, an RTA could be the ideal way to go to maximise the pleasure you enjoy every time you vape.