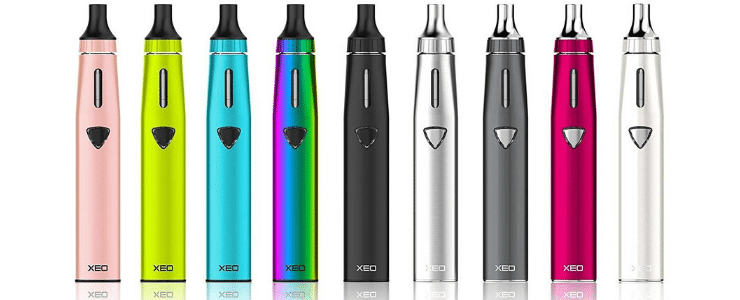 The V2 brand is a well-known name in the e-cigarette industry and has been around since the earliest days of vaping.
However, the brand has come a long way since its early V2 Pro Series 3 and V2 Pro Series 7 vapes, and the XEO Void is a major step forward, being touted as one of the top choices for beginner vapers on the market today.
Featuring a 1,500mAh battery, an all-in-one construction and sub-ohm coils, this could be an excellent choice for all kinds of vapers.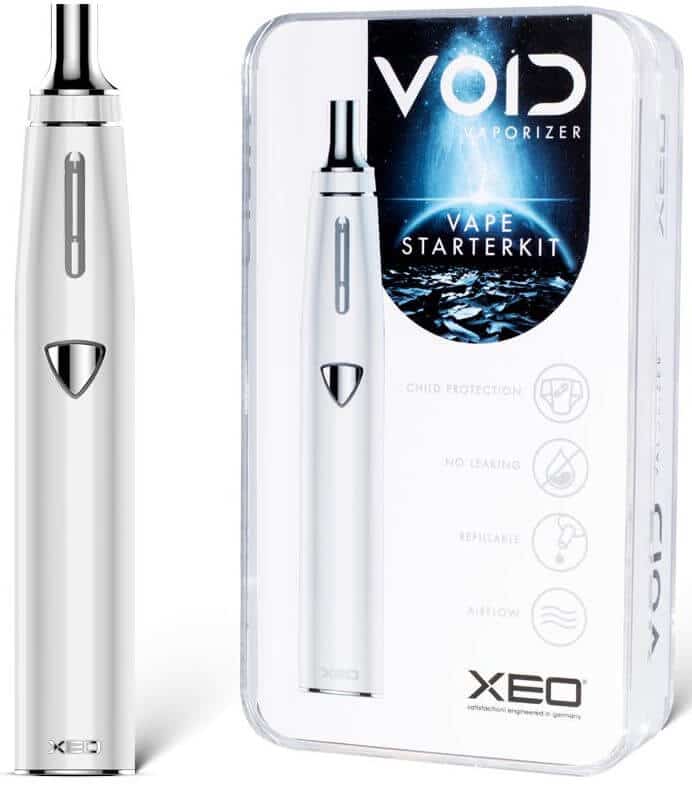 This kit comes in an attractive box that contains almost everything you need to start vaping.
Inside, you'll find the device itself with its all-in-one construction along with a micro-USB charging cable and two coils – one at 0.6-ohm and one at 1-ohm.
All you need is your favourite e-liquid, and you're good to start vaping straight away!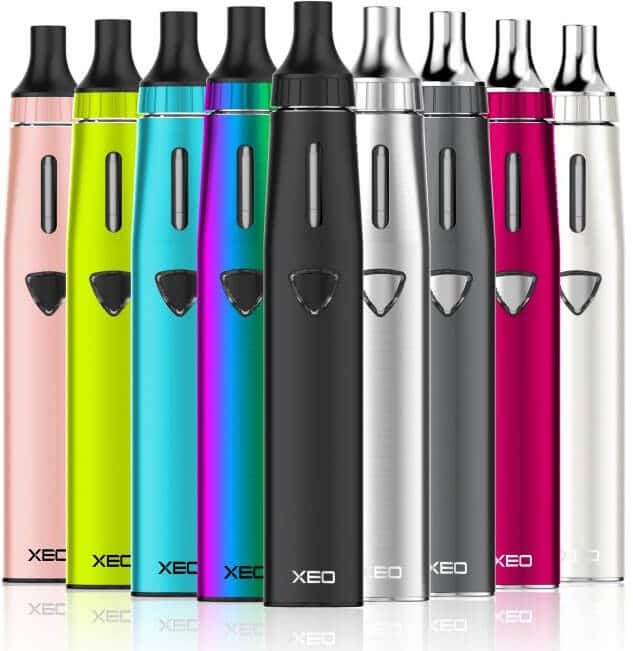 The XEO Void doesn't look too different to most other vape pens.
However, it does have one or two unique features that make it stand out from the crowd.
Perhaps the biggest difference lies in its slightly triangular construction.
Although it has rounded edges, its long body features three clear corners that prevent it from rolling if put down on a flat surface.
You'll also spot that the fire button has a triangular shape for greater uniformity in the design. 
The appearance of this device is stylish, with three oval windows that allow you to spot at first glance just how much e-juice is remaining before you need to refill.
The helpful "Max" label also helps you to refill without any spillages or hassles.
There are three different colour choices, all of which are very subtle – black, burst silver and gunmetal grey.
All of these are good for those who want a discreet vape for use on the go.
You can use the ring at the device's top to unscrew the entire top cap, but child safety has been considered here, and the top is child-proof for extra security.
Should you prefer to change the drip tip, you can, as it's 510 threaded and compatible with any other standard drip tip.
That said, the one that is provided is an excellent fit thanks to its conical shape, and it features an innovative spiral design on its inside to guard against spit-back.
Not only is the metal ring on the device's top the base of the top cap, but it's also used to adjust the airflow.
It's quite loose and simple to turn, so you can easily adjust your experience to suit your preferences.
Whether you're an MTL or DTL vaper, you're sure to find this device meets your needs depending on the coil that you choose.
So, how well does the XEO Void work?
You'll be pleased to hear that this device comes with two coils – a 1-ohm coil that's perfect for MTL vaping and a 0.6-ohm coil for DTL vaping.
If you're new to vaping and are trying to quit your cigarette habit, you'll prefer an MTL inhaling method.
The 1-ohm coil is great for this, giving you enough resistance to suit your needs when you use a low airflow setting.
Although the amount of vapour produced with this coil is quite modest, it should be enough for any beginner.
The flavour, on the other hand, is excellent since the e-juice is drawn in from the base of the tank to keep the wick well supplied.
The result is consistent performance, even when your e-liquid levels are running low.
If you really want excellent performance from this device, though, you'll prefer to use the 0.6-ohm coil.
If you're a more experienced vaper, you'll love the DTL draw from this device when the sub-ohm coil is fitted, and the airflow is fully open.
The vapour production is also of a high standard – maybe not enough for true cloud chasers, but the vapour is dense and fairly impressive.
As you'd expect, the flavour isn't as intense with this coil as with the 1-ohm one, but you certainly won't be disappointed, especially if you close off the airflow.
This device comes with two coils as we've already mentioned, so it's suitable for both MTL and DTL vaping.
If you're a new vaper who wants to upgrade their experience a little, this could be the perfect device for you, allowing you to start off with the 1-ohm coil and a low PG e-juice before moving onto the sub-ohm coil and a compatible e-liquid.
With both coils in the kit, you've got nothing to lose by trying both out to see which vaping style you prefer.
The Void is supplied with a 1,500mAh battery.
While this isn't a huge battery, it suits the needs of the device, and you can probably enjoy a full day of vaping using this device depending on how often you vape.
Even if you're a heavy user, you'll still find that the battery lifespan is impressive with this device.
The LED indicator will flash when it's time to recharge, and you'll find the charging process simple and speedy.
There is even pass-through functionality, so you won't have to worry about downtime.
Pros:
An all-in-one robust construction

User-friendly design for new vapers

Two coils come with the device for experimentation 

Great vapour production

Excellent flavour production

No leakage is experienced

A safe, child-proof design
Cons:
There's no variable voltage
If you're a newcomer to vaping and are trying to quit your cigarette habit, you're sure to like the XEO Void.
Designed with the needs of beginners in mind, this is a user-friendly device that won't disappoint you with its performance.
Even better, it allows you to upgrade your experience to a DTL vape thanks to its compatibility with sub-ohm coils, and since two coils come with the kit, you can experiment with your vaping style to your heart's content.