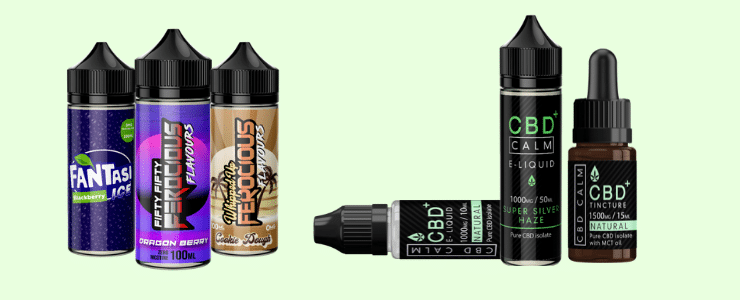 If you're looking for a vaping brand that offers an extensive range of quality products at a price that you can afford, you should certainly give Vapoholic a second look.
This UK-based brand brings discerning shoppers the best vape liquids at great prices from their line of carefully crafted e-liquids made in its own Manchester facility.
With discreet, speedy delivery and an impressive choice of hardware, shortfills, e-liquid flavours and CBD products, Vapoholic is ticking all our boxes. 

If you're a fan of grape soda, you're sure to enjoy Fantasi Grape Ice e-liquid.
Fruity and tastebud-tingling, this e-juice isn't just juicy but also extra-chilled thanks to the extra-cooling power of Koolada.
The result is a truly tantalizing flavour but with the ultimate polar blast that is a joy to vape on any hot day. 

If you're a fan of fruity flavours, you're sure to enjoy the Berrylicious e-juice that combines a host of juicy berry tastes into one carefully blended e-liquid.
The perfect choice for an all-day vape, you'll enjoy a blast of blackberry, strawberry and raspberry that will refresh you with its juicy sweetness.
It's a refreshing and thirst-quenching vape that you're sure to love.

If you can't decide whether a menthol or fruity vape is the right choice for you, this fruity menthol e-juice ticks all your boxes.
With its explosion of tastes, this e-liquid blends sweet and rich summer fruits with a blast of powerful icy menthol for a polar blast every exhale.
It's an ideal choice for any time of the day and will keep you feeling refreshed and cool when you need it most.

Vapoholic's CBD tincture is made from pure CBD isolate combined with high-quality MCT Oil for oral use.
Offering outstanding strength with no additional flavourings, this product contains 1500mg of premium grade CBD that has been third-party laboratory tested for contaminants and potency.
It is certified to be free of THC, comes in a 15ml child-resistant dropper bottle for ease of use and is fully MHRA compliant having been manufactured under GMP protocols in an ISO 7 clean room.

With its authentic taste, this CBD e-juice is flavoursome and delicious, truly capturing the classic 4/20 experience but with no unwanted psychoactive effects.
With its classic Silver Haze flavour, this product contains 1000mg of premium grade CBD isolate which has been fully lab tested for purity and potency.
It is MHRA compliant, manufactured in an ISO 7 clean room under GMP protocols. It's also fully guaranteed to be completely free of any THC, so you'll have nothing to worry about on that front.
Natural CBD E-liquid Shot 

Flavourless and natural, this CBD e-juice shot is suitable for use in all types of vaping device, offering true and full strength with no unwanted additional flavourings.
It's a simple and pure way of getting the CBD that you need, offering a choice of either a 1000mg or a 300mg strength.
Made from premium grade CBD isolate, the natural CBD e-liquid shot has been 3rd party tested for purity and strength and it's guaranteed to be THC free.
If you are looking for more CBD eliquid brands, you can find our list of best cbd vape oils here.
Vapoholic professes to be the most innovative online e-juice store in the UK, working hard to supply buyers with the highest-quality vape juices at a price that they can afford without ever compromising on taste, standards, satisfaction or safety. 
The brand has put considerable effort and time into creating top-quality e-liquids in their Manchester-based facility, and the result is a range of UK-made e-juices that are manufactured using high-quality, British-sourced ingredients in a cutting-edge production facility.
Their mission is to create premium-quality products but without the high price tag that usually comes with premium manufacturing.
To this end, Vapoholic has created an impressive range of shortfills, 10ml e-liquids containing a range of nicotine strengths, and CBD e-juices, all of which have been mixed in an ISO 7 clean room and all of which have an affordable cost.
Since the whole Vapoholic team are also vaping enthusiasts, they know exactly what customers want, and are dedicated to creating not only the most delicious e-liquid flavours but also the best possible level of customer service.
The Vapoholic team are on hand to help their valued customers at any time.
They can either be contacted via the online webform or via telephone on 0161 273 8216.
Vapoholic has ensured that all deliveries are well-packed and are in discreet packaging to suit their customers' needs.
Every order comes in either protective cardboard, bubble wrap, foam or air cushions to ensure that they arrive in perfect condition and all packaging is plain, so no unwanted attention is attracted to the order. 
Vapoholic uses the Royal Mail service to ensure customers' orders are received safely and quickly.
Hardware and e-liquid orders worth more than £50 are delivered for free via express services while free regular delivery is available on any order over £20 in the UK.
Any order placed on a weekday before 3 pm will benefit from same day dispatch within the UK, while any e-juice orders placed before 3 pm for Express delivery will be delivered on the next business day.
There are other delivery options available too:
Express Tracked Order Delivery available on all orders over £50 within the UK for an extra 50p. 

On all orders over £20, express delivery is available for an additional £1.95

or express tracked delivery for an extra £2.45.
Orders under £20 benefit from standard delivery for £1.95, express delivery for £3.45 or express tracked delivery for £3.95.
European deliveries are also possible for orders under £100 for £5 for standard delivery or £7 for tracked delivery.
International orders worth more than £100 benefit from free tracked delivery, but outside Europe, international standard deliveries worth under £100 cost £7 while tracked international deliveries cost £10.