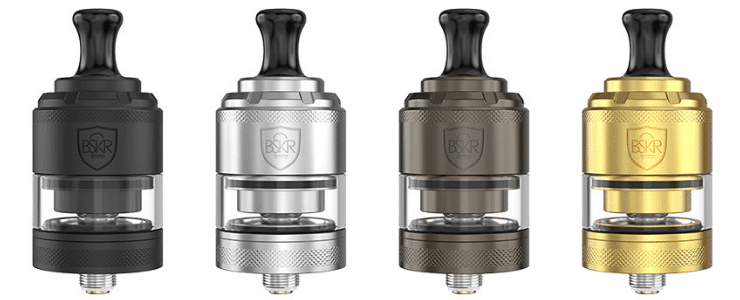 This Berserker V2 RTA by Vandy Vape is the next in a long line of very popular atomizers.
From the prior V1 and V2 models of RDA to the Mini, V1 and V1.5 of RTA, these products have been well-renowned for a while now, widely being considered as some of the best atomizers on the market.
This latest addition into the Vandy Vape Berserker RTA range has several improvements over its predecessor whilst maintaining its distinctly sleek look.
Airflow inserts, new tank designs, a new sliding RDA sleeve and a whole host of free add-ins are just some of the things you can expect with this latest model.
Vandy Vape Berserker V2 RTA Kit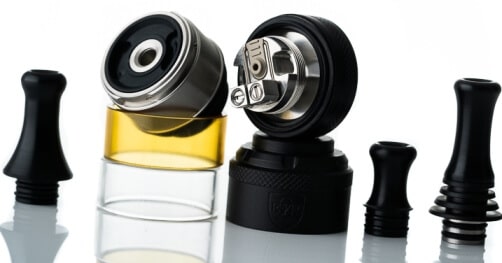 This is truly a kit that offers great value for money. There are a multitude of great accessories and add-ons included with this set.
Of course, included in the kit is the Berserker V2 MTL RTA. With this comes two alternative drip tips that can be easily removed, replaced, and swapped out on the fly.
One PEI tube comes with this set. Five separate airflow inserts are included, as are two separate Superfine MTL fused Clapton coils that measure 0.74-ohms.
A handy instruction manual is supplied with every purchase of the kit, clearly stating how to use the kit and all of its accessories. All of the contents of the kit can be contained in the handy carry bag that is included with the kit.
The tank itself has a capacity of 3ml and is made from a combination of both stainless steel and glass. A top-fill system is used to refill the tank, simply slide back the RDA top-cap sleeve, and enter your desired e-liquid.
Several airflow settings can be turned on when using the device, 0.8mm, 1.0mm, 1.4mm, 1.6mm and 2.0mm. All of these utilise the ingenious slot airflow system built into the tank.
Each and every aspect of this kit is of the highest quality. The build deck, glass tube, top fill ring, top cap and drip tip are all made with a combination of stainless steel and glass materials, thus producing a sturdy and reliable product overall that keeps a sleek-looking design.
These pieces fit together with practically no effort from the user at all. Simply twist each segment carefully to remove it. Each of the individual segments can then be cleaned, replaced, or tweaked; however, you see fit.
This kit comes in several colour options, subject to availability. These colours include classic matte black, stainless steel, gunmetal grey and gold.
Regardless of your choice of colour, you are sure to receive a product that looks subtle and stylish. 
Filling the Berserker is an incredibly simple task that requires only the most minimal effort from the user. As opposed to a traditional top-fill system used in most RTAs, this particular model has a top-cap feature that is much more akin to those used in RDAs.
This RDA sleeve pulls back to reveal the fill port gasket underneath, leading to the tank beneath. The sleeve operates on a thin locking rail that makes the action smooth and seamless.
Once slid back, remove the top-cap, and fill the device with whatever e-liquid you desire. Once filled, return the top-cap, and slide the sleeve carefully back over the hole and turn it counter-clockwise to lock it.
The whole process should take only a few seconds, especially once you have gotten the hang of it. This V2 model of the Berserker has a self-sealing port which ensures that no e-liquid will leak out of any part of the tank.
The self-sealing port has been said to cause issues with trapped air, but these cases are few and far between. There should be no concerns at all while using this device that e-liquid will spill out of the device.
The Berserker V2 uses a unique combination of both the included airflow inserts and the airflow control ring in order to provide a full MTL spectrum for the device.
It should be noted that the airflow ring may feel a little stiff at first, but it should be fairly easy to adjust after you've loosened it up a little.
To loosen the control ring easily, attach it to any compatible vaping device so that it doesn't slide around all over the place. If you hold the whole device by the tube section while adjusting the airflow control ring, it should make everything much easier.
The airflow inserts by themselves should produce great results, but when used effectively in conjunction with the airflow control ring, the mouth-to-lung vaping experience is like no other.
These controls let you tailor the vaping experience to your exact preferences at any moment in time. The airflow inserts themselves are incredibly easy to use.
Simply select the insert size you wish to use from the range provided (0.8mm, 1.0mm, 1.4mm, 1.6mm and 2.0mm) and insert it into the RTA.
Even vaping beginners should be able to use this system effectively with little additional help or guidance.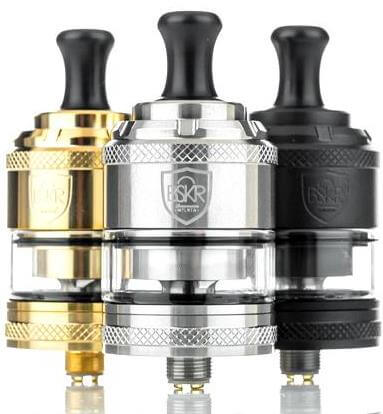 The whole point of this RTA is that it can be used in conjunction with the vast majority of other vaping devices. Simply attach it onto your favourite device, first making sure that it is compatible, then you should be off.
The vaping experience you then receive is largely dependent on the vaping device you have attached the atomizer to. However, the base level of performance quality that this kit has is undeniably high.
The previously detailed airflow options are certainly some of the reasons behind this high level of performance due to the sheer amount of customisation available for the user.
If you are looking for a mouth-to-lung vaping experience, then you should feel wholly satisfied with this Berserker RTA kit. The fused Clapton coils included in this kit work very effectively and last for a long duration before needing to be cleaned or replaced.
The Berserker build deck itself works very well, being incredibly customisable in nature and allowing for a number of different builds.
The performance level of this particular Berserker model is markedly better than that of its predecessors, making it the definitive Berserker RTA kit, especially for those who love MTL vaping.
The Berserker V2 RTA by Vandy Vape has several key defining pros and cons that clearly distinguish it amongst the crowd. Below is a list of these key elements:
Pros:
A fully adjustable airflow control via inserts and a control ring

Top-cap RDA-like sleeve that is easy to fill via a top-fill method

Self-sealing fill ports ensure that no e-liquid is lost
Cons:
Airflow control ring can be a little tight to adjust at first

Mainly for those who prefer MTL vaping
The Berserker V2 RTA is the perfect option for those who prefer mouth-to-lung vaping due to excellent airflow control options and high-level of performance, especially when this model is compared to past iterations.
There is hardly anything negative to say about this kit at all. Its high level of quality throughout is evident, and its inherently great level of customisation gives each user their own unique and personal experience. It is everything that you could want in an RTA.