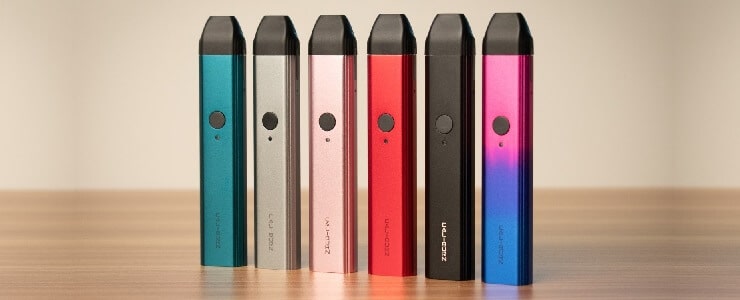 If you've used pod mods before but haven't been impressed, you might want to give the Uwell Caliburn a try.
This system has long-lasting coil heads, a superb finish and design, and is easy to use which makes it perfect for even the most inexperienced vaper.
The MTL draw, flavour and the ease of refilling all go in favour of this pod vape system and, even better, the price tag is pretty affordable.
So, should you invest in the Uwell Caliburn? Read on to find out more.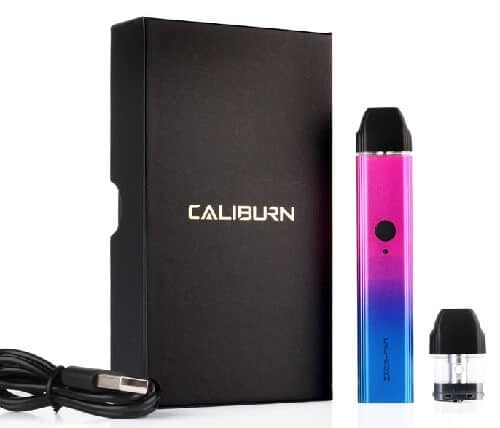 The Uwell Caliburn's design is a simple one, but that is, in fact, one of its top assets.
There is a single button on its battery section, a single small LED light to show the remaining battery light and an auto-draw system which is suitable for even newcomers to vaping.
The battery chassis is made from a solid aluminium alloy and even with the pod installed it weighs just more than 30g, making it a portable and lightweight choice.
Add to that its compact size and you'll find it a convenient choice for use on the go.
The USB port in the base can be used to charge the 520 mAh battery, and you can go from empty to full in just 30 minutes, so you'll hardly have any downtime.
Even better, the drip tip can be removed to hide the top filling system.
In fact, there are three different fill ports which are designed to support several bottle tips with no leakage, and with its transparent body visibility of your remaining e-liquid is easy. 
Inside the cartridge, the coil head is made from organic cotton and stainless steel and the build is parallel, something which is virtually never seen in pod vapes.
As a result, this device can produce much larger and more flavourful clouds than other types of coil head.
The kit comes complete with the Uwell Caliburn device and a pre-installed pod as well as a second 2 ml pod.
There is also a supplied USB charging cable and a user manual.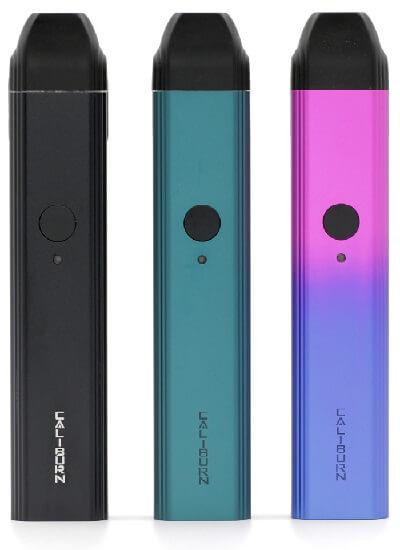 Measuring 110 mm in height, 21.2 mm in width and 11.6 mm in thickness, this device isn't the smallest on the market, but it is still very portable.
It also has a solid feel, but there isn't a lot of grip meaning you have to hold onto it careful to avoid dropping it.
The body is quite sturdy but lightweight, weighing around 34g when the pod is full or 25g without the pod installed.
The aesthetic is practical and simple with line engravings on the sides and an e-liquid indication window which makes it quick and simple to check your remaining levels.
It also comes in a choice of colours to suit your preferences.
The Caliburn's draw is one of its best features, especially if you like a restricted lung hit.
If you're a fan of extremely tight draws, this device probably won't be the best choice for you, but for most MTL vapers, the draw of this device will be satisfying with a smooth throat hit.
For a pod vape, the vapour production is also impressive, with warm vapour that is never too hot since the airflow allows a comfortable temperature to be maintained.
When the battery life reduces, the vapour cools down a little.
The battery capacity is 520 mAh, which is perfectly adequate for the 11 watts that it pushes out.
Usually, this battery life is sufficient to last for an entire day of vaping if you begin with a full charge, and it will generally last for around two or three refills before needing charging up.
If you press the power button a single time, it shows your battery level. If the LED light is blue, the level is between 30 and 60%.
If it's red, it's under 30% and you should think about charging up.
An added bonus of this device is pass-thru charging, so you won't have any downtime.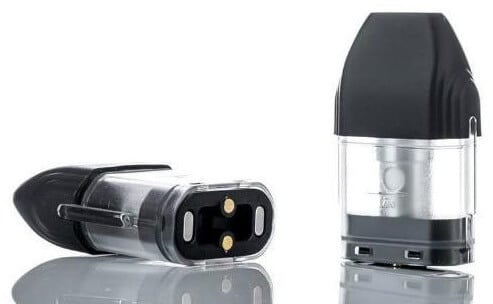 The pods are constructed well from a tough plastic material.
The airflow comes from two holes in the sides while the connection is magnetic gold-plated.
One slight quirk to mention is that although the magnets are pretty strong, there is still a small gap when the pods are dropped into the device, meaning you need to generally push the pod into place.
The pods use parallel coils as we mentioned before, which is something rarely seen in this type of vaping system, and two pods are supplied – one which is pre-installed and a spare.
The coils have no difficulty in wicking any type of e-juice and are long-lasting. It couldn't be easier to fill up the pods either.
Once you've pried off the mouthpiece (which isn't the easiest task), you simply fill the pod through the 3.5 mm fill ports at the pod's top.
Once the pod has been filled, the mouthpiece snaps back on easily and cleanly.
There are many reasons why you should consider buying this vaping system:
It produces a flavourful, warm vape

This device is both draw and button activated

The pods have an e-juice capacity of 2ml

The ramp-up time is quick

The wicking is efficient for all types of e-liquid

The battery capacity is 550mAh

The design is relatively compact and lightweight for extra portability

Charging is quick at around 30-45 minutes

The vapour production is very good for a pod-style vape

The lung draw is restrictive which is great for those who favour this type of vaping experience 
There are also a couple of negatives to bear in mind:
It isn't a true MLT draw

The mouthpiece can be difficult to remove

There are limited coil options 
Although this device isn't without its faults, it's a great choice of pod vape for anyone who likes convenience and portability with strong vapour production.
With its good design and easy refilling, it's a great option for use on the go, especially for those who prefer a restrictive draw.