The SMOKO company has been around in the UK for a while now, and its devices have proven to be popular thanks to their discrete and simple designs as well as the tight MTL draws which offer a throat hit that is comparable to what you would expect from a regular cigarette.
Whether you're a newcomer to the world of vaping or whether you're an experienced vaper looking for a portable device, you're sure to find something to like in SMOKO's range.
There are three SMOKO devices, all of which are portable, light and small and which are great for newcomers to the world of vaping.
THE SMOKO E-CIGARETTE STARTER KIT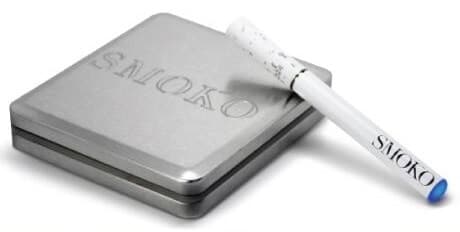 The SMOKO e cig starter kit offers the most realistic smoking sensation for anyone who is newly transitioning into vaping from smoking.
The user-friendly e-cig is simple to operate and has refills that are a breeze to change without compromising on style.
With its compact, discreet and small design, it can easily be taken anywhere – just charge it up, and you're good to go. 
THE SMOKO VAPE STARTER KIT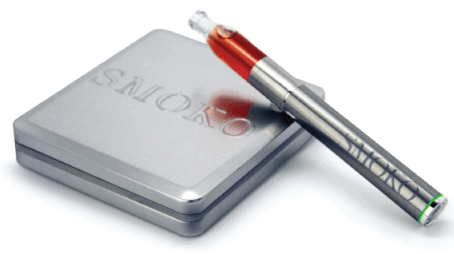 If you're a more experienced vaper who is looking for a more powerful experience with denser vapour production, you'll love the SMOKO Vape starter kit.
Just as simple to use as the original e-cigarette starter kit, it uses refill pods that are quick to change, but it offers longer battery life for use on the go.
THE SMOKO V-STYLE E-CIGARETTE STARTER KIT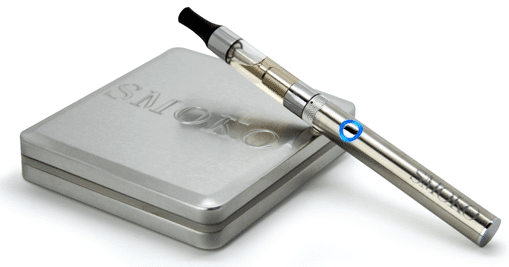 The SMOKO V-Style e-cigarette starter kit offers impressive vapour production to satisfy any more experienced vaper.
This refillable starter kit has longer life battery so you can charge it up and head out of the door with an all-day-vape in your pocket.
This devices uses SMOKO's premium vape liquid for a truly excellent experience.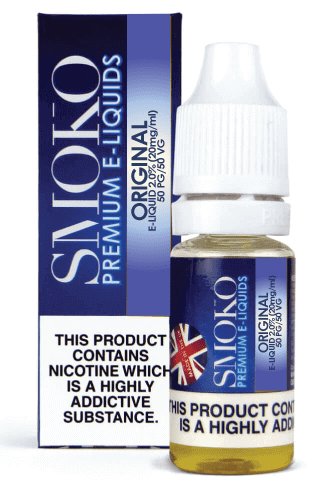 If you're a fan of sweet, dessert-inspired flavour e-liquids, you're sure to love the smooth and silky flavour of SMOKO's vanilla e-juice.
Packed with all of the taste you'd expect from a sweet dessert, you're sure to go crazy for this authentic-tasting vape with all of its flavours and ingredients that have been made in the UK.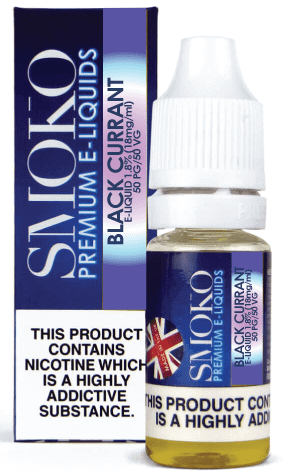 If you enjoy the fruitiness of a berry-flavoured vape, you're going to enjoy the refreshing blast you'll receive from SMOKO's black currant e-liquid.
One of the brand's newest flavours to be introduced to its range, it's packed with juicy black currants with just a hint of blueberry.
Fruity and intense, you're sure to find this the ideal vape at any time of the day, with all of its flavours and ingredients made in the UK.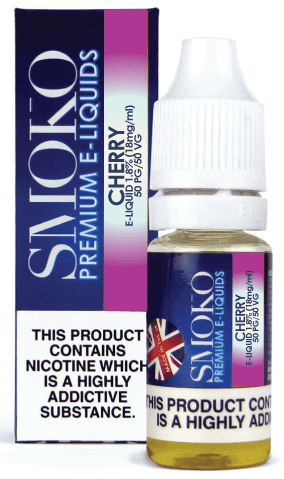 SMOKO's cherry e-juice has all of the richness and deep cherry flavour that you'd expect from a quality fruit-flavoured e-liquid.
Packed with plenty of intense juiciness and made only with flavours and ingredients from the UK, you're sure to love this tasty vape if fruity tastes are something you enjoy.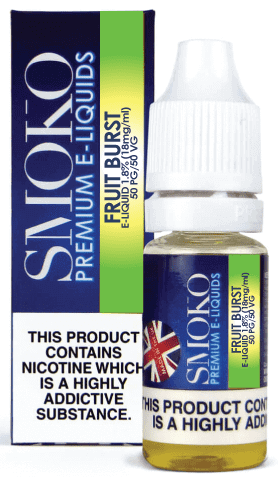 As you might expect from its name, this e-liquid is a true taste sensation.
With every puff, this e-juice delivers a powerful, fresh and fruity flavour that's hard to beat.
Packed with sweet fruity flavours, you're sure to find this the refreshing blast that you've been longing for.
Even better, all of the flavours and ingredients it uses are made in the UK. 
ENERGY FLAVOUR – E-LIQUID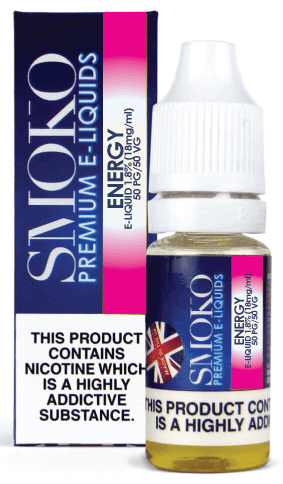 Are you a fan of energy drinks?
Then SMOKO's energy flavour e-liquid is sure to take your fancy with its exhilarating flavour.
You'll feel ready to take on the day when you have a few puffs of this in the morning, and you can enjoy all of the taste with none of the calories or sugar!
Similar to Monster or Red Bull, this vibrant and bold e-liquid has all the taste that you could possible require.
Whether you're a brand new vaper or whether you're already an experienced vaper, you're sure to find that the SMOKO brand has something that will satisfy you.
Their e-cigarettes are intuitive and simple to use, while their stylish designs are compact and portable enough to take anywhere.
In short, their range is designed to make quitting smoking a breeze. The brand also produces high-quality UK-manufactured e-liquids that are trustworthy, safe and, above all, delicious.
With a range of flavours and strengths to choose from, it's never been easier to find the right vaping experience for you.
SMOKO offers several ways in which customers can contact the team as there is a strong brand emphasis on excellent customer support.
The telephone helpline is open from Monday to Friday between 9 am and 6 pm GMT.
There is also an online live chat function available during working hours through the website.
For those who would rather communicate via email, you can send a message and receive a reply within business hours, usually within an hour or by the next working day.
Of course, it's also possible to send a letter through the post or even to visit the team in their high street store in Tunbridge Wells, Kent. 
As you would expect from a reliable British company, the delivery and returns policies are excellent and very reliable.
Free delivery is available within the UK on any order worth over £40.
Free international shipping can be obtained on any order worth over £100.
However, for orders under those values, the cost of shipping is still very reasonable, and packages are usually delivered within around two to four working days for Mainland UK destinations and 7 to 14 days for parcels being delivered overseas. 
When it comes to their returns policy, there is an excellent guarantee available.
Faulty or unopened packages can be returned to the company within a 14 day period, and a full refund can be received in return.
The only exception to this is e-liquids which cannot be returned, whether unopened or not due to hygiene reasons.