If you're looking for a portable vaping device, you'll be hard-pressed to find a better contender than the SMOK Novo 2.
If you tried SMOK's original Novo device back in 2018, you're sure to be impressed by its successor.
Almost exactly the same size but with nearly twice the battery capacity, this quality vape comes with two pods and is ideal for use with both nicotine salts and regular e-liquids.
So, is this device the one for you? Read on to find out whether the Novo 2 is the pod vape you've been waiting for all this time!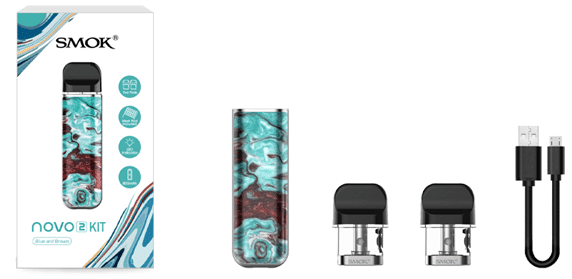 Whether you're a newcomer to vaping looking for an easy-to-use pod kit or whether you're an experienced vaper who needs a device to use on-the-go, the SMOK Novo 2 should definitely be on your radar.
This kit comes complete with the lightweight and compact Novo 2 device along with two pods.
One is a 1.0-ohm mesh pod which is perfect for use with standard e-liquids while the other is a 1.4-ohm dual coil pod which can be used with nic salts for a more diverse vaping experience.
Both pods have an e-liquid capacity of 2ml which should be sufficient to get you through the day without needing to refill.
You'll also get a handy USB charging cable which will recharge the 800 mAh battery as well as a user manual in the box, supplying you with everything you need to start vaping straight away. 

If the original Novo vape was the perfect size for you, you wouldn't be disappointed by the Novo 2.
Measuring just 88.3 mm in height, 14.5 mm in thickness and 24.5 mm in width, this is a small and compact device that is ideal for popping into your bag or pocket when you're out and about or on the go.
Even better, it can easily be almost entirely concealed in the palm of your hand for extra discretion if you're worried about vaping in public.
The body is rounded, and this makes it comfortable to hold, and since it weighs just 43g, it's very light to carry.
There are no less than 18 designs of the Novo 2 to choose from. Eight of them are resin-like designs, while six are iridescent/opalescent.
Some have cool skins which make these devices even more fun to use. 
One downside of this device is that the bottom is rounded, and this means it can't stand up independently.
As a result, you'll need to lay it down on its side when not in use. While this doesn't affect the performance, it can be irritating.
This vape is draw activated, making it incredibly simple to use, even if you're a newcomer to vaping. With no buttons of any kind, there is absolutely no learning curve. 
The Novo 2's performance hits the spot in all areas of performance. If you're shopping for a pod vape, this one will tick the box of being sleek and portable as well as attractive.
It also has an impressively long battery life while also being easy to use.
The flavour is pretty good from this device, and since each coil head lasts for several weeks, it represents good value for money.
While this isn't the best vape out there for vapour production, it's a solid performer and will give you a decent experience, especially when you take into account its affordable price tag. 
Perhaps the best feature of the Novo 2 is its battery. At almost twice the capacity of the battery used for the original Novo device, it can last for around two days, even if you're a heavy vaper.
The LED on the device's front signals the battery charge level so you can recharge before you run out of power.
When the light is orange, you have between 70% and 30% of battery life left, and when the light turns red, you know you should get out the charger since the draw will be noticeably weaker.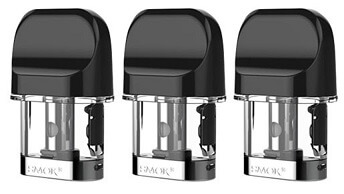 Novo 2's pods are curved, and this makes them an excellent fit for the lips with a mouthpiece made from black, smooth plastic.
Even better, the pod is clear, so you'll have no difficulty seeing the level of remaining e-juice without having to remove the pod.
This saves you a lot of hassle.
Two pods come with this device, both of which have non-removable inbuilt coils.
The 1.4-ohm pod is great for MTL vapers as it has a restricted draw.
It's also ideal for nicotine salts while the 1.0-ohm pod is great for regular nicotine-containing e-liquids.
Whatever your preferred VG/PG blend, you'll find the pods wick well, and you'll get no dry hits.
These pods don't leak either, so you won't have any mess to contend with.
There are a lot of excellent reasons to choose the Novo 2:
Good flavour production

Both pods wick well

The draw is good, especially for MTL vapers

The battery life is long

The pods last a long time

You have a choice of two pod types to vary your vaping experience

The design is small and lightweight making it extremely portable
There are a couple of downsides too, however. The main issue is that the device won't stand up independently due to its rounded base.
This means you need to either hold it all the time or lay it down on its side. 
If you're looking for a pod vape, you'll find that the Novo 2 is definitely the best pod vape to come from the SMOK brand to date.
In fact, it gives other brands of pod vape a run for their money.
The pods are long-lasting and deliver impressive flavour while they wick all kinds of e-juice perfectly.
With the long battery life thrown in, it's easy to see why you might want to consider buying this device, whether for everyday use or as a convenient and compact travel vape.