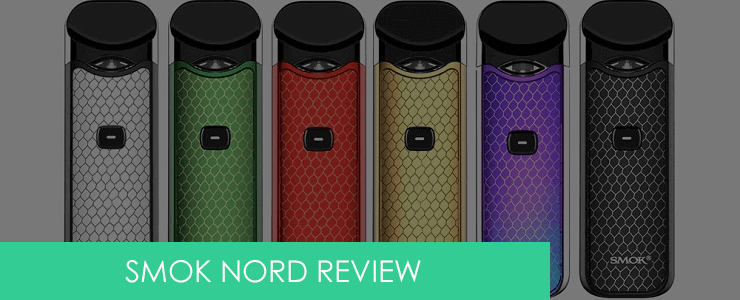 More pod systems are being introduced to the market on almost a weekly basis, however, when you compare the different options, it can be hard to know which ones represent decent value for money.
Yet one name seems to stand out from the crowd – Smok!
Smok is one of the biggest players in the vaping arena, and their Smok Nord pod device is unique thanks to its functionality and stylish appearance together with its host of exciting features.
Unlike most other pod-style vapes, the Smok Nord gives vapers more control over their experience, blurring the line between a traditional vape tank and a pod system thanks to the inclusion of a button-operated battery and replaceable coils.
Some users have even classified it as a super-portable mod. However you choose to classify this device, is it actually any good? Here, we take a closer look.
The Smok Nord kit is, essentially, a stylish and super-portable pod style vaping system which comes complete with the pod mod itself, a 1.4-ohm coil for mouth to lung vaping and a 0.6-ohm mesh coil which allows for sub-ohm vaping too.
You'll also find a manual and a USB charging cable included in the kit which is supplied in a compact, simple box.
This is pretty standard for a pod-style vaping system since they're fairly simple when compared to a box mod.
It might not come with the most comprehensive array of accessories, but it's certainly sufficient to get you started with vaping.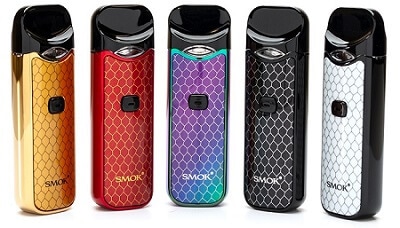 If you're already familiar with other Smok atomisers and mods, you'll instantly spot the identical cobra pattern design on this pod system too.
The Smok Nord is a bigger and better version of an earlier device produced by this brand – the Nova – and its design and shape are both extremely similar.
The cosmetic differences lie in the fact that the Nord is slightly larger and features a fire button which serves not only as the power button but also as the battery indicator.
In terms of specifications and features, however, the Nord is streets ahead of its older sibling.
Its battery capacity is larger for a start. The 1100mAh inbuilt battery is the biggest available in any pod system and is substantially longer lasting than the Novo's 450 mAh battery.
Another upgrade comes in the form of an easy-filling side port covered with a rubber gasket which makes filling up the pod a breeze.
The only downside with the design is its e-juice window which won't display low levels of e-liquid unless you turn it upside down!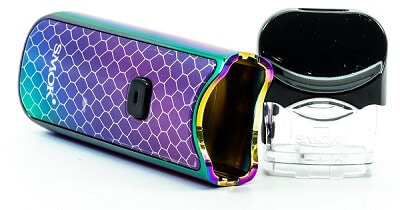 So, how does the Smok Nord perform? Well, the answer to that is – pretty well!
It comes complete two different coil heads to suit your vaping style, so if you're into sub-ohm vaping, you'll love the Nord Mesh coil head which has been designed for cloud chasing.
With its 0.6-ohm resistance, it really gives the impression of vaping with a high power mod – pretty good since this mod only outputs 10-15 watts.
The 1.4-ohm coil head is ideal for MTL vapers or anyone who's chasing flavour.
Although you'll get a lot less vapour production with this coil, the excellent flavour more than makes up for it, and you won't have to compromise too much – you'll find the vapour output easily rivals some of the best vape pens.
If you're new to vaping, you're going to really appreciate the tight draw, but even long-term vapers are still going to enjoy the experience this device offers.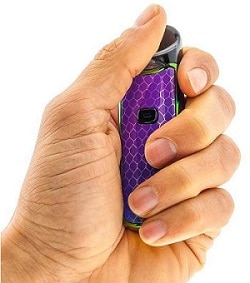 The Smok Nord is compact enough to take virtually everywhere.
Measuring just 30mm in length, 18.8mm in width and 94mm in height, it may be a little heavier and larger than most of the other pod systems available these days, but its large battery capacity makes up for its extra heft.
Its design and shape also make it even more portable since it's easy to pop into a pocket when you're around and about.
With its larger-than-average battery capacity, this pod device will last for over a day as long you aren't a heavy vaper, and you'll have no trouble charging it either thanks to the integral micro USB port.
What are the pros and cons of the Smok Nord? Let's get down to basics.
Pros:
• Extra-large battery life
• Stylish design
• 2 supplied coils to suit both MTL and DTL vapers
• Excellent flavour and vapour production
• Easy to refill pods
• Integral fire button gives you more control over your vape
• Compact design for easier portability
Cons:
• Some vapers may find that there is too much airflow for MTL vaping
• It's difficult to check the level of e-juice without turning the device upside down
If you've been on the lookout for a portable, compact mod which can give you the quality flavour and impressive clouds that you desire, the Smok Nord is probably going to tick a lot of your boxes.
Since it comes complete with two coil heads, you've got the option of either sub-ohm or regular vaping, and with its long battery life, you won't need to recharge so often.
This makes the Nord a great choice for vaping on the go.
Widely believed to be one of the top pod-style vaping devices available for purchase today, the Smok Nord kit offers flexibility along with a user-friendly design.
Its all-in-one construction means you can enjoy either MTL or DTL vaping in a lightweight kit that you can take wherever you need to go.
With its simple features, stylish design and sturdy construction, this is an ideal pod style vaping device for newbie vapers or experienced vapers seeking a good quality portable vape that's convenient and easy to use while out and about.
Thanks to its affordable price tag, you'll get everything you need from your pod system without breaking the bank.
In short, the Smok Nord is a versatile, well-performing system that ensures a good vaping experience – it's certainly well worth trying!