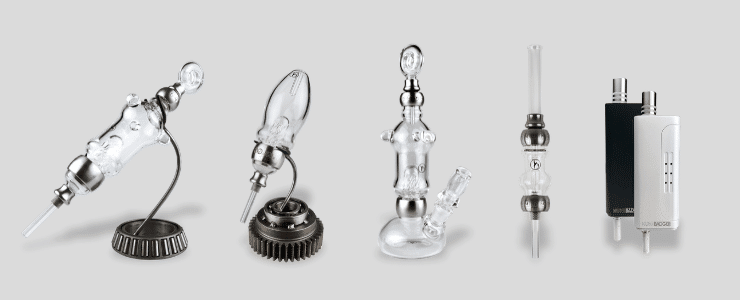 Nectar Collector is a USA-made brand that specialises in producing vertical dab gear.
Their user-friendly designs use in-line water filtration for a spill-proof result together with artistic and hand-crafted styling and interchangeable tips to give you even more control over your concentrates.
If you're looking for an alternative to a traditional rig, you should definitely give Nectar Collector's patented designs a try.
Nectar Collector Honeybird Kit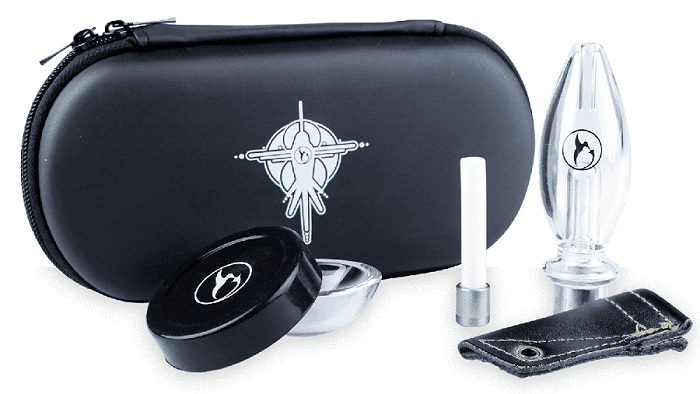 If you're looking for a smaller and more portable dab kit, the Honeybird kit is the ideal choice.
Designed to be more portable than its rivals, this next-generation vertical vaporiser is designed to give full-size hits despite its compact dimensions.
With a 2.5-inch spill-proof borosilicate glass bubbler and a 510 thread collar that is compatible with ego style batteries, this kit comes complete with a Honeybird Core, a Parabolic Bird Feeder dish, a protector, a case, and your choice of titanium, quartz or ceramic tip. 
Nectar Collector Honeybird Simple Kit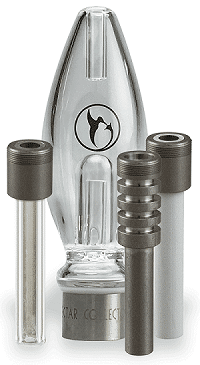 If you need a simple, user-friendly way to get started with dabbing, the Honeybird simple kit will tick your boxes.
This is the most basic kit supplied by the Nectar Collector brand and only contains the essentials that you require to use concentrates efficiently and with ease.
Containing all you need to dab and go simply, this kit comes with only the Honeybird core together with your choice of titanium, ceramic or quartz tip representing a great value option. 
Nectar Collector Honeybird Survival Kit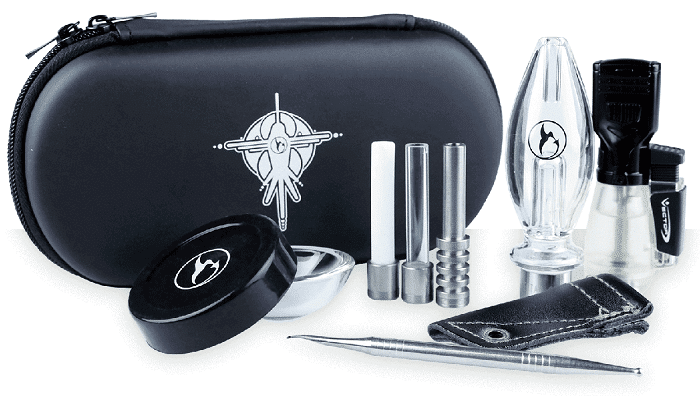 The Nectar Collector team have intensively field-tested the Honeybird Survival kit in the harshest environments.
They have finally determined that it's the perfect choice for use in even the most rugged places on earth.
Durable and highly functional, and yet incredibly simple to use, the Survival kit is something you absolutely must take with you when you head off on an adventure.
This kit comes with the Honeybird Core together with a Vector Drone Torch, a Parabolic bird feeder disk, a protector, a Grade 2 Titanium dab tool, a protective carry case and your choice of either a threaded quartz, ceramic or titanium tip.
Nectar Collector Honeybird Pro Kit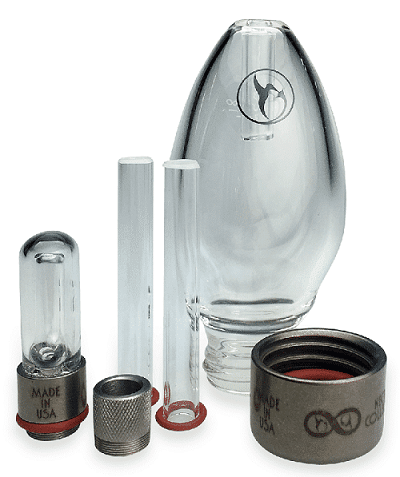 When you need a dab kit that uses the latest in cutting edge technology, the Honeybird Pro kit is the one for you.
The first fully modular dab rig that the world has ever seen, the Honeybird Pro uses a stainless steel collar with revolutionary threaded glass that allows the inner components to be removed from the device.
As a result, you can easily replace, upgrade and clean the rig's internal components.
Made by hand in the USA, this kit is patented, signed and numbered and even comes with a lifetime guarantee on its glass workmanship.
The Pro kit comes with the Honeybird Pro Core along with an Infinity Tech single hole diffuser and 24-400 connector, a Stinger Tip Core and a Stinger tip Connector.
Nectar Collector Honeybird Delux Kit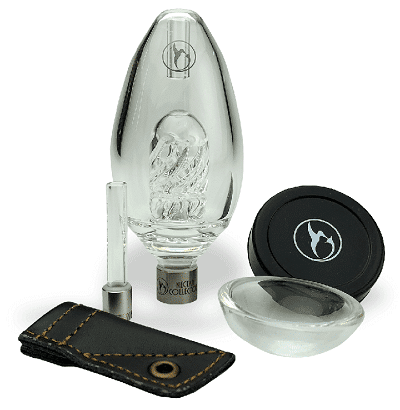 If only the very best in dabbing technology will do, the Honeybird Delux kit will suit you down to the grown.
You can take vaping to a whole new level with the Delux that delivers clean and pure hits from giant rips right down to tiny sips.
Even better, it's small enough to fit right into your palm. Portable dabbing has never been so easy!
This kit features Vortex Venturi percolating technology, so water surface tension is reduced by over 30% – it's no wonder that this kit has reached the pinnacle of vertical vaping technology.
This USA handmade kit is patented, signed and numbered and comes complete with the Honeybird Delux Core, a Parabolic bird feeder dish, a protector and a threaded quartz tip. 
Originally conceived in Oregon's backwoods, the Nectar Collector brand was born of the need to simply the process of utilising concentrates even in the mountainous and rugged conditions of the local environment.
At its original conception, the Nectar Collector was a simple straw – a glass pipette that had been bought from a chemistry supply store.
However, in 2011, the brand's Jefe Z approached Kristian Merwin, a world-class maker of glass pipes, with his idea of vertical dab gear and so the Honey Badger straw came to life.
Just a few months later, Kristian had come up with a brilliant design for a water-cooled, in-line, spill-proof vertical dab unit.
As soon as he came up with the concept, he had to rush off to his studio to make one and wasn't disappointed when just an hour later he was already taking hits from the first-ever Nectar Collector.
When water filtration was added into the mix, the vertical dabbing concept was complete, and using concentrates would certainly never feel the same ever again! 
Nectar Collector values their customers and encourages them to get in touch with their comments, questions and issues.
Their website has a "contact us" section where you can complete a webform, and the team will get back with their response as quickly as possible. 
The brand has put in place a quality control system to ensure that customers are delighted with their handmade purchase.
However, for anyone who isn't entirely happy with the product they receive, they are encouraged to contact the team to allow them to put things right. 
Nectar Collector is committed to sending out all orders as quickly as possible and ensuring that every purchaser is happy with the products that they have bought. 
However, in the event of a problem, the brand has a returns and repairs portal where any customer can report an issue with a purchase online.
A webform can be completed with all the relevant information, and then a representative will respond within 1 to 3 working days via the customer's email address.
All valid returns then receive a return authorisation form and a return shipping label that allows for free postage, so customers aren't out of pocket.