Whether you're looking for the perfect starter kit to get your vaping off to the best start or whether you're looking for delicious flavours and refills you might want to consider buying a product from the Magic Mist collection.
This brand sells high-quality vaping devices and fantastic refills to suit all tastes, so read on to find out more about whether this could be the range you've been looking for.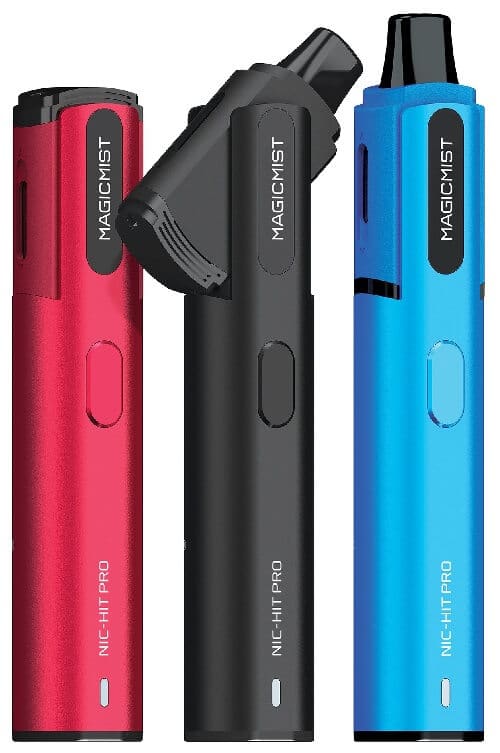 The Nic-Hit Pro device kit is the latest word in pod systems, delivering an excellent nicotine hit that is three times faster and that lasts twice as long for a more cigarette-like experience.
This makes it the ideal choice for anyone who is trying to quit their smoking habit.
Its large pre-filled pods are quick and easy to swap while the entire device boasts a choice of iridescent, beautiful finishes. 
This is a tiny device, but its 500mAh battery offers double the capacity of most other pod systems.
It can also charge to 75% capacity in less than an hour.
Meanwhile, its spin-to-close mouthpiece design keeps dirt and fluff from getting into your mouth when you vape.
Essentially, this is a well-built device that is perfect for beginners.
Realism Pro Black Starter Kit

The Realism Pro is a surprisingly powerful device for its size, designed to give an impressive hit and Hyper-Real vapour in an e-cig that is the same size as a regular tobacco cigarette.
Discreet and portable, this device has been engineered to offer a vaping experience that is extremely close to smoking, while its fast-charge means that it reaches 80% capacity in just half an hour.
The leak-free pre-filled refills are quick and easy to change and even feature windows so you can see at a glance the amount of e-juice you've got left. 
Magic Mist produces three different types of refills to suit their different devices.
These come in a range of delicious flavours that suit the tastes of all types of vaper. 
The Realism Pro cartridges are designed to give a similar level of satisfaction and hit as a regular tobacco cigarette, utilizing the most cutting-edge technology to provide a thick, warm vapour with a texture that is close to smoke to make quitting smoking easier.
There are five different strengths of Realism Pro cartridge to choose from, from 0mg up to 20mg.
There are also three different flavours to suit different tastes.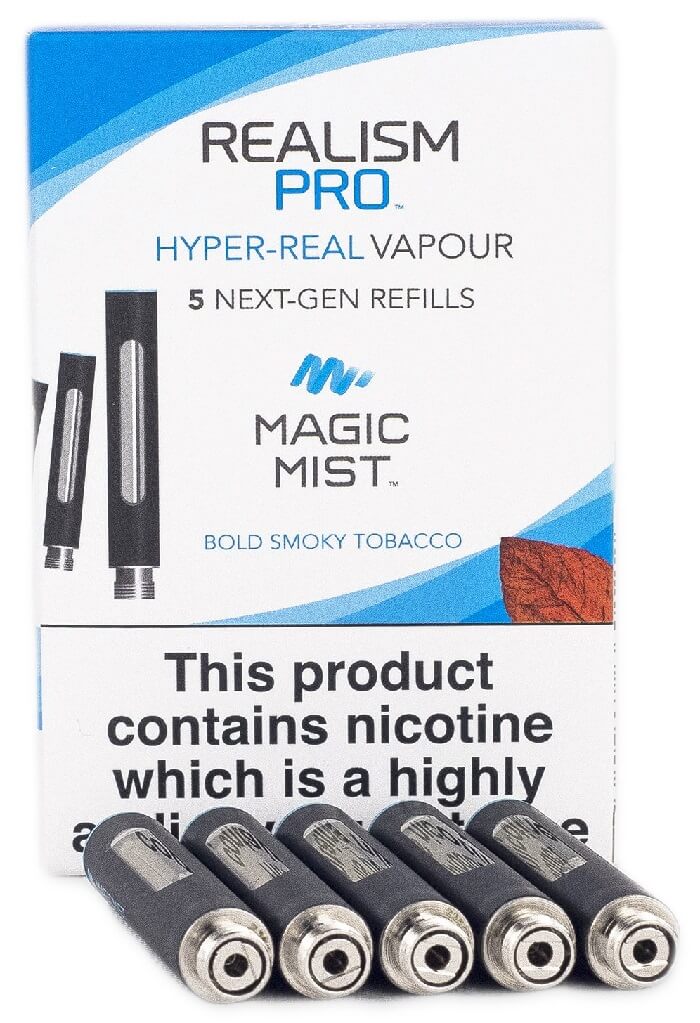 You can tell everything you need to know about this e-liquid from its name.
The Bold Smoky Tobacco flavour refills are ideal for anyone who prefers a strong and powerful taste.
Similar to a strong cigarette, this e-juice is the perfect choice for anyone who wants a real throat hit that won't fail to hit the spot.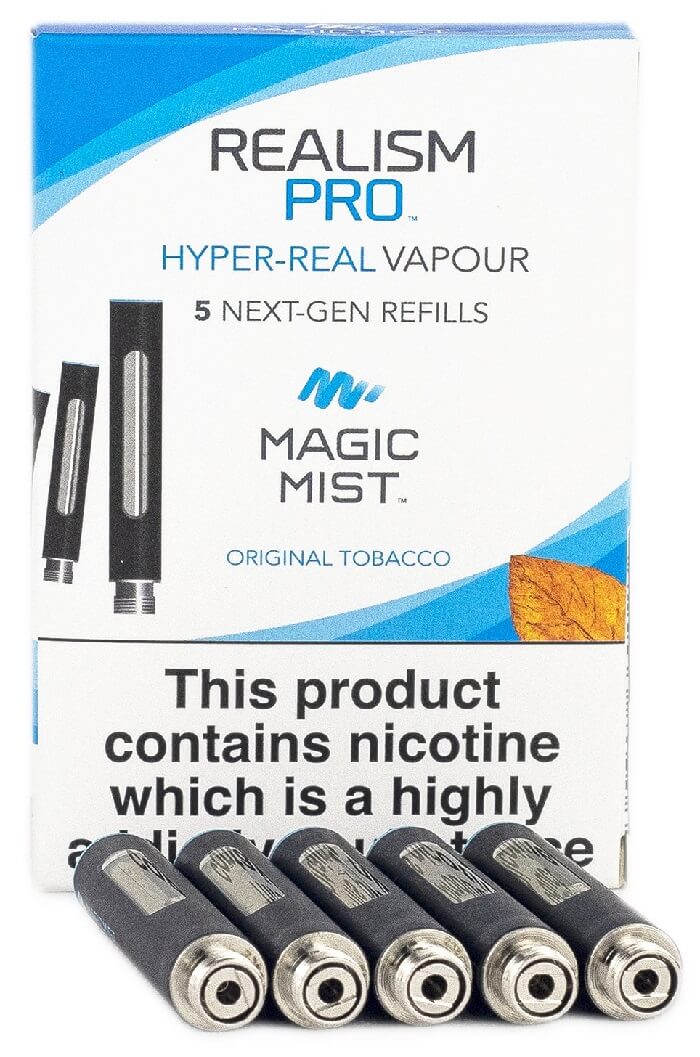 The ideal e-juice for anyone who is transitioning from smoking, the original tobacco refill has a classic cigarette flavour that makes it easier to quit the habit.
It offers a taste that is as close as you can get to regular cigs, with enough of a throat hit to satisfy.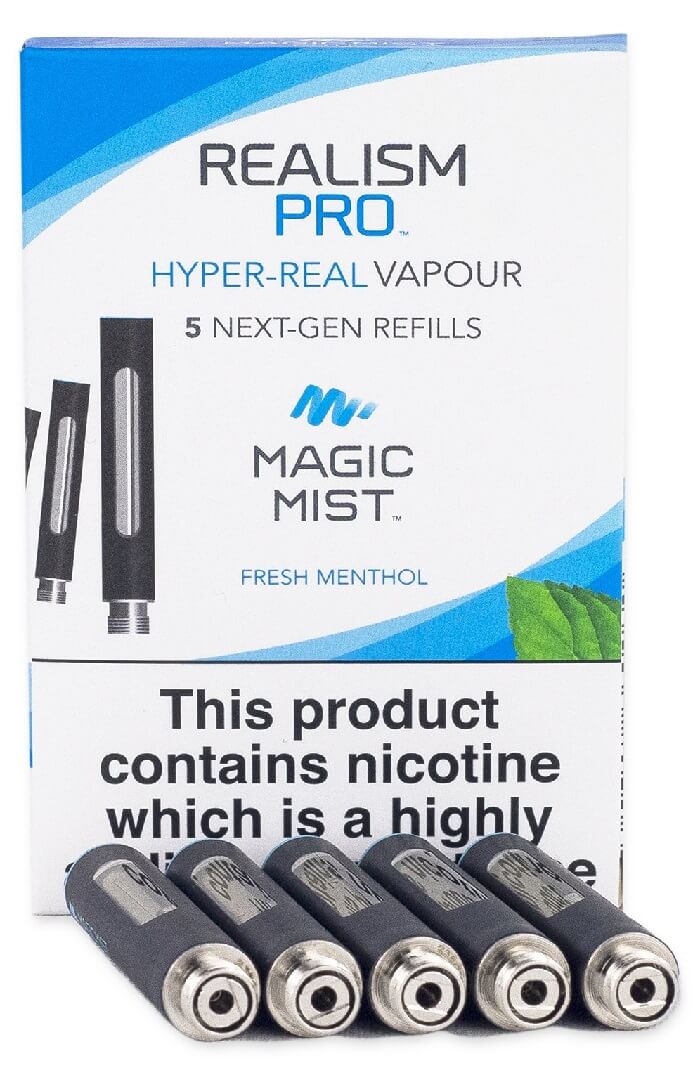 If you're looking for an e-juice that offers a refreshing hit, you should definitely look no further than the fresh menthol refills.
The icy menthol taste is a blast on the palate while the choice of nicotine strengths helps you to feel more satisfied as you work towards quitting smoking.
Thanks to the latest research and most cutting-edge designs, the Nic-Hit Authentic pods will never leak e-juice.
They come in a choice of ten ultra-realistic flavours in a choice of either 12mg or 20mg nicotine strengths.
These large pods contain 1.9ml – double the size of lots of their rivals, and they can be switched out in under 2 seconds without any mess.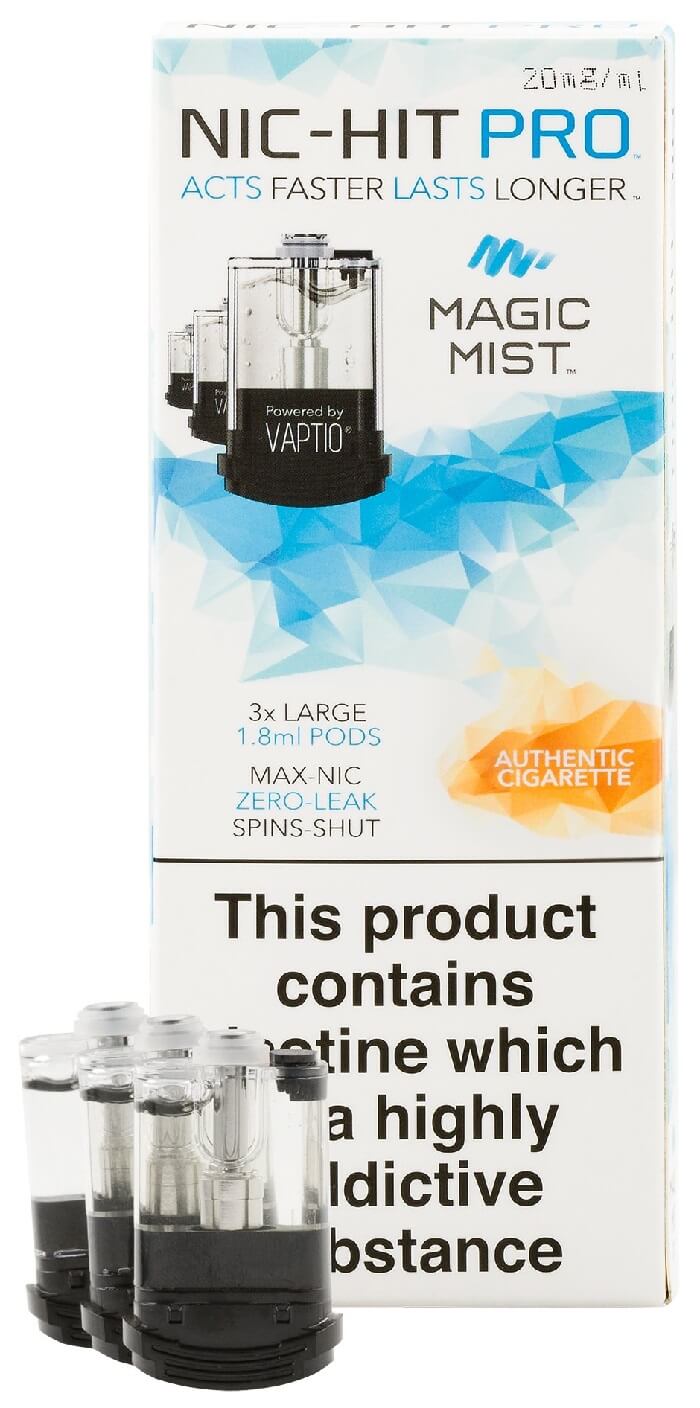 For anyone trying to quit their smoking habit, the Nic-Hit Authentic Cigarette pod is the perfect choice.
With its traditional cigarette-like taste and classic throat hit, it offers all of the satisfaction you need to help you give up smoking for good.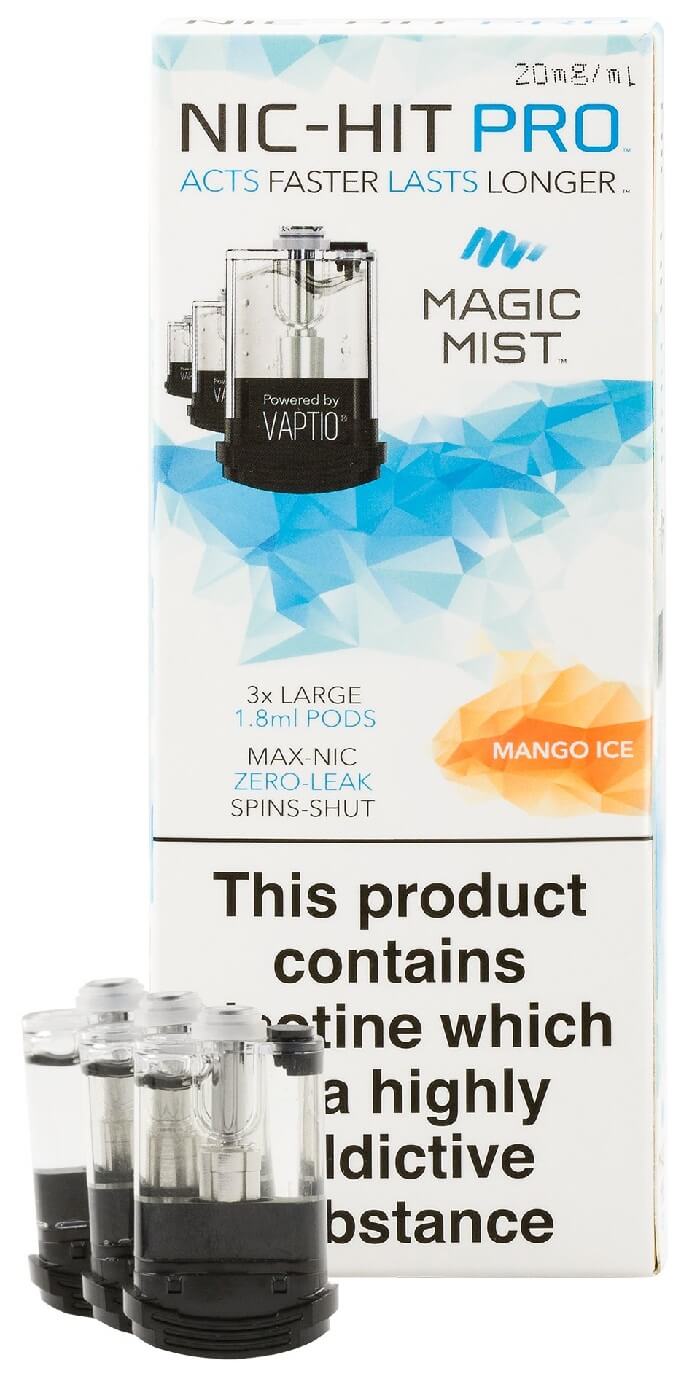 If you like fruity flavours, you're sure to appreciate the tropical blast of the Mango Ice pod.
A true taste of the Caribbean, this deliciously refreshing e-juice won't fail to make you feel as if you're on vacation with all of the mouth-watering juiciness of ripe mango.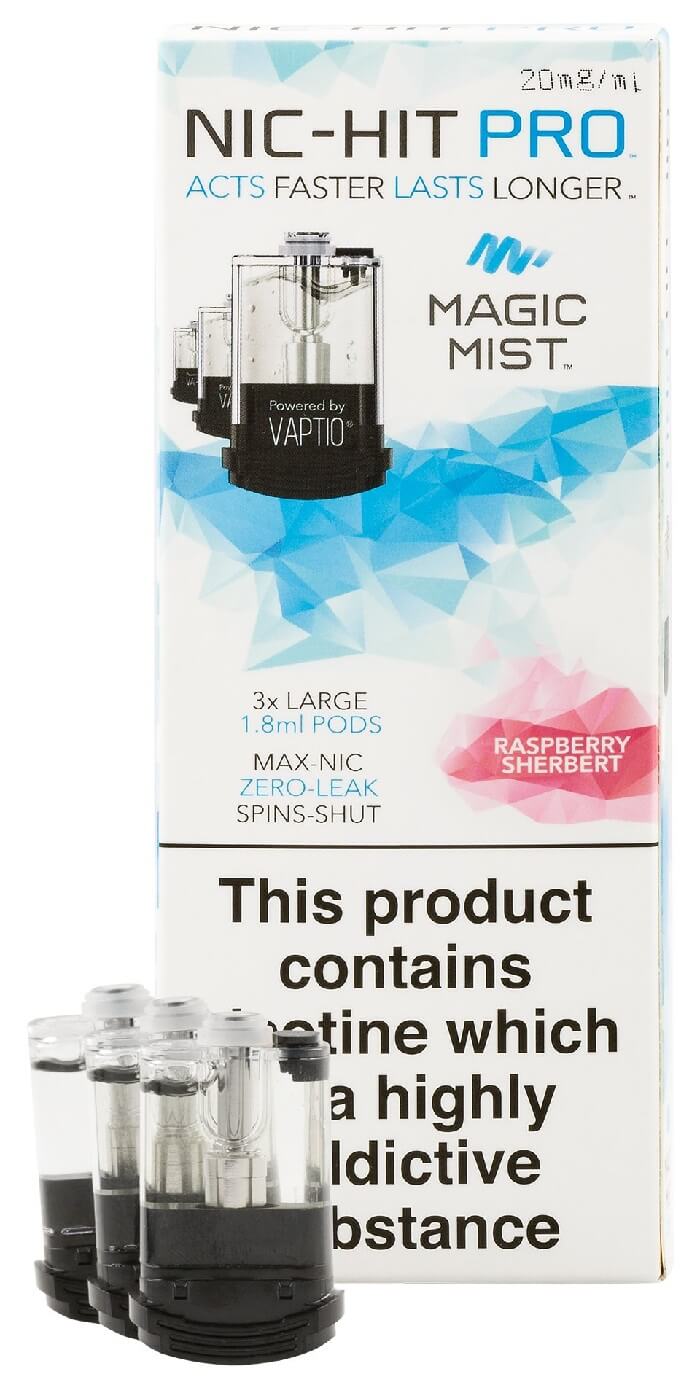 The perfect mix of fruitiness and tartness, the Nic-Hit Raspberry Sherbert pod tantalizes your taste buds with its refreshing hit.
If you prefer your e-liquid to be juicy and delicious, you won't be disappointed by this refill.
If you're looking for delicious gourmet e-liquids in a wide range of flavours and tastes to suit all preferences, the Magic Mist collection is ideal for you.
From traditional tobacco to fruity and dessert flavours, there's something for everyone to enjoy.
Strawberry Cheesecake Gourmet E-liquid
With its fruity yet creamy taste, the strawberry cheesecake gourmet e-liquid is the ideal choice for anyone who loves dessert flavours.
It comes in a choice of 4 nicotine strengths – 0mg, 6mg, 12mg and 18mg – and produces a seriously impressive throat-hit along with the maximum vapour.
With its fruity and sweet balance, this is a delicious vape for after a meal. 
Seriously Juicy Peach Gourmet E-liquid
Juicy, fruity and seriously refreshing, the Seriously Juicy Peach Gourmet e-liquid is a treat for your tastebuds.
If sweet e-juices are your thing, you won't be disappointed by this tasty flavour that combines the sweetest and juiciest peaches together into a thirst-quenching smoothie. 
Sparkling Orangeade Gourmet E-liquid
Offering all of the refreshing taste of a long drink of sparkling orangeade, this juicy e-liquid is a sweet treat for any time of the day.
Zesty and tangy, it balances sweetness with orange flavour for a delightful and delicious vaping experience. 
Magic Mist is proud to be one of the original American e-cig companies that are now paving the way in Europe with its great-value, advanced products.
With a mission to provide everybody with an affordable alternative to expensive, poor-quality vape products, Magic Mist is a large retailer that is a specialist in gourmet e-liquids and cartridges that offer an experience that is the best-tasting and thickest around.
The brand has designed advanced batteries with speedy charging times and a long lifespan as well as cutting edge iTaste, Evod and Ego ranges that offer a premium vaping experience.
Magic Mist put their customers' satisfaction ahead of everything else, and this is why they offer several ways via which their support team can be contacted.
You can email their customer services, and they aim to reply within just a few hours and, at the very least, within one day of receipt.
There is also a telephone helpline which is open between 10 am and 7 pm on weekdays.
In the UK, calls are included in mobile free minute bundles.
It's also possible to write to the company at their head office address in Croydon.
Magic Mist is committed to processing and dispatching all orders placed before 4 pm on the same business day.
Delivery usually takes one or two days, with 95% of all orders being received on the day after ordering.
It's also possible to choose a guaranteed next-day or insured UK or European courier delivery, with European delivery taking between 3 and 10 days.
Worldwide delivery is also possible on any order over £25. 
The company offers a 30-day guarantee on all purchases.
Any unused and unopened item can be returned within 14 days, and you can receive a refund or exchange.
Faulty items can be replaced during their warranty period with no return postage costs to pay, although return postage will need to be paid on the return of any non-faulty items.