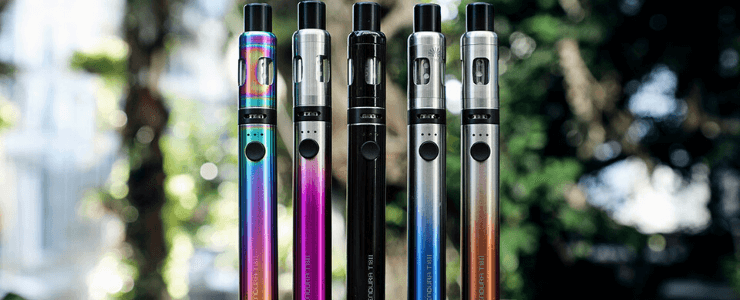 If you're ready to quit smoking for good, you need to find the best vaping starter kit for you, and the Innokin Endura T18 II could be just what you're looking for.
Made by a well-known and popular brand, this device could be the perfect choice for beginner vapers thanks to its user-friendly and convenient design.
Portable, compact and convenient, this device is well-designed and affordable, making it a great option if you're vaping on the go. 
Innokin Endura T18 II Kit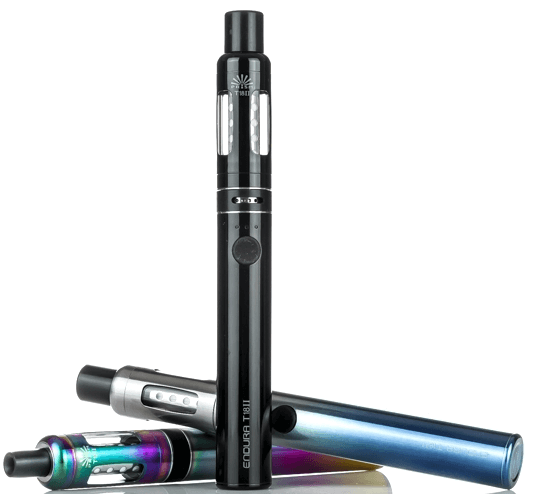 When you open the box of the Innokin Endura T18 II kit, you'll find not only the device itself but everything you need to start vaping apart from your favourite e-juice.
You'll find a micro USB charging cable to recharge your device along with a magnetic hygiene cap, a set of spare O rings and a spare drip tip.
You'll also find that the device already comes with a pre-installed coil together with one replacement coil, and there's also a helpful user manual with a quick start guide so you can get started with vaping as quickly as possible.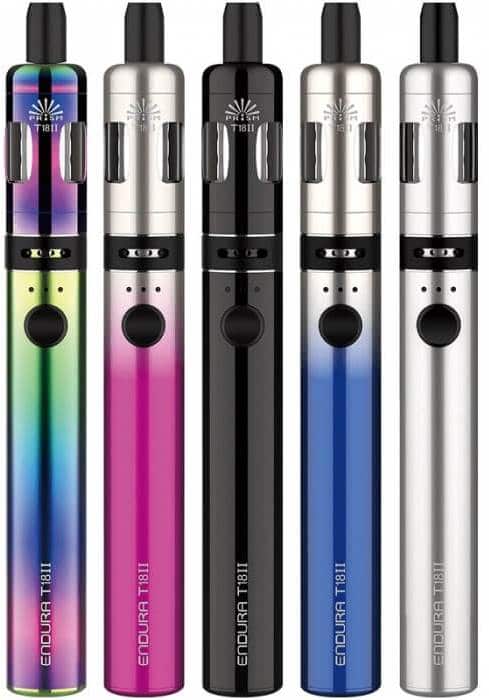 Measuring 96mm by 18mm, the Innokin Endura T18 II is the perfect size to pop into a bag or pocket.
With its strong metal design, it's also durable and solid with no wobbling or rattling to worry about.
There are several colours to choose from, so whether you prefer a basic single colour design or an attractive rainbow body, you're sure to love this device.
The airflow control is inbuilt in the battery rather than the tank, and there are four small holes which allow the airflow to be easily adjusted.
You'll find the charging point on the reverse of the battery so that it can be accessed without any difficulties. 
When it comes to controls, you'll have no difficulties getting to grips with this device.
The stick is pretty simple, although with some possibilities for adjustment.
It is operated simply with the fire button. Three LEDs are found over the fire button to tell you how much battery is remaining.
Three lights mean that the battery is full, two lights mean that the battery is half full and one light means that it's time to recharge soon.
There are three output modes to choose from – low (10.5W), medium (12W) and high (13.5W).
You can turn the device on, off and cycle between modes by pressing the fire button a certain number of times.
This makes it a very user-friendly option for someone who is new to vaping and who doesn't want to spend too long learning how to use a complex device before getting started. 
This device is suitable for use with an 18mm atomiser, and there'll be no overhang, so if you'd prefer not to use the Prism tank that comes with this device, you can switch yours out with any other 510 thread atomiser. 
The T18 II is designed to be a starter kit for inexperienced beginner vapers, and for that reason, it's simple and user-friendly.
This makes it an ideal aide to help you quit smoking for good.
If you're looking for outstanding vapour production, you might be a little disappointed in this device.
Still, you'll certainly appreciate the quality of the vapour as well as the quality of the device's construction. 
Each of the coils that come with the device offers a slightly different vaping experience but both function well, and while there's no TC mode, the wattage control is highly effective.
You'll easily be able to adjust the draw and power of the device to suit your own vaping preferences, and this makes the T18 II a great choice for any kind of vaper.
When the airflow is fully open, it'll feel similar to smoking a regular bought cigarette, while with it closed off a little, it'll feel similar to a hand-rolled cig. 
The exposed cotton contacts optimise the absorption of e-juice so you won't experience any flavour inconsistencies or dry hits.
This also ensures that you'll enjoy excellent flavour for an enhanced and smooth vaping experience – especially if you use a 50:50 VG:PG e-liquid.
This device comes complete with two dual coils, both of which are 1.5-ohm horizontal coils.
The performance you can expect from the coils is pretty good, and while it may not be quite what a flavour-chaser is looking for, it'll certainly be perfectly adequate for anyone who's trying to quit their smoking habit. 
The Endura T18 II features a 1300mAh battery, which is powerful enough to produce an excellent vaping experience and which has a surprisingly long lifespan.
Despite the simplicity of this device, you should find that it lasts all day, even if you're a moderate to heavy vaper, and this is great if you're transitioning from tobacco cigarettes since you won't need to worry about running out of charge while you're out and about.
Pros:
Well built tank and mod

Perfect weight and size for excellent portability

The design is simple yet sleek

The 1300mAh battery has a long lifespan

The AFC is easily adjustable and smooth

Refilling is a breeze

The LED battery indicator lets you know when it's time to recharge

Pass-through vaping is possible

The coil flavour is very good

There are three easily adjustable power settings

Several attractive colour options to suit all tastes
Cons: 
The battery indicator isn't very detailed

Vapour production is only moderate
With all of the above in mind, should you buy the Innokin Endura T18 II?
If you're a newcomer to the vaping scene and are trying to quit smoking regular tobacco cigarettes, you should certainly consider this device.
It's simple, user-friendly and designed with the needs of beginner vapers in mind, so you won't be disappointed by the Endura T18.
On the other hand, if you're a more experienced vaper who wants a more flavourful experience and better cloud production, you may want to give this device a miss. 

Read our full article about best vape pens available in the UK.