If you're looking for a stylish tub-style mod that really attracts attention for all the right reasons, the Freemax Twister kit could be the one for you.
The sub-ohm mesh powered tank features funky graffiti designs and offers great performance to satisfy most vapers needs.
If you're interested in something different and are bored of the usual dull mods in solid colours, the Twister could tick all your boxes.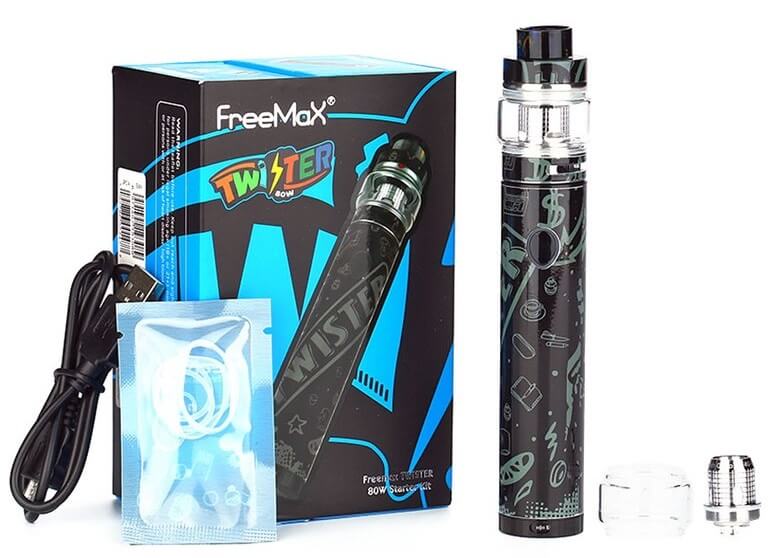 The Freemax TWISTER kit comes with a Fireluke 2 tank and two mesh coils.
Measuring 24mm by 47.8mm, this compact mod is great for popping in your pocket, and since it's made from strong steel and pyrex glass, it won't break easily, which is good news if you're going to be using this device while on the go. 
The working wattage is 40-90 watts with a 0.15-ohm coil, 40-80 watts with a 0.2-ohm coil and 50-90 watts for a 0.15-ohm coil.
The mod comes with an inbuilt 2300mAh battery, and its output voltage range extends from 0.5v up to 9v while the resistance range is between 0.1 and 3.0-ohm.
In the box, you won't just receive the mod and the Fireluke 2 tank with the X2 mesh coil already installed.
You'll also receive an additional X1 mesh coil, a bubble Pyrex tube, some replacement O-rings, a micro-USB charging cable, a warranty card and a user manual to get you started.
This represents great value for money since you'll have everything at your fingertips to start vaping except your favourite e-juice!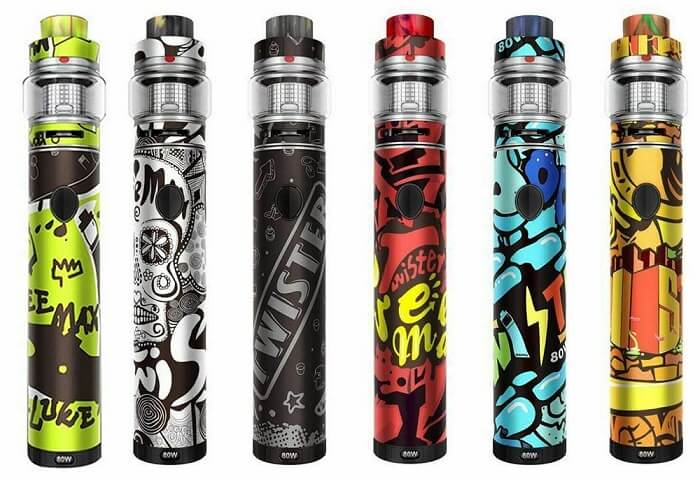 This kit has a strong and robust metal construction with a graffiti printed design on the exterior.
There are no less than six different colour options, each with their own unique and stylish design.
This isn't a device for anyone who wants to be discreet – even the "space black" design is eye-catching, but with a compact size and lightweight construction, it's ideal to put in a pocket or bag for vaping on the go.
The large power button is well-located, and the charging port is also in a handy place, while the dial on the base is also solid and gives great feedback at every 5W.
Overall, you're sure to find that this is a durable and well-designed mod.
The filling mechanism for this mod is a slide-fill design, and there is an unusual way of releasing the air pressure while filling, with the drip tip sliding on top of an extra hole to release air and thus to guard against flooding and leaking. 
When it comes to performance, you also won't be disappointed, as this device is extremely responsive with accurate wattages and rapid firing.
You're sure to be impressed by the flavour produced by this tank and, unless you're a serious cloud chaser, you're going to love the amount of cloud production too.
With two adjustable airflow slots, it's also possible to tighten your draw or make it airier to suit your preferences.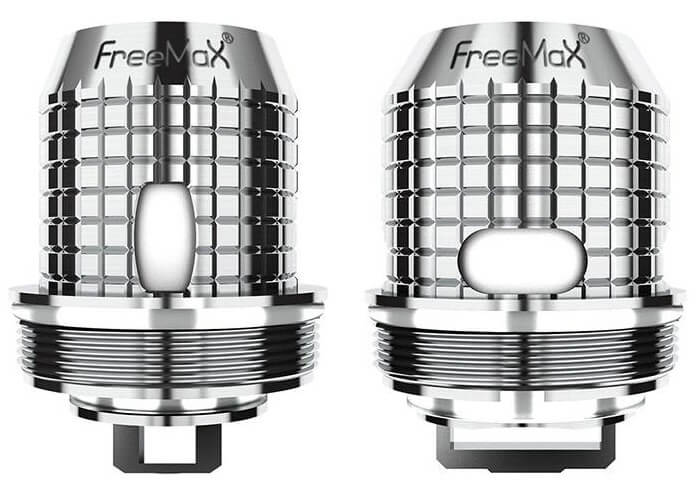 The Fireluke 2 tank that comes with this device works with four different types of Fireluke coils – X1, X2, X3 and NX1.
Only the X1 and X2 coils come with this kit, but you can buy the others separately.
The coils that come with this device are made using a wood pulp formulation for better flavour and a longer coil lifespan.
The dual mesh coil is ideal for anyone who prefers a more restricted airflow, and it also produces a smoother vape and better flavour in general.
However, if airy draws are your thing, the single-mesh coil is best for you.
The lifespan of the coils is also impressive, with an average lifespan of at least 10 refills.
This Twister comes with its own inbuilt 2300 mAh battery, and its lifespan is about what you'd expect when used with fairly low resistance coils.
You can expect your battery to last around a half or full day depending on your chosen wattage and how often you vape.
Luckily, the battery can be recharged fairly rapidly.
One thing to be aware of is that the power drops off quite rapidly if the device is used at a high wattage.
There is a battery indicator on the device which shows green when the device is fully charged.
It will turn yellow to show that the battery is around half full and then when the light turns red, you'll need to recharge as there's under 30% of battery life remaining. 
Pros:
The mod offers variable wattage

The build quality is strong and robust

The dial is user-friendly and remains firmly in place during use

The lightweight construction makes this a great choice for use on the go

Excellent performance

Attractive and unusual graffiti design

Tank comes with two good coils

The flavour is good, and the airflow is smooth

The handy top-filling design is quick and convenient to use
Cons:
The battery life runs out quickly when vaping at a higher wattage

The bubble glass can break if you accidentally drop the kit

This isn't a very discreet device since there aren't any solid colour options
If you're looking for something a little different and unique from your next vaping device, the Freemax Twister could well be just what you're looking for.
It's stylish graffiti exterior design really catches the eye for all the right reasons.
It's also a strong performing device, especially with the dual mesh coil, and with its variable wattage and adjustable airflow, you can adjust your experience to suit your preferences.
Unless you're the most dedicated cloud chaser, the vapour production is also good from this device, and you'll be impressed by the amount of flavour you can enjoy.
On the downside, the battery life isn't the longest, so you may need to recharge while out and about.
Also, if you're looking for a discreet option, this isn't the device for you, no matter what you do, it's going to look striking! 
If you want to compare other top vape pens, check out this must-read guide.