Recommended starter kits:
Jac Vapour SERIES-S22
Designed in the UK using high-quality materials

No risk 14-day money-back guarantee and industry leading six month warranty

Perfect for beginners and new vapers
XEO VOID Vaporizer
An all-in-one vaping device that combines the latest technology with high-quality German design

Great choice for beginners and experienced vapers
Jac Vapour SERIES-S17
Simply screw in the coil, fill with e-liquid in less than 10 seconds, attach to battery and vape. It doesn't get easier than this

Perfect for beginners and new vapers
What Happened to E-Lites?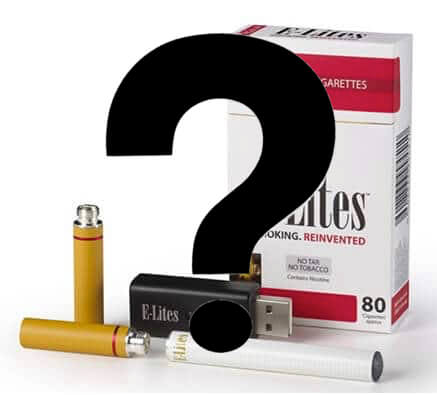 If you've been around from the earliest days of vaping, the name E-Lites will, no doubt, be familiar to you.
But when was the last time you saw this brand on the shelves? The E-Lites brand seems to have disappeared into thin air, and yet at one time, its name was synonymous with e-cigs in the UK.
So, whatever happened to this iconic brand? Let's take a wander down memory lane and remind ourselves all about this vintage e-cigarette brand.
E-Lites first appeared on shelves back in 2009 – the brainchild of founder and CEO, Adrian Everett.
Everett himself had a colourful past, having enjoyed a successful RAF career while investing in property.
Unfortunately, it all went wrong in 2007 when he had to declare bankruptcy when he could no longer meet his mortgage repayments.
Working with his business partners, Everett managed to raise sufficient funds to found the E-Lites company, and from humble beginnings, the company took off in a big way.
Its cigarette-like appearance made it a popular choice among those trying to quit the habit, and within just 5 years were selling £43 million-worth of products per year.
Everett sold E-Lites in 2014 to a company called Japanese Tobacco International, although Everett himself remained in a managerial role, furthering the brand's growth internationally.
Eventually, the brand merged with Logic, and the Logic Vapes brand was the result, producing e-cig products in the USA and UK alike.
So, the iconic E-Lites name is no more. Once an alias for every type of e-cig, since it merged with a Big Tobacco company, its iconic brand hasn't stood the test of time.
Can I still buy E-Lites Electronic cigarettes?
E-Lites were once everywhere in the UK, in every major retailer nationwide. However today, E-Lites can't be found anywhere – unless you're going to go digging through your corner shop's dusty stockroom!
No self-respecting online retailer has stocked this brand for years; however its latest incarnation, Logic Vapes, can be found quite easily.
The Logic Vapes brand stocks a wide range of vape pens. From clearomizer, cartomizer and capsule mod vape pens to semi-disposables, the Logic Vapes range also includes its own e-juice vape capsules and e-liquids for a full package to get vapers started.
Their tobacco-flavoured capsules are especially good for ex-smokers, and their 18mg nicotine strength is the best choice to replicate the classic smoking experience.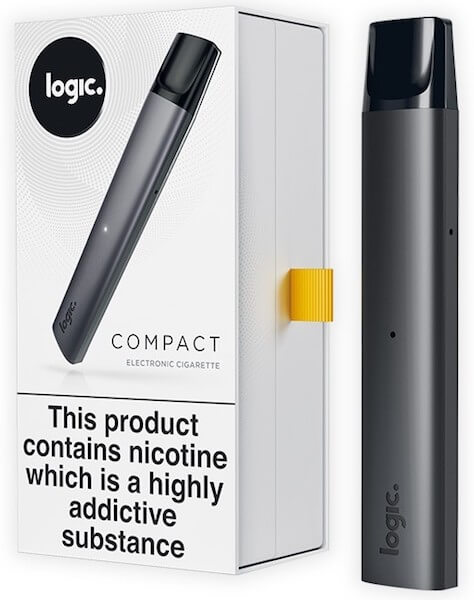 If you're looking for a convenient, smart and small device which you can take anywhere, the Logic Compact is the one for you.
Compact by name and compact by nature, it's pocket-sized which makes it the perfect choice for ex-smokers who need their vape to hand to satisfy those nicotine cravings.
This device works with pre-filled magnetic pods which are purchased separately, so there'll be no mess or fuss when it's time to refill.
It's 350mAh battery is super-fast charging too, going from empty to fill in only 74 minutes with the included USB cable.
This device comes in a choice of three stylish colours, including rose gold, steel blue and slate grey, so there's sure to be one to suit every preference.
The smart design of this vape ensures that you'll enjoy an impressive flavour experience.
With no settings or buttons to adjust, this is the perfect device for anyone who is transitioning from smoking – by simply clicking in a user-friendly pod, you'll be ready to start vaping virtually instantly and switching flavours takes just seconds so you can experiment to your heart's content.
There are four tasty flavours to choose from as well as several nicotine strengths to suit every need.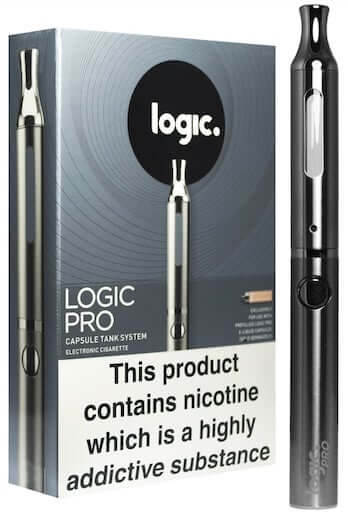 If you're looking for a fuss-free vaping experience that lets you experiment with fun flavours, the Logic Pro Classic is a good choice.
Using non-spilling ejuice capsules, it's a hassle-free vape which allows you to change your flavour on the go without any mess.
Available in a stylish matte black soft-touch finish, this modern device is rapid-charging too. Its 650 mAh battery can charge from empty to full in just 100 minutes.
There are eight different flavours to choose from, all of which come in a choice of nicotine strengths to suit your needs.
Its convenient design and size make the Logic Pro Classic a great choice for new vapers.
If you want to get off to the quickest start with vaping when you're quitting cigarettes, the Logic Curv Full Kit lets you begin right away straight out of the box.
Its cig-a-like design will feel just like your old cigarette for a traditional smoking experience while its comfortable oval-shaped mouthpiece feels great when you inhale.
The Logic Curv also comes with a fully charged battery, so you're ready to go from the moment you open the packaging.
Its battery life is also very long-lasting, but when it does run down, it can be charged back up to full again very quickly in under 3 hours.
The device comes complete with two tips – one in classic tobacco flavour and the other in menthol, so you can choose which suits your preference.

The Logic Original is surprisingly similar to the old original E-Lites.
Coming complete with a rechargeable battery and with a tip of your choice in either menthol or tobacco flavour, this instant cig-a-like is a convenient and simple way to get started with vaping, offering a cigarette-like experience for anyone who has just quit tobacco.
Its long-lasting battery ensures you won't run out of power on the go, but you can also buy more tips and a charger so your instant use vape can be used over and over again.
Logic Vapes have a customer telephone line to obtain support and advice about products and purchases.
This is open from Monday to Friday between 8am and 4:15pm from Monday to Thursday and from 8:15am to 4pm on Fridays.
There is also an email address provided, and online web form and a UK business address which customers can write to.
Logic Vapes are committed to dispatching orders on the same day as long as orders are placed before 4pm on weekdays.
Any order made after 4pm on a Friday is sent on the next working day. Products can only be shipped within the UK, and the Royal Mail Tracked service is chosen as the standard, delivering within 1-2 days.
Customers are kept updated at every step of the way and can track their orders.
Should a problem be encountered, customers can contact the company via email or telephone.
If customers aren't satisfied with their purchase for any reason, they can return them as long as all parts, instructions, packaging and accessories are sent back and the company is contacted first via email.
Any goods which are faulty or damages can be refunded or replaced within 30 days of the product being delivered.
Any faults reported after this time will be considered, and a refund or replacement may not be given depending on the evidence presented by the customer that the product was faulty on delivery.
The company is committed to offering a high standard of customer service.