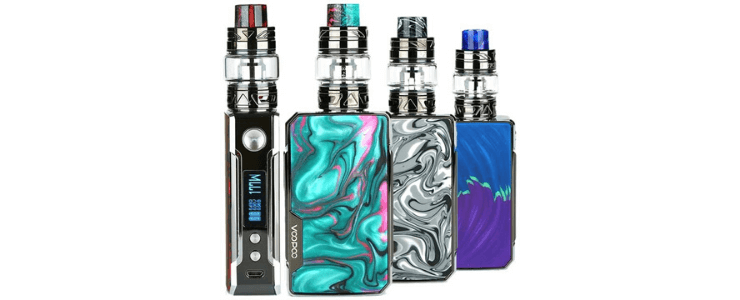 The original Drag from VooPoo was, arguably, one of history's most successful vaping mods, but can the second version of this device from the Chinese firm live up to expectations?
The Drag 2 has been a long time in the making, but the final result is pretty impressive, retaining the stylish appearance of the original together with the Gene fast-firing chip which made the first version such a success.
However, this version also comes with some design improvements to make it more ergonomic and more customisable for an even better vaping experience.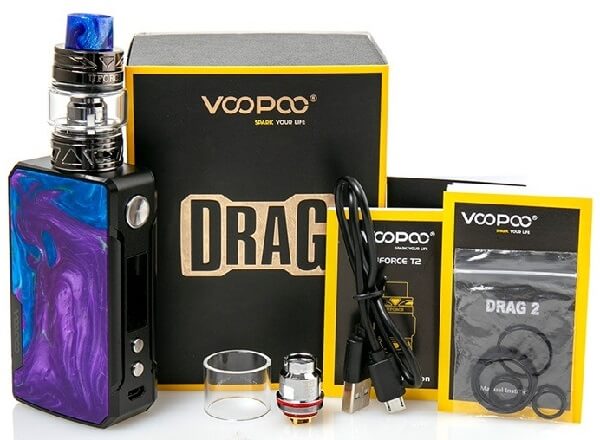 When you open the VooPoo Drag 2's box, you'll find the box mod in its own Styrofoam holder with another compartment beneath it that holds a micro-USB charging cable together with the UForce T2 sub-ohm tank, a spare glass tank section and two coil-heads (one comes already installed inside the tank).
Drag 2's power range is between 5 and 177 watts, while the output voltage is between 0 and 7.5 volts.
It takes two 18650 batteries which must be purchased separately, and it's capable of handling resistances between 0.05 and 5-ohm.
The temperature range that this device accommodates is between 200 and 600 degrees Fahrenheit.
When the original VooPoo Drag was released onto the market back in 2017, it created a stir thanks to its speedy ramp-up time and fast-firing, however, it also drew some criticism due to its lack of ergonomic design.
The Drag was a standard box mod, with sharp corners and edges that dug into your hand during use.
While the mod was popular due to its outstanding performance, this is something that has been rectified in the second version of the Drag.
The VooPoo Drag 2 is smaller than the original and has more rounded, bevelled edges and corners for more comfort in your hand. 
The Drag 2's control panel is similar to the original with a slightly recessed, rounded fire button, a nicely-sized, rectangular OLED display screen, a micro-USB charging port at the base and the + and – buttons beside it.
The screen is fine, but it isn't colour which, again, could be a downside. 
The resin panel opposite the battery compartment comes in a choice of patterns, but this panel isn't interchangeable, although it feels premium-quality, without any scratches and smooth to touch.
When it comes to performance, you won't be disappointed by the VooPoo Drag 2.
Its maximum wattage is higher than that of its predecessor thanks to the GENE FIT chip that is integrated into its design.
When using the included UFORCE T2 tank together with a 0.40-ohm coil, the vape is light but pleasant with good flavour but a lack of density in the vapour.
Firing is instant, and the experience is smooth, but the flavour may not be strong enough, and the vapour may not be dense enough with this coil for some vapers.
On the other hand, with a 0.20-ohm coil, the experience is much more flavourful, and the vapour is much denser too.
TC mode also offers great performance as you would expect from the integrated GENE chip.
The FIT mode is, essentially, a Bypass mode but with an additional boost at higher levels.
This allows you to easily customise your vape for a cooler or hotter draw to match your preferences.
The TC mode accommodates NI, titanium and stainless steel coils, all of which offer great performance. 
The dual battery mod doesn't come with any batteries included, so you'll need to purchase them separately.
This also means that it's almost impossible to estimate how long the battery life will last since it depends on the batteries' capacity together with the power output you choose as well as how much you use your device.
On average, though, you can expect about eight hours of usage before requiring a recharge.
You can, however, save some battery life by engaging the FIT mode.
While this produces a cooler vape with less vapour production and lower flavour intensity, it could help to eke out your battery life by saving power until you can get home.

The Drag 2 is capable of firing up to 177W and is only available in basic black, but there is a range of resin colour options to choose from.
Weighing 157g, this is a lighter mod than its predecessor, and this allows for greater portability – ideal for anyone who likes to vape on the go.
The original Drag featured its 510 connector at the side, but the Drag 2 has its connection towards the centre.
This allows for atomisers measuring up to 25mm to be used easily without any unwanted overhang.
The connection is raised, though, which leaves a gap that some people might not find aesthetically pleasing. 
Pros:
There is no overhang with tanks measuring up to 25mm

Ergonomic design with rounded edges

Fires rapidly and accurately

Lighter than its predecessor for better portability

A choice of stylish resin panels to choose from

Dense vapour and great flavour from the 0.20-ohm coil

Smooth airflow and great customisability 
Cons:
The raised 510 connector platform leaves a gap that isn't very attractive

When in TC mode there is a wattage limit
If you liked the original VooPoo Drag (and many people did), you're going to love the Drag 2.
With all of the great features of the original topped off with some new upgrades and improvements, the Drag 2 comes with an accurate chipset, an ergonomic design and a stylish look that's hard to beat.
There are a couple of downsides, in particular, the gap left by the raised 510 connector platform, but in general, you can expect excellent performance from this device, especially with the included 0.20-ohm coil which ensures outstanding flavour and impressively dense vapour production.
In short, the VooPoo Drag 2 is a great choice of mod that is sure to satisfy most vapers.