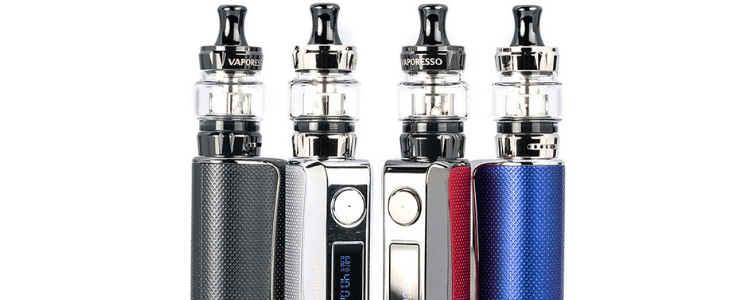 If you're a fan of low wattage vaping and want to try a vaping starter kit that is a great match for your preferences and needs, you should definitely give the Vaporesso GTX One a try.
Whether you're a complete novice or an MTL vaper, you're sure to find something to enjoy about this fantastic kit which is manufactured to the highest standards by a reliable and trustworthy brand.
Ready to know more? Then read on and discover this expert review.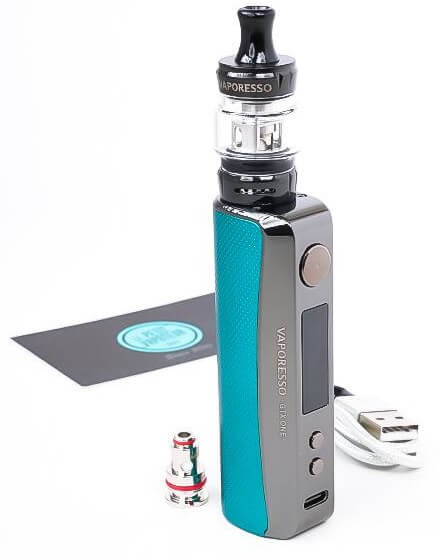 The Vaporesso GTX One kit is a smart starter kit that boasts plenty of power and outstanding performance.
Thanks to the integrated Axon chipset, which supplies up to 40 watts of variable power and which supports variable volts and watts, the Vaporesso GTX One certainly won't disappoint. 
Featuring an inbuilt 2000mAh battery, the device is supplied with the GTX 18 tank, which is compatible with all of the coils in the Vaporesso GTX series, and with a choice of six colours to pick from, it isn't hard to find out that suits your own unique sense of style!
When you open the box, you'll find a 0.8-ohm GTX mesh coil (which comes pre-installed in the tank ready to go) and a 1.2-ohm GTX mesh coil, as well as four O-rings, a spare 2ml tank and a Type C USB charging cable as well as the mod and tank themselves.
You'll also get your user manual together with a warranty card.
From the moment you set eyes on this Vaporesso device, you'll be convinced of the quality of its manufacturing and construction.
With an interesting design and stylish appearance, the mod is relatively compact with a height of around 80mm – small enough to easily take out and about with you.
Made from strong stainless steel, zinc alloy and plastic, the device's body features a 3/4s skid and anti-scratch covering to protect the mod from accidental damage and this, too, makes it more comfortable to hold in your hand during use. 
Suitable for use with an atomizer with a diameter of up to 22 mm, this device is attractive and high functioning.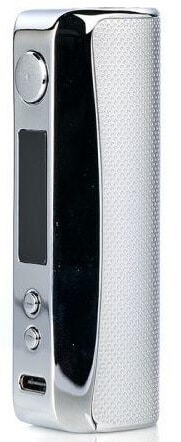 As you would expect from a mod made by one of the best-known brands in the vaping industry, the Vaporesso GTX One mod is well-designed for convenience, quality and performance.
The stainless steel connection point is strong and sturdy, with well-turned 510 threading and gold plates and a spring-loaded connection pin that makes it a breeze to connect the atomizer of your choice. 
The body's metal parts boast a mirror-like shine which adds plenty of aesthetic appeal to the device, while the brand name and logo are also clearly displayed on the sides and base of the mod.
There is also a bright and clear OLED screen which measures 0.69 inches and which displays all of the key vaping statistics you'd need to be aware of. 
There is a USB-C rapid charging port as well as metal adjustment buttons, and both of these features make it easy to charge as well as alter the settings of the device. 
There are also three vent holes on the mod's body, and in case you had any concerns about the safety of the device, there are standard safety marks in place that reassure the user that this mod has been built to the highest standards.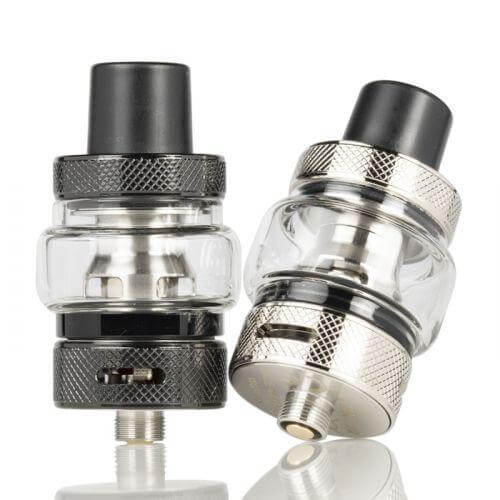 The quality of the tank supplied with this kit is also very high. The Vaporesso GTX 18 is made from strong and robust stainless steel and durable Pyrex, so you won't have to worry about accidentally dropping and breaking it. It also comes supplied with a 510 thread Delrin drip tip. 
The GTX 18 tank measures around 22 mm in diameter and around 30 mm in height without the connection thread and mouthpiece attached. This means that it's compact enough to easily fit into your bag or pocket when you're out and about. 
For the vaper's convenience, this is a top-filling tank, so it couldn't be easier to refill at any time. Just unscrew the cap, and you can easily pour your favourite e-juice into the tank ready for use.
The airflow is a basic bottom design with five small holes and an adjustable ring so you can choose the perfect amount of air for you. 
The kit comes with two tanks – one is already pre-installed onto the mod, and another is supplied as a spare which represents excellent value for money.
There are also two coils supplied for use with the tank – a 0.8-ohm GTX coil which is already installed in the tank, and another 1.2-ohm coil which can be switched whenever you wish.
As you would expect from a quality Vaporesso device, the GTX One offers excellent performance with both the 0.8-ohm and 1.2-ohm coils. 
If you prefer an MTL draw, you can expect moderate vapour production as well as plenty of delicious flavour from your favourite ejuice when vaping from as low as 12 watts.
If you prefer a DTL vape, you can enjoy good vapour production and good flavour when vaping at 20 watts, and it's possible to get right up to 24 watts before you'll notice any unpleasant flavours.
Meanwhile, if you prefer a very tight draw, you'll enjoy using the 1.2-ohm coil, which produces an impressive flavour between 9w and 11w with a moderate amount of vapour production.
In terms of battery life, the Vaporesso GTX One won't disappoint either. From fully charged, the battery can last for most of the day, with recharging taking just an hour from entirely flat. 
Pros:
Stylish design 

Good build quality 

Excellent battery life

Rapid recharging

The tank produces good flavour

The coils last a long time
Cons: 
Only a single mouthpiece comes with the kit

The filling cap is a screwcap rather than a flip cap

The shiny metal parts of the mod's body attract fingerprints
If you're looking for a well-designed starter kit that is especially perfect for MTL vapers, the Vaporesso GTX One is an ideal choice.
User-friendly, attractive and comfortable in hand, the mod is manufactured to the highest standards while the tank supplies good vapour production and excellent flavour.
Excellent for novice and experienced vapers alike, this is a great value kit that will last a long time.