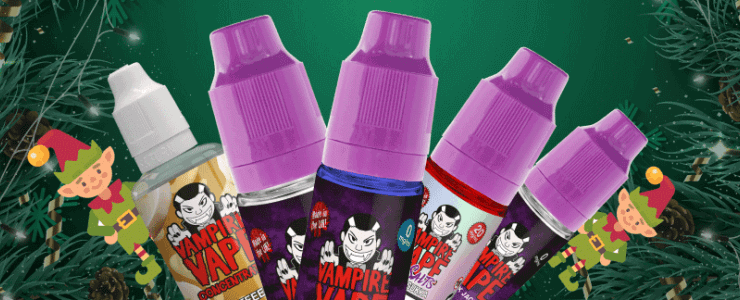 Since 2012, Vampire Vape has been providing vapers with practically any vape product they could ever desire.
Premium e-liquids, e-cig kits, pods, mods, tanks and more, no matter what you're looking for Vampire Vape is sure to have it at a great price.
This UK-based company puts the customer first, ensuring that every product listed on their online store has been thoroughly tested by all of the official agencies.
If you're looking for a new place to buy your vape accessories and e-juices, then head over to Vampire Vape's site today.
Heisenberg Vampire Vape E-Liquid

The Heisenberg E-liquid from Vampire Vape is one of the manufacturer's most popular choices.
This e-juice offers a refreshing fruity flavour that contains an intense blend of red berries and menthol.
The initially icy sensation mixed with the delightful fruity flavour makes this a truly unique e-liquid.
The ratio of menthol to fruit is absolutely perfect, not being too overwhelming in either direction and thus making it the ideal e-liquid for those who vape consistently throughout the day. The Heisenberg is also available as a nicotine salt e-juice.
Pinkman Vampire Vape E-liquid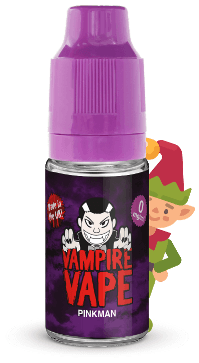 The Pinkman E-liquid is an exceptionally sweet flavour that delivers a uniquely intense yet refreshing burst of mixed fruit flavours.
This blend has been created with natural wild fruits, making it the perfect e-liquid for those who prefer an intense, fruity flavoured vape that really wakes you up.
For those who prefer nicotine-based products, you are in luck as the Pinkman is also available in nicotine salt form.
The Pinkman E-juice is sure to appeal to vapers who prefer a more intense vaping experience.
Koncept 70/30 Blood Sukka

One of the newest ranges from Vampire Vape juice, the Koncept line offers consistently smooth vaping experiences that still manage to deliver rich flavours.
The Blood Sukka is one of the most popular e-liquids in this Koncept range due to its unique blend of berries and red cherries that strikes the perfect balance between a rich flavour and a smooth-feeling vape.
To make this flavour even more unique, Vampire Vape blend the fruity mixture with some aniseed and eucalyptus that give the whole e-liquid a bit of an intense kick.
Caribbean Ice Vampire Vape E-Liquid

Vampire Vape's Caribbean Ice E-juice offers a fresh and distinctly sweet flavour that blends tropical fruit expertly with hints of coconut.
The tropical mango base of the e-juice offers an immediately sweet flavour that is countered well with the hints of coconut.
To add an intense kick into the mix, menthol is added. This e-liquid is sure to please anyone who loves a more intense vape but should still appeal to those who enjoy a rich and full flavour that has plenty of layers.

The Black Jack Nicotine Salts E-liquid from Vampire Vape is the perfect choice for vapers who want their daily nicotine fix but want it delivered with a little flair.
The aniseed and liquorice flavouring will take any vape user straight back to their childhood, reminding them of sweets they had when they were a kid.
While the liquorice flavour may not be for everyone, the sugary coating of the flavour is sure to appeal to everyone.
This nicotine salt is best enjoyed in a pod or pen vape device, being vaped at shorter intervals.
The folks at Vampire Vape are a close-knit team of mixologists who all have years' worth of experience in the field.
The team at Vampire Vape operate out of the UK, where they develop and produce premium e-liquid flavours for countless UK-based vaping companies.
Vampire Vape ensures that all of their products are thoroughly tested and fully certified by the United Kingdom Accreditation Service (UKAS) before being put on sale on their site.
This company strives to maintain a strong connection between themselves and the vaping community as a whole, ensuring that any and all feedback is listened to and considered.
If you should contact the customer support over at Vampire Vape, you can be assured that they will respond within only a few hours.
There are quite a few different contact options available for this company ranging from two separate phone numbers (one for wholesale and one for web orders), an email address, and a postal address (located in the UK).
When business is regular, the telephone lines are open from 8am-6pm, Monday-Friday. Alternatively, if you are situated within the UK, you could visit one of their brick and mortar stores and enquire in there.
Vampire Vape offers plenty of delivery options with two separate couriers. Customers can choose between Royal Mail and DPD.
If you choose Royal Mail, you have several different options to choose from; 2nd Class, 2nd Class Signed For, 1st Class, 1st Class Signed For, Tracked 24, and Special Guaranteed Delivery. A next-day delivery option is available on most orders that are placed before 6:30pm.
Generally speaking, if your item arrives damaged or defective, then you are entitled to a full refund or replacement product. You just need to contact Vampire Vape via phone or email within 48 hours of receiving the package to put in a claim.