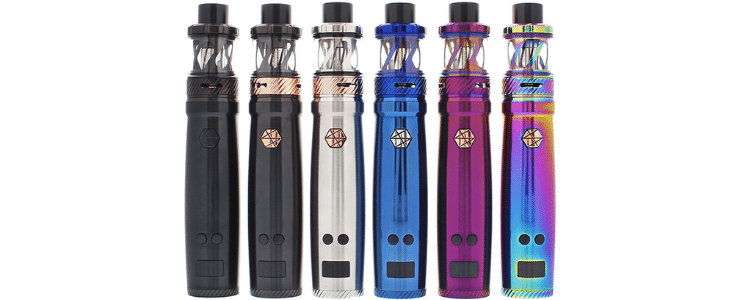 UWELL's devices are known for their strong reputation, so you can expect a lot from Nunchaku 80W from this popular company.
If you're in the market for a pen-style vape that is portable yet effective, the Nunchaku could fit the bill.
Although it isn't as powerful as other box mods, it's certainly a good choice for anyone who wants to vape on the go.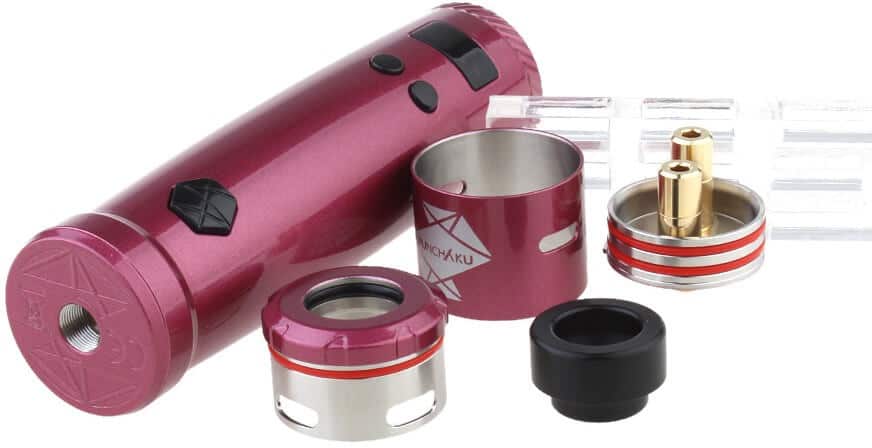 This kit comes with virtually everything you need to start vaping straight away.
You'll not only receive the Nunchaku mod and atomiser in the box, but you'll also find an extra quartz glass, some replacement O-rings, a drip tip cover and a micro USB charging cable.
There are two coils supplied with this kit. The first is pre-installed and is a 0.25-ohm coil while the second is a 0.4-ohm coil.
You'll also receive a user-friendly user manual to help you get started quickly and easily.
This mod measures 27.4mm in depth by 94.5mm in height, making it the ideal shape and size for taking out and about no matter where you're heading.
It's made from high-quality, robust stainless steel, with quartz glass, silicon and copper.
The power range varies between 5 watts and 80 watts, and there are three working modes – bypass mode, power mode and TC mode (for Nickel and stainless steel coils).
This device works with a single replaceable 18650mAh battery which doesn't come supplied with the starter kit.
The adjustable voltage range is between 0.7 volts and 7.0 volts, and the resistance varies between 0.1 and 3 ohms in VW mode, 0.1 and 1 ohms in TC mode and 0.1 and 0.5 ohms in Bypass mode.
The temperature range is between 200 degrees Fahrenheit and 600 degrees Fahrenheit.
The coils have a plug-pull design, which makes them extremely easy to fit and replace.
When style is important to you, you're sure to be impressed by the Uwell Nunchaku.
Designed with a stylish internal plate in the tank that seamlessly integrates onto the mod's top, this device features a patterned fire button and knurling to the airflow ring at the base of the tank for smoother and easier movement.
The display screen is located at the bottom end of the device, which isn't the most convenient location, but it shouldn't cause too many issues.
There are also lots of attractive colour options, including silver, rainbow, purple, green, blue, black and black and gold.
This is a tube-style mod, and with its pen-like design, it's easy to hold and to use comfortably. 
This device is constructed from durable and strong stainless steel with a tank made from quartz glass.
There is also a convenient screw base battery compartment with smooth threading.
The fire button is close to the top of the front of the mod, while the adjustment buttons are located just over the display.
The charging port is just under the tank at the mod's opposite end.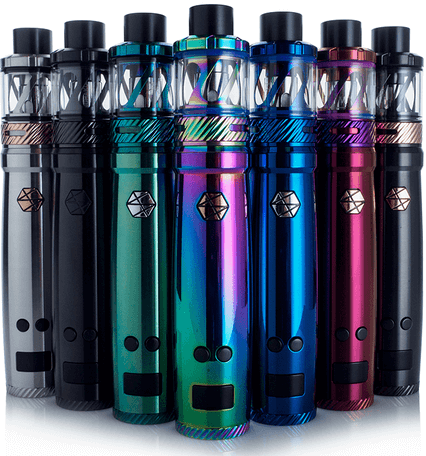 When set to about 50 watts – the perfect level for the 0.25-ohm coil – you'll find optimal airflow which ensures huge and flavourful clouds.
The vape pen and tank, when paired together, work in perfect harmony to produce amazing flavour.
If you're a fan of vaping tricks, you'll be able to enjoy trying those out with this device too!
This device ramps up very quickly and has a rapid firing speed, which is super convenient when you don't want to waste any time with getting started with your vape.
On the downside, though, there isn't any way of adjusting either the wattage or the TCR in the Nunchaku's TC mode – it's set to 60W, and the TCR remains unknown.
This isn't ideal, if TC is your preferred vaping mode. 
The two Nunchaku coils that come included with this starter kit are surprisingly high-performance, considering that they are a standard offering.
The 0.25-ohm coil that comes pre-installed in the device is ideal for use with an output of between 40 and 50 watts, performing at its best at around 45W.
Meanwhile, the 0.4-ohm coil that comes separately in the kit is best for use at outputs of 45W to 55WW.
There is minimal variation between the two. However, both deliver excellent flavour and can produce some impressive vapour at low wattages.
The bottom part of the battery section has an unscrewing section where the battery is placed.
One of the benefits of this device is that it doesn't come with an inbuilt battery, so you can use the 18650mAh battery of your own choice.
You can also replace the batteries when you're out and about for zero downtime.
The battery cap clearly features a minus sign, so you know that the batteries are loaded positive end down.
The threading is also very smooth, so fitting the cap back into place will be a breeze.
Pros:
Attractively designed device made from quality materials

A great choice of colours

High performance when in power mode

A simple, user-friendly menu system

Quality build with smooth threading 

The tank is well designed and produces excellent flavour

Two coils are supplied with this device 
Cons:
The screen is poorly located – you can't read it while the device is in use

There is minimal difference between the two coils and the vaping experience they offer

No way to adjust TCR or wattage in TC mode
If you're interested in finding an attractive, compact pen-style mod that's ideal for use on the go, you'll probably love the Nunchaku 80W.
Its tube-style design makes it a breeze to carry around wherever you need to go, while the removable battery means that you can switch them out for zero downtime when you're out and about.
Although this isn't one of the most powerful devices on the market today, it's a great option for vaping on the go, and you're sure to love the amount of flavour and clouds that it can produce.