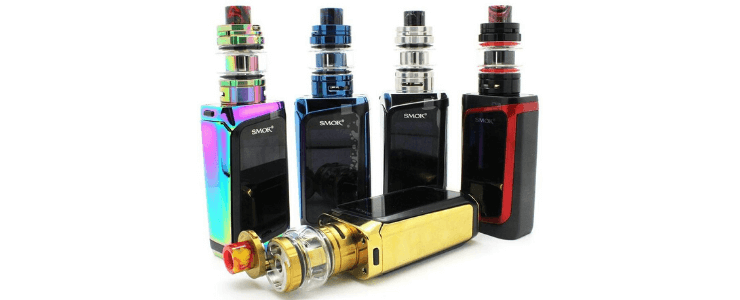 SMOK is a well-known brand in the vaping marketplace, and the Morph 219 is one of its latest releases.
While not everyone is a fan of SMOK's products, this recent entrant into the market has already proved to be a great choice thanks to its many great features.
The dual-18650 battery Morph 219W from the popular SMOK brand has a lot to offer thanks to its powerful IQ-S chipset that is capable of powering the mod up to its maximum wattage.
Offering several outputs, this box mod comes complete with a SMOK TF tank for a truly excellent vaping experience.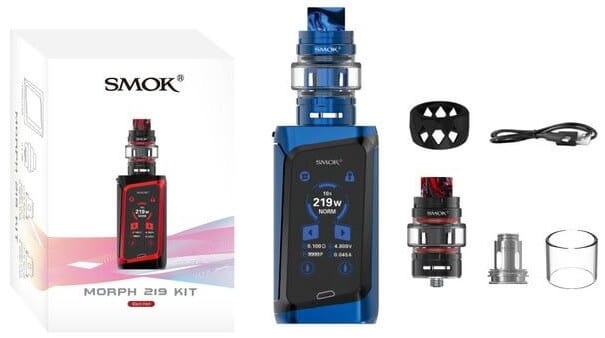 The Morph 219 comes in a stylish box that contains two internal layers.
The top layer contains the box mod itself while the lower layer contains the TF tank along with a spare coil (one coil already comes installed in the device).
Also in the lower layer, you'll find a spare glass tube and some spare O-rings as well as a silicone protective sleeve and a micro-USB charging cable.
In short, you'll have everything you need to get vaping, apart from the batteries, so you'll be able to get started in no time.
The SMOK Morph 219 has a similar appearance to the Alien 220 with its two slanting rectangular faces, its touchscreen and its multi-coloured resin section which adds plenty of visual appeal.
This stylish device has the tank sitting in central position instead of off to its front edge – something that is common in SMOK devices.
This ensures a cohesive, neat look that gives the Morph an attractive aesthetic.
Perhaps the top selling point of this device is its 1.9" full-colour HD touchscreen with a well laid out home page and adjustment buttons beneath it.
It shows you all of the key vaping information you need to know while navigating through the modes and options couldn't be easier.
This device has a firing bar rather than a fire button to operate it – similar to SMOK's Alien series.
The fire bar is on the mod's left side and above it is a secondary key which can be used for deactivating and activating the screen.
While this key is pretty small since it's rarely used, it won't cause you any issues.
The tank that comes with this kit comes with a handy top-filling hinged system and a capacity of 6ml.
There are two airflow slots in the base to allow for a more customised draw.
The coil connections are a little unusual, though.
In the centre of the tank, there's a frame section into which the atomiser's head pushes with no unscrewing or screwing required.
The atomiser heads' base is flat too, allowing them to snugly fit into the tank base which, in turn, screws into the body.
Overall, the TF tank is well designed and offers great performance with the mesh coils supplied in the kit.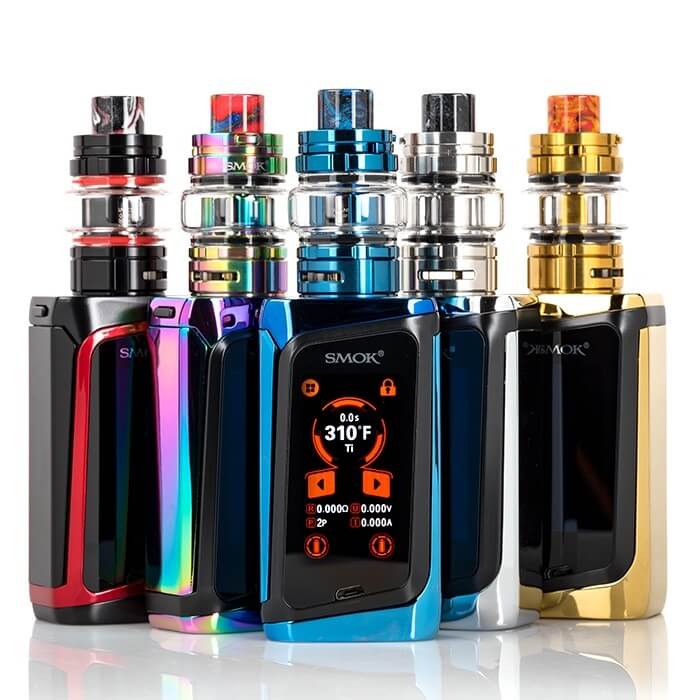 This device offers VW vaping up to 219 watts with 1-watt increment increases for an easy scrolling process.
It's capable of firing any type of coil right down to 0.1-ohm of resistance, and the device also includes the "hit strength" feature that is synonymous with the SMOK brand that enables you to decrease or increase the output at the start of each draw to give you a softer or harder hit to suit your preferences. 
The SMOK Morph 219's variable wattage mode offers outstanding performance right through its wattage range.
It also has a very short response time, so there's absolutely no lag between pushing the fire bar and being able to vape.
The mesh coils that come with the kit work extremely well with this device, ensuring maximum vapour production while also allowing your favourite e-juice flavours to shine through strong and clear.
It's also difficult to find fault with the Morph's TC mode.
The fully-featured suite of temperature controls ensure that this device works perfectly with all of the most popular TC coil materials including stainless steel, nickel and titanium, with each mode having adjustable TCR so the responsiveness can be altered to suit your preferred vaping style.
You can easily customise its performance by simply adjusting the TCR and the ramp-up wattage, so whatever type of vape you prefer, you're sure to have an excellent experience with this device without any major output drop-offs during your draw.
As you'd also expect from a high-quality box mod, this device also comes fully equipped with excellent safety features including protections for low battery and reverse polarity as well as overheating.
It also automatically recognizes when the atomizer is changed, and there's a ten-second puff cut-off. 
The Morph doesn't come with included batteries, but it has an easily accessible battery compartment with a simple catch that can be moved to open it.
The compartments are individually separated from each other, with clear labelling on both the tubes and the base, so it's quick and easy to spot the battery orientation at first glance.
The catch also works well, keeping the compartment securely locked so that you won't have any concerns about it popping open accidentally. 
Pros:
su_list icon="icon: chevron-right" icon_color="#087a22″ indent="19″]
Simple touchscreen operation

Fires up to 219 watts in VW mode

Stylish design

A fully featured TC mode

Outstanding flavour and vapour production

An effective screen locking system 

Comes with a 6ml tank

Upgradeable firmware 
[/su_list]
Cons:
su_list icon="icon: chevron-right" icon_color="#087a22″ indent="19″]
A little more expensive than some rival devices

When the touchscreen is active, it increases the battery's draw
[/su_list]
Similar in appearance to many of SMOK's other mods, the Morph 219W offers many improvements over its predecessors.
With its excellent and user-friendly interface, outstanding capabilities and high level of performance, this device offers a smooth draw with great quality of flavour and vapour production.
Boasting a stylish design and a range of vape modes, this is a reliable choice of device.
Whether you're a newcomer to vaping or whether you're a seasoned vaper, you're sure to appreciate the many features of this excellent box mod.