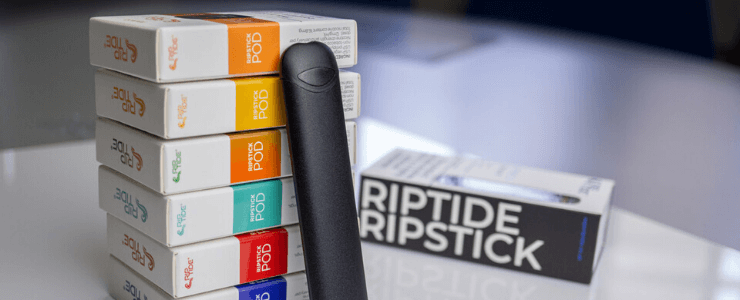 Pod-style mods are becoming more popular these days, but there are several different options on the market, with more manufacturers jumping on the bandwagon to introduce their own designs.
So, how do you know which one to choose?
If you're seeking an all-in-one, intuitive solution, you might want to consider the Riptide Ripstick Pod Mod – a device that was launched in 2019 and which has already caused a stir in the vaping community thanks to its timeless form factor and great performance. 
The Riptide Ripstick is an all-in-one pod vape with a "plug and play" functionality. It comes with everything you need to get started with vaping.
When you open the box, you'll find not only the device itself with its inbuilt 500mAh battery but also a disposable compatible 1.4ml pod of your choice, a USB-C charger and a user manual to help you get vaping for the first time.
Weighing just 30g and measuring 22mm x 11mm x 130mm, it's the perfect choice for convenient vaping on the move.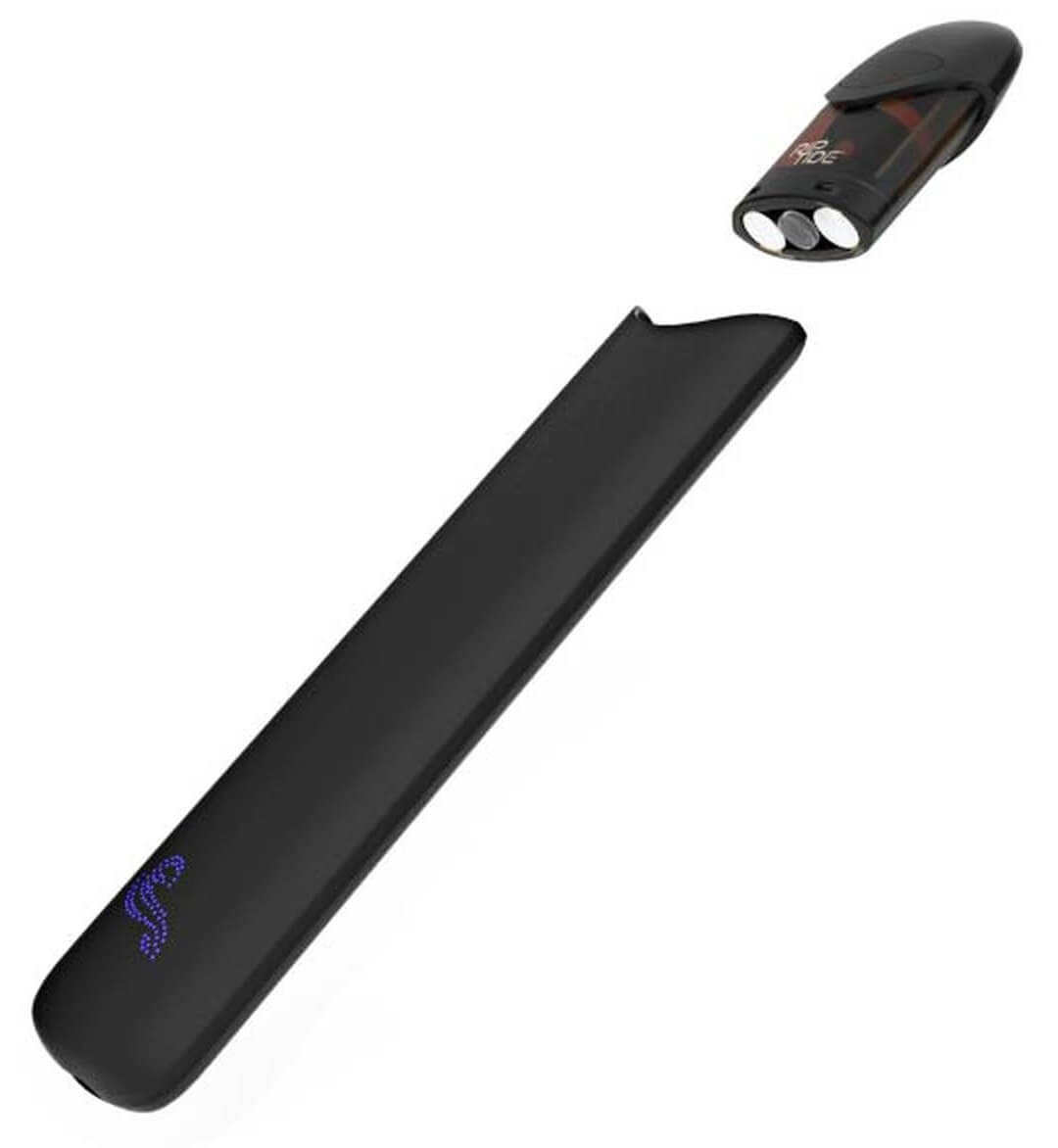 The Ripstick has been designed with intuition in mind. Its rounded shell has been manufactured from a metal lightweight alloy for easy portability.
Still, excellent durability and its ergonomic edges add to its aesthetic appeal while also ensuring it can be fit easily into your pocket.
It also features a rubber-like texture for excellent grip – you won't have to worry about slippage, it's a breeze to handle.
It's incredibly simple to use this device. Even if you've never vaped before, you'll have no difficulties here. All you do is insert the pod, inhale, and the device will activate and function perfectly.
With complex menus or settings to adjust, its straightforward controls make it a perfect choice for vaping novices. 
While you're never going to get the level of performance from a pod-style vape as from a mod that has adjustable wattage and voltage settings, you're sure to be quite impressed by this device.
The flavour produced by the pods is good and, while the vapour production is never going to be enough for a cloud chaser, it's perfectly adequate for any novice vaper.
The Ripstick is comfortable to hold and to use, as well as simple to get to grips with, but you won't be disappointed by its performance either.
Its 500mAh battery offers plenty of power, especially for a pod-style device, and since its lifespan is around a day, you won't have to worry about charging up on the go.
The kit also comes with a USB-C charger, so you can easily recharge whenever necessary.
One of the most convenient features of this device is its disposable pods which hold 1.4ml of e-juice and come in a choice of two nicotine strengths – 2.4% or 5.0%.
The pods are extremely simple to change when they're finished. It's a matter of removing the empty pod and popping in a new, full one. It doesn't get easier than that!
There is also a viewing window in each pod so you can see the level of e-liquid remaining and judge when it's nearly time to replace your pod with a new one. 

There are also several different flavours of the pod to pick from:
Traditional tobacco – this is a robust and bold blend with plenty of traditional tobacco flavour that is enough to satisfy anyone giving up their cigarette habit.
Blue raspberry – this is a bold and tart flavour that tingles your tastebuds and gives you a fruity kick.
Mango – this is a mouthwatering and succulent flavour of sweet, juicy mango for a summery taste.
Tropical – this is a bend of ripe Georgia peaches, fresh coconut and scrumptious strawberries all put together in a daiquiri inspired blend.
Mint – with all of the refreshing kick of chilled, crisp mint, this e-juice gives you an icy blast with every inhale.
Berry crunch – if you like cereal-inspired e-juices, you're sure to love berry crunch with its mix of tangy and tart fruit paired with granola and cream.
Interestingly, the e-juices used in these pods aren't derived from tobacco like most other e-liquids on the market today.
Instead, this device uses TFN vape juice made from tobacco-free nicotine. Also, the flavours used in these pods are made with no benzoic acid.
Many other pod systems use benzoic acid in their e-juices, and the result can be an unpleasant or burnt taste in the mouth.
Thanks to this device's technology, you can get plenty of nicotine strength but with no unpleasant aftertaste.
Pros:
This is an ergonomically designed and comfortable device which is simple and pleasurable to use.

It is a closed vaping system, so it's easy to use anywhere even for beginners.

Its e-juice pods are all made using tobacco-free nicotine.

All of the e-liquid pods are free of benzoic acid so you can enjoy a vaping experience with no bad aftertastes.

The battery is powerful enough to last for a whole day without needing to be recharged. 

The efficient pods for this device last for up to two weeks each, offering great value for money.
Cons:
Although there is a window in the pod, it's quite hard to see how much e-liquid is left because of the dark coloured tint.

You cannot refill the pods.

There are limited flavour offerings to choose from.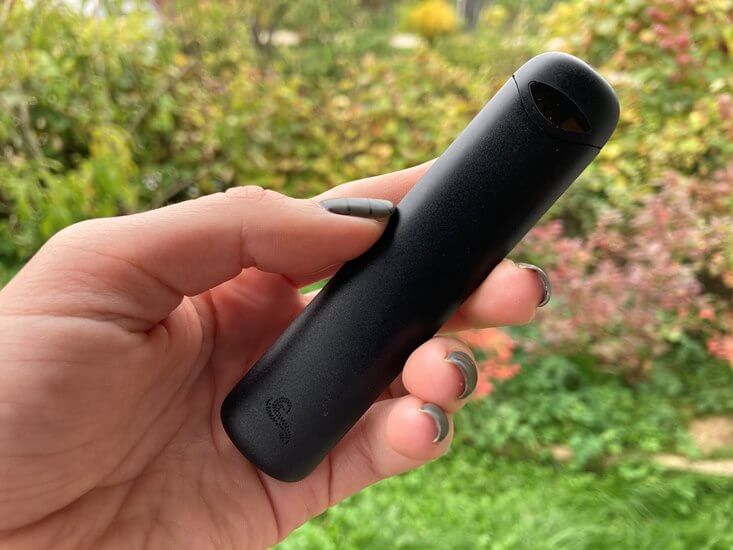 At first, I was a bit sceptical when it came to pod mods because mostly I prefered vape mods that have a more powerful battery and vapour volume.
But when I first tried Riptide Ripstick I was truly amazed how easy it is to use. The design is so sleek and simple, and it's very comfortable to hold it in hand.
If you think that this device is not for you because of the small battery, then you're wrong. Even though Riptide Ripstick's battery is only 500mAh, it easily covers an entire day of vaping.
When it comes to charging, it takes less than an hour to get a full battery via USB-C charger.
I was also surprised by the vapour volume. Because of the new technology that is used in the Ripstick device, you're getting better vapour volume on a battery like this than ever.
I must admit that I enjoyed each and every flavour of the pods. However, my favourite was the mint taste because it was very mild and pleasant, yet refreshing. I also fancied the tropical flavour which tickled my taste buds.
All in all, Riptide Ripstick is a go-to device if you are a new vaper or even experienced user who is looking for an alternative to use on-the-go.
I would definitely recommend Riptide Ripstick to my friend. 🙂
If you're looking for a great value vaping device that's convenient to use and very portable, you won't be disappointed by the Ripstick.
With its pocket-sized, ergonomic design, it's a great option for use on the go, and with its user-friendly controls, there's no better choice for novice vapers who are making the switch for the first time from cigarette smoking.
With its affordable price tag, choice of nicotine strengths and range of flavours, it's a good beginner vape.
If you're an experienced vaper, though, you'll probably find that the Ripstick isn't the best choice unless you're looking for a simple device to travel with.