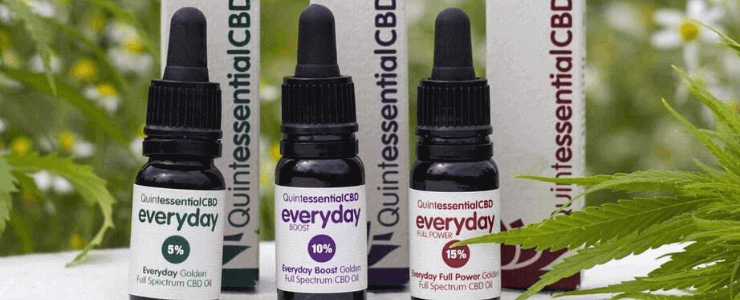 If you're looking for a full spectrum CBD oil product that you can rely on, you may be wondering whether the Quintessential Everyday Golden CBD oil could be the right option for you.
Here, we take a closer look at everything you need to know about this cannabidiol oil and determine whether it represents good value for money in the UK.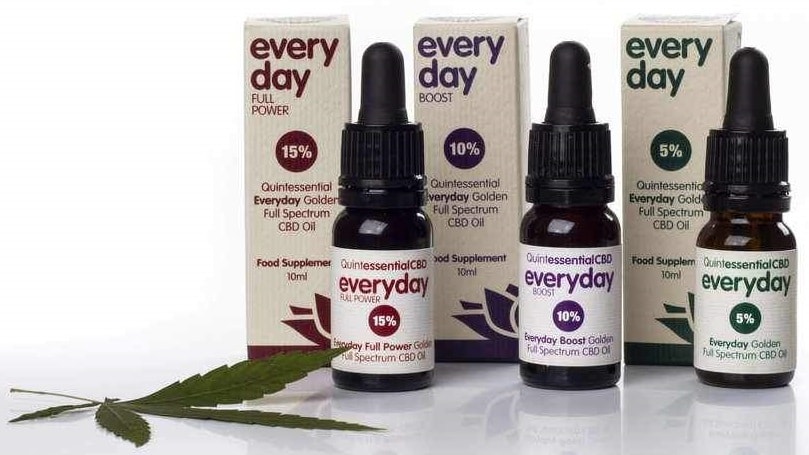 Quintessential has produced its first CBD oil own-brand product for sale, having carefully chosen the highest quality Gold CBD CO2 extract to produce its 5%, 10% and 15% full-spectrum oils.
Perfect for everyday use, these oils come in 10ml bottles, each of which contains around 200 drops of CBD extract – enough for around 3 to 6 weeks of daily use.
You can be confident that each bottle contains a guaranteed cannabidiol level together with other cannabinoids, flavonoids and terpenoids that occur naturally in the hemp plant.
These include CBG, CBC, and CBDV, all of which produce the entourage effect that is known to enhance the effect of these products.
The golden hemp extract used in this food supplement is created using solvent-free CO2 extraction processes, while the hemp is grown in an environmentally friendly, natural way with no pesticides for the user's complete peace of mind.
There are three products in the Quintessential range:
5% full spectrum golden CBD oil – ideal for newcomers to cannabidiol who want to supplement their lifestyle and prime their body for a higher dosage

10% Boost Everyday CBD – the ideal CBD oil for anyone trying a higher percentage product for the first time 

15% Full Power CBD Oil – a great way of ensuring higher-strength CBD can be easily and rapidly delivered to the body. 
Why Use Quintessential CBD Products?
Quintessential is committed to the cannabis and hemp industry, having spent three decades working with these plants at the core of their business.
Ensuring optimal quality without compromising on competitive pricing, this brand was the first CBD retailer in the UK to offer free delivery so customers could try their products in a cost-effective way. 
The brand's ethos is to produce ultra-high grade full-spectrum CBD oils with no THC so that users can be guaranteed the best possible experience without any unwanted high.
Their customer's satisfaction is high on their agenda, and this is why each batch of hemp extract is rigorously tested at each stage of its production to ensure its safety and the accuracy of its composition.
This guarantees that every bottle of CBD oil will be entirely free from any pesticides, heavy metals or other harmful substances. 
What Makes Quintessential CBD Oil the Best Cannabidiol Oil in the UK?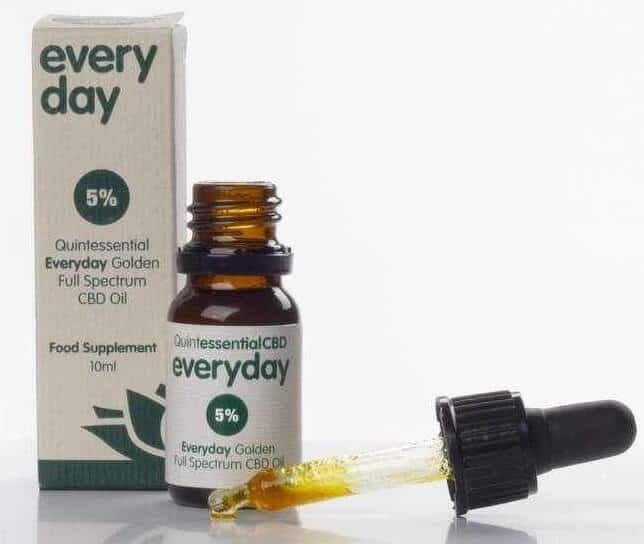 Quintessential's CBD oil is arguably the best in the UK thanks to its high quality.
Made from full-spectrum CBD oil, it is head and shoulders above other products that are made using CBD isolate.
Not only are Quintessential's products of the highest possible standard, but they are also competitive priced to ensure the best value for money for customers, something which is borne out by the excellent reviews that this brand has received.
As an added bonus, Quintessential's products are all packaged in pure hemp packaging to further cement the brand's commitment to the hemp industry, and this makes it a relatable and highly authentic product for eco-conscious buyers. 
If you're looking for an eco-conscious, high-quality, competitively priced full-spectrum CBD product that comes in a range of strengths and which has been produced by a reliable brand with a long history in the industry, you need to look no further than Quintessential's Everyday Golden Full Spectrum CBD oil.
Made to the highest standards, the 5%, 10% and 15% strength products are the ideal way to supplement your healthy lifestyle.