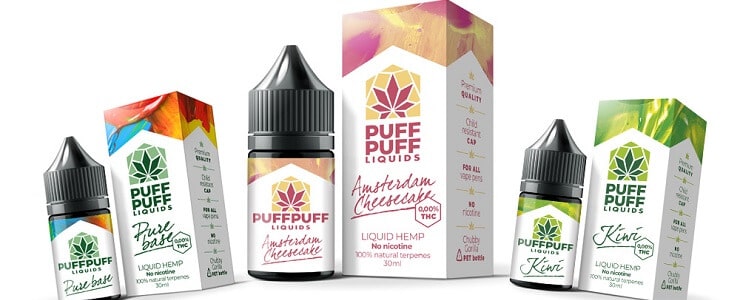 A company that strives to bring you the best CBD vape products on the market, Puff Puff Liquids are guaranteed to provide you with any and every CBD vaping juice or oil that you're looking for.
Whether you're brand-new to the vaping scene or you've been vaping for years, Puff Puff Liquids will make sure that you are taken care of.
If you're looking for the best CBD vape juices, the latest CBD vape pens, and the highest-quality CBD oils on the market, then you needn't look any further than Puff Puff Liquids.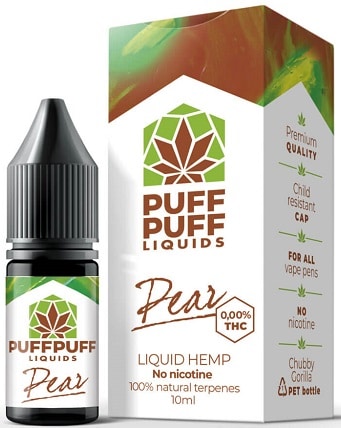 One of Puff Puff's most popular CBD e-juices is the Pear flavour. As is the case with all of Puff Puff's CBD products, this flavour contains only the purest CBD isolate that has been extracted from hemp via the company's famous Super Critical CO2 method that ensures that only the highest quality of ingredients are kept.
The pear flavour itself offers a unique and refreshing taste that ripples across your tongue and tingles your throat in the best way. The tangy flavour is sure to wake you up and refresh all of your senses.
Puff Puff White Peach CBD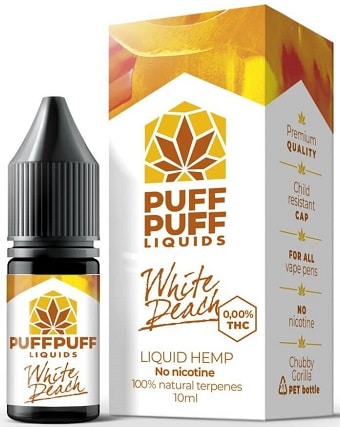 A flavour that truly captures the taste of summer, Puff Puff's White Peach CBD e-juice will remind you of your favourite beach-side memories through its delicate and rich flavour.
With the White Peach flavour, getting your daily CBD intake has never been more enjoyable. 
Puff Puff ensures that all of their CBD E-juice products are thoroughly tested under extremely controlled laboratory environments.
No nicotine, no THC, and no alcohol are contained within this product, only ingredients that are beneficial to both your body and your mind.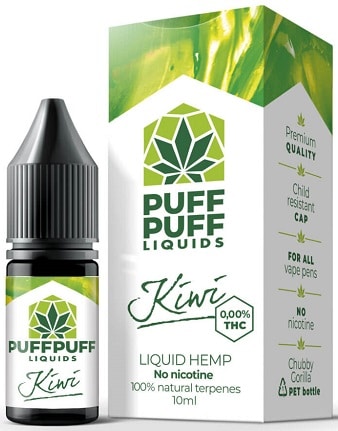 For those who adore fruity E-juice flavours, Puff Puff has the perfect CBD E-liquid for you. The Kiwi CBD E-juice offers a scintillatingly sweet taste that lingers around in your mouth for the perfect length of time.
Made with only the purest CBD isolate and containing no alcohol, THC or nicotine, this E-liquid is designed to deliver your daily CBD in the most flavourful and fresh way possible.
Puff Puff's Kiwi E-liquid is available in four different CBD strengths ranging from 50mg of CBD to 600mg, allowing you to determine which strength is best for you.
Puff Puff Liquids have one primary goal in mind; to bring you the best quality CBD vaping products on the market. They strive to not only sell pure, high-quality CBD products but also teach their customer-base the benefits of using CBD.
The blog section on their website is designed to inform customers of the physiological and psychological benefits of vaping CBD.
Puff Puff thoroughly test every single product that comes through their doors to ensure that meets all CE regulations and meets the very highest industry standards.
They want their customers to be assured that their products are truly the best CBD products around.
When you visit Puff Puff's "Contact Us" page, you'll be immediately met with an online form. This form is by far the easiest way to contact the customer support team as it takes mere minutes to air your grievance or ask your question.
Alternatively, an email address is available on this page, as is a postal address and a telephone number. Puff Puff Liquids is dedicated to answering any and all questions and strives to respond to any emails as soon as they can.
Puff Puff offers an incredibly fast delivery service. For orders within Europe, delivery is only estimated to take around 3-7 business days, and for those situated outside of Europe, delivery should be around 5-14 business days.
The speed of delivery here is exceptional. Free shipping is offered on orders over €79, and tracking information will be sent to you as soon as it is available.
Puff Puff Liquids may use a different courier service depending on where you are ordering from. They tend to use DHL, UPS, and TNT, which are all very reliable delivery services.
If your item is damaged upon delivery or you wish to cancel your order, then you will need to contact the customer support team and detail your issue.
Make sure to give them your order reference number to help speed things along. A refund or replacement product will be sent to you if your item is damaged.