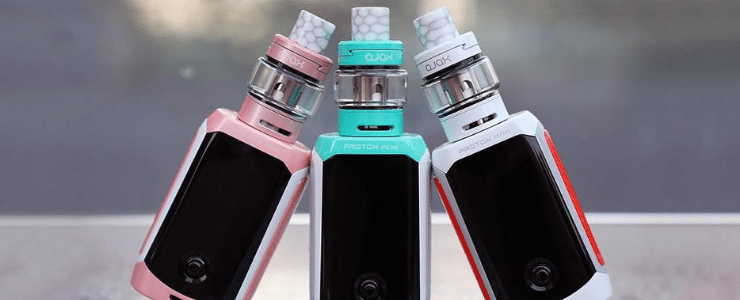 Are you looking for a cutting-edge box mod that won't let you down when you're out and about?
Then the Proton Mini Ajax kit could be the perfect choice for you.
Made by popular manufacturer Innokin, this device has been recently released onto the market and, as a small version of Innokins dual 18650 battery Proton – a top-selling mod from 2018 – it has proven to be a solid contender for anyone seeking out a stylish and affordable mod.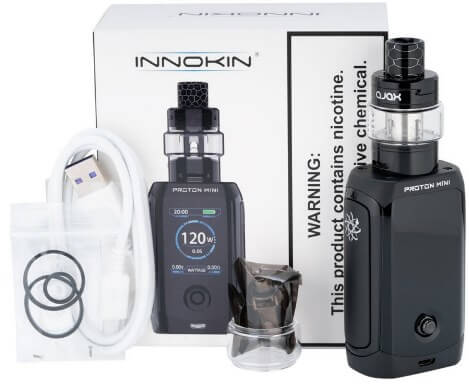 So, what's in the box when you buy the Proton Mini Ajax kit?
Of course, you get the mod itself, which is paired with an AJAX 2ml tank, but you also get two coils – the pre-installed 0.16 ohm Plex3D coil and the 0.35 ohm Plex3D coil for sub-ohm vaping.
You'll also receive an extra bubble glass, a spare o-ring set, a charging USB cable and a quick start guide to get you up and running.

When you hold the Proton Mini in your hand, it won't feel flimsy or cheap, but on the other hand, its joystick and large screen mean that you probably should take care not to drop it.
Featuring a 1.45" large TFT colour screen, this device has its own software which can be downloaded so you can load backgrounds of your choice to display on the screen.
The centred 510 pin means that this mod can be used with the atomizer of your choice up to a maximum of 26mm with no irritating overhang.
In terms of style, this is an aesthetically pleasing device with a curvy profile and a strong plastic construction that is shiny, smooth and attractive.
Even with the tank attached, this device only weighs just over 250g, so it's relatively lightweight and easy to carry wherever you need to go.

Featuring the most up-to-date Proton series chip, the Proton Mini achieves 120 watts, powering up to 35 amps and 7.5 volt.
Suitable for both standard and sub-ohm vaping, this device, when used at the manufacturer's recommended wattages, produces some impressive flavour and vapour. 
When using the 0.16-ohm coil at 65 watts, you'll enjoy plenty of flavour and lots of smooth vapour too with no dry throat sensation.
However, if you prefer extra-thick clouds, you'll appreciate turning your device up to 80w where the flavour will also be awesome.
If you're using the 0.35-ohm coil, you should stick to a wattage of around 55 to get the best balance of flavour and vapour without an unwanted burning taste.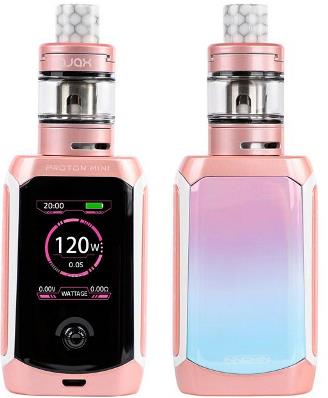 Like the original Proton device that the Mini is based on, this device has lots of modes and features.
There is the Power Mode, Watt Curve Mode, Temp Control Mode and Bypass Mode as well as the standard fully-adjustable TCR mode.
Not only that, but it also boasts 3 memory slots for you to save your favourite settings.
There are also numerous safety protections built into this device for your complete peace of mind.
These include adjustable overtime cut-off protection, overheating protection and over-discharge protection as well as short-circuiting protection, all of which will keep you safe when you use the device.
One further excellent feature of this device is the joystick navigation system that makes it a breeze to select the function that you desire without having to learn how to manipulate complex buttons. 
This device has a 2 amp charge rating and is powered by a 3400mAh internal battery.
While an internal battery isn't the best choice for everyone since it requires you to have some downtime while your device is recharged, you won't need to worry about excessive downtime when you opt for this mod.
It charges at a relatively speedy rate, going from empty to full in under 2 hours.
Of course, the battery life will depend on how you use your device including how bright you want your screen to be, the power settings you choose and the coil resistance you're using, but on average, you can expect the battery life to be around a day (between 8 and 11 hours) with the 0.16-ohm coil and a few hours more for the 0.35-ohm coil.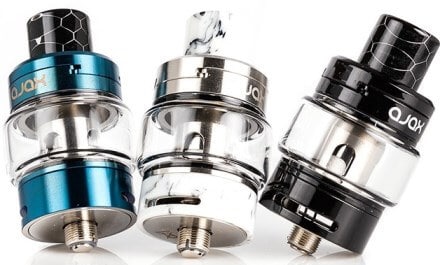 The Ajax tank has a similar appearance to Innokin's Zlide tank, with a convenient top filling design that helps you to avoid any mess or fuss when refilling with e-juice.
This tank is supplied with a 5ml bubble glass and also comes with a spare for even better value for money.
Its coils can easily be removed and replaced by just unscrewing the base, and the drip tip doesn't just look good, but it fits well, with the possibility of interchanging with other 510 tips to suit your preferences thanks to the smooth threading.
When it comes to the airflow control, you'll find it easily adjustable and smooth to turn. 
There are both advantages and disadvantages to purchasing the Proton Mini Ajax kit. Here, we look at both:
Pros:
Excellent build quality

Strong power mode performance

6 choices of colour

Centred 510 pin that can handle atomizers up to 26mm with no overhang

Affordable price tag

Integrated watt curve mode

An attractive large colour screen

Easily navigable menu system

Well-designed tank

The screen can be customised with downloadable software 
Cons:
The Temperature Control Mode performance isn't as powerful as it could be

The joystick and large screen put this device at a greater risk of accidental breakage
Overall, this kit is a strong contender from the Innokin brand, offering good performance and a great choice of different modes.
Small, user-friendly and stylish, this mod has a good battery life, and it supports both sub-ohm and standard vaping, making it a suitable option for all kinds of vaper.
If you're seeking a box mod that offers value for money and that is compact enough to take anywhere, you're sure to love the Proton Mini Ajax kit.