If you're looking to get into CBD products then have a look at Naturecan's range of superb products.
Naturecan offers an extremely varied selection of CBD-based products. From oils to whey proteins and multivitamins, Naturecan provides all-natural premium options for all types of CBD user.
All of Naturecan's products are rigorously tested by industry professionals.
From the first test in Oregon that tests the CBD and THC content of the extract used to the final test in the UK that finalises the product's legitimacy, Naturecan takes a great deal of time and effort to ensure that their products are of the highest quality possible.
For those who prefer taking capsules to ingest oils, these 10mg CBD softgel capsules by Naturecan are sure to please. As with all of Naturecan's products, these capsules have been thoroughly tested by third-party sources.
The CBD oil within these capsules is masterfully blended with high-quality hemp oil. These capsules make getting your daily dose of CBD all the more convenient and easy.
The capsules only use broad-spectrum CBD which contains absolutely no THC. The multiple cannabinoids within this broad-spectrum CBD blend together to boost the CBD oil's all-natural properties.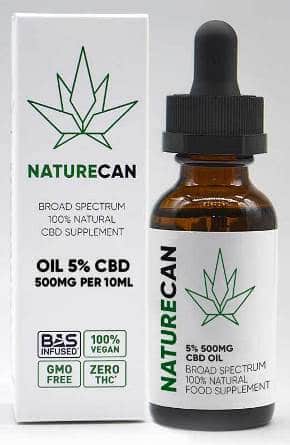 This CBD oil by Naturecan does exactly what it should. The strength of the oil is 5%. This strength is guaranteed due to the extensive third-party tests that Naturecan carries out on each of its products.
The blend is created using broad-spectrum cannabidiol. This is then combined with organic and pure MCT carrier oil. No THC content will be found in this product.
This oil is also entirely vegan-friendly as it is derived only from certified hemp.
This product comes in two flavour options: unflavoured and turmeric, therefore providing for CBD users who are not fans of the regular CBD taste.
CBD Muscle Balm – Cooling Menthol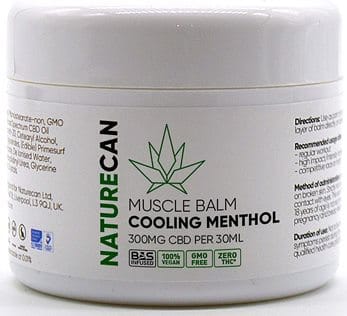 The CBD Muscle Balm from Naturecan is the perfect product for those who do extensive exercise on a regular basis. Following a high-intensity workout or fitness session, you may feel pains along your muscles and joints.
This CBD muscle balm aims to soothe these pains immediately after application. The menthol crystals used in this balm add a layer of cooling freshness to your skin, thus easing your pain instantly.
The balm is also infused with natural cannabidiol that is specifically formulated to be an immediately effective solution to muscle and joint pain.
Vegan CBD with Curcumin & D3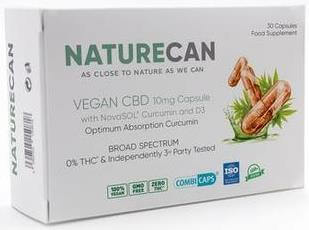 An excellent option for all Vegan CBD users is these wholly Vegan CBD capsules with integrated curcumin & D3.
These capsules bring 10mg of pure, high-quality CBD oil, natural plant-based D3 and curcumin longa root together and blend them perfectly to create an all-natural, easy-to-use CBD product that inherently boosts your health.
These capsules use NovaSOL curcumin and vitamin D3. These elements are easily absorbed into the body and provide 100% of your daily NRV intake.
All it takes is one tiny, convenient capsule and your set for the day. This product has also been completely certified vegan.
Naturecan is a team that consists of over ten industry specialists and veterans.
The founder and CEO Andy Duckworth has extensive experience in the wellness product industry, acting as the former CEO for the company Myprotein between the years 2012 and 2018.
As a company, Naturecan aims to provide its customers with a host of high-quality CBD products that suit every customer's possible need.
Their website now sells and ships directly to twenty countries across the globe, proving that they are a more than reliable company.  
Naturecan has used their industry knowledge effectively, assessing various supply chain partners to find a niche in the CBD market and seizing the opportunity that was there.
Their vast range of CBD products aims to give their consumers a healthy, safe and natural option.
From edibles such as cookies, brownies and gummies to classic oils, capsules and supplements, Naturecan provides it all.
Naturecan uses only hemp that is home-grown in the USA. All extracts are then taken in high-control environments to ensure that all products maintain the same level of quality and are thoroughly regulated.
This level of control is absolutely necessary if a company wishes to sell their CBD products across the globe as each region has their own regulations and rules that must be adhered to.
All of Naturecan's products can be found to have the CoA, the Certificate of Analysis. This ensures that the product has been thoroughly tested and is ready to be marketed across the world.
Naturecan has a fairly competent customer support page. On their website, there is a dedicated customer support section.
On this page, several forms of customer support options are provided. The first of which is an FAQ page. This page is full of various questions and answers that Naturecan is frequently asked to provide.
If this page does not answer your query or resolve the issue, you are facing then try one of the following methods found on their page.
You can email the customer support team directly by filling out the form on the customer support page.
An address is also provided if you wish to send them a letter. An EU telephone number is detailed if you wish to call their team.
Their operating hours are said to be from 9am to 5pm from Monday to Friday. 
For customers situated within the UK, orders are usually delivered within 2-3 working days. Standard delivery costs £2.99 but is free on all orders that total over £49.99.
Orders that are shipped to Europe are signed, tracked and sent via airmail. Delivery time ranges between 3-10 working days on these orders and costs £3.99.
For those situated in the rest of the world, there are two delivery options available.
The first is the same standard airmail delivery that is used for orders going to Europe, taking 3-10 working days and costing £9.99.
The second option is an express courier delivery that takes 1-5 working days and costs £14.99. 
Unwanted items can be returned at any point during the first 14 days of purchase. They must be returned unused and still in the original packaging.
Damaged or faulty items can be returned as long as they are reported within five days of the item arriving. These orders can either be replaced or refunded in full.