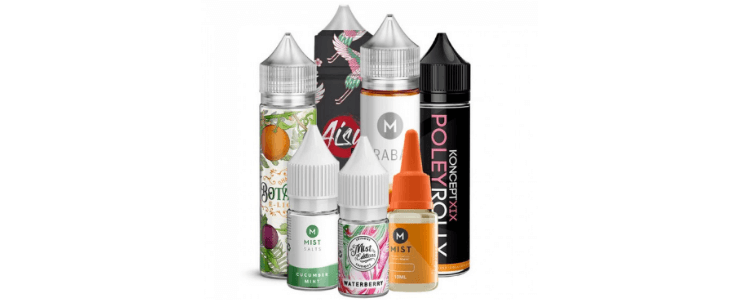 Nowadays it seems as though vaping is quickly becoming more and more popular by the very second.
It feels like everyone and their mum, sister, and grandma are all using various vaping devices on a regular basis.
So, with this sudden influx of demand for new e-liquid flavours and experiences, the market is now seemingly flooded with any old e-liquid products.
It is becoming more difficult by the day to determine what e-liquid products are of genuine quality and which e-liquids are the right kind for you. 
This brief yet comprehensive review aims to guide you through the world of modern e-liquids, giving you a clear run-down of only the best products available on the market.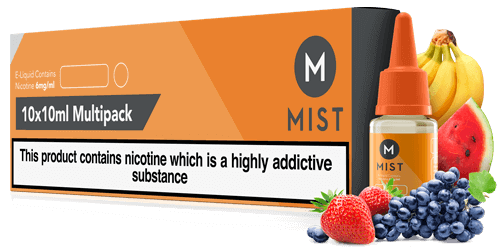 The ideal choice for vape users who want both an inherently high value for money as well as a vast range of flavour choices, this multipack of ten 10ml e-liquid bottles is a simple yet highly reviewed product that does exactly what it says on the box. 
This multipack contains ten individual e-liquid bottles, and each one is filled with 10ml of your chosen e-liquid.
MIST offers a total of thirty five different e-liquid options for this multipack, each one being incredibly unique and providing a wholly different vaping experience.
Flavours include a vast selection of dessert and fruit-based e-liquids, for those who prefer a sweeter taste, as well as an equally vast selection of grounded flavours such as tobacco and menthol.
Some truly unique flavours are also available to choose for this multipack including the flavours named "Energy drink", "Mojito", "Gold and Silver", and "Fizzy Cola" to name just a few.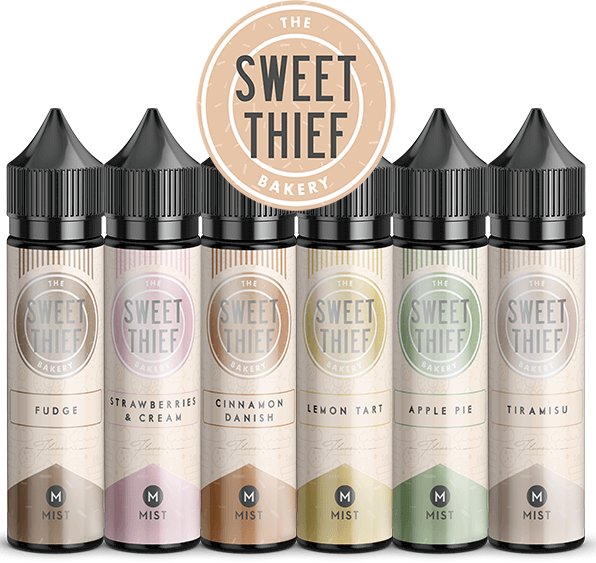 MIST's Sweet Thief line of e-liquids are the only real choice for those with a sweet tooth.
As the name would suggest, this delicious line of premium e-liquids is perfect for those who have a constant desire for the sweet things in life.
We're talking luscious lemon tarts, rich tiramisu and delightfully refreshing apple pie.
This MIST Sweet Thief range consists of a total of six brand new flavours including the aforementioned flavours "Lemon Tart", "Tiramisu" and "Apple Pie" as well as the flavours "Fudge", "Cinnamon Danish" and the classic "Strawberries and Cream".
All six of these delicious flavours can be bought separately in 60ml short fill bottles. Additionally, each flavour is available in 3mg, 6mg and 12mg of nicotine strength.
MIST's website is currently offering a "Buy 3 get 1 free" deal which covers the entire range, meaning that all of this sweet taste has never tasted sweeter.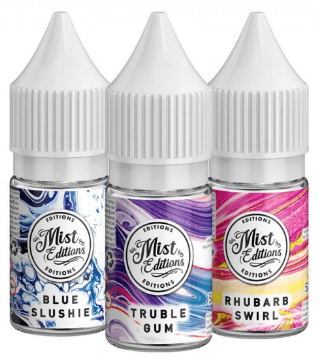 These e-liquids provide a truly bespoke vaping experience, offering some of the most unique and interesting e-liquid flavours currently available on the market.
Each of these e-liquids is available in either 3mg, 6mg or 12mg nicotine strength so you can tailor the flavours to your specific preferences.
As the e-liquid's title would suggest, this particular line of MIST products are special editions meaning that a painstaking amount of effort was put into ensuring that each of these flavours tastes completely unique and special.
Included in the MIST Editions range are the flavours; "Rhubarb Swirl", "Twisted Cola", "Waterberry", "Truble Gum", "Ginger", "Pavillion Rock", "Loops", and "Blue Slushie".
Whilst you may not have a clue what some of these flavours actually are, they are sure to be some of your favourites after just the initial taste due to their truly unique flavours that are unmatched in the modern market.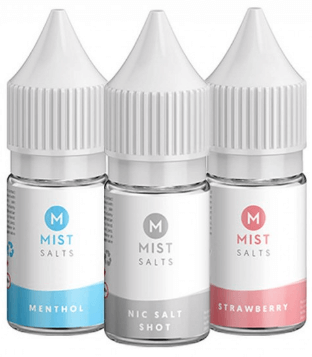 This nicotine salt range from MIST provides those who adore high-nicotine vaping with the perfect selection of tasty high-PG e-liquids.
High-PG e-liquids are often, unfortunately, associated with feelings of discomfort and unpleasant tastes.
However, these MIST nicotine salts bring the deep satisfaction of vaping regular e-liquids to the world of high-PG vaping.
This makes the MIST line of nicotine salts the perfect addition to any mouth-to-lung vaping kit.
Despite their high levels of nicotine, these e-liquids still manage to retain a sweet and refreshing taste in all of their flavours.
This range includes the flavours, "Very blueberry", "Tobacco original", "Strawberry", "Salt", "Menthol", "Golden tobacco", "Freeze", "Cucumber mint", and "Caramel tobacco".
This great selection of e-liquid products is sure to please any vape user who prefers a higher amount of nicotine in their usual favourite e-liquids but also likes a sweet-tasting and refreshing vaping experience.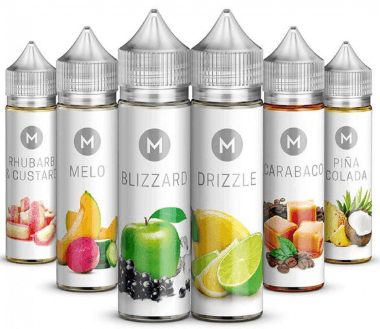 The sole aim for this range of MIST products is to provide you with a satisfying and tasty vaping experience.
These premium e-liquids pride themselves on being some of the cleanest and tastiest e-liquids available on the current market.
This is truly vaping in its very purest form, putting delicious flavours and a satisfying taste before anything else.
MIST intends these MTL short fill bottles to be used by seasoned mouth-to-lung vaping veterans and brings the same high level of quality that should be expected from the brand.
There are six invigorating and refreshing flavours to choose from in this range, each one providing a completely unique taste and experience.
The six flavours are as follows, "Drizzle", "Carabaco", "Pina Colada", "Rhubarb and Custard", "Melo", and "Blizzard".
Each of these six individual e-liquids is bursting at the seams with an intense and delicious flavour that is wholly unique.

MIST was founded with one primary goal in mind, to help smokers kick their bad habit and instead turn their attention towards the much less harmful world of E-cigarettes.
Ever since MIST's first discovery of E-cigarettes back in 2010, the company has strived to provide their customer base with only the highest of quality products and experiences. 
MIST knows how difficult it can be and how many so-called "solutions" out there have no effect at all. That is why they now aim to help you make the same change their founders did.
MIST's dedicated customer support webpage has all of the necessary contact information you would expect from such a large company.
The webpage contains all of the relevant information regarding the company's head office location and business hours as well as the business hours and locations of the company's two England stores on Baker Street in Brighton and Western Road in Hove. 
On the same page, a clear to understand and easy to use form is present that allows customers to send enquiries regarding the products that MIST sells.
Simply enter your name, your email address, and then write a brief summary of your enquiry and click send. 
MIST offers a wide range of delivery options for its products. If shipping within the UK, MIST offers customers First Class postage, First Class recorded and Special Next Day delivery.
Orders over £40 receive free First Class delivery. All of these delivery options are carried out via Royal Mail.
Alternatively, you can collect your ordered MIST products from the Brighton branch free-of-charge.
If a received product is faulty, you may return it within 30 days from the date of initial purchase with its original packaging.
After a brief inspection, a full refund or replacement product will be sent to the customer.