If you're looking for a dry herb vape kit that is reliable, affordable and that comes from one of the well-known brands in the vaping industry, you may well be considering the Khan from Mig Vapor.
Made by the same company as the Mig Torpedo – a super-popular dry herb vaporiser that is already on the market – the Khan has been thoughtfully designed to build on the success of its predecessor, just doing everything a little better this time.
This device boasts heating temperatures that are higher, a heating chamber that is larger, and a build quality that is even more solid. All of this adds up to a great user experience, but if you're still wondering whether the Khan is the right choice for you, read on and discover our expert review.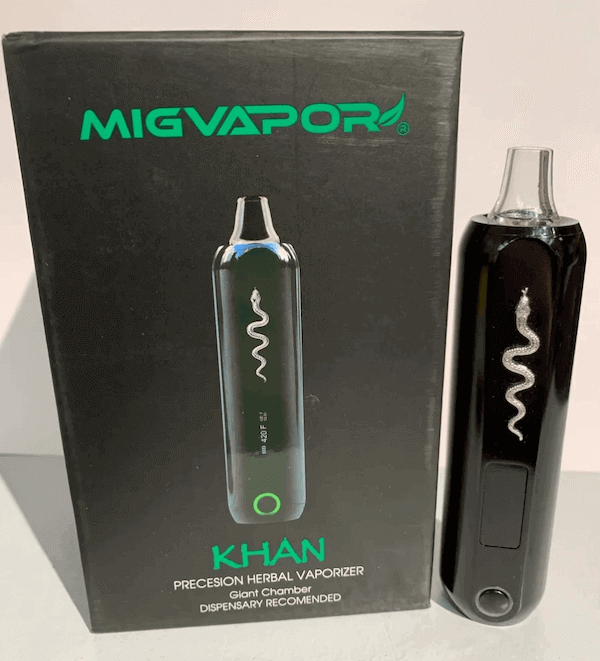 Khan Dry Herb Vaporizer Kit
From the moment you open the box, you'll be able to see at a glance that the Khan is a dry herb vape that comes with a host of accessories. The kit comes complete with everything you need to get started with dry herb vaping including a high-quality Pyrex mouthpiece and a bubbler. The box also contains an alcohol wipe, tweezers and a cleaning brush to make maintenance a breeze and, of course, there's also a user manual and a charging cable.
The mod itself is equipped with a huge 2500mAh battery, and this makes this device an ideal choice for all-day use as well as for use in group settings. It comes equipped with fully adjustable temperature controls as well as a ceramic chamber ready to pack with dry herbs.
The device is easy to activate, with 5 consecutive clicks turning the mod on or off, and the device vibrates and the light blinks to alert the user that the device is ready for vaping. All of this adds up to making this device a convenient and user-friendly choice for even a novice vaper who is ready to try vaping herbs for the first time.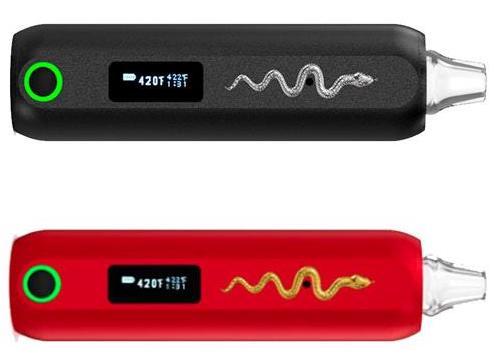 When it comes to presentation, the Khan dry herb vape has all the feel and look of a premium model. It comes in a choice of three lovely colours – red, gold or black – and the design features a gold or silver-plated snake for extra aesthetic appeal.
The Khan's body is constructed from the highest quality aerospace grade aluminium for sturdiness and excellent durability. It has a solidity about it that rivals that of far more expensive models. Its rounded body also doesn't just look good, it feels good in the hand too while its LED screen and single control button makes the effect very streamlined and attractive.

Although the Mig Vapor Khan only features a single control button, it offers precise temperature controls that ensure excellent performance.
Although the temperature adjustment can be frustrating and tedious, it's certainly user-friendly and allows the user to choose the perfect temperature to ensure their dry herbs to the max. 
The well-designed ceramic oven has a 0.5g capacity – far larger than the standard 0.3g chamber which is integrated into most rival devices.
This is perfect for five-minute vaping sessions. Meanwhile, the vibration feedback function is handy when you want to be as discreet as possible while out and about with your device. 
The glass bubbler which comes supplied with the kit is an added bonus too, making this kit even better value since it ensures a cooler, smoother vapour and a far richer vaping experience when compared with the regular glass mouthpiece.
As a result, you can expect a truly impressive vape from this mid-range device, with plenty of flavour and enough vapour to satisfy even the hardest to please user.
Maintenance is also a breeze – the user simply has to brush the interior of the chamber before finishing off with an alcohol wipe to achieve perfect results – making this device a convenient choice.
All vaping devices have their own advantages and disadvantages, so it isn't too surprising that the Khan has some pros and cons. Here are just a few of them:
Pros:
The design is very portable and convenient for use on the go

A bubbler is supplier with the kit as standard to allow for a smoother, more flavourful draw

The heating chamber is larger than average at 0.5g.

The battery life is especially impressive which makes this a great device for group use 

This device boasts highly precise temperature controls
Cons:
The mouthpiece is made of glass and can therefore be quite fragile 

The unit becomes hot when used at the highest temperatures 

The battery charging time is quite long – up to 3 hours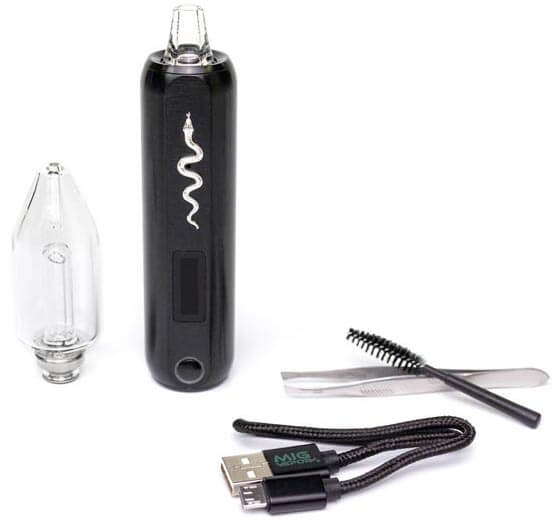 So, do we recommend the Khan from Mig Vapor? Overall, yes. If you're looking for a convenient, user-friendly device that can be used anywhere discreetly and easily, this dry herb vape won't disappoint.
It's an especially good choice for anyone who wants a vape for group sessions since the extra large dry herb heating chamber and the huge battery with its extra-long lifespan make it perfect for sharing. 
Although it does have some drawbacks – namely, the fragile glass mouthpiece that can make this device less portable and the single button temperature control that can be frustrating to use sometimes – for its price point it provides excellent value for money, particularly thanks to the inclusive bubbler that ensures a smooth and flavourful draw with every puff.