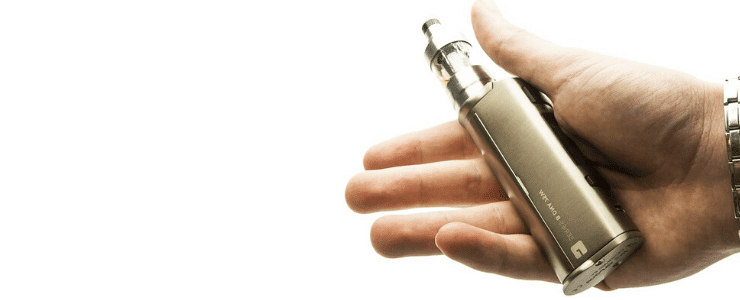 The JacVapour Series B is an impressive mod that's been constructed around the powerful Evolv DNA chipset.
Offering precise temperature controls and power up to 75 watts, it's got a lot to offer.
JacVapour has marketed this device as an MTL vape for newcomers to mod vaping, but actually, if you switch out the coil to a 0.5DL coil, you'll enjoy enough cloud and flavour production to satisfy any experienced vaper. 
JacVapour SERIES-B DNA 75W Kit

Inside the box, you'll find the Series B DNA 75 box mod along with a micro USB charging lead, a user manual and a six-month warranty.
Measuring 88mm x 25mm x 36mm, this kit is compatible with larger 25mm tanks and has a customisable interface with Escribe updateable firmware settings.
Its wattage can be adjusted up to 75W, and it offers pass-through charging so you won't need to worry about downtime.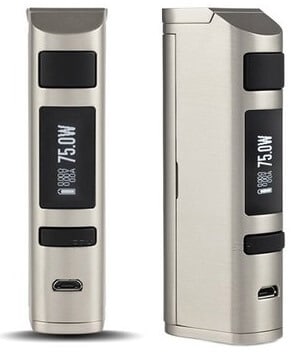 You're sure to be impressed by the premium appearance and quality of the Series B.
With its brushed metal finish, it has a stylish look that's hard to beat, and it feels smooth to the touch without any slipperiness.
You'll definitely feel a reassuring weight when you hold it in your hand.
That said, there aren't any excessive bells or whistles with the Series B.
Its design is minimalistic, with a metal chassis, display, power rocker and fire key – nothing more, nothing less.
Yet this simplicity really works, with everything made of metal except the buttons which are made from Polycarbonate +ABS with a rubber oil finish for the perfect touch and the uncluttered screen which allows you to see at a glance all your key vaping information.
One interesting difference between the Series B and its predecessor is the plate that the atomiser sits on.
Rather than designing the whole device to be larger to accommodate a bigger tank, the profile remains slim with the base and top curving out to incorporate the larger tank.
As a result, the design is complemented by proportional, smooth accents that make it an even more attractive device than its predecessor.
Series B offers 75W of power, which is quite sufficient for powering the vast majority of tanks.
Only the very lowest resistance tanks will leave you needing more power.
This device especially shines in its TC mode, with an impressive amount of customisation possible.
Yet, in both TC and wattage modes, you'll enjoy excellent performance.
There's a virtually instant ramp-up time during firing, and this mod is capable of handling very low builds, offering a very smooth vaping experience.
On the downside, though, adjustments to TCR values have to be carried out with Escribe software.
Yet, for most users, the device will be fine for use right out of the box since presets have been built in for all the most popular materials.
You'll be hard-pressed to find another single 18650 battery device that performs better than this one.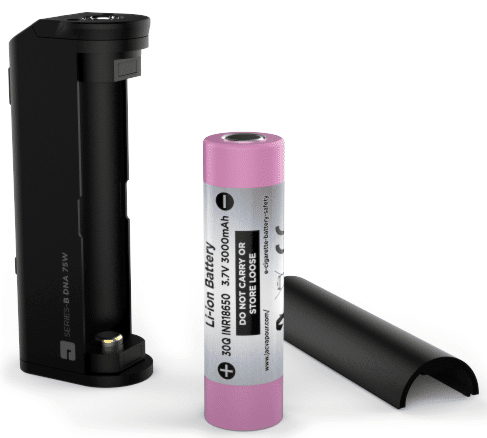 This mod hasn't been designed for vaping at high power.
It runs on a single 18650 battery, which you'll need to purchase separately since it doesn't come in the kit, so it's only limited to 75 watts.
For this reason, battery life will be at a premium, but as long as you use your device at low power, you'll enjoy a full day of vaping from the Series B.
On the other hand, if you use your device with a sub-ohm atomiser at a higher wattage you'll find your battery runs out in as little as 1 to 2 hours if you're a heavy user.
It's, therefore, best to use this box mod with MTL atomisers if you want a longer vaping experience without having to recharge frequently.
The magnetic battery cover is easy to use and, with such strong magnets, you'll have no worries about the cover unexpectedly opening.
The cover also has grooves for your fingernails built-in, making it easy to open when you need to access the compartment.
This box mod comes with both wattage and TC modes, features that allow you to customise your vaping experience easily.
The menu is fairly easy to navigate thanks to the up and down buttons near the screen, and there's an inbuilt stealth mode that allows you to vape more discreetly.
The mod's firmware can be upgraded by connecting it to a computer and downloading then installing the new settings.
You will, though, need to install Escribe software on your PC to achieve this.
Another great feature on this mod is its pass-through capabilities, allowing you to vape while it's being charged.
This means you don't have to worry about downtime. There is no shortage of safety features built into this device.
Low voltage, overcharge, short circuit, reverse polarity and overheating protections all come integrated into the mod as standard.
The Series B mod operates at a maximum power output of 75 watts, with a voltage that can vary between 0.2 volts and 6.2 volts.
There's no resistance limit on its non-TC mode, so you'll be able to go down as low as you prefer when vaping. 
Pros:
A reliable chipset 

Simple to use

Lots of advanced features

Pass through vaping

No resistance limit on non-TC mode

Discreet and portable styling

Reliable, consistent performance
Cons:
Some features can only be accessed using escribe software

Short battery life at higher wattages
Although the JacVapour Series B is marketed as a vaping device for newcomers to mod vaping, it's actually quite a good choice for more experienced vapers too, especially if they prefer low wattage vaping.
Thanks to the Escribe software, it's possible to personalise your vaping experience to suit your preferences, and with its pass-through vaping capabilities, you won't need to worry about downtime.
Add into that a stylish, attractive, minimalistic design and a portable size, and you've got a great box mod that offers impressive performance to suit all kinds of vapers' needs.