JAC Vapour has been around for a couple of years already and has established itself as one of the biggest and most reputable e-cigarette brands in the UK. Personally I know quite a few people who are using their products and all of them seems to be satisfied ;).
The brand was first launched in 2010 in the early days of vaping, with the aim of producing high quality, high performing, reliable vaping products.
Even today, Jac Vapour is the only UK-based mainstream vaping company to design their own hardware themselves in-house, and they are proud that every single member of their team is entirely committed to the product.
The Brand comprises a wide range of devices, from affordable vape pens for beginners right up to the most advanced box mods for experienced users. Jac Vapour also produces its own line of e-liquids which are produced in the United Kingdom too.
While some are traditional flavours like tobacco, others are a lot more exotic – for example, the unusually titled Kitten's Breath!
Jac Vapour also offers warranties on all their products to ensure that their customers are completely satisfied with their purchases, and every product has been designed to be compliant with the new TPD vaping regulations.
The founder claims he started this e-cig business because he was a vaper himself and noticed varying qualities of product across the industry, so he went out to create a high quality one himself. Let's start our JacVapour Review to see if he succeeded…
Most Popular Starter Kits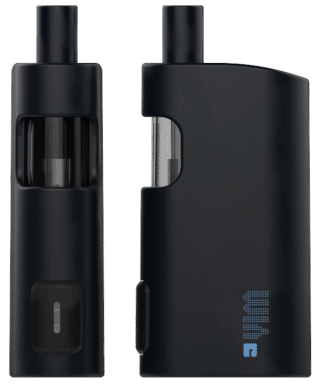 Great things really do come in small packages. The VIM vaping device is designed specifically for those who vape throughout their day.
The VIM somehow manages to pack a massive 2600mAh battery into its compact casing, therefore giving the device an incredibly long battery life. The compact size of the mod makes it the perfect travelling companion.
The VIM pods included with this vape device are created using nicotine salts. This means that the nicotine within the e-liquid is delivered at a faster rate than regular e-liquids.
These pods are available in three distinct flavours, smoking menthol tobacco, smoking tobacco, and a deliciously refreshing blackcurrant squash. These pre-filled pods can be easily placed into the VIM device and locked in to ensure that no e-liquid spills out.
A whole host of VIM accessories can be bought and added to the standard VIM device, allowing you to tailor the experience to your own personal tastes.

JacVapour Series S-22 Kit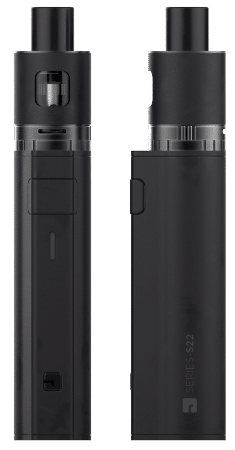 The Series S-22 model from JAC Vapour gives the performance and battery life of a standard-sized contemporary vape mod in a much more compact package.
A simple and refined design allows the Series S-22 to remain highly concealable and easy-to-carry whilst also holding a whopping 2600mAh battery inside.
The size of the battery in comparison to the rest of the device ensures that its battery life is extensive. A top-fill tank is used in this device, allowing easy access when it is time to refill the device with your favourite e-juice.
The inherent simplicity of this particular vaping device means that it is a perfect option for newcomers to the vaping scene.
There are no confusing or intimidating output mode options or unnecessary additional functions. Just press the button and take a hit. That's all there is to it with the Series S-22.
This device prides itself on its mouth-to-lung vape sensation.

Basic Electronic Cigarette Kit
Providing everything new vapers need, the The Basic Electronic Cigarette Starter Kit offers a plug and play experience for a swift start to vaping.
It comes complete with a 65mm V3i battery however you can also choose a spare or even swap the default provided battery for one in a different size. There is also a pack of mixed black cartomisers supplied as standard in either 18mg or 12mg nicotine strengths.
These come in five different flavours – Cherry, Vanilla, Menthol, Tobacco and Tobacco Virgin. This is a simple kit, ideal for new vapers and is perfect for those who are light to moderate vapers.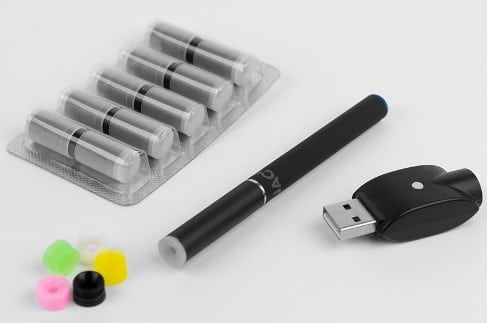 Perfect for beginners and for light to moderate vapers, this kit comes complete with an easy to use V3i automatic battery in a choice of colour and size.
There are also five mixed black cartomisers included in either 18mg or 12mg nicotine strength depending on your preference.
These come in five different flavours including cherry, vanilla, menthol, tobacco and tobacco virgin. This kit is simple to operate and contains the range's most reliable battery.

Jac Vapour Products and Kits
From vaping veteran to vaping newbie, JAC Vapour is sure to have a product suited to your every need. This company is a true pioneer in the field, specialising in high-quality devices and kits that can be found at a more than reasonable price.
JAC has a whole range of vape kits, tanks, coils, and batteries, all of which are offered at an affordable price and are of a great level of quality.
All of JAC Vapour's devices are extremely simple to use and come in a very compact size, allowing them to fit comfortably in the palm of your hand.
While the products may seem standard and simple on the surface, these seemingly small devices pack one hell of a big punch due to their included components such as their large batteries.
These large batteries, especially for the devices' size, give the user a great deal of time with their device before it even drops below the half-charged mark.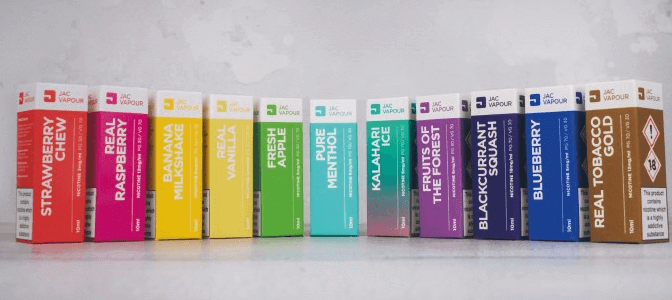 JAC Vapour offers a variety of e-liquid products. Their premium line of e-liquids offers an array of vaping experiences and options. This range offers twelve unique flavours ranging from Strawberry Chew to Fresh Apple and Blackcurrant Squash.
These e-liquids and created using hand-crafted recipes that give the user a refreshingly full flavour experience with every single inhale. These premium flavours are available in both high VG and high PG base.
JAC Vapour also offers a range of standard, value e-liquid products that aim to provide the same high-quality vaping experience at a more affordable cost to the average consumer.
These best-selling flavours are sold in a consistently balanced 50/50 VG/PG split base, giving you both an equal level of vapour as well as flavour.
This company also has several other ranges of high-quality e-liquid products such as the Clear Steam, Originals and Smoking range that gives users a vaping experience akin to smoking a traditional cigarette by using nicotine salts.

JAC Vapour has several options when it comes to returns and warranties. The first is their 14-day money back guarantee.
That covers all products, except cartomisers and eliquids. The original buyer must give notice to JAC Vapour that they are returning a product within 14 days of the date purchased.
All batteries and charging equipment have a warranty of at least 42 day with the personal charging cases having a warranty for 4 months.
As with all warranties, JAC Vapour's warranties does not cover misuse or tampering of product by the customer.
It also seem that their warranty does not cover shipping outside of the UK, which is unfortunate for customers not located in the UK.
Since 2010, JAC Vapour has been putting out deceptively simple yet highly innovative vaping products consistently every few months.
This company is by far one of the most reliable vaping manufacturers currently operating in the industry.
Their vast range of vape pens, ecigs, cigalikes and box mods as well as their incredible selection of e-liquid flavours and experiences are sure to catch the attention of many vape users, and for good reason too.