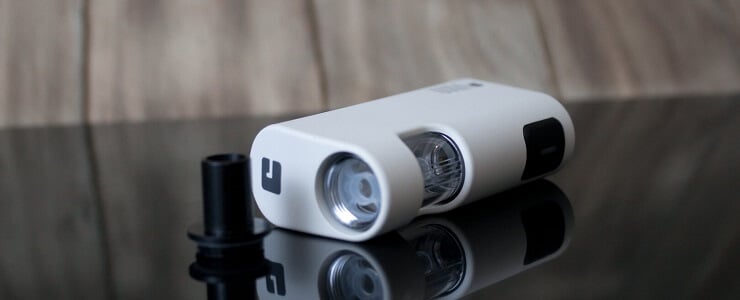 The pod mod vaping devices have reached new heights recently, with more vapers opting for these convenient options, especially while travelling.
Easy-to-use and designed to be lightweight and compact, they've proven to be a hit among vapers and many brands have now moved into this area of the market.
JAC Vapour is no exception. Already known for their range of high-quality vaping devices, they recently entered the pod vape arena with their AIO VIM.
Now, they've broadened their horizons still further with the Wee VIM, which is inspired by its older sibling.
Should you buy one? Read on to learn more.
One of the best things about the JAC Vapour Wee VIM kit is its low price tag.
For an affordable cost, you'll get the device itself along with three pods in either tobacco, menthol, or fruity flavours, a user manual and a micro USB charging cable.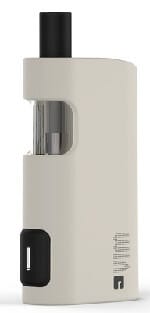 The Wee VIM is very similar in its style, and design to its older sister the AIO VIM, except its dimensions are smaller.
This, in turn, has meant that the battery capacity is lower. The fire button too has moved to the rear of the device rather than the front.
Interestingly, this has made the device easier and more comfortable to use.
The device is modern-looking, with fine and clean lines that give it plenty of aesthetic appeal and with its small dimensions, it's the ideal choice to pop into your bag or pocket on your way out of the door. 
Despite its low price, the build quality of this pod vaping device is surprisingly high, and every piece is sturdily anchored to its structure.
The charging port is now at the top close to the drip tip, and this makes the device easier to use even while charging. 
The only button you need to worry about is the fire button which is incredibly simple to use – even complete beginners to vaping will have no difficulty in using this device as there's no screen and no buttons to adjust the voltage or wattage.
Not only is this device simple and aesthetically pleasing, but it's also been designed with ergonomics in mind.
This device is comfortable to hold and to use, and it's pretty discreet since you can palm it with ease.
Even with the pod inserted, this is a lightweight device, but this also means that it can be slippery and there isn't a lot of grips, so you need to take care not to drop it. 
Even though the Wee VIM is an affordable, entry-level device, it still boasts plenty of excellent features which are popular with vapers.
If you're a beginner to vaping, you'll certainly find that you have everything you need for your peace of mind thanks to the many integrated protections.
Yet even experienced vapers won't be disappointed by this device. It has short-circuiting protection, overcharging protection and holes to vent the battery built-in, so you'll never have to worry about accidents. 
If you're an MTL vaper or newly switched to vaping from smoking regular cigarettes, you'll find the Wee VIM an excellent choice.
It produces an excellent MTL vaping experience with plenty of excellent flavours and sufficient vapour production to satisfy most users without being too indiscreet for use in public. 
The Wee VIM has a 900 mAh battery – a surprisingly high capacity for a pod style vaping device.
You can, therefore, expect a solid battery life that will last for a full day of vaping, even if you're quite a heavy user.
The battery isn't terribly quick to recharge, taking around an hour and a half, but that isn't necessarily a problem since this device has pass-through vaping functionality.
You'll be able to see at a glance how much battery life is remaining – when you press the fire button, the LED will change colour to indicate the power status.
If the device has a blue light, it is half-charged, whereas if it's red, it's charge is getting low. If the red light is flashing, the device needs to be recharged straight away. 
The pods which are used in the Wee WIM system are already pre-filled, so this makes vaping extra convenient, especially if you're vaping on the move.
There's no messy refilling to worry about – you simply remove the pod from its packaging, pop it in place and then start vaping immediately, it couldn't be simpler!
There are four different flavours to pick from – tobacco, menthol tobacco, strawberry and blackcurrant.
These are made using nicotine salts in high concentration for a more powerful throat hit- perfect for ex-smokers who are trying to quit the habit for good. 
There are a number of benefits to choosing the Wee VIM pod vaping system. These include:
Aesthetically pleasing design and elegant appearance

A compact and lightweight design which is very portable

A long battery life

Excellent flavour production

Long-lasting pods 

A smooth MTL draw

Affordable price tag
There are also a couple of downsides:
The charging time is quite long at an hour and a half from empty to full

There are only four flavours of pod to choose from

It's best suited to MTL vapers – DTL vapers might find another device a better choice
Overall, the Wee VIM is an excellent choice of device, especially for those who are looking for a versatile and affordable pod system starter kit.
With its pre-filled pods, you can benefit from complete convenience, and with its ease of use, it couldn't be a better choice for those who are complete newbies to get started with.
The build quality is surprisingly good while the battery life is decent for the compact and lightweight size of this device.
Although there aren't many flavours to choose from at the moment, hopefully, the range will expand in the future, while the satisfying vaping experience that this device provides for the money is hard to beat.