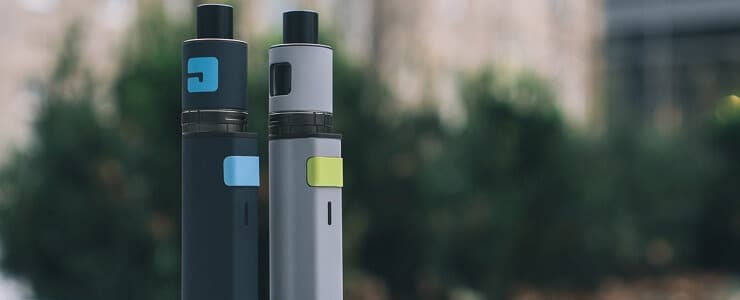 Jac Vapour is a vaping company based in Scotland, and their Series S-22 is their latest e-cigarette kit to be released to the market.
With its ergonomic, compact design, it may be marketed as being ideal for newcomers to vaping, but it also has a lot to offer more experienced vapers too.
Offering the capacity to grow and develop with you thanks to the possibility of interchangeable atomisers and added DTL coils, the Series S22 is a great choice for many different vapers.
JAC Vapour Series S22 Kit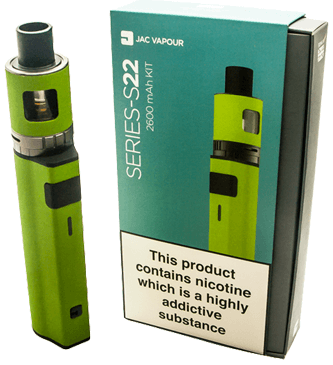 The kit comes complete with everything you need to start vaping for the first time.
As well as the Jac Vapour Series S22 battery, it comes with a matching Series S22 top-filling tank and a 1.0-ohm coil for mouth to lung vaping.
Of course, you also get a micro USB charging cable so you can top up the battery as well as an instruction manual.
Although this device doesn't come with a DTL sub-ohm coil, it's possible to upgrade to one since this mod can support resistances down to 0.5-ohm.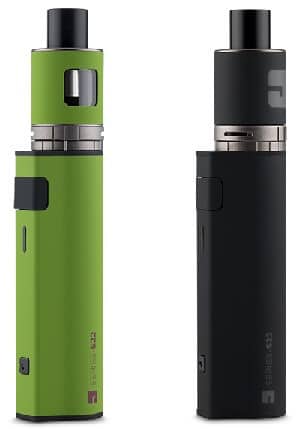 If you're looking for an ergonomically designed vaping device that is compact enough to take anywhere, the S22 won't disappoint.
It's been designed to fit comfortably in your hand, with enough weight to reassure you of its quality but without being cumbersome.
Although it isn't the smallest mod on the market, it's still small enough to pop into a bag or even a larger pocket without any inconvenience.
Primarily constructed from strong and robust steel alloy, this device has an oil rubber finish that helps you to grip your device easily.
The coating also means that, if any e-liquid accidentally leaks down the device's side, its inner workers will stay well protected.
Not only that, but it also adds an extra stylish look to the device as a whole.
There's a single polycarbonate fire button which also has an oil rubber finish.
This is very responsive and easy to use.
One LED light is just below the fire button, and it lights up with a blue light to let you know when the device is being switched off or on.
It also lights up whenever you press the fire button and start vaping.
This device has a 510 pin which is suitable for connecting most atomizers to the device without any unwanted overhang.
The tank that comes supplied fits neatly and flush to the device for a streamlined, attractive look.
Meanwhile, in the base, there are six small ventilation holes as well as a slightly recessed Micro USB port. 
The Series S22 doesn't just look great, and it's extremely simple and pleasant to use too.
If you prefer MTL vaping, the coil that comes with this device will fit the bill perfectly.
You can adjust the airflow easily to get the tightness of draw that you prefer, and you'll enjoy a very flavourful vape. 
This kit is marketed for beginners as a mouth-to-lung kit, but thanks to the tank that's supplied with it, it can actually progress with you if you decide to move onto sub-ohm vaping by adding DTL coils.
Ramp-up time is very speedy with this vape too – as soon as you press the fire button you'll be ready to vape in seconds.
It couldn't be quicker or easy to get started with vaping than by investing in this starter kit.
This device comes complete with an inbuilt 2600mAh battery that isn't removable.
You won't need to worry about battery life though – it's more than capable of lasting for a full day of vaping.
One slight issue is that, when the battery life starts to run out, the device's performance begins to suffer, but at least this gives you an idea about when it's time to recharge.
The LED light under the device's fire button shows the charge level so you can see at a glance whether it's time to charge up.
The green light indicates that the battery is half full to full, blue indicates just below half charge while red indicates that the charge is low.
If the light begins to flash red, the battery is entirely flat and needs and urgent recharge.
Using the micro USB cable, the device can charge to full from flat in about two and a half hours and pass-through charging is also possible, so you won't really have any downtime to worry about.

This box mod comes with its own inbuilt 2600mAh battery, so there's no need to purchase a separate battery to go with it.
It also offers unregulated voltage from 4.2 volts to 3.1 volts – the voltage drops when the battery begins to lose its charge.
The minimum supported resistance is 0.5-ohm.
Its dimensions are 82mm in height, 22mm in width and 27mm in length – small enough to fit easily into your bag as you head out for the day.
With the tank fitted, the height is 125mm.
It also comes equipped with a number of excellent safety features including protection against high amp draw, short-circuiting and overcharging.
Pros:
Great build quality

Easy to use

Stylish design

Long-lasting battery

Compact and portable

Produces excellent flavour

Pass-through charging
Cons:
The charging port is on the base of the device so it can't stand upright while charging

Only a single MTL coil is included in the kit
The Jac Vapour Series S22 isn't the most affordable starter kit available for sale today.
However, you can rest assured you'll get great quality.
The kit is well-manufactured, with strong performance, a stylish look and robust construction.
Compact enough to take anywhere, it still has a powerful 2600mAh battery, and its rubberized coating makes it durability and comfortable to use.
In short, if you're looking for a kit to get you started with vaping and that will grow with you as you progress to sub-ohm vaping, this device is the one for you.